The third student-led protest over gun violence in our nation's schools, the National School Walkout (link), is scheduled for this Friday. National School Walkout: Everything to know about the upcoming event to end gun violence: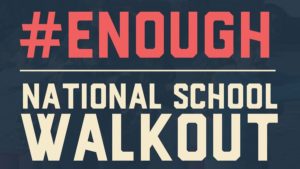 Thousands of students across the country will come together again this week to rally against school gun violence — an event the teenage organizers hope will empower students to continue their momentum in a push for common-sense gun reform.
The event — called the National School Walkout — focuses on high schools and will take place on April 20, the anniversary of the massacre at Columbine High School in Colorado, where two students opened fire in 1999, killing 12 of their fellow students and a teacher.
Who is participating?
The event was organized by 16-year-old Lane Murdock, a sophomore at Ridgefield High School in Connecticut, along with three of her classmates.
More than 2,000 events are registered across the country, with at least one in every state and several globally, according to the organizers.
When will it start?
The walkout begins at 10 a.m. in each local time zone.
When students head outside, they will first take part in 13 seconds of silence to honor the 13 people killed at Columbine High School.
Then the format of the walkout is up to each school. Lane told ABC News she proposes that schools incorporate open mics, guest speakers and voter registration. She said some students plan to write letters to those in communities impacted by school shootings.
But this event differs in one major way from last month's nationwide school walkout, which was held on March 14, one month after the shooting at Florida's Marjory Stoneman Douglas High School that killed 17 students and staff.
The March 14 walkout officially lasted for 17 minutes to mark the 17 lives lost. After the 17 minutes, many students returned to their classrooms.
The April 20 walkout, meanwhile, is set to last from 10 a.m. until the end of the school day.
"This is a problem that needs to be addressed longer than 17 minutes," Lane explained.
"As a student who can't vote, you don't have a lot of power. But what you have that's powerful is your voice, your thoughts, but also your attendance. And leaving for longer than 17 minutes, leaving and breaking up that schedule that all American students have every day is how you get people to pay attention," Lane said.
What inspired the walkout?
Lane said the walkout comes as a direct response to the Stoneman Douglas massacre, because her first reaction to the February shooting was numbness.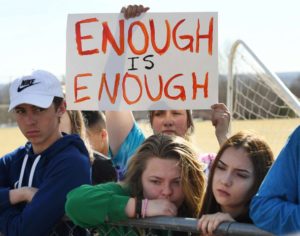 "We live in a kind of desensitized country" when it comes to school shootings, she said. "After reflecting on my own lack of emotion, seeing how wrong our country is, the fact that this keeps on happening… I felt so helpless…. I knew I needed to do something."
"I started to think to myself, 'What can I do to change the narrative?'" Lane said. "But also, 'What can I do to give people who maybe don't have as much time on their hands as I do, to give them that power?'"
Three of Lane's classmates are leading the National School Walkout with her, including Grant Yaun, a 17-year-old junior.
Grant said he was an 11-year-old sixth grader at the time of the December 2012 Sandy Hook Elementary School massacre in Newtown, Connecticut, which is near Ridgefield.
That shooting, which killed 20 children and six teachers, was the first time he said he was aware of the realities of school violence and "how disturbing these kinds of things were."
But in the six years since then, Grant said, the "onslaught of shootings" has made him more desensitized, so he also didn't have a strong first reaction to the Stoneman Douglas shooting. But "after some reflection," he said, he felt "it was time for something to change."
What is the goal?
Lane and Grant said they hope the walkout will build momentum for common sense gun reform, like bump stock bans and universal background checks. They also want the event to empower students across the country and increase the turnout of young voters at the November midterm elections."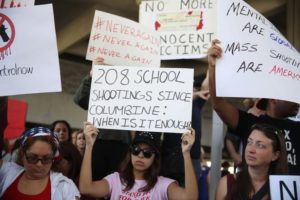 "The walkout is an event designed to create friction, put some energy into the discussion and it's almost a show of force," Grant told ABC News. "We're not going to be silenced or ignored."
Grant said the "overall reception" from school administrators across the country to their nearly all-day walkout "is relatively neutral or positive."
"Resistance does exist," he said, but "thankfully it seems at least the majority — however slim the majority may be — of schools are at least friendly to the event or have accepted it's going to happen whether they sanction it or not, and have made moves to accommodate."
But to the student organizers, disrupting the school day is an important part of the walkout.
"When you get rid of the routine you show them this is a cause that we care about, we're changing how were doing things and voicing our opinions," Lane said.
"This will not be a day off," Lane continued, stressing that students worked hard to organize these walkouts for their communities. "This is something [organizers and participants] should be proud of because they are putting themselves in the narrative and they are changing it to one that is proactive."
Added Grant: "This walkout isn't the end — it's kind of a start, actually. We've rolled out a chapter-based organization to capture the momentum of the walkout, to capture that raw energy as it kind of reaches this peak. And focus it and allow it to carry the movement on until November [midterm elections]."
Lane and Grant said these chapters — of which there are already 150 — hand over the control to students across the U.S. who know their communities.
"Students enrolled in their local chapters will plan the walkouts and follow through with the walkouts and then transition into a school club type organization — not necessarily sanctioned by the school," Grant said. "Then the chapter-based organizations will meet regulatory to: A. Get young people who are eligible to vote [by this November] registered. And B. Get young people interested in politics and remove any sense of fear or apprehension from it, or just general confusion, and to raise political awareness."
Grant, who will be too young to vote this November, admitted that does create some frustration, but he added, "I feel I'll have done more than a single vote for myself ever could just by helping organize this."
Here in Arizona, the Arizona Republic reports, Arizona students plan to occupy state Capitol with 'die-in' for gun control: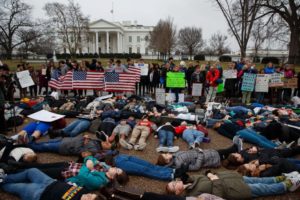 Students with the March for Our Lives movement said they plan to occupy several buildings at the Arizona Capitol on Friday to demand Gov. Doug Ducey support stricter gun-control laws.
Organizers of the student group said they will stage a "die-in" protest, in which they will lie on the ground to simulate deaths from school shootings.
"We will be laying down to symbolize the fact that we are literally dying," said Jordan Harb, a 17-year-old student organizer. "People are dying. Thirty-five people are dying every day in this country because politicians, like those here in Arizona, are not taking action."
Harb said students will protest unless Ducey agrees to their demands, including requiring background checks for all gun sales.
The sit-in-style protest in Arizona will coincide with demonstrations taking place nationwide to mark the 19th anniversary of the Columbine High School massacre in Aurora, Colorado.
Students lay out plans
On Tuesday, student organizers with March for Our Lives Phoenix held a press conference to outline their plans to honor Columbine victims and pressure lawmakers.
Harb said Friday's demonstration will start with a 10 a.m. walkout at dozens of schools statewide. It's unclear how many Arizona schools will be affected by the student walkout.
Later in the afternoon, the students said they will hold their "die-in" protest in the lobbies of the House, Senate and outside Ducey's office.
The Arizona Department of Public Safety, which polices the Capitol, didn't immediately respond Tuesday evening to a question about how it would handle the student protests.
Friday's event follows a wave of student-led protests that have hit Arizona and the country following the Feb. 14 Parkland, Florida, school shooting that killed 17 people.
In Arizona, students from March for Our Lives led a 15,000-person march for gun-control laws outside the state Capitol last month. They also staged a raucous sit-in in the lobby of Ducey's office.
The students have repeatedly blasted Ducey for refusing to meet with them.
"We are here today because the governor has turned his back toward us," Harb said, adding that students may be forced to take more "radical measures" and occupy the Capitol.
They say Ducey's gun-control and school-safety plan, which lawmakers are expected to start debating on Thursday, doesn't go far enough and placates the National Rifle Association.
What's in the governor's proposal
Ducey's proposal calls for more police officers in schools; a new type of restraining order to keep guns out of unstable people's hands; more mental health counseling in schools; and a school safety tip hotline.
* * *
A hearing that had been scheduled for Monday was canceled late last week.
Ducey's plan has been criticized by both parties: Democrats, who say it doesn't go far enough to close loopholes; and Republican lawmakers, who worry it could violate individual liberties and won't stop criminals from getting guns.
Students with March for Our Lives have also blasted Ducey's proposal, calling it "51 pages of utter B.S."
They said Ducey's plan is meaningless because it does not address the "gun show loophole" that allows people to buy a gun without background checks in some circumstances.
Current law allows private parties to sell guns without running a background check, as licensed gun dealers are required to do.
The students also oppose Ducey's plan to put more police officers in schools. They said that funding should instead be used to pay for more school counselors and psychologists.
The students are right, Governor Ducey's plan is B.S. The one element that is worthy, the Severe Threat Order of Protection "(STOP) orders to take guns away from persons deemed dangerous before a psychological evaluation, is opposed by Tea-Publicans in the Arizona legislature and appears unlikely to be approved. The rest of Ducey's plan does little or nothing to address the problem, and simply parrots NRA positions.
State Representative Dr. Randy Friese (D-Tucson) says Gov. Ducey's gun safety proposal fails to protect Arizonans:
Until recently, I remained hopeful that Arizona would enact meaningful gun safety legislation. I was hopeful because, shortly after the Florida shooting, Gov. Doug Ducey indicated he intended to propose policies geared toward making Arizona schools and communities safer from gun violence. That hope was short-lived. It only lasted until his proposal went public.
Ducey's proposal includes a well-intended but overly cumbersome attempt to remove guns from the hands of dangerous people called a Severe Threat Order of Protection (STOP). But don't let the copious length of his plan fool you; it includes no meaningful change. Specifically, it does not close the gun show loophole and mandate background checks for firearm purchases.
Gov. Ducey proposes that his STOP orders remove firearms from dangerous individuals. But he refuses to recognize that those same dangerous individuals can immediately re-arm at a gun show without a background check. Ducey's plan fails to protect the public.
I should note that most of my disappointment stems from Gov. Ducey seeking approval from the gun lobby for his plan rather than creating a plan that addresses the concerns of most Arizonans and the pleas of Arizona's students who are asking for meaningful change. To be frank, any gun safety plan approved by the gun lobby is no gun safety plan.
A recent poll shows that 97 percent of Americans support comprehensive background checks for firearm purchases. That is as universal as support can get in our country. I don't know what Gov. Ducey is afraid of. He is choosing politics over people and choosing the gun lobby over every-day Arizonans. Background checks save lives. States with comprehensive background checks have fewer police officer shooting deaths and domestic violence victim shooting deaths.
Arizona deserves leaders with the courage and political will to address gun safety — leaders who listen to the concerns of their constituents instead of kowtowing to the whims of the gun lobby. Lives are at stake. Our students' lives. Our children's lives.
As the student protestors say, "Vote them out."