The Navajo Times reports, Shelly Vetoes Bill, Deschene Suspends Campaign: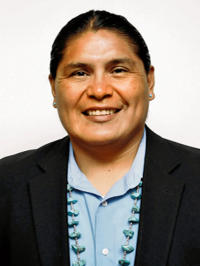 Navajo Nation President Ben Shelly vetoed the bill that could have aided embattled and disqualified Navajo presidential candidate Chris Deschene.
Shelly vetoed the legislation that aligned the fluency requirement with Navajo fundamental law, according to a statement released from his office.
Sponsor of the resolution, Navajo Nation Council Delegate Leonard Tsosie said that he's already begun working on another legislation to override the veto.
Chris Deschene has paused his campaign activity barring legislative veto override or other extraordinary changes in current circumstances.
"It is with tremendous pride in our campaign and disappointment with the President's veto, that the future of my candidacy is uncertain," Deschene said in a statement. "Regardless of the outcome, words can not express the pride and gratitude I have in my family, friends, staff and supporters who stood by me throughout this process."
The bill that President Shelly vetoed was passed by the Council on a 11-10 vote, with one abstention. I do not see how an override of his veto is possible.
Navajo Nation Attorney General Harrison Tsosi's legal Memorandum is due on Friday, and the Navajo Supreme Court will hear the Motion for Contempt of Court on Friday as well. It would seem that the die is cast with the Supreme Court ruling and now President Shelly's veto.
The Navajo Supreme Court must take into consideration the effect that suspending the Navajo Nation election will have on voter turnout in Arizona's general election. There are other races on the Navajo Nation ballot not in dispute, and reportedly some 8,000 or more early ballots have already been cast. It would be extraordinarily unfair to other candidates on the ballot to order a "do over" election.
I stand by my suggestion to allow the election to proceed as scheduled on Tuesday, November 4, and simply void the results in the disputed presidential election, and to schedule a special election.