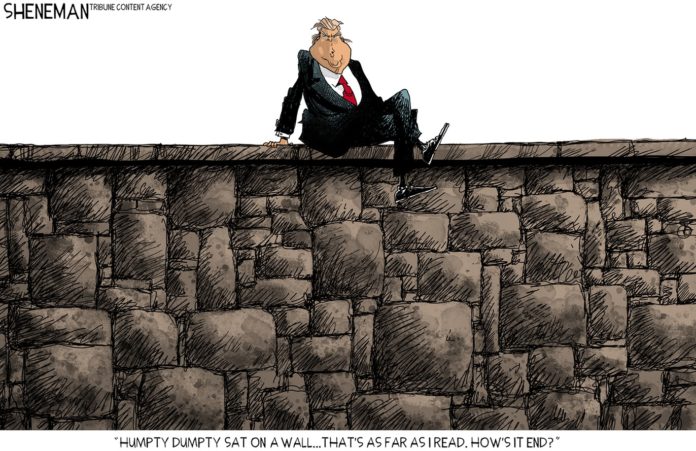 The White House alerted the media that Trump plans to make 'major announcement' on shutdown, and the border on Saturday afternoon.
Trump is given to hyperbole and superlatives, and this speech was no exception. This was an over-hyped PR stunt.
The speech began with Stephen Miller's highlights of the xenophobic, racist, anti-immigrant talking points of Rush Limbaugh, Ann Coulter, Sean Hannity, Laura Ingraham, et. al., heard almost daily on conservative hate talk radio to gin up white anxiety and white grievances among Trump's white nationalist base.
It then veered into a rehash of previous proposals (which were rejected by the prior Republican Congress) on DACA and TPS beneficiaries: a temporary stay of Trump's policies for 3 years in exchange for $5.7 billion for Trump's "big beautiful wall" on the Mexico border.
This was something Trump negotiated with his white nationalist racist adviser Stephen Miller, and his son-in-law Secretary of Everything, Jared Kushner. There was no effort to negotiate with the Democratic leadership in good faith. Trump's attempt to call this a "compromise" rings hollow. Negotiating with yourself does not constitute a "compromise."
This was another lame attempt to reframe the issue solely as a PR stunt. It was an epic failure.
Trump's white nationalist allies, Anti-immigration hardliners blasted Trump's shutdown deal offer:
Anti-immigration hardliners on Saturday afternoon blasted President Donald Trump's proposed deal to end the government shutdown, attacking his offer of temporary protection for some undocumented immigrants in exchange for border wall funding.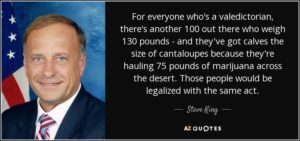 Rep. Steve King (R-Iowa) tweeted: "A Big Beautiful Concrete Border Wall will be a monument to the Rule of Law, the sovereignty of the USA, & @realDonaldTrump. If DACA Amnesty is traded for $5.7 billion(1/5 of a wall), wouldn't be enough illegals left in America to trade for the remaining 4/5. NO AMNESTY 4 a wall!"
"100 miles of border wall in exchange for amnestying millions of illegals. So if we grant citizenship to a BILLION foreigners, maybe we can finally get a full border wall," tweeted conservative media commentator provocateur Ann Coulter, who has repeatedly antagonized the president for failing to erect a barrier along the U.S.-Mexico border during his two years in office.
"Trump proposes amnesty. We voted for Trump and got Jeb!" Coulter added, referring to Trump's 2016 GOP primary rival, former Florida Gov. Jeb Bush, who has previously criticized the president's immigration rhetoric.
Tom Fitton, president of the right-wing activist group Judicial Watch, also denounced Trump's proposal, tweeting that the overture to Democrats "will encourage more illegal immigration and undermine the rule of law."
"Amnesty is not a good plan, @realDonaldTrump," Fitton wrote online.
Roy Beck, president of the anti-immigration organization NumbersUSA, called the president's offer "a loser for the forgotten American workers who were central to his campaign promises."
"An amnesty-for-wall trade would once again reward previous immigration lawbreakers without preventing future immigration lawbreakers," Beck said in a statement. "This kind of amnesty deal will incentivize more caravans, more illegal border crossers and more visa overstayers at the expense of the most vulnerable American workers who have to compete with the illegal labor force."
"Trading amnesty for future promises of enforcement is always a bad deal," said RJ Hauman, government relations director at the Federation for American Immigration Reform. "Trading just a quarter of what you want for a couple Democrat amnesty priorities? Even worse. You must trade statutory changes for statutory changes, not for funding. The president should listen to his base, not Jared Kushner. One got you elected, the other is dead set on making you a one term president."
Remember,  these are the xenophobic white nationalist racists who support Donald Trump.
The Democratic leadership, who were not consulted by the White House prior to the speech (because it was a PR stunt) also rejected Trump's proposal as a non-starter. Democrats reject Trump's wall-for-'dreamers' pitch to end shutdown:
House Speaker Nancy Pelosi (D-Calif.) dismissed the proposal as a "non-starter" and vowed that Democrats would pass legislation in the coming week to reopen the government, putting the onus on the Republican-led Senate to follow suit.
"The president must sign these bills to reopen government immediately and stop holding the American people hostage with this senseless shutdown," Pelosi said. Senate Minority Leader Charles E. Schumer (D-N.Y.) also said he opposed the plan.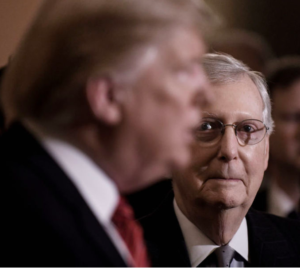 Trump enabler Senate Majority Leader Mitch McConnell, who last week said he would not schedule a vote on the House bills passed to reopen the government — the very bill that the Senate chamber approved unanimously by voice vote prior to President Trump reneging on the deal weeks ago because Rush Limbaugh was mean to him — nevertheless announced that he would put Trump's proposed legislation on the Senate floor for a vote in the coming week.
McConnell laid out his plan in a private call with GOP senators late Saturday afternoon, where there was little dissent, according to an official who spoke on the condition of anonymity to discuss private deliberations.
In addition to its immigration provisions, the package — which McConnell could move to advance as early as Tuesday, although a Thursday vote appears more likely — would reopen all parts of the government that are closed.
The Turtle Man is adding some "sweeteners" to Trump's proposals:
[The bill] also would provide emergency funding for U.S. areas hit by hurricanes, floods and other natural disasters.
The package would include an extension of the Violence Against Women Act.
I'm sorry, but this something that could have been approved in the prior Congress as stand alone legislation without being tied to the current proposal. This remains the case.
In a briefing for reporters after Trump's remarks, the aides acknowledged that the bill faces a difficult path in the Senate, where it would require 60 votes to overcome a filibuster.
The bill will fail. This is just a PR stunt in another lame attempt to shift blame for the Trump shutdown to the Democrats. Speaking to Democratic leaders Nancy Pelosi and Chuck Schumer in the Oval Office on December 11, Trump said "I am proud to shut down the government for border security, Chuck. … I will take the mantle. I will be the one to shut it down. I'm not going to blame you for it." Yet another obvious lie.
Trump and McConnell own this government shutdown. McConnell could end the shutdown tomorrow if he brought to a vote the bill passed by the House and previously passed by the Senate unanimously. He has the votes.
The only question is whether there are enough craven coward Republican Senators who would vote to override a presidential veto, consistent with their prior votes for this bill. What would be the basis for their voting no now? To support Trump reneging on their budget deal? Who does that? Senate Republicans all but surrender to Trump on wall despite shutdown's toll.
They are truly craven cowards who put partisan PR stunts ahead of the best interests of the nation and the American people. Republicans Push Trump Immigration Plan, Seeking to Corner Democrats on Shutdown.
UPDATE: Sen. James Lankford (R-Okla.) said Sunday during an interview with host Martha Raddatz on ABC's "This Week" that Trump's offer this weekend was a 'straw man proposal' not meant to become law. "The vote this week in the Senate is not to pass the bill, it is to open up and say: 'Can we debate this? Can we amend it? Can we make changes?'" Lankford said Sunday.
You have a bill, senator, that the Senate has already passed unanimously and the House has approved.  Vote on it again.
UPDATE: Rep. Will Hurd (R-TX), whose congressional district includes more than 800 miles of the border separating the United States and Mexico, said in an interview published Friday that President Donald Trump's claim of a "border crisis" is a "myth." Texas Border Towns' GOP Rep: Trump's Border 'Crisis' Is A 'Myth'.
The sheriffs for 31 counties along the U.S.-Mexico border said the discussion over border security needs to move beyond the idea of a wall, which they described as "a soundbite, not a cogent public policy position." Border sheriffs: Trump's border wall 'a soundbite, not a cogent public policy position'.
---
Support volunteer citizen journalism at the Blog for Arizona with a donation today. Your secure contribution keeps the Blog online and sustains a free press in Arizona.
---