For all the Tea-Publicans who say they must succumb to "Trumpism," the new American fascism — Republicans Want Their Party to Unify Behind Donald Trump, Poll Shows — out of blind loyalty and GOP tribalism, there is an alternative for conservatives with a conscience.
Looking For A Third Party Candidate? Meet Gary Johnson, Libertarian:
The Libertarian National Convention is set for Memorial Day weekend in Orlando, and [two-term former Republican Governor of New Mexico] Gary Johnson is hoping to emerge as the party's nominee for president. Here & Now's Jeremy Hobson talks to Johnson about his platform, and the viability of a third party candidacy in 2016.
Johnson has chosen as his running mate two-term former Republican governor of Massachusetts William F. Weld.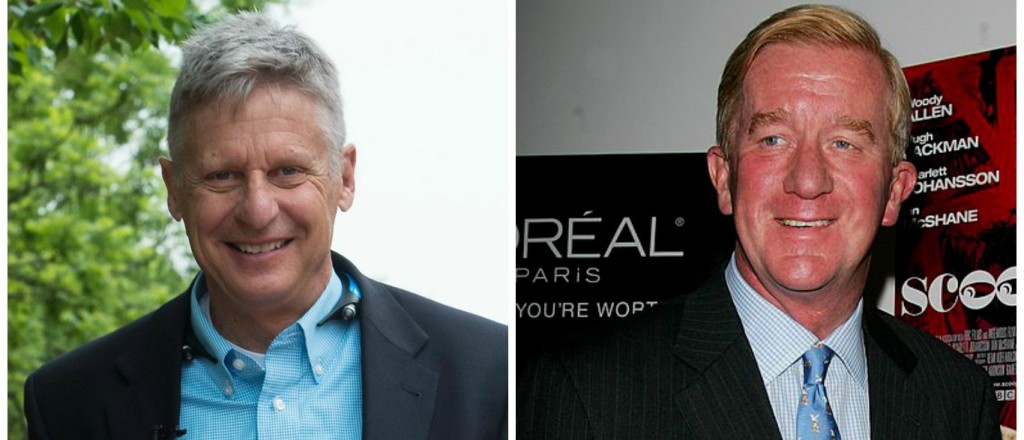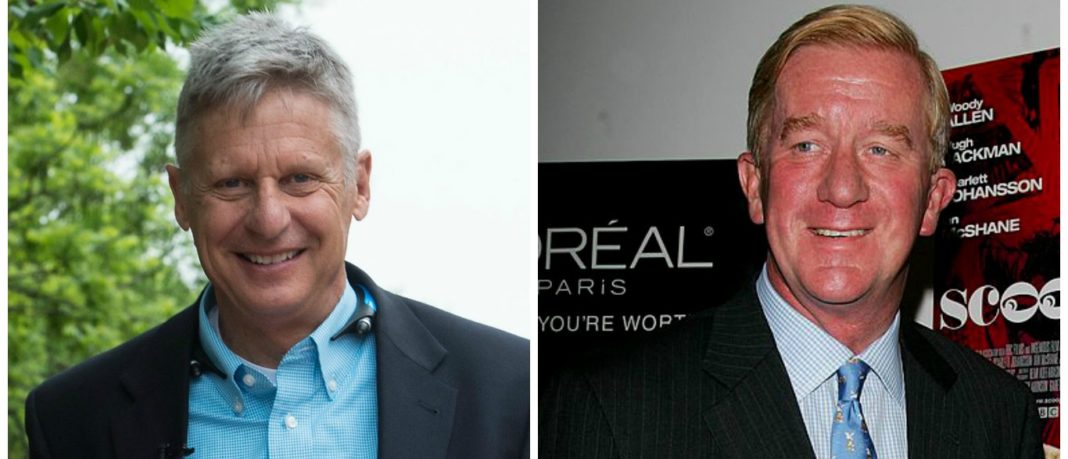 Governor Weld had some choice words about "The Donald" this week. Bill Weld, Running as a Libertarian, Likens Donald Trump's Immigration Plan to Kristallnacht:
William F. Weld, the twice-elected former Republican governor of Massachusetts … hopes to be on a national ticket as the vice-presidential nominee of the Libertarian Party.
And he is already on the attack.
In his first interview since accepting an invitation to be the running mate of former Gov. Gary Johnson of New Mexico, Mr. Weld assailed Donald J. Trump over his call to round up and deport the 11 million immigrants in the country illegally.
"I can hear the glass crunching on Kristallnacht in the ghettos of Warsaw and Vienna when I hear that, honest," Mr. Weld said Thursday.
"I'm not horrified about everything Mr. Trump has done at all," he said, adding: "I think he's done a lot. But when I think about some of the positions, I think they're way out there."
Where he differs with Mr. Trump most sharply is on Mr. Trump's call for mass deportations.
Asked if he believed Mr. Trump was a fascist, Mr. Weld demurred. "My Kristallnacht analogy does evoke the Nazi period in Germany," he said. "And that's what I'm worried about: a slippery slope."
After a circuitous answer, he eventually came to a conclusion. "No, I wouldn't call Mr. Trump either a fascist or a Nazi," Mr. Weld said. "I'm just saying, we got to watch it when we get exclusionary about people on account of their status as a member of a group."
Mr. Weld also objected to Mr. Trump's repeated threats to impose tariffs on goods imported from Mexico and China. "That's a pretty good prescription to having China be the only superpower in about 10 years," he said, leaning forward to make sure a reporter understood him. "China — not the U.S."
* * *
A former prosecutor, Mr. Weld could appeal to some disaffected Republicans on a ticket alongside Mr. Johnson at a time when other efforts by Republicans to recruit a third-party candidate — in part in the hopes of keeping anti-Trump Republican voters from staying home and costing the party's lower-tier candidates — are close to fizzling.
Mr. Weld said Mr. Johnson, the Libertarian presidential candidate in 2012 who is seeking the party's nomination again, spoke to him last weekend about running. Their hope is to amass enough support in national polls to be included in the presidential debates. If that happened, Mr. Weld said hopefully, it would not be impossible to envision a minor-party ticket winning the White House.
Tea-Publicans do not have to blindly march into this descent into darkness of "Trumpism." You have alternatives. It is a question of your morality and conscience,  or your willingness to so blindly succumb to fascism.