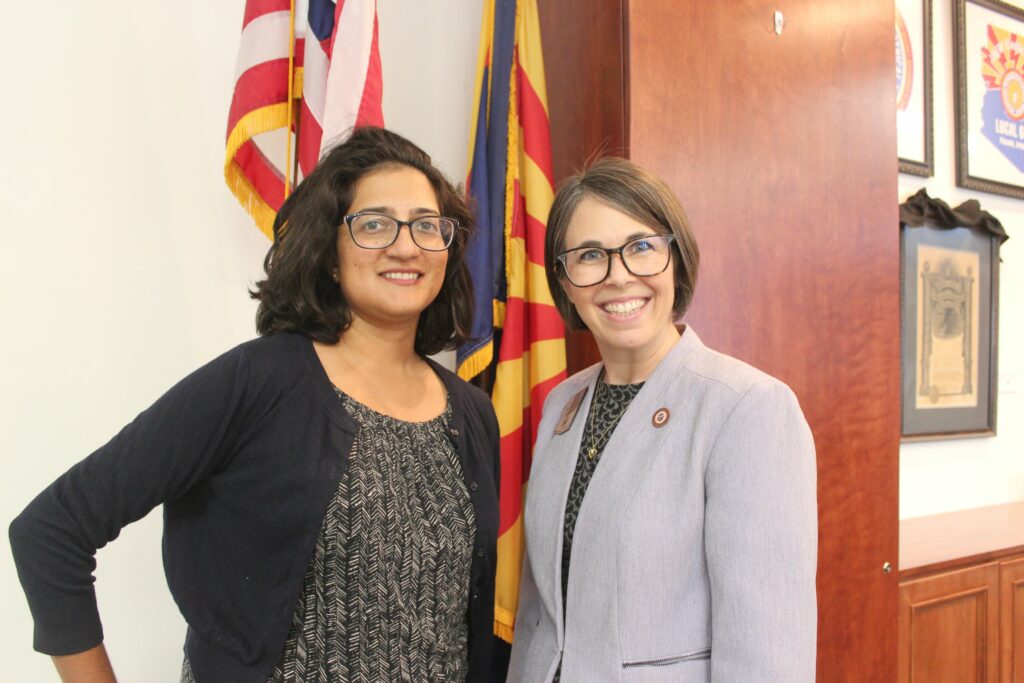 2024 may be a good year for Democrats across the electoral board in Arizona.
That includes the solid possibility of taking, for the first time in decades, control of the State Legislature.
Why?
Because they are on the side of the issues people most care about. Those include economic opportunity, fiscal responsibility, improved and well-funded public schools, lifting people up, better access to the voting booth, reproductive freedom, and solving the water crisis.
That is in sharp contrast to the Republicans who despite their claims of supporting law and order enable the lies of the twice impeached former and four-time indicted former President.
Furthermore, MAGA Republicans' positions on denying the scientific reality of climate change, restricting Democracy, and inhibiting a woman's reproductive freedom are not appealing to many middle-of-the-road centrist voters who often decide elections.
The Democrat's position on fiscal responsibility is also a marked difference from the supposed conservative party that has given carte blanch to wealthy families in the state to bilk the public treasury to pay for their child's private school education when they can afford it, especially after reaping the benefits of the Republican flat tax law that is draining fiscal resources.
Finally, based on better-than-expected Democratic performance in the 2022 elections, it appears that the people, according to new Arizona Democratic Legislative Campaign Committee Co-Chairs State Representative Jennifer Pawlik, "are ready for change" and, as the other ADLCC Co-Chairperson, State Senator Priya Sundareshan remarked, "voters are ready for a responsible party and responsible management of our state and Democrats are the ones who will do it."
Chairpersons Pawlik and Sundareshan graciously took the time to discuss the 2024 election cycle and what role the ADLCC will play in making the Democrats the leaders of the Arizona State Legislature.
The questions and their responses are below.
What are the names of the Legislative Districts with the greatest opportunities for Democratic pickups in the coming 2024 election cycle?
Representative Pawlik: "I would say that you are very aware of the districts in Maricopa County. They are going to be the same as we've seen before. They are districts two, four, nine, and thirteen. We will also be targeting district twenty-seven in the West Valley. But what's really exciting, I'll ask Priya to discuss because it's more in her neck of the woods."
Senator Sundareshan: "Yeah, absolutely. I'll be happy to pick it up from there. We are also focusing on some of the Tucson, Pima, and Pinal County area districts. Some of the districts were very very close last cycle; even closer than one might have expected. We are focused on LD17 which is right in the Tucson area. Also, LD 16 which also has a portion of Tucson and into Pinal County. We're expanding the map as well. There's also LD 23 which is definitely an important pickup seat for us.
Are there any candidates that either of you would like to single out right now in any of those districts?
Representative Pawlik: "One big change is Representative Schwiebert is switching to run for the Senate. I am really encouraged that she will do well in her race, and I feel that she is going to be one of the pickups on the Senate side."
Senator Sundareshan: "I'm super excited about what Jenn just mentioned. Representative Schwiebert would be a top pick up for that seat and I can't wait to serve with her in the Senate."
Representative Pawlik: "Down in District 17, we have Morgan Abraham running as a single shot for the House. I served with him a couple of years ago, and he is dynamic. Not only does he have a military background, but he also has a small business background. I think he is going to do very well."
Anyone else you would like to highlight?
Senator Sundareshan: "As Jenn just mentioned, we have wonderful candidates like Morgan who I actually faced in the primary. I think he has such a fabulous background for flipping a district. I can't wait."

What are the top three to five issues the ADLCC will advise Democrats to run on in this cycle? Please explain.
Senator Sundareshan: "Every district is its own district. Candidates are going to be best positioned to know their own district the most and they'll focus on whatever issues they're hearing from their community. But we also know that there are issues of statewide concern that we will certainly also make sure that we're focused on. For me, I will raise the water crisis. Voters across Arizona know that our water situation is not as secure as we might have hoped for. There is a lot of work that needs to be done to fix our laws and ensure that we have a secure water supply. Past decades of Republican leadership have just left us unprepared for the situation we are in because they've refused to see the importance of that. The water crisis is a top-of-mind issue for voters across Arizona."
Representative Pawlik: "You won't be surprised that one of the top issues for me and will continue to be a top issue is education. Right now, on top of my mind, is the ESA vouchers, and with the universal expansion, how that is costing the state so much more than was even budgeted. I'm sure that will continue to be top of mind."
"In some areas of the state, housing might be a top priority. Also, the cost of living or infrastructure. It kind of depends on what the district is dealing with and we may also have other issues that come up in the next year and a half if you'll remember in the last session, the overturning of Dobbs (Roe v Wade), it suddenly became one of my top three issues. We might expect in the next year and a half that issues will come forward that suddenly rise to the top."
Senator Sundareshan: "Abortion continues to remain an issue for voters because last year we no longer have that backstop at the federal level for abortion bans. There are state laws that have been in place, in some cases for many years, that are now even more important. he State Legislature has become so much more important for the voters. When we're talking about who in the government is getting in between a patient and their health care provider, it is the result of these laws that the Republican Legislature has passed."
To what extent will Democratic Candidates highlight Republican extremism in their campaigns, especially on issues like election denialism, not fully funding public schools, tax cuts for the rich including the ESA program, and curtailing voting and reproductive freedom? Please explain.
Representative Pawlik: "I would say that the key thing that we have to do is we have got to engage with voters, and we need to get the message across that this is the Republican majority that has really put us in the situation where we are with the budget deficit because they were the ones who pushed the flat tax. They were the ones who voted for the flat tax. That will certainly come forth. As a former battleground candidate, oftentimes, I just stuck to my message."
Senator Sundareshan: "Everything that Jennifer just said is right. It shows the contrast between Republican governance and the vision we have going into the future because when we take the majority, we will be empowered to reverse some of these policies that have gotten us to the budget deficit, to this unaccountable voucher spending, and to finally be able to address our water crisis. That is the contrast as well as our vision for the future; that we will put our efforts towards the priorities and issues that voters recognize."
So, will the ADLCC do the contrast part and the candidates would stick to the positive vision? Is that your model going into 2024?
Representative Pawlik: "I don't know that it's necessarily a standard model although personally as a candidate, I did not want to be the negative one because I feel very strongly that both my opponents and I live in the community and I think we should talk about policy rather than attacking one another."
Senator Sundareshan: "Jennifer has that experience as being the swing district candidate. She has a really good approach to how to win these kinds of districts and I know that our successful candidates are going to be looking to her for guidance on that."
If Democrats take the majority in the State Legislature, one of the things they will probably not be able to do is repeal the flat tax because it would take 75 percent of the legislators to support it. How would Democrats address that?
Senator Sundareshan: "We will definitely have to put our heads together. I'm a first-year legislator. I will be looking to my more experienced colleagues to think about what can we do given the realities of the constraints that we have about the kind of supermajorities we need to fix some of these policies. What are the kinds of strategies that we will need to do? The first thing that we can start talking about is stopping the bleeding, like stopping the unaccountable runaway spending including vouchers. We'll have to really think through what the best tactics are to fix the revenue side."
Is Arizona in danger of becoming the next "Kansas?"
Representative Pawlik: "I don't know but it is certainly a possibility because when I look at the five years that I served, even though it's been difficult to be in the minority, there have been years of plenty where we were able to fund programs. We were able to get money into our schools. We were able to fund the opportunity weight. There were so many things we were able to do during my five years. I haven't served during a time when we were in a deficit. I sure was paying attention to the legislature during the last downturn and I honestly fear the cuts that we saw in the recession. Universities were cut by 99 million dollars. We've never restored that. They cut Maricopa and Pima Community Colleges. We've never restored them either. Also, remember how we sold the state buildings? I hope we don't find ourselves in that same situation again because that was ugly and very embarrassing. I fear that if we don't put a stopgap in there somewhere, we may end up in that situation again."
Senator Sundareshan: "Even such a drastic shift from this year's budget which had such a large surplus. I am fearful because next year, there's going to be such a drastic difference where I do think the outlook is grim and I don't know what we'll do."
Please advise at least three ways the ADLCC will fight Republican lying/hypocritical talking points like Democrats are soft on crime and immigration.
Senator Sundareshan: "I think, ultimately, what we can feel confident in is knowing that voters know that we have had a trifecta of Republican leadership for decades now. The situation that we find ourselves in Arizona is a result of long-term Republican state leadership. We've been fortunate this year to have Governor Hobbs, Secretary of State Fontes, and Attorney General Mayes. We've been able to flip those seats. We've been able to start somewhat moving in a different direction but we know that the decades of policies, and voters know and can see, that the decades of inaction on certain issues, including water. That voters know that our water laws have not changed in decades to keep up with the situation that we are in. So I think it's confidence in our voters to be able to make that conclusion."
Representative Pawlik: "That's exactly where I was going to go too. The voters are smarter than I think we give them credit for. They are paying attention and I think as evidenced by the results of the last election. Some people who may have never voted for Democrats before, voted for Democrats in the last election. So, I think they are seeing how our leadership is different. I don't know that they're necessarily buying into the lines that the majority party is feeding them."
Please advise at least two ways the ADLCC will communicate the message of the campaign and help increase turnout for the down-ballot LD races to where the voting rate is at least the same for a House of Representative candidate.
Representative Pawlik: "I feel very very strongly about going to doors. In the last cycle, I was the top door knocker in the entire state. Door knocking is a key strategy. We need our candidates to be at the doors. In supporting them, particularly our battleground candidates and districts, we will be hiring field teams early and getting them out knocking on doors to start that work."
Senator Sundareshan: "I am a full supporter of everything Jennifer just said. I want to make sure the candidates are knocking on as many doors as possible. It doesn't even matter sometimes if it's a swing district or a safe district, that individual voter contact you have as a candidate is so meaningful. Even in my own race last year, there were so many voters who said 'This is the first time a candidate has ever knocked on my door. I'm so amazed.' They remember that. They remember the times a candidate has come to their door. Really underlining everything Jennifer just said. We have to and we will be door-knocking and having our candidates do that. Again, the ADLCC aspect of support is hiring even now starting early with making sure they have the teams they need to amplify their presence."
Representative Pawlik: "I would like to emphasize the fact that the safe districts are doing the work too. If they are going door to door engaging like we do in the Tier One Districts, what we will find is an impact at the county level. If we're working together with campaigns from the top of the ticket down, we will be getting that message out to the voters and like Priya said, maybe some people have never been contacted before. They'll remember when we come to the doors and we hand them information from the top of the ticket to the bottom or the bottom to the top, whichever way."
To what extent will you be utilizing the VAN to reach out to Independents and disaffected/McCain Republicans in the coming cycle?
Representative Pawlik: "I would say it is a key piece. That's what we use. That's our tool."
Senator Sundareshan: "Data is so important. It goes hand in hand with your voter engagement. We were able to get our top statewide officials elected as Democrats because we targeted those folks in the middle who just see the extreme Republican candidates and know they cannot vote for them."
Is there anything not covered in the first five questions that you would like the readers to know about the mission of the ADLCC going into 2024? Please explain.
Senator Sundareshan: "I think when I talk about ADLCC, I am so pleased to come on board and lead it now with Jennifer because this is the most important state in the country. We are one seat down in both chambers, and we are closer than we have ever been to flipping the legislature. We can do it and my message to anyone who wants to help us do so is to go to ADLCC.com. We have information about who is on the board. We will have information on the candidates we are focusing on. There is also a location to contribute to our efforts because we are focused on that on-the-ground effort. Voters are ready for a responsible party and responsible management of our state and Democrats are the ones who will do it."
Representative Pawlik: "I think that was a great answer and I would like to end with voters are ready for a change. It seems that no matter what the venue is where I am talking to voters, the East Valley continues to be conservative but in a room with conservative people, they don't like where things are with politics. They don't like all the division. They don't like all of the nastiness. They want to see us work together and get things done. Like I mentioned earlier, people who have always traditionally supported the majority party, they're not happy with what they're seeing. They are ready for a change and they're ready to do the work. We need to engage with them and hear what they have to say. We are ready to be the leaders of the state of Arizona."