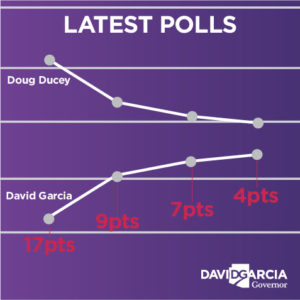 Two new polls show that Democratic candidate David Garcia is closing the gap with Doug Ducey in the race for Governor. The gap will narrow more as Garcia's campaign knocks on the doors of 1.3 million voters this weekend.
On top of that, One Arizona — a coalition of progressive community groups — worked together to register a record 190,000 new voters statewide.

"This is a historic election. We are getting bottom-up energy like we have never seen before," Garcia said Friday night at the Arizona Inn. "This election is going to be won person-to-person, and by communities and families going to get everyone out to vote. The numbers are out there to win, we just have to get them to the polls."
The Center for Latina/os and American Politics Research, in the School of Politics and Global Studies at Arizona State University, released a poll showing the race has dropped to a 4-point margin — 41% Ducey to 37% Garcia — with 19% of voters undecided.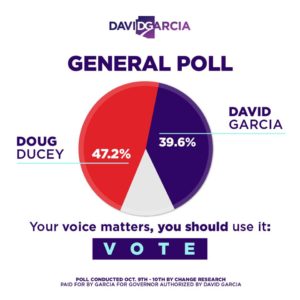 This is in sharp contrast to a poll released just two weeks ago by Data Orbital showing Ducey with a 15.6% lead.
Garcia's own internal polling showed he was 7.6% behind, also an improvement over other polls.
Garcia is trailing in the polls because of a $14 million Republican TV advertising campaign, consisting of a barrage of attack ads. Garcia is being outspent 50-to-1 in TV advertising.
"Those ads suppress turnout and enthusiasm," Garcia said. "We've got to convince people they can bust through those ads and vote. Those ads aren't really not changing things as much as you would think. Even in his best polls, Ducey barely gets above 51%. People are not enthusiastic about voting for him. So he broadcasts ads to bring down his opponent."
"New energy and enthusiasm don't vote for the same old politics," he said. "I'm extremely enthusiastic. Teachers, grassroots groups like Lucha and community organizations will win this election from the bottom up."
Garcia returned to his central campaign theme that public education — K through 12 schools, community colleges, and universities — must be fully funded. He emphasized four points:
Stop cutting education funding.
Close tax credits that are draining dollars and taking them out of public schools and putting them into private schools.
Eliminate corporate tax loopholes and sales tax exemptions.
Create a revenue source for education. "Remember that 270,000 people signed petitions to put InvestInEd on the ballot and had it taken away by the state supreme court. We need dedicated revenue for education. The public is ready for that and the teachers are for it."
"There used to be $1 billion more in the state budget to fund education, but now there is a $1.1 billion budget for prisons. It's flip-flopped," Garcia said. "46% of of inmates are incarcerated for non-violent drug-related crimes. It's a waste of taxpayer dollars and human lives. Arizona has the 4th highest incarceration rate in the US with 41,000 people in prison. We need to make better decisions when it comes to incarceration.