Nancy LeTourneau at the Political Animal blog noted what has become glaringly obvious to any regular reader of the New York Times. The New York Times Blows It…Again:
We've all witnessed the way the New York Times has been so fast to report negative rumors when it comes to the story about Hillary Clinton's emails and so slow to report the facts when she is exonerated.
[See earlier post, Rumors vs Facts on Hillary Clinton's Email: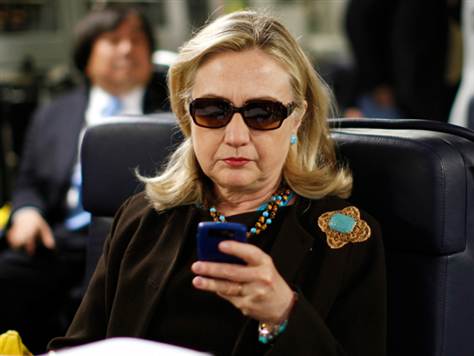 As you know by now, the rumors have been flying, fueled in large part by shoddy reporting at the New York Times – of all places. Then on Wednesday, there was an important development in the story. By Thursday, the only media reporting about it was the Washington Times. Then on Friday, BuzzFeed had an article about it. Justice Department Lawyers: Clinton Had Authority To Delete Personal Emails.
By Friday night, major news outlets like the Associated Press had the story and then (finally!) the New York Times ran with it (they were clearly not the "paper of record" on this one).]
* * *
I'm not going to try to analyze what is going on at the New York Times. I'll simply say that I've seen enough by now to know that I have to question their frame on any story. That is a sad commentary on our country's supposed "newspaper of record."
The editors of the New York Times have engaged in the Clinton Rules of scandal mongering reporting for decades. Hell, the Times invented this style of reporting with its breathless Whitewater coverage in the 1990s.
But equally disturbing is the Times' trolling on behalf of J.E.B.! Bush when other political reporters correctly report the story.
Last week, J.E.B.! Bush announced his tax plan. This is how the Times reported it: Jeb Bush Tax Plan Makes Forays Into Populism, and Jeb Bush's Populist Tack on Taxes Finds Echoes in Unlikely Sources.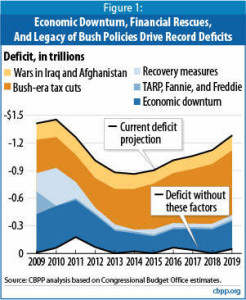 J.E.B.! Bush is a "populist"? In what world? Did the reporters actually read his plan?  It is "W"s plan on steroids — we all remember how well that plan turned out (see right).
To his credit, the Times' Josh Barro correctly noted at "The Upshot," Jeb Bush's Tax Plan Is a Large Tax Cut for the Wealthiest, and the Times' Paul Krugman got it right, Charlatans, Cranks, and Apparatchiks. How did the Time's policy wonks get so right what the Time's political reporters covering spinning the  J.E.B.! Bush campaign get so wrong?
Here is how the GOP-friendly Washington Post reported the same story: Matt O'Brien The Bush tax cuts are back (just with more exclamation points), David Weigel Bush's tax plan is one last credibility test for supply-side gurus, Ed O'Keefe Jeb Bush's new tax plan could cost $3.4 trillion over next decade, Catherine Rampell, Bush's tax plan: The candidate would make out like a bandit,  Greg Sargent Morning Plum: Jeb Bush rehashes Mitt Romney's arguments to defend tax cuts for rich, Paul Waldman Jeb Bush's tax plan shows Republicans can't learn from economic history, and Philip Bump of "The Fix" column, Jeb Bush sets goal of 4 percent GDP growth. He would be the first Bush to do that: No president since LBJ has experienced such consistent growth.
Even the Post's political cartoonist Tom Toles got it right.
So what the hell is going on at the New York Times? Think Progress reported, How Did Media Coverage Of Jeb Bush's Tax Plan Go So Wrong?
Republican presidential candidate Jeb Bush released a new tax plan this week that seemed to confuse even the New York Times. [See above]
* * *
Many news outlets branded Bush's plan as a nod to economic populism. A third New York Times piece even made the direct comparison to Sen. Elizabeth Warren (D-MA). Politico's headline actually claimed the plan hits Wall Street. But as ThinkProgress has already pointed out, the plan itself is basically a redux of Bush's tax cuts for the wealthy. New York magazine's Jonathan Chait says Bush's plan seems to have left people at best confused and at worst "suckered."
The former Florida governor's plan may have addled some because it seemed to latch on to something fellow presidential contender Donald Trump mentioned last month, that hedge funds were "getting away with murder" and that he would be open to raising taxes on capital gains, something economists say is one of the biggest contributors to wealth inequality.
Yes, Bush proposes closing the "carried interest" loophole, which so many hedge fund and private equity managers have taken advantage of to count their incomes as investments and are taxed at a lower rate, but he simultaneously drops rates on capital gains income and dividends to a maximum of 20 percent, thus undermining any populist cred he got from closing the loophole.
Another way Bush's plan earned some populist branding is because it offers some tax benefits for the middle- and lower-class tax brackets, including an expansion of the Earned Income Tax Credit which is generally seen as a boon to the working poor. But it's entirely likely those will be paired with "strong fiscal discipline" — which is generally conservative code for spending cuts to social programs on which people in those tax brackets generally rely. The fiscal discipline point is noticeably vague, and the only real guide we have so far is that Bush didn't think his brother, who once proposed cutting domestic spending by $2.5 trillion, had enough of it.
This is perhaps because Bush been listening to Ronald Reagan's contingent of trickle-down economic advisers who generally think that the magic of tax cuts will somehow magically result in an absurdly high 4 percent economic growth rate. Unfortunately, though, Reaganomics resulted in some effects that wouldn't earn the label of populism at all, including falling wages, an increase in the wealth income gap, and a spike in homelessness.
As to this last point, Paul Waldman of the Post's  Happy Hour Roundup
said it best:
If you're looking for innovative thinking on the economy, Jeb Bush is probably going to disappoint you:
Republican presidential candidate Jeb Bush convened an hour-long gathering in Manhattan on Tuesday morning with three longtime advocates for sweeping tax cuts, seeking their counsel at the office of New York Jets owner Woody Johnson and sharing the details of his campaign's economic plan, which will be formally unveiled Wednesday in Raleigh, N.C.
The trio of supply-side conservatives — Heritage Foundation economist Stephen Moore , publishing executive Steve Forbes and CNBC contributor Larry Kudlow — met with Bush alongside Johnson, Bush's national finance chairman, according to two Republicans familiar with Bush's schedule.
Those Republicans, who spoke on the condition of anonymity to discuss the private session and the Bush campaign's outlook, said the former Florida governor hopes his tax offering will jump-start his candidacy, which has lagged behind GOP front-runner Donald Trump for months, by proposing lower corporate and personal tax rates while also eliminating a number of deductions that favor Wall Street investors.
In case you aren't familiar with Moore, Forbes, and Kudlow, this is kind of like seeking advice from Michael "Heckuvajob" Brown on disaster planning, Lindsay Lohan on career planning, and  Dick Cheney on war planning.
The J.E.B.! Bush campaign is really just a "restoration" of the George W. Bush "dynasty," complete with Neocon wars of conquest and an economic and tax plan that spells financial disaster. It's only been 7 short years, have people really forgotten just how awful the Bush years were? Aughts were a lost decade for U.S. economy, workers. Never again!