Last week, President Trump proposed a pathway to citizenship for 1.8 million young immigrants who came to the U.S. illegally as children, but holds them hostage to his ransom demand that Democrats support $25 billion for border security, including his proposed border wall, and strict new limits on legal immigration. Trump's immigration plan draws harsh reviews from left and right, and some conservatives label him 'Amnesty Don':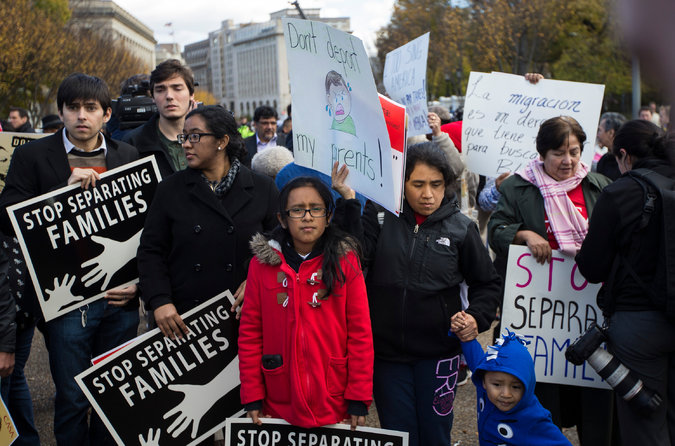 The 1.8-million figure would go well beyond the nearly 700,000 immigrants currently covered by the Obama administration's Deferred Action for Childhood Arrivals program, expanding the protections primarily to cover people who were eligible for DACA but did not apply.
The White House designed that element of the plan in hopes that it would provide a strong enticement for Democrats, who offered little sign of support on Thursday.
But the plan quickly generated opposition from some Republican conservatives.
"Amnesty comes in many forms, but it seems they all eventually grow in size and scope. Any proposal that expands the amnesty-eligible population risks opening Pandora's box," said Michael A. Needham, the head of Heritage Action for America, an influential conservative group. "That should be a nonstarter."
And even before details of the plan emerged, blowback was building among parts of Trump's base.
"Immigration Shock: Amnesty Don Suggests Citizenship for Illegal Aliens," read a headline on Breitbart News, the conservative, nationalist website once run by Trump's former strategist, Stephen K. Bannon.
At the same time, advocates for immigrant rights warned Democrats against taking Trump's bait and accepting restrictive changes to the immigration system in return for legalizing the so-called Dreamers, a group that polls show has broad support among Americans.
"This is the play being run from the White House: 'You guys are desperate for Dreamer relief. We want most of our agenda and a little bit of yours,'" said Frank Sharry, executive director of the immigrant advocacy group America's Voice.
The White House proposal, overall, would reduce legal immigration by 50% by sharply limiting which family members can be sponsored by new citizens and permanent legal residents, Sharry said, adding that the move would "destroy what has been the cornerstone of our immigration system."
The American Civil Liberties Union called the White House plan a "hateful, xenophobic immigration proposal that would slash legal immigration to levels not seen since the racial quotas of the 1920s."
Greisa Martinez Rosas of United We Dream, one of the leading Dreamer groups, called the plan "a white supremacist ransom note."
* * *
Senate Majority Leader Mitch McConnell (R-Ky.) offered a tepid response to the proposal.
"I am hopeful that as discussions continue in the Senate on the subject of immigration, members on both sides of the aisle will look to this framework for guidance as they work towards an agreement," he said in a statement.
Other Republican senators who back restrictions on immigration, led by Sen. Tom Cotton (R-Ark.), endorsed the White House proposal.
Democrats were mostly negative. See, Schumer rejects Trump's immigration proposal.
"President Trump and Republicans will not be allowed to use Dreamers as a bargaining chip for their wish list of anti-immigrant policies," California's Sen. Dianne Feinstein wrote in a Twitter statement.
Sen. Richard J. Durbin (D-Ill.), who has been a leading Democratic advocate for Dreamers, said in a statement that "the White House claims to be compromising" but the plan "would put the administration's entire hardline immigration agenda — including massive cuts to legal immigration — on the backs of these young people."
A bipartisan group of senators has been meeting daily in the office of Sen. Susan Collins (R-Maine) in the rush to develop legislation ahead of a self-imposed Feb. 8 deadline.
Collins told reporters that she had discussed the issue with Trump earlier in the week and urged him to protect Dreamers.
"I told him I thought a path to citizenship was the right way to go for these young people who were brought to this country through no decision of their own, and that we also did need to beef up border security because of the flow of drugs into this county that have ravaged so many communities," she said.
"He listened very carefully," she added.
Says the woman who is still waiting for a vote on her bill to stabilize "Obamacare" that she was promised in exchange for her vote on the GOP tax bill. She's a good judge of character, and whether she has a deal or not.
Today, a new New bipartisan immigration plan was introduced in Senate by McCain and Coons:
Sens. John McCain (R-Ariz.) and Christopher A. Coons (D-Del.) formally introduced a bill that would grant permanent legal status to undocumented immigrants known as "dreamers" and start bolstering security along the U.S.-Mexico border. But the measure would not immediately authorize spending the $25 billion President Trump is seeking to fortify the border with new wall and fence construction. Some Republicans are seeking at least $30 billion.
The McCain-Coons plan also would grant legal status to dreamers who have been in the country since 2013 — a larger pool of undocumented immigrants than the 1.8 million Trump supports legalizing.
The bill says nothing about curbing family-based legal migration or making changes to the diversity lottery program — two other priorities for Trump and conservative Republicans.
* * *
The McCain–Coons bill mirrors a House bill introduced by Reps. Will Hurd (R-Texas) and Rep. Pete Aguilar (D-Calif.) that has more than 50 co-sponsors, including 27 Republicans. It would provide legal status and a path to citizenship for undocumented immigrants brought into the country as minors before the end of 2013.
It would also require a strategy for the Department of Homeland Security for operational control and situational awareness of the border.
* * *
Coons told reporters Monday that he has not heard from top congressional leaders about his proposal and that he considers it one of several proposals that could earn a vote.
Coons said that "a broader solution" introduced by Sens. Richard J. Durbin (D-Ill.) and Lindsey O. Graham (R-S.C.) is one possible compromise for senators to support, but added that he is "also conscious of the fact that there's very little time left" before the March 5 deadline to end the Deferred Action for Childhood Arrivals (DACA) program for dreamers. Coons said that Trump's "unconstructive engagement" with Durbin and Graham on the issue means that their bill "may not be feasible."
It didn't take long for Trump's "unconstructive engagement" to befall the McCain-Coons bipartisan plan as well. McCain, Coons immigration bill sparks Trump backlash:
A bill aimed at resetting immigration negotiations in the Senate is running into early backlash from President Trump.
The bill from Sens. John McCain (R-Ariz.) and Christopher Coons (D-Del.), introduced on Monday, pairs a path to citizenship for "dreamers" with border security measures — but does not include funding for a U.S.-Mexico border wall.
The two senators believe their bill could be a base for negotiators among a wider group of senators, but Trump took a shot at the measure before it was even formally introduced.
The president said it was a non-starter to offer a fix for the Deferred Action for Childhood Arrivals (DACA) program, which protects many immigrants who entered the United States illegally as children, without funding for the wall.
"Any deal on DACA that does not include STRONG border security and the desperately needed WALL is a total waste of time," he wrote in a tweet. "March 5th is rapidly approaching and the Dems seem not to care about DACA. Make a deal!"
Let's be clear: there is one person who most does not want to make a deal on DACA, and that is President Trump. DACA recipients are merely bargaining chips, hostages to be held in exchange for his ransom demands in pursuit of his white nationalist agenda. Trump does not want to bear the label of "Amnesty Don" from his xenophobic anti-immigrant racist base by giving DACA recipients any legal status. This is all just a charade.
On March 5, roughly 700,000 DACA recipients will begin to face deportation without action by Congress.
The McCain–Coons bill would appear to be a long-shot with House Republicans, many of whom have rallied around legislation sponsored by Rep. Bob Goodlatte (R-Va.) that includes additional border security measures
Rep. Michael McCaul (R-Texas) touted Goodlatte's bill and the "four pillars" during an event at George Washington University on Monday.
"I would argue, though, our nation's security has been weakened by chain migration and the visa lottery program, which is random," he said. "These two programs risk exploitation from those who do not share our values and actively work to undermine them."
But Democrats in the Senate and House are unlikely to go along with changes to the two legal immigration programs, especially after Trump's controversial remarks in a private meeting with lawmakers that the United States should not take more immigrants from "shithole countries."
"I think the president's proposal around family migration is the most divisive and difficult of his proposals," Coons said. "It would literally be the biggest immigration policy change since the 1920s. … I don't think we're going to get done in the next three days."
The inability to lock down a deal has sparked speculation that Congress could be forced to pass a one-year extension of DACA paired with one year of border security funding, though senators publicly downplay the option.
Sen. Marco Rubio (R-Fla.) recently quipped that if a narrow DACA-border security deal is "Plan B," then a temporary one-year stopgap is "Plan Z." Coons added on Monday that an extension was a "terrible" idea.
Absent a larger agreement, Senate Majority Leader Mitch McConnell (R-Ky.) has said he will turn to an immigration debate if the government remains open past Feb. 8 — the current deadline to pass a funding bill and avoid a second shutdown.
McConnell has been tightlipped about legislation he would bring to the floor, only saying the process will be "fair" to both sides. Senate Majority Whip John Cornyn (R-Texas) said that after the Feb. 8 deadline the Senate will turn to a "free-wheeling debate and amendment process."
The deal that ended the government shutdown last month paved the way for Senate consideration of immigration legislation, but it did nothing to ensure that the House would act on such a bill — or that President Trump would sign it. The Senate will take up immigration, but will the House — and Trump — follow?:
That has raised fears among immigrant advocates that the shutdown-ending compromise merely sets up a repeat of what happened five years ago, when eight senators forged an immigration deal that passed the Senate but went nowhere in the House after the GOP's conservative base revolted against any attempt to give "amnesty" to illegal immigrants.
House conservatives predicted Monday that a Senate bill offering legal status to "dreamers" — immigrants who were brought to the United States illegally as children — could see a similar fate if it resembles the bipartisan proposals that have so far been put forward.
"Just like the Gang of Eight bill didn't pass in the House, this idea is not going to pass in the House. That's when they're going to realize that they're going to have to move a little bit to our side," said Rep. Raúl R. Labrador (R-Idaho), a co-author of a conservative bill that would offer legal status to some dreamers, alongside a host of other policies.
* * *
Another obstacle is Trump, who has swung wildly between reaching out to Democrats and sticking to hard-line demands.
* * *
Still, Democratic senators said they believe that a Senate immigration bill passing with a significant bipartisan majority would ultimately force Republicans to capitulate. [Now who are the Dreamers?]
"There's going to be an awful lot of pressure," said Sen. Claire McCaskill (D-Mo.), one of the roughly 30 senators who worked to break the shutdown impasse. "What, are they going to start with members of the military? Are they going to deport them? Are they going to start with the teachers? Are they going to start with the college student that's in med school? At a certain point, the American people want these young people to have protection."
The unfolding debate stands to put intense pressure on House Speaker Paul D. Ryan (R-Wis.), who spent much of his congressional career pushing for a bipartisan immigration deal — only to see the effort suddenly crumble in 2014, when then-House Majority Leader Eric Cantor (R-Va.) lost to an immigration foe in a primary.
When Ryan pursued the speakership more than a year later, he won wide backing from Republicans after pledging to pursue only immigration legislation that had the support of a majority of GOP lawmakers.
Ryan has kept that promise while acknowledging a new foil: Trump, who campaigned for a crackdown on illegal immigration and moved last year to cancel a program, Deferred Action for Childhood Arrivals, or DACA, that protected hundreds of thousands of dreamers.
On one hand, Ryan has repeatedly pledged to bring forth a bill protecting dreamers … On the other hand, he has said no immigration bill can pass the House without Trump's support, and Trump has yet to back any legislation that has the bipartisan support necessary to pass both chambers.
Good luck with that!
House Republicans, meanwhile, are entertaining much more restrictive legislation that would grant legal status only to those who applied for and received DACA protections. In addition, the bill sponsored by Reps. Bob Goodlatte (R-Va.), Michael McCaul (R-Tex.), Martha McSally (R-Ariz.) and Labrador would reduce the number of authorized legal immigrants by roughly 25 percent — about 260,000 a year — while also authorizing border-wall construction, funding 10,000 new Border Patrol and immigration enforcement officers, and mandating employers use the federal "E-Verify" system to screen employees for immigration status. The legislation also would crack down on "sanctuary cities" that do not cooperate with federal immigration authorities.
Any one of those provisions represents a deal-killer for Democrats — as well as for many Republicans. House GOP leaders have been skeptical that they can build enough support among Republicans alone, but the bill's sponsors and House Majority Whip Steve Scalise (R-La.) have launched an effort to get more members on board in hopes of staging a vote before the March deadline.
Look, the bottom line is this: Congress is never going to come to a compromise to protect DACA recipients, let alone a broader immigration bill. Xenophobic anti-immigrant and racist Tea-Publicans in the House and the authoritarian demagogue despot in the White House are going to prevent any deal from ever coming together. It's not going to happen.
President Trump will have two options: use his executive authority for a new executive order to protect DACA recipients (unlikely), or begin deporting DACA recipients after March 5.
UPDATE: Paul Waldman of the Post concurs: It looks like we aren't getting a deal on immigration any time soon:
To be clear, it wouldn't be that hard to come up with a compromise both Democrats and Republicans could live with. The problem is that there are just too many points at which a deal can be shot down, and not enough reason for Republicans to feel as if they have no choice but to come to an agreement. And lurking in the background is the man who can and probably will stop just about any immigration compromise: House Speaker Paul D. Ryan (R-Wis.).
* * *
[I]f Ryan won't let anything but the most draconian restrictions come to a vote, the Senate doesn't much matter.