Federal Election Commission chair Ellen Weintraub explains "Let me make something 100% clear to the American public and anyone running for public office":
"It is illegal for any person to solicit, accept, or receive anything of value from a foreign national in connection with a U.S. election."
"Electoral intervention from foreign governments has been considered unacceptable since the beginnings of our nation. Our Founding Fathers … knew that when foreign governments seek to influence American politics, it is always to advance their own interests, not America's."
There is no "quid pro quo" element to this crime. Blithering idiot Republicans asserting that there was no quid pro quo to Donald Trump's solicitation of foreign governments to intervene in the U.S. election by providing his campaign "dirt" on his political opponents is no defense to this crime.
The Mueller Report made clear that the Trump campaign in 2016 solicited, accepted, and received assistance from Russia and Wikileaks (Mueller unbelievably concluded that he could not assign a value to what was received, so therefore did not charge a crime).
The Whistleblower scandal has exposed Trump soliciting "dirt" on his political opponents from Ukraine. And in this case, there are actually instances of quid pro quo that constitute the extortion of Ukraine in exchange for releasing the security assistance which was approved by Congress. It is right there in black and white in the transcript (readout) of President Trump's July 25 phone call with Ukrainian President Volodymyr Zelensky:
President Zelensky: I would also like to thank you for your great support in the area of defense. We are ready to continue to cooperate for the next steps, specifically we are ready to buy more Javelins from the United States for Defense purposes.
President Trump: I would like you to do us a favor though because our country has been through a lot and Ukraine knows a lot about it. I would like you to find out what happened with this whole situation with Ukraine, they say Crowdstrike …"
The conditional response is clear: if you want your security assistance you are going to have to do me a favor by digging up "dirt" on my political opponents.
Note: There are legitimate doubts about the transparency of the readout released by the White House. How much is missing from Ukraine transcript? Former officials point to ellipses, "odd markings".
Any attempt by Republicans to sow doubt was erased by the testimony of Kurt Volker, the U.S. special representative for Ukraine, and the text messages among U.S. diplomats and a Ukrainian official released by House committees last week. Trump's corruption is black and white (excerpt):
[The texts] definitively show that not only did the Trump administration seek to extract Ukrainian promises of political probes in exchange for a summit meeting, but also they spent weeks negotiating the deal both before and after the Trump-Zelensky phone call.
There was no lack of clarity on either side. "Heard from the White House," U.S. special envoy to Ukraine Kurt Volker texted a top aide to Mr. Zelensky on July 25, just ahead of the call. "Assuming President Z convinces trump he will investigate/ 'get to the bottom of what happened' in 2016, we will nail down date for a visit to Washington." [quid pro quo]
About two weeks later, amid negotiations over what, exactly, Mr. Zelensky would say in publicly announcing the probes, the aide, Andrey Yermak, texted Mr. Volker: "I think it's possible to make this declaration and mention all these things. . . . But it will be logic to do after we receive a confirmation of date."
Mr. Zelensky was supposed to get his meeting date after promising the investigations in the July 25 phone call. Instead, the Ukrainians were told Mr. Zelensky needed to make a public statement committing to the probes. Mr. Volker told Congress Thursday that when the Ukrainians then offered a general statement about fighting corruption, it was rejected by Mr. Trump's personal lawyer, Rudolph W. Giuliani, who said Mr. Zelensky had to refer specifically to allegations of Ukrainian interference in the 2016 election and to the gas company that employed Mr. Biden's son Hunter. [quid pro quo] In the end, the Ukrainians — to their credit — refused.
Meanwhile, the senior U.S. diplomat in Kiev, William B. "Bill" Taylor, had become concerned that not just a White House meeting but also U.S. military aid to Ukraine — which Mr. Trump had suspended — were linked to the demand for investigations. In an enigmatic text message on Sept. 8, Mr. Taylor referred to a "nightmare" scenario in which "they give the interview and don't get the security assistance." That sounds like a reference to yet another political trade-off, this time involving the $391 million in aid Mr. Trump was sitting on. The next day, the career diplomat texted: "I think it's crazy to withhold security assistance for help with a political campaign." [quid pro quo]
In fact, the New York Times revealed in a report Thursday that Ambassador to the European Union Gordon Sondland and then-State Department envoy to Ukraine Kurt Volker reportedly drafted the statement which was intended to commit Ukraine to investigating corruption allegations against former Vice President Joe Biden and his son.
The Wall Street Journal reported that Ambassador Marie Yovanovitch was dismissed after Trump allies said she was blocking the Biden probe and bad-mouthing president. Trump Ordered Ukraine Ambassador Removed After Complaints From Giuliani, Others. The recall of Marie Yovanovitch in the spring has become a key point of interest in the House impeachment inquiry.
Note: Congressional committees have not released all the texts in their possession. There may be even more damaging texts yet to be disclosed after declassification.
In addition, Conservative Republican Senator Ron Johnson (WI) Was Told Trump Was Seeking a Quid-Pro-Quo With Zelensky:
A top US diplomat told Sen. Ron Johnson (R-WI) that the Trump administration was blocking hundreds of millions of dollars in US military aid to Ukraine until the country agreed to launch investigations Trump was demanding, Johnson told the Wall Street Journal Friday.
Johnson said that the US ambassador to the European Union, Gordon Sondland, told him in late August that the administration was demanding Ukraine investigate "what happened in 2016," and that if President Trump had "confidence" in the investigation, he'd "release the military spending."
Johnson claims he heard from Sondland that this was in fact the policy. However, Johnson adds that he became disturbed by this, and followed up with President Trump himself — who denied any such linkage. "He said—expletive deleted—'No way. I would never do that. Who told you that?" Johnson told Journal reporters Siobhan Hughes and Rebecca Ballhaus.
But the story doesn't end there. According to the Milwaukee Journal Sentinel's Molly Beck, Patrick Marley, and Eric Litke, Johnson said in a separate interview that Trump did say he was considering withholding the aid because he wanted to find out "what happened in 2016."
Johnson said he asked Trump whether he could tell Ukraine's president the aid was on the way anyway, to dispel the government's fears, but "I didn't succeed."
On Thursday, Trump stood on the White House lawn and committed a crime in broad daylight by brazenly soliciting Ukraine and China to provide him "dirt" on Joe Biden. Trump publicly calls on China to investigate Bidens: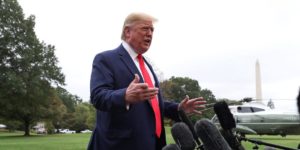 President Trump on Thursday publicly urged China to investigate Democratic challenger Joe Biden, a new request that a foreign government assist his reelection campaign adding to the extraordinary pattern of conduct at the center of a fast-accelerating impeachment inquiry.
With his brazen and direct appeal to the Chinese, delivered before journalists assembled on the South Lawn of the White House, Trump seemed to make a mockery of the charge that he abused the power of his office by pressing his Ukrainian counterpart to examine unfounded allegations of corruption by Biden and his son Hunter.
When a reporter then asked what he had hoped Ukrainian President Volodymyr Zelensky would do following their July 25 phone call, Trump replied: "If they were honest about it, they'd start a major investigation into the Bidens. It's a very simple answer. They should investigate the Bidens."
Trump's statement about China effectively globalizes the argument he has been making domestically, calling on other countries to stand with the United States under his rule or against it. It could signal to other countries that one way to curry favor with the United States is by digging up damaging information about Democrats.
Note: This was not Trump's first request to China. CNN reports Trump raised Biden with Xi in June call housed in highly secure server:
President Trump mentioned the political prospects of former Vice President Joe Biden and Sen. Elizabeth Warren (D-MA) in a June 18 phone call with Chinese President Xi Jinping, CNN reports. During the call, Trump also reportedly told Xi that he would stay quiet about the violent Hong Kong protests as trade talks between the two countries progressed. [quid pro quo] Records of the call were reportedly later stored in a highly secured electronic system, the same one that also holds records of a call between Trump and the Ukrainian president.
Trump has signaled to the world that the Trump administration is open for business to foreign governments that want to curry favor with him by providing "dirt" on his political opponents. And it doesn't even have to be actual dirt. Former Ukrainian president destroys Trump's conspiracy claims against Biden; No evidence has emerged that Joe Biden traded favors with China to help his son. Here's what we know.
As he did in 2016, the Trump campaign is practicing the big lie propaganda technique of Hitler's Nazi Germany – "in the big lie there is always a certain force of credibility" through constant repetition of the lie – and dezinformatsiya KGB propaganda – "false information with the intention to deceive public opinion" – of the Stalinist Soviet Union.
The Trump campaign and its conservative media entertainment complex propaganda machine are now deploying the The Gerasimov Doctrine of Putin's Russia:
Thanks to the internet and social media, the kinds of operations Soviet psy-ops teams once could only fantasize about—upending the domestic affairs of nations with information alone—are now plausible. The Gerasimov Doctrine builds a framework for these new tools, and declares that non-military tactics are not auxiliary to the use of force but the preferred way to win. That they are, in fact, the actual war. Chaos is the strategy the Kremlin pursues: Gerasimov specifies that the objective is to achieve an environment of permanent unrest and conflict within an enemy state.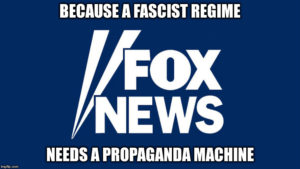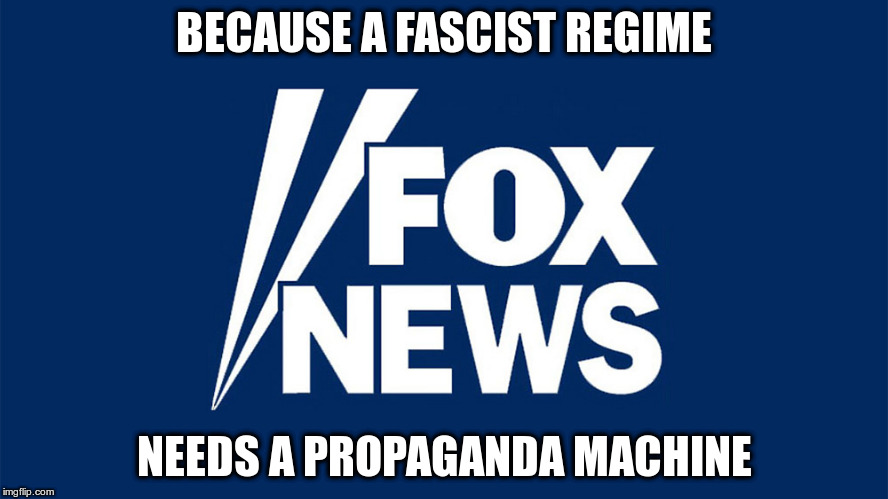 In Ukraine, Russia has been deploying the Gerasimov Doctrine since 2014. The United States was targeted in 2016. Now the Trump campaign and its conservative media entertainment complex propaganda machine are working in concert with Putin's Russian propaganda machine. They are accusing witnesses to Trump's crimes and members of Congress investigating Trump of "treason" and of waging a "coup." This is a classic case of projection if there ever was one.
Note: The Trump campaign is launching a $1 million ad buy in early primary states, airing a new attack ad peddling the discredited conspiracy theory involving the former vice president and Ukraine.
Weeks before the whistleblower's complaint became public, the CIA's top lawyer made what she considered to be a criminal referral to the Justice Department about the whistleblower's allegations that President Donald Trump abused his office in pressuring the Ukrainian president, NBC reports. "The move by the CIA's general counsel, Trump appointee Courtney Simmons Elwood, meant she and other senior officials had concluded a potential crime had been committed, raising more questions about why the Justice Department later declined to open an investigation." The answer is obvious: William "Coverup" Barr.
On Sunday, ABC News reports that 2nd whistleblower comes forward after speaking with IG:
Mark Zaid, the attorney representing the whistleblower who sounded the alarm on President Donald Trump's dealings with Ukraine and triggered an impeachment inquiry, tells ABC News that he is now representing a second whistleblower who has spoken with the inspector general.
Zaid tells ABC News' Chief Anchor George Stephanopoulos that the second person — also described as an intelligence official — has first-hand knowledge of some of the allegations outlined in the original complaint and has been interviewed by the head of the intelligence community's internal watchdog office, Michael Atkinson.
The existence of a second whistleblower — particularly one who can speak directly about events involving the president related to conversations involving Ukraine — could undercut Trump's repeated insistence that the original complaint, released on Sept. 26, was "totally inaccurate."
Zaid says both officials have full protection of the law intended to protect whistleblowers from being fired in retaliation. While this second official has spoken with the IG — the internal watchdog office created to handle complaints — this person has not communicated yet with the congressional committees conducting the investigation.
Zaid's co-counsel, Andrew Bakaj, confirmed in a tweet Sunday that the firm is representing "multiple whistleblowers." Zaid later confirmed in a tweet that two are being represented by their legal team.
According to the first whistleblower, more than a half a dozen U.S. officials have information relevant to the investigation — suggesting the probe could widen even further.
Trump has openly and publicly admitted to soliciting foreign governments to intervene in the U.S. election by providing his campaign "dirt" on his political opponents. The evidence produced to date demonstrates the administration was well aware this was illegal, and tried to cover it up.
There is no defense to Trump's admitted crimes, so he is resorting to what he does best, gaslighting America, insisting that his call was "perfect" and that he has "done nothing wrong." Don't be fooled.
In a functioning democracy not entirely corrupted by the Putin-friendly Republican Party, Donald Trump would have already been impeached.