Speaker of the House Paul Ryan, Senate Intelligence Committee chairmanRichard Burr, and ranking Democrat on the committee Mark Warner said Thursday that they have seen no evidence of President Donald Trump's accusation that he was wiretapped last year by President Obama. Ryan, Senate Intel committee see no evidence of Trump wiretap: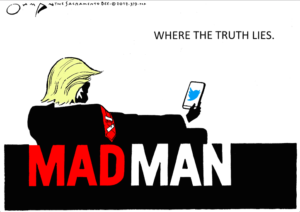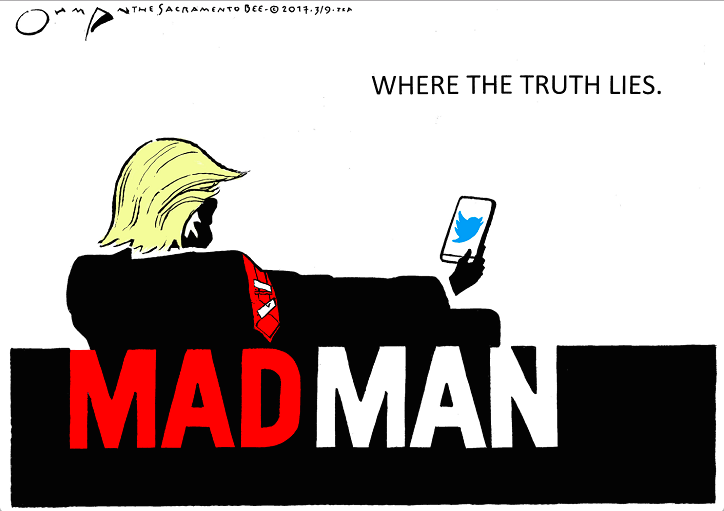 "We have not seen any evidence that there was a wiretap or a (Foreign Intelligence Surveillance Act) court order against Trump Tower or somebody in Trump Tower," Speaker Paul Ryan said in an interview Thursday on CNN's "The Situation Room" with Wolf Blitzer.
* * *
Senate Intelligence Committee chair Richard Burr and ranking member Mark Warner issued a statement earlier Thursday, saying "based on the information available to us, we see no indications that Trump Tower was the subject of surveillance by any element of the United States government either before or after Election Day 2016."
The statement from the leaders of the Senate Intelligence Committee marks the clearest and strongest refutation of Trump's allegations since the President first made them two weeks ago. The senators statement also addresses Trump's more recent statement that he was not merely speaking about wiretapping specifically.
The White House on Thursday said the statement did not shake their confidence in the accusation. Press secretary "Baghdad Sean" Spicer, asked to respond to the accusation, read an extensive litany of news reports from the podium that showed intelligence agencies' interest in Trump's activities, but none that actually corroborated Trump's claim.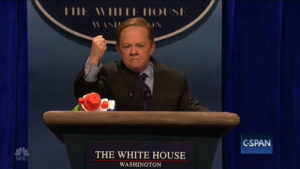 "He stands by it," Spicer said, characterizing the Intelligence Committee's statement as not final. "They have yet to go through the information."
Spicer engaged in a lengthy exchange with CNN's Jim Acosta over whether the President stands by his allegation that he was wiretapped specifically and not under surveillance in general.
"We talked about this several days ago," Spicer said. "The bottom line is that the investigation by the House and Senate has not been provided all the information."
The White House later on Thursday got pushback from GCHQ, the NSA's counterpart in the United Kingdom, over some of Spicer's remarks. At his briefing, Spicer read a statement from Fox News' Judge Andrew Napolitano, who had cited sources claiming Obama "used GCHQ" to provide transcripts of Trump's conversations.
A GCHQ spokesman responded, saying: "Recent allegations made by media commentator Judge Andrew Napolitano about GCHQ being asked to conduct 'wire tapping' against the then President-elect are nonsense. They are utterly ridiculous and should be ignored."
"Baghdad Sean" Spicer is defending the indefensible. If he had an ounce of integrity he would tell Trump that he is no longer going to defend his unfounded Twitter rant and that Trump should apologize for his Twitter rant or he will resign. Instead,  Spicer dutifully went out and gave a classic "Baghdad Bob" impression. The man has no soul.
The leaders of the House Intelligence Committee have said they have yet to see any evidence of wiretapping, but have yet to flatly rule out all surveillance. House Intelligence Chairman Devin Nunes admitted that he doesn't believe Obama ordered a physical wiretap or other surveillance activities of Trump Tower, but added, "we want to make sure that no surveillance activities were used for political purposes."
* * *
[W]hen asked Thursday if lawmakers have evidence to suggest that anyone in the Trump orbit's communications had been collected incidentally, Nunes pointed only to the leak of fired national security adviser Michael Flynn's communications with a Russian ambassador.
"Other than Gen. Flynn, we don't," he said.
Michael Flynn was aan undisclosed foreign lobbyist for the government of Turkey during the Trump campaign. Michael Flynn Was Paid to Represent Turkey's Interests During Trump Campaign. Flynn filed papers this week acknowledging that he worked as a foreign agent last year representing the interests of the Turkish government in a dispute with the United States, and was paid over $500,000.
Wait, it gets worse. Michael isikoff reports that Moscow paid $45,000 for Flynn's 2015 talk, documents show.
RT, the Russian state-owned television network described by U.S. intelligence officials as "the Kremlin's principal international propaganda outlet," paid $45,386 for former Defense Intelligence Agency Director Michael Flynn to fly to Moscow to speak at its 10th anniversary celebration in December 2015, according to documents newly obtained by a congressional committee and provided to Yahoo News.
* * *
"I cannot recall any time in our nation's history when the President selected as his National Security Advisor someone who violated the Constitution [emoluments clause] by accepting tens of thousands of dollars from an agent of a global adversary that attacked our democracy," Rep. Elijah E. Cummings, D-Md., the ranking minority member of the House Oversight and Government Reform Committee, wrote in a letter sent Thursday to President Trump, Defense Secretary James Mattis and FBI Director James Comey.
Cummings asked the president to turn over forms Flynn filled out to obtain his White House security clearance to determine if he fully disclosed his Russian government payment as well as any contacts he would have had with Russian government officials during the trip. (While in Moscow, Flynn was seated at a black-tie dinner next to Russian President Vladimir Putin.) Cummings also asked that Mattis implement a clause in Pentagon rules that directs officials to retrieve any funds that retired military officers received from foreign governments and turn them over to the U.S. Treasury.
The House Committee on Oversight and Government Reform released a set of documents on Thursday that revealed new details about a trip Michael Flynn took in December 2015 on behalf of RT, a Russian television network with close ties to the Kremlin. Oversight Committee Releases Documents on Flynn's Trip to Russia.
If Michael Flynn was being surveilled, it was because of one of two things, either a criminal investigation, or a FISA Court warrant was issued on evidence of acting on behalf of a foreign government. This information is supposed to be provided to the Senate Intelligence Committee by Friday. Stay tuned.
Back to the CNN report:
Ranking Democrat of the House committee Adam Schiff told CNN that he expects FBI Director James Comey to also say that he's seen no evidence of Trump's claim when the director testifies before his committee Monday.
"Because there's no evidence of this at all," Schiff told CNN. "But again you can see the President trying to say, 'Well I didn't mean what I said or what I said could mean various different things' — he was very specific in what he said. So we'll ask the director to address that very specific allegation."
Their statement came hours after Ryan said at a news conference that "no such wiretap existed," citing intelligence reports to House leaders.
"The intelligence committees, in their continuing, widening, ongoing investigations of all things Russia, got to the bottom — at least so far with respect to our intelligence community — that no such wiretap existed," Ryan said in response to a question from CNN.
The New York Times reports today, Trump Digs In on Wiretap, No Matter Who Says Differently:
The former president denied it. So did the former national intelligence director. The F.B.I. director has said privately that it is false. The speaker of the House and the chairmen of the House and Senate Intelligence Committees — all three Republican — see no indications that it happened.
But President Trump insists he is right. No matter how many officials, even in his own party, dismiss his unsubstantiated claim that President Barack Obama secretly tapped his phones last year, the White House made clear on Thursday that it would stand by the assertion.
* * *
In recent days, the president and his aides have tried to recast his original assertion to make it more defensible. Mr. Trump and Mr. Spicer have both noted that in two Twitter posts the president used quotation marks around the phrases "wires tapped" or "wire tapping," which they said indicated that they were not meant to be taken literally.
"That really covers surveillance and many other things," Mr. Trump told Tucker Carlson in an interview on Wednesday night on Fox News. "Nobody ever talks about the fact that it was in quotes, but that's a very important thing."
That, however, ignores the fact that two other messages Mr. Trump posted that morning did not use quotation marks and were pretty specific. "How low has President Obama gone to tapp my phones during the very sacred election process," he wrote in one, misspelling the word tap. "This is Nixon/Watergate. Bad (or sick) guy!"
Mr. Trump also suggested that he had secret evidence no one else had seen. He told Mr. Carlson that he "will be submitting things before the committee very soon that hasn't been submitted as of yet — but it's potentially a very serious situation." Mr. Trump added, "You're going to find some very interesting items coming to the forefront over the next two weeks."
The White House staff took its cue from that interview and mapped out an aggressive defense on Thursday. Mr. Trump was already angry that two courts had blocked his temporary travel ban even though he had been assured by his staff that his latest one would pass judicial muster. So Mr. Spicer headed to the lectern on Thursday primed for a fight and armed with a stack of news clippings that he read at length to justify the president's claim.
"The bottom line is the investigation by the House and the Senate has not been provided all the information," Mr. Spicer said.
But Rachel Cohen, a spokeswoman for Mr. Warner, later responded: "The bipartisan leaders of the Intelligence Committee would not have made the statement they made without having been fully briefed by the appropriate authorities."
At the White House briefing, among the articles Mr. Spicer read from were several from The New York Times. However, none of them actually reported that Mr. Obama had authorized surveillance of Mr. Trump or that Mr. Trump had been eavesdropped. The Times has reported that law enforcement agencies are investigating contacts between some associates of Mr. Trump and Russian figures and had access to intercepted communications.
Other news reports cited by Mr. Trump on Wednesday night and Mr. Spicer on Thursday repeated months-old claims that a secret foreign intelligence court had approved a surveillance order involving Mr. Trump in October. Reporters from The Times have not been able to corroborate the existence of such an order.
The British assertions came from a Fox News commentator, Andrew Napolitano.
Early on Friday, GCHQ, the British communications intelligence agency, issued a statement denying that it had wiretapped Mr. Trump during the presidential campaign, saying that the allegations were "nonsense."
"They are utterly ridiculous and should be ignored."
The agency rarely comments on intelligence matters; its statement was both unusual and unusually vehement.
Mr. Spicer complained that reporters had not focused on a comment by Mr. Nunes, the House intelligence chairman, that "it's possible" that intelligence agencies could have swept up others in the course of their surveillance, including Mr. Trump.
But Mr. Nunes was firm in saying that Mr. Trump's original Twitter posts were not borne out by the facts. "I don't believe there was an actual tap of Trump Tower," he said on Wednesday. If Mr. Trump's posts were to be taken literally, "then clearly the president was wrong," Mr. Nunes said.
That was not a word the White House was willing to use on Thursday. Asked if Mr. Trump would apologize to Mr. Obama if it turned out he was wrong, Mr. Spicer demurred.
"We're not going to prejudge what the outcome of this is," he said. "I think we've got to let the process work its will, and then when there's a report that comes out conclusive from there, then we'll be able to comment."
We are dealing with a madman. It is time to invoke the 25th Amendment.