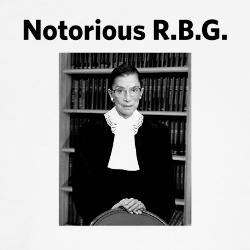 Supreme Court Justice Ruth Bader Ginsburg aka the "Notorious R.B.G.," has survived cancer, so the placement of a stent in an artery of her heart on Tuesday is not going to slow her down. Justice Ginsburg has heart surgery after artery blockage is found.
As Paul Waldman at the Washington Post writes, Notorious R.B.G. "plans to return to her office by rappelling down the side of the building, after which she will bench press Antonin Scalia, just to make sure nobody gets any funny ideas."
The AP reports Justice Ginsburg Leaves Hospital:
Justice Ruth Bader Ginsburg was released from a hospital on Thursday after having a heart stent implanted to clear a blocked artery, a Supreme Court spokeswoman said.
Justice Ginsburg, 81, is expected to be at work when the court hears its next round of oral arguments on Monday, the spokeswoman said.
 "Next time, you best bring Kryptonite!"