I mentioned in a comment that last week the right-wing Public Integrity Alliance was claiming that the Glendale Elementary School District personnel and Save Our Schools Arizona violated rules regarding the use of public resources to influence political campaigns in their referendum campaign against the "vouchers on steroids" bill passed by our Tea-Publican legislature, and signed into law by our Koch-bot Governor Ducey. Non-profit alleges campaign volunteers, school district violated election laws.
Now the big guns of the right-wing are rolling out their attacks to try to prevent the referendum from qualifying for the ballot. The Arizona Capitol Times reports, Voucher expansion on hold as effort to kill campaign begins: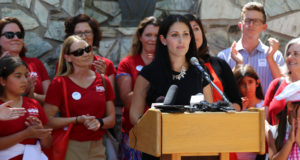 School voucher expansion legislation is on hold after Save Our Schools Arizona delivered, by the group's count, 111,540 signatures today to refer the law to the 2018 general election ballot.
A yellow school bus decked out in SOS Arizona banners carried the signatures to a loading deck below the Arizona Secretary of State's Office. Volunteers in red SOS Arizona shirts loaded wagons full of petition boxes, and children dressed as professionals carted them to the building.
Beyond the spectacle, spokeswoman Dawn Penich-Thacker (above) was clear that the effort to quash the expansion of the state's Empowerment Scholarship Account program was far from over.
"The supporters of voucher expansion will tell you this is about choice, but so far, the only choice that SB 1431 respects is that of out-of-state, dark money groups who created it," she said to crowd gathered after the signatures were delivered. "What about the choice of 111,540 Arizona voters who want to have their say?"
Penich-Thacker said she received word that opponents were already asking that signatures be invalidated – signatures that were still in the boxes.
By the time SOS Arizona delivered its signatures, opponents had already made their first effort to hinder the campaign.
Republican elections attorney Timothy La Sota, who represents the Arizona Republican Party, sent a letter to the secretary of state requesting that it invalidate all signatures collected by three of the campaign's paid petition gatherers on the grounds that they registered incorrectly with the state.
Elections Director Eric Spencer said La Sota alleged that one of the three had impermissibly listed a post office box as his home address, while the other had information missing from the street addresses they used in their registration. Spencer said he didn't know how many signatures might be affected.
In response, Dawn Penich-Thacker accused ESA supporters of trying to stifle democracy.
"Instead of listening to their constituents, they are plotting ways to squash us," she said. "Let me be clear: Every lawsuit to throw out a voter signature is an attempt to silence us. Every challenge to a retiree who spent this summer getting signatures is an affront to our democracy in Arizona. Every trick they pull out of their deep pockets is putting their political ambitions ahead of the future of Arizona."
She predicted supporters of the legislation would use "fear tactics" to sway voters and exploit the current rules around ESAs, which, she said, SOS Arizona does not oppose.
The anti-voucher expansion side will certainly be up against legal challenges and high-dollar investments against SOS Arizona's cause.
Hours before the signature delivery, the ["Kochtopus"] Americans for Prosperity Foundation joined the fray by announcing in a press release it will be "spending six figures to tell Arizonans the facts about how charter schools, Empowerment Scholarship Accounts, and other policies are enabling more Arizona children to obtain a quality education."
* * *
Elections Director Eric Spencer said the final verdict on valid signatures submitted Tuesday is not expected until the last week of September at the earliest.
However, his estimate is absent litigation, which Spencer said is "100 percent ensured."
And without a looming ballot-printing deadline, a legal battle is likely to be long drawn out and expensive.
Things are about to get ugly. Stay tuned.