Back in September, George Papadopoulos, a former Trump campaign adviser, was sentenced on Friday to 14 days in prison for lying to the F.B.I. about his contacts with Russian intermediaries during the 2016 presidential race. George Papadopoulos, Ex-Trump Adviser, Is Sentenced to 14 Days in Jail: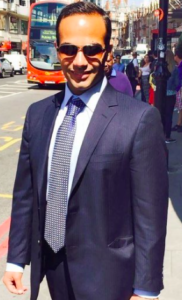 Prosecutors argued that Mr. Papadopoulos's repeated lies during a January 2017 interview with investigators hampered the Russia investigation at a critical moment. In part because Mr. Papadopoulos misled the authorities, prosecutors said in court papers, they failed to arrest a London-based professor — suspected of being a Russian operative — before he left the United States in February 2017, never to return.
Andrew D. Goldstein, a prosecutor on Mr. Mueller's team, told the judge that because Mr. Papadopoulos lied, investigators were forced into a painstaking monthslong examination of 100,000 emails and other communications to establish how Russian intermediaries tried to use him as a channel to the Trump campaign. Even after he pleaded guilty, Mr. Goldstein said, Mr. Papadopoulos made only "begrudging efforts to cooperate."
Judge Randolph D. Moss said that Mr. Papadopoulos deserved a stiffer sentence because he had impeded an investigation of "grave national importance."
On Monday, Ex-Trump campaign adviser Papadopoulos reports to prison: Former Trump campaign foreign policy adviser George Papadopoulos began serving his two-week prison sentence on Monday after a judge rejected his last-minute bid to remain free.
Also on Monday, the Special Counsel revealed that a supposedly cooperating witness, former Trump campaign manager Paul Manafort, continued to commit crimes by lying to the FBI and prosecutors after entering into a plea agreement. Mueller says Manafort lied after pleading guilty, should be sentenced immediately: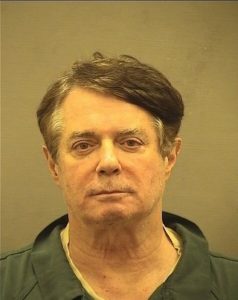 Prosecutors with special counsel Robert S. Mueller III said Monday that Paul Manafort breached his plea agreement, accusing President Trump's former campaign chairman of lying repeatedly to them in their investigation into Russian interference in the 2016 election.
The apparent collapse of Manafort's cooperation agreement is the latest stunning turnaround in his case, exposing the longtime Republican consultant to at least a decade behind bars after he pleaded guilty in September to charges of cheating the Internal Revenue Service, violating foreign-lobbying laws and attempting to obstruct justice.
The filing also indicated that Mueller's team may have lost its potentially most valuable witness in Manafort, a top campaign official present at discussions at the heart of the special counsel's mission to determine if any Americans conspired with Russia's efforts to sway the U.S. election.
* * *
"After signing the plea agreement, Manafort committed federal crimes by lying to the Federal Bureau of Investigation and the Special Counsel's Office on a variety of subject matters, which constitute breaches of the agreement," prosecutors wrote. "The government will file a detailed sentencing submission to the Probation Department and the Court in advance of sentencing that sets forth the nature of the defendant's crimes and lies."
Still, prosecutors may know more about Manafort's interactions than he realizes, allowing them to catch him in his lies.
The Guardian, in an unconfirmed report on Tuesday reports, Manafort held secret talks with Assange in Ecuadorian embassy, sources say:
Donald Trump's former campaign manager Paul Manafort held secret talks with Julian Assange inside the Ecuadorian embassy in London, and visited around the time he joined Trump's campaign, the Guardian has been told.
Sources have said Manafort went to see Assange in 2013, 2015 and in spring 2016 – during the period when he was made a key figure in Trump's push for the White House.
* * *
A well-placed source has told the Guardian that Manafort went to see Assange around March 2016. Months later WikiLeaks released a stash of Democratic emails stolen by Russian intelligence officers.
Manafort, 69, denies involvement in the hack and says the claim is "100% false." His lawyers initially declined to answer the Guardian's questions about the visits.
In a series of tweets WikiLeaks said Assange and Manafort had not met. Assange described the story as a hoax.
The Guardian report has not yet been confirmed by other media outlets, and its sourcing is anonymous. Consider it with caution for now.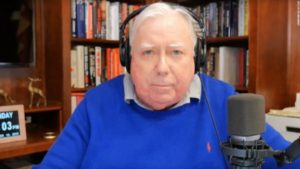 Also on Monday, right-wing conspiracy monger Jerome Corsi — who's been pissing his pants in public in recent weeks saying that he is about to be indicted by the Special Counsel for perjury— was reportedly in plea negotiations over last week. Corsi said Monday that he has rejected a deal offered by special counsel Robert S. Mueller III to plead guilty to one count of perjury, saying he would have been forced to say untruthfully that he intentionally lied to investigators. Conservative author and Roger Stone associate Jerome Corsi says he is rejecting plea deal from special counsel:
Corsi said he was merely forgetful in his initial answers to Mueller's team about his interest in the activities of WikiLeaks, which released hacked Democratic emails during the 2016 campaign.
His apparent rejection of a plea offer is the latest twist in a months-long effort by Mueller's team to secure the cooperation of the author and conspiracy theorist.
Corsi provided research during the 2016 White House race to Roger Stone, a longtime adviser to Donald Trump. For months, the special counsel has been scrutinizing Stone's activities to determine whether he coordinated with WikiLeaks or its founder, Julian Assange, in the release of Democratic emails. Stone and WikiLeaks have repeatedly denied any such coordination.
* * *
In his sessions with Mueller's team, prosecutors seized on inconsistencies between his statements and emails, Corsi told The Washington Post.
He said he first told investigators that he never encouraged anyone to go see Assange in the summer of 2016. However, Corsi told The Post, he amended his testimony after Mueller's investigators allowed him to refresh his memory and review his emails, which were housed on a laptop he had provided under a subpoena.
Corsi said he doesn't understand why he should plead guilty to lying when he voluntarily turned over his records and spoke based on poor memory.
* * *
Corsi told The Post that after reviewing his emails, he realized that between July 2016 and August 2016 he had offered to go visit Assange in the Ecuadoran Embassy if his then-boss, WorldNetDaily editor in chief Joseph Farah, purchased him a plane ticket to London.
Corsi said he also forwarded to his friend Ted Malloch an email in which Corsi said Stone urged that someone "get to Assange" immediately.
Stone confirmed Monday that he emailed Corsi to suggest that Malloch meet with Assange.
* * *
Prosecutors have spent the past two months examining Corsi's communications with Stone, seizing two of his computers and interviewing him for more than 40 hours in six sessions, Corsi has said.
On Nov. 12, Corsi said that his initial cooperation with the special counsel had collapsed and that he was expecting to be charged.
But days later, Corsi reopened negotiations with Mueller's office, as The Post first reported.
Now Corsi has rejected a plea deal.
Andrew Prokop reports at Vox.com:
[I]n a forthcoming book obtained by the Daily Caller, [Corsi] also says that he worked with longtime Trump adviser Roger Stone to concoct a false "cover story" to explain a suspicious tweet of Stone's. In the tweet, Stone seemed to predict trouble coming for one or both Podesta brothers — over a month before news broke that WikiLeaks had obtained John Podesta's hacked emails. Corsi also writes that Stone asked him to tell Assange to delay the timing of the Podesta email release.
All this, too, should be treated with caution — Corsi is a conspiracy theorist with a history of making false claims, and Stone denied his account to the Daily Caller.
UPDATE: Phillip Bump of The Post has A timeline of the Roger Stone-WikiLeaks question.
CNN reports tonight, Stone's efforts to seek WikiLeaks documents detailed in draft Mueller document: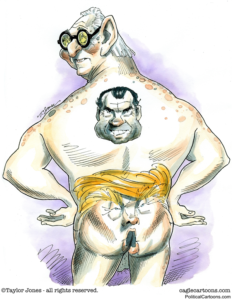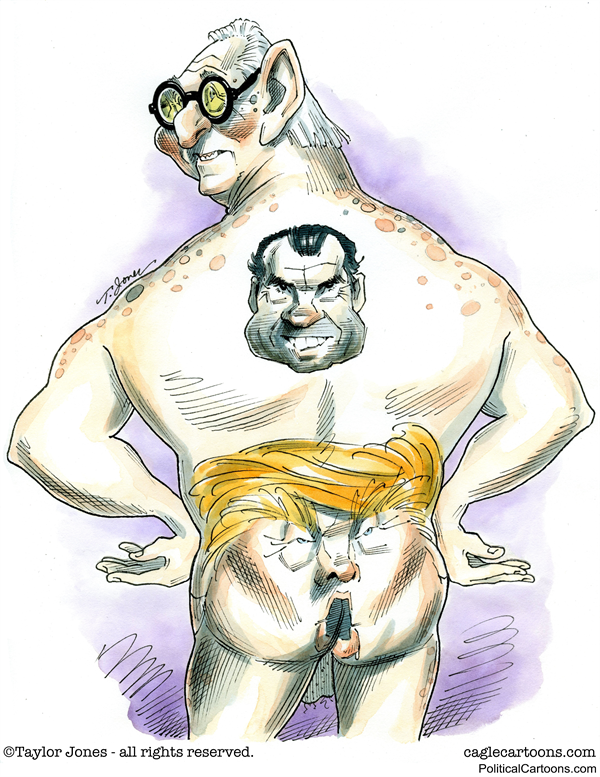 Draft court filings obtained by CNN outline significant insights into what special counsel Robert Mueller may know about Roger Stone's efforts to seek documents from WikiLeaks in 2016.
Mueller's office was preparing to tell a federal court that Stone pushed an associate to get documents from WikiLeaks — information that is now known to be stolen from the Democrats by Russian hackers — that could help the Trump campaign, according to a draft of a court filing and other documents shared with CNN by Stone associate and conservative author Jerome Corsi.
Corsi said he received the drafts, mostly dated this month, as part of his negotiations with Mueller's team regarding a plea of making a false statement to federal investigators. According to Corsi and the documents he provided, prosecutors offered him a plea deal, which Corsi says he plans to reject because he doesn't believe he knowingly lied.
In one of the draft court filings shared with CNN on Monday, the special counsel's team outlined how Stone, who is only identified as Person 1, allegedly sought the information and emails from WikiLeaks using at least one person, Corsi, as a go-between. Corsi confirmed to CNN that Stone is Person 1.
Mueller spokesman Peter Carr declined to comment on the draft documents. The authenticity of all documents could not be confirmed immediately by CNN, though the draft court filings regarding the possible plea agreement match the format, structure and language of all other plea deal cases opened by the Mueller team in DC federal court.
* * *
In the draft court papers, prosecutors outline how Corsi allegedly lied three times to the FBI and special counsel's office. He told them he rebuffed Stone when Stone asked him to reach out to Wikileaks; he denied that Stone asked him to involve another person in the effort; and he denied he shared information about what Wikileaks had.
In the summer of 2016, Stone allegedly asked Corsi to get in touch with WikiLeaks "about materials it possessed relevant to the presidential campaign that had not already been released," according to the draft filing. "Get to [Assange]," Stone wrote on July 25, 2016, three days after Wikileaks dumped thousands of Democratic National Committee emails. According to the documents, Stone directed Corsi to get in touch with Wikileaks founder Julian Assange at the Ecuadorian Embassy in London, was blasting publicly the documents stolen in the Russian hack, and "get the pending [Wikileaks] emails."
Corsi then passed that request on to Ted Malloch, a London-based consultant. Malloch said he spoke to the FBI this year and said was asked specifically if he had visited the Ecuadorian Embassy in London. He had not, he said. Stone also said he has never met Assange.
By August 2, 2016, Corsi was emailing Stone to predict that WikiLeaks had more document dumps in the works. Stone has said he spoke with Trump the following day, August 3.
"Word is friend in embassy plans 2 more dumps. One shortly after I'm back. 2nd in Oct. Impact planned to be very damaging," Corsi wrote, according to the draft document. "Time to let more than [the Clinton Campaign chairman] to be exposed as in bed w enemy if they are not ready to drop HRC [Hillary Rodham Clinton]. That appears to be the game hackers are now about. Would not hurt to start suggesting HRC old, memory bad, has stroke — neither he nor she well. I expect that much of next dump focus, setting stage for Foundation debacle."
Stone has not been charged publicly, nor have their other contacts or WikiLeaks. But the documents made public Tuesday are the strongest signal yet that Stone could be charged with a crime. Several other contacts of Stone's have testified before a federal grand jury in DC, according to CNN's reporting.
If Stone were to be charged with a crime for seeking the stolen documents, others who discussed with him reaching WikiLeaks could also face legal risk in a criminal conspiracy case or if they attempted to shield information from Congress, the FBI, prosecutors or the grand jury.
* * *
Stone has confirmed the accuracy of the emails between him and Corsi that are revealed in the draft filings. He has also confirmed that Malloch was the individual in London with whom Corsi spoke.
* * *
All of the communications between Stone and Corsi, as described in the draft court filing, would have taken place after WikiLeaks founder Julian Assange announced in June 2016 that his organization had materials about Clinton and would be releasing documents before the election.
* * *
As part of his proposed plea agreement, Corsi would have admitted to only one criminal charge with two components — lying to investigators and obstruction of justice before congressional or grand jury proceedings.
* * *
In the draft agreement, the special counsel's office does not seek for Corsi to cooperate extensively like it has with other defendants. However, prosecutors had made a deal with him two months earlier that he would speak with Mueller's office and testify before the grand jury — and not lie during either situation.
* * *
The special counsel's office has charged four people with lying to investigators. Two, the former Trump campaign adviser George Papadopoulos and the Dutch lawyer Alex Van Der Zwaan, were sentenced to prison. Former Trump campaign deputy Rick Gates and former national security adviser Michael Flynn have pleaded guilty and continue to cooperate with investigators on multiple ongoing investigations.
Why are "all the president's men" lying to the FBI and the Special Counsel? They are believed to be conspiring with the president to obstruct justice in exchange for a presidential pardon.
In Watergate, the offer of a pardon was dangled in front of defendants to assure their silence in a criminal proceeding. This act, as part of a cover-up, was widely considered to be an obstruction of justice. The Pardon Power Can Be Used to Obstruct Justice. Just Ask Richard Nixon.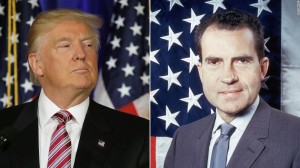 Consider Article 9 of the Articles of Impeachment adopted by the House Judiciary Committee in 1974, which spelled out various "high crimes and misdemeanors" of President Nixon, including the following: "endeavoring to cause prospective defendants, and individuals duly tried and convicted, to expect favored treatment and consideration in return for their silence or false testimony, or rewarding individuals for their silence or false testimony."
* * *
The point is simple; even a scheming Nixon recognized it. If Donald Trump offers clemency to keep someone from testifying or providing evidence to authorities, it is an obstruction of justice. The key is the intent. If it is done with "corrupt" intent, as the obstruction statute labels it, then it is a crime and can be the basis for an article of impeachment.
UPDATE: Tuesday night, the New York Times reported direct evidence of a conspiracy to impede the Special Counsel's investigation (obstruction of justice) between Trump's shyster lawyers and Paul Manafort's shyster lawyers. Manafort's Lawyer Said to Brief Trump Attorneys on What He Told Mueller:
A lawyer for Paul Manafort, the president's onetime campaign chairman, repeatedly briefed President Trump's lawyers on his client's discussions with federal investigators after Mr. Manafort agreed to cooperate with the special counsel, according to one of Mr. Trump's lawyers and two other people familiar with the conversations.
The arrangement was highly unusual unethical and inflamed tensions with the special counsel's office when prosecutors discovered it after Mr. Manafort began cooperating two months ago, the people said. Some legal experts speculated that it was a bid by Mr. Manafort for a presidential pardon even as he worked with the special counsel, Robert S. Mueller III, in hopes of a lighter sentence.
[Shyster lawyer] Rudy Giuliani, one of the president's personal lawyers, acknowledged the arrangement on Tuesday and defended it as a source of valuable insights into the special counsel's inquiry and where it was headed. Such information could help shape a legal defense strategy, and it also appeared to give Mr. Trump and his legal advisers ammunition in their public relations campaign against Mr. Mueller's office.
While Mr. Downing's discussions with the president's team violated no laws — it does violate the Rules of Professional Conduct for sttorneys — they helped contribute to a deteriorating relationship between lawyers for Mr. Manafort and Mr. Mueller's prosecutors, who accused Mr. Manafort of holding out on them despite his pledge to assist them in any matter they deemed relevant, according to the people. That conflict spilled into public view on Monday when the prosecutors took the rare step of declaring that Mr. Manafort had breached his plea agreement by lying to them about a variety of subjects.
* * *
[L]aw enforcement experts said it was highly unusual for Mr. Manafort's lawyers to keep up such contacts once their client had pledged to help the prosecutors in hope of a lighter punishment for his crimes.
Mr. Manafort must have wanted to keep a line open to the president in hope of a pardon, said Barbara McQuade, a former United States attorney who now teaches law at University of Michigan. "I'm not able to think of another reason," she said.
---
Support volunteer citizen journalism at the Blog for Arizona with a donation today. Your secure contribution keeps the Blog online and sustains a free press in Arizona.
---