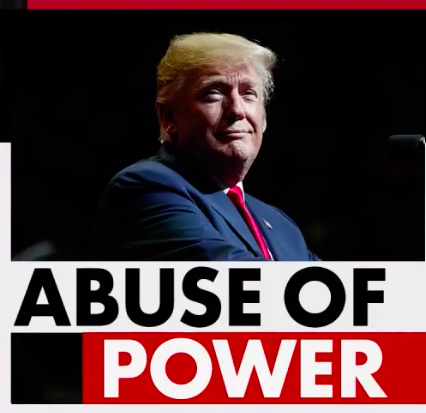 On Wednesday, the New York Times published a massive compendium of all the known incidents — and new reporting adding context to earlier reporting — of Donald Trump's attempts to interfere, to impede and to obstruct the investigations of Special Counsel Robert Mueller, and the U.S. Attorneys in the Southern District of New York. Intimidation, Pressure and Humiliation: Inside Trump's Two-Year War on the Investigations Encircling Him.
This report could easily serve as the outline for the Statement of Facts section in an indictment for obstruction of justice. Trump Has Publicly Attacked the Russia Investigation More Than 1,100 Times up to the time of publication of this report. As you might imagine, Trump is adding new paragraphs to the Statement of Facts in his indictment today.
The Twitter-troll-in-chief is also attacking the New York Times for its concise reporting on his multiple attempts to obstruct justice, renewing his war on the free press as every authoritarian strongman in the history of the world has done.
The Times on Wednesday defended the article as "rigorously reported," based on a review of confidential White House documents and dozens of interviews.
Times publisher Arthur Sulzberger, in a statement on Wednesday, again called on Mr. Trump to heed the words of past presidents who, spanning historical eras and parties, embraced the importance of a free press.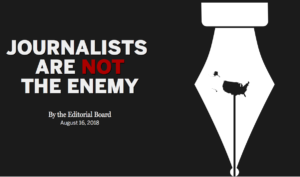 "In demonizing the free press as the enemy, simply for performing its role of asking difficult questions and bringing uncomfortable information to light, President Trump is retreating from a distinctly American principle," Mr. Sulzberger said. "It's a principle that previous occupants of the Oval Office fiercely defended regardless of their politics, party affiliation or complaints about how they were covered."
The publisher added, "As I have repeatedly told President Trump face to face, there are mounting signs that this incendiary rhetoric is encouraging threats and violence against journalists at home and abroad."
There is a new sense of foreboding today that something nefarious is taking place behind closed doors at the Department of Justice. It appears that Special Counsel Robert Mueller's investigation is being shut down, quite likely by new Attorney General William Barr who auditioned for the job by criticizing the Mueller probe prior to his Senate confirmation hearing where he offered platitudes that it "it is vitally important" that special counsel Robert Mueller be allowed to complete his Russia investigation. Barr also said he believes Congress and the public should learn the results.
Then again, maybe not so much. It appears that the fix is in to nix a public report.
I got one of those 'breaking news" updates this morning that the wicked witch of the White House communications office, Kellyanne Conway, Suggests Mueller May Never Produce a Report — 'Let's See If There's a Report To Even Discuss':
Kellyanne Conway has suggested that Robert Mueller may never produce his report into alleged Russian interference, adding that it will ultimately be up to the special counsel to decide if the "endless" investigations ever conclude, during a fiery appearance on CNN's Cuomo Prime Time.
* * *
Cuomo told Conway that when the Mueller investigation report does come out, he will give the administration "as much time as you want to discuss its findings. I believe it's critical to the American people, the offer will always stand."
"Let's see if there's a report to even discuss," she replied. "And let's see when these endless investigations actually end. The American people want their elected officials to focus on issues and my boss is."
Cuomo suggested that the report should be made public and that the president should want it "more than anybody."
"That's up to Mr Mueller," Conway said, to which Cuomo disagreed. He put it to Conway that "your boy" Attorney General William Barr will decide what to do with the report.
Then today CNN is reporting that the Justice Department is preparing for Mueller report as early as next week:
Attorney General Bill Barr is preparing to announce as early as next week the completion of special counsel Robert Mueller's Russia investigation, with plans for Barr to submit to Congress soon after a summary of Mueller's confidential report, according to people familiar with the plans.
The preparations are the clearest indication yet that Mueller is nearly done with his almost two-year investigation.
The precise timing of the announcement is subject to change.
The scope and contours of what Barr will send to Congress remain unclear. Also unclear is how long it will take Justice officials to prepare what will be submitted to lawmakers.
The Justice Department and the special counsel's office declined to comment.
Barr has said that he wants to be as "transparent" as possible with Congress and the public, "consistent with the rules and the law."
Under the special counsel regulations, Mueller must submit a "confidential" report to the attorney general at the conclusion of his work, but the rules don't require it to be shared with Congress, or by extension, the public. And, as Barr has made clear, the Justice Department generally guards against publicizing "derogatory" information about uncharged individuals.
As a result, one of the most pressing questions Barr will face in the coming weeks is the extent to which Mueller's findings should be disclosed to Congress.
The regulations require Mueller to explain in his report all decisions to prosecute or not prosecute matters under scrutiny. Barr would also need to inform Congress if the Justice Department prevented the special counsel team from pursuing any investigative steps.
Trump said Wednesday that it's "totally up to Bill Barr" as to whether Mueller's report comes out while he is overseas in Vietnam next week.
"That'll be totally up to the new attorney general. He's a tremendous man, a tremendous person, who really respects this country and respects the Justice Department, so that'll be totally up to him," Trump told reporters in the White House.
* * *
While the Mueller investigation may soon come to a close, there continue to be court cases that will be handled by other federal prosecutors.
In addition, Mueller has referred certain matters that fell outside the scope of the Russia probe to other US Attorneys to pursue. Some of those investigations have already been revealed, including the investigation in New York into former Trump's former lawyer, Michael Cohen. That probe has spawned subsequent federal investigations in New York into the Trump Organization and the Trump Inaugural Committee. It is possible the special counsel's team has referred other matters that have not yet come to light.
* * *
Even with signs of a wrap up, the DC US Attorney's office has stepped in to work on cases that may continue longer than Mueller is the special counsel.
That office has joined onto some of the Mueller's team's casework, including the cases against Stone, a Russian social media propaganda conspiracy, and in an ongoing foreign government-owned company's fight against a grand jury subpoena.
Mueller and his prosecutors are still reporting to work as frequently as ever — with some even coming in on recent snow days and Presidents' Day. But also visiting them more often than ever before are the prosecutors from the DC US Attorney's Office and others in the Justice Department who've worked on the Mueller cases.
In one court case, against Concord Management for its alleged support for the social media conspiracy prosecutors told a judge in January there's still a related "matter occurring before the grand jury." See more, Concord Cites Dostoevsky, Visa Wait In Latest Broadside Against Mueller.
In other cases, including Manafort's, the Mueller team has made heavy redactions to its recent public court filings, including to protect pending investigations and people who haven't been charged with crimes.
UPDATE: The Washington Post says it can confirm CNN's reporting. Justice Department preparing for Mueller report in coming days:
Justice Department officials are preparing for the end of special counsel Robert S. Mueller III's nearly two-year investigation into Russian interference in the 2016 election and believe a confidential report could be issued in coming days, according to people familiar with the discussions.
Congress has the power to subpoena Attorney General William Barr and Special Counsel Robert Mueller to testify, as well as any report Mueller submits to Barr and, more importantly, the grand jury evidence of his investigation. Benjamin Wittes explains, What an Old Watergate Document Can Teach the House Judiciary Committee:
The special prosecutor's job was to prosecute crimes, not to evaluate the president's fitness for office. That latter job lay with the chairman and his House Judiciary Committee, who didn't have access to the prosecutor's evidence. So the House judiciary committee chairman wrote a letter requesting that the evidence be turned over.
"The House and the Judiciary Committee are under a controlling constitutional obligation and commitment to act expeditiously in carrying out their solemn constitutional duty," wrote Chairman Peter Rodino in a letter dated Mar. 8, 1974 toJohn Sirica, the chief judge of the U.S. District Court for the District of Columbia. It was, Rodino said, the "Committee's view that in constitutional terms it would be unthinkable if this material were kept from the House of Representatives in the course of the discharge of its most awesome constitutional responsibility."
I have a suggestion for Jerry Nadler, the current occupant of Rodino's old office: He should consider taking a page from his predecessor's book and formally request a referral of possible impeachment material.
Nadler's circumstances are admittedly a bit different from Rodino's. But the similarities are striking too. And Rodino's course suggests a way forward for Nadler that is worth serious consideration. It boils down to this: If Nadler and his committee want the evidence in the hands of Special Counsel Robert Mueller that is relevant to their performance of their own constitutional function, they should start by formally asking Mueller to refer it to them.
I ran across Rodino's letter in a passing reference in my recent research on the Watergate "Road Map"—the grand jury report that Watergate Special Prosecutor Leon Jaworski referred to the House judiciary committee in 1974.
Specifically, Sirica mentioned the letter in his opinion approving the transmission of Jaworski's impeachment referral: "The House Judiciary Committee through its Chairman has made a formal request for delivery of the Report materials," the opinion says. A footnote in support of this point (footnote number four) cites the Rodino letter specifically, along with a hearing transcript. The National Archive has made both of these documents public.
Let's acknowledge up front the differences between Rodino's circumstances and Nadler's. Rodino's committee already had an open impeachment inquiry, authorized by a nearly unanimous 410-to-4 vote in the House of Representatives. Nadler's committee, by contrast, has no open impeachment inquiry; indeed, Democratic leaders insist that they have no plans to impeach President Trump and are waiting on the evidence from Mueller before making any decisions about how to proceed. As Nadler himself recently put it, "We have to see what the Mueller report says." He added, "We have to get the facts. We will see where the facts lead. Maybe that will lead to impeachment. Maybe it won't. It is much too early."
Well, Chairman Nadler, it now appears that you may never be getting a detailed Mueller Report unless and until you issue subpoenas for his report, the testimony of William Barr and Robert Mueller, and the evidence that the special counsel's office compiled for the grand jury. It's time for Congress to intervene and do its constitutional duty.
As investigative reporter Michael Isikoff, who has been crusading of late for Congress to hold open hearings, put it to me in a text message Wednesday evening, Congress has "completely punted—outsourcing fact gathering to an executive branch official." He writes, "Getting the facts and airing them to the public are core to [Congress's] duty"; failing to hold public hearings makes "it impossible [for the House] to act—while everybody waits for an executive branch report that they may or may not see anytime soon." Whether one agrees or disagrees with Isikoff's critique—and I very much agree—it indisputably means that the House is far more dependant today on Mueller than Congress was in 1974 on Jaworski for the factual basis of whatever action it might contemplate.
One solution to this problem is, as Isikoff suggests, to hold public investigative hearings. But another, concurrent approach is to formally request a referral of information the judiciary committee might need to do its job. That's what Rodino did in 1974.
* * *
Indeed, for a committee chairman committed to making sure that Mueller's findings see the light of day, waiting until the special counsel writes a report of unspecified character and assuming he will craft it in a fashion that delivers the information required by a different institutional actor seems overly passive and overly risky. The right course is to put down on the public record to both Mueller and to Barr precisely what the committee expects of the prosecutor: specifically, that it expects of Mueller what the committee has received from special prosecutors in the past, both regulatory special prosecutors and independent counsels under the statute. That is, it should expect referral of impeachment material if such material exists. That would allow Mueller to craft his report in such fashion as to ensure that it could serve that purpose when Barr permits its release to Congress, and it would make clear to Barr that under no circumstances can he block the transmission to Congress of a report that contains evidence relevant to a reasonable impeachment inquiry. It would also create a framework in which Mueller and Barr, if they chose to act as Jaworski acted and affirmatively refer material, were responding to a request from Congress, not simply dumping material on their own initiative.
As things stand now, there is no requirement that impeachment material find its way to Nadler. There isn't even a request for such material.
Nadler can't change the former problem, but he can change the latter one. All he has to do is write a letter.
Do it. Do it now. Today. The American public has the right to know what actually happened.