On Monday, The Upshot at the New York Times reported on their study of "more than 28 million pieces of first-class letters tracked by SnailWorks, [which] shows how on-time delivery declined noticeably in July after the arrival of Louis DeJoy, the Trump-aligned postmaster general, and the start of policies to trim transportation costs. Is the Mail Getting Slower? We're Tracking It (excerpt):
With the help of SnailWorks, we are tracking about 54,000 pieces of mail a day originating in four cities around the country and sent nationwide. The data is not fully representative of the postal network, but it tracks national trends measured by the Postal Service, and it will allow us to continue monitoring mail service as the election approaches. Updates over the coming weeks will reveal whether delivery slows again, stays about the same or continues to improve.
Some election mail falls into the three-day category, for instance if election officials hire a company in another state to print and mail ballots. But election mail is more likely to be received and mailed back locally, where the Postal Service has a two-day-delivery standard. And the Postal Service has said it will prioritize all election mail, which is typically sent to voters using first-class mail or cheaper marketing-mail rates.
The recent national slowdown dates to early July, around the time that postal workers were ordered to change the longstanding practice of holding trucks at sorting facilities until all of that morning's mail was on board. Beginning in July, trucks were ordered to depart on time, potentially leaving some mail behind.
"I've been working for the post office for 45 years, and I've never heard of that type of action," said Paul Hogrogian, the president of the National Postal Mail Handlers Union. "It's against every instinct in our body to leave mail behind."
Former postal officials, postal workers and private companies that track the mail all pointed to that policy as having a significant and almost immediate impact on the timeliness of mail delivery.
"This is the only rational explanation," said Michael Plunkett, the president of the Association for Postal Commerce and previously an employee with the Postal Service for more than 25 years. He noted that mail that wasn't sorted on time for a departing truck would most likely remain in a processing facility overnight, be sorted again the next morning and arrive a day later.
"It was a sudden and unexpected but observable and measurable decline in service," he said of the change.
Experts said other changes — like declines in approved overtime for mail handlers, and reductions in mail-sorting machines used in some plants — might have also contributed, but probably had smaller effects.
In mid-August, Mr. DeJoy promised to suspend several policy changes until after the election, keeping all mail processing equipment and plants online, and keeping post office hours unchanged. "We will continue to bring disciplined focus to stabilizing operations across processing, transportation and delivery within our network to fulfill our obligation and commitment to provide consistent and reliable service," said David Partenheimer, a spokesman for the Postal Service.
"For those who are genuinely worried that there's a broad crippling of the Postal Service's capacity to do its job, these data help answer that question," Kevin Kosar, a resident scholar at the American Enterprise Institute, said of the SnailWorks data. But they don't fully capture how bad things have been in coronavirus hot spots, he said, "and all mail delivery is local."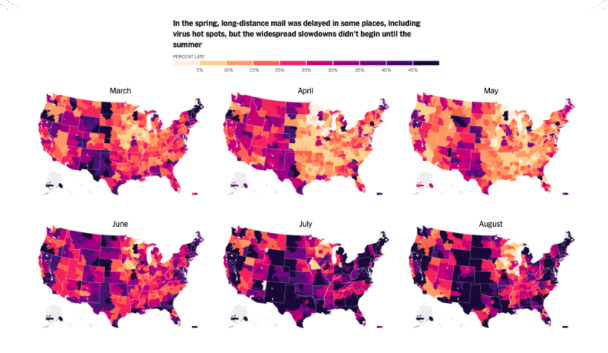 SnailWorks and other firms can monitor mail performance because the Postal Service allows commercial mailing companies to track bar codes printed on every piece of mail, following it through processing facilities and into the hands of mail carriers. SnailWorks can't see what happens once the mail carrier takes the mail out on a postal route. But recent Postal Service data suggests that delays in that "last mile" of delivery represent a small fraction of the recent slowdown.
* * *
Official election mail is clearly identified by logo and is increasingly tracked using bar codes by election officials. Those signals, election experts say, should mean that ballots are relatively protected from broader slowdowns in the mail network. Postal employees have been instructed to expedite ballot delivery, as they have in past elections. The employees are supposed to maintain logs of election mail and sweep processing centers for it each night.
An inspector general audit conducted during the May and June primaries, however, found some facilities weren't following those policies.
"That's what has me worried," said Tammy Patrick, a senior adviser for elections with the Democracy Fund and a former Arizona election official. "In the past there was oversight, and there were repercussions when those policies were not being maintained."
Mr. Hogrogian, the president of the mail handlers union, who is part of a task force to ensure the speedy processing of mail-in ballots, said he was confident the Postal Service would be able to manage election mail, thanks in part to the reversal of this summer's policies. Ensuring quick processing of election mail is a high priority for postal workers, he said.
But he worries about what will happen to postal performance afterward, when Mr. DeJoy has said he will resume making changes to the system, and when politicians and journalists turn their attention elsewhere.
"We're waiting for the shoe to drop," he said.
The first shoe dropped on Thursday.
A federal court in Washington State issued a nationwide injunction against recent changes at the U.S. Postal Service (USPS) late Thursday. Federal Judge Rules Trump and Louis DeJoy Waged 'Politically Motivated Attack' Against USPS, Will Rescind Recent Changes: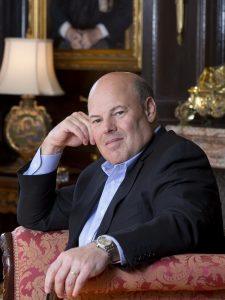 Chief U.S. District Judge Stanley A. Bastian, a Barack Obama appointee, determined that President Donald Trump and U.S. Postmaster General Louis DeJoy were "involved in a politically motivated attack on the efficiency of the Postal Service" in an oral bench ruling.
The judge's order will honor a request from 14 states to temporarily roll back a recent, sweeping and highly controversial series of changes at the USPS that are believed to have caused a drastic slowdown in mail sorting and delivery throughout the country.
"The states have demonstrated that the defendants are involved in a politically motivated attack on the efficiency of the Postal Service," Bastian said. "They have also demonstrated that this attack on the Postal Service is likely to irreparably harm the states' ability to administer the 2020 general election."
Note: Attempting to rig an election is clearly an impeachable offense of the highest magnitude, not that Mitch McConnell and his Trump sycophant obstructionists in the Senate will do anything about this crime.
"Because the Postal Service plays such a vital role, Congress has long required that any significant change in postal services undergo a thorough review by the Postal Regulatory Commission and include an opportunity for public comment before taking effect," the September 9 filing notes. "This process helps to ensure that changes are fully thought through and to avoid unintended consequences."
"Ignoring this requirement, newly appointed Postmaster General Louis DeJoy has made a number of precipitous changes that, by his own admission, have significantly affected postal service," the filing continues. "While DeJoy claimed to halt some of these changes—such as the removal of mail sorting equipment—the day the Plaintiff States filed this lawsuit, he has persisted with at least two others."
The motion goes on to describe DeJoy's widely-criticized effort to effectively leave wide swathes of mail behind by stringently enforcing the departure times of mail carriers and delivery trucks. The plaintiffs say this policy "has slowed mail delivery substantially nationwide."
The motion also criticizes–in topical terms–DeJoy's recent decision to "abandon" the USPS's "longstanding commitment" to treat election mail "under First Class delivery standards." This particular effort, the plaintiffs claim, is particularly egregious in light of the ongoing pandemic and the surge in vote-by-mail likely to occur during the upcoming election.
"This will mean that ballots, registration forms, and other Election Mail that States send to voters will be delivered much more slowly than in the past," the motion alleges. "The Postal Service itself has threatened nearly every State that this may disenfranchise some voters."
The court appeared to agree with the plaintiffs on both of those issues.
"[Mail pileups] likely will slow down delivery of ballots, both to the voters and back to the states" Bastian said. "This creates a substantial possibility that many voters will be disenfranchised and the states may not be able to effectively, timely, accurately determine election outcomes."
Lacking specifics regarding application or duration, Judge Bastian promised more details when he releases his written order against the Trump administration. The judge said he would publish his order later on Thursday or early Friday, according to the Washington Post.
The plaintiffs have requested a nationwide injunction:
The harms caused by Defendants' unlawful changes to postal services are nationwide, and injunctive relief must be nationwide. The very purpose of the Postal Service is to help "bind the Nation together," and to serve "as nearly as practicable the entire population of the United States." Consistent with that mission, the Postal Service delivers vitally important time-sensitive mail across state boundaries in massive volumes every day. The Plaintiff States therefore seek nationwide relief.
"The Postal Service's changes to the nature of postal services are substantially nationwide in scope," the since-granted motion explains. "Delays in one state affect deliveries to other states, as documented in both declarations and other evidence in this case."
The court seemed sympathetic to that argument as well.
"I will issue a preliminary injunction essentially in the form presented by the states," Bastian said.
Notably, Washington's efforts to rescind the DeJoy-era changes are just one of many multi-state lawsuits filed against the current postmaster general.
Washington's suit was joined by Colorado, Connecticut, Illinois, Maryland, Michigan, Minnesota, Nevada, New Mexico, Oregon, Rhode Island, Vermont, Virginia and Wisconsin.
UPDATE: Here is the 13-page preliminary injunction from U.S. District Judge Stanley Bastian, which puts a nationwide hold on Postal Service policies that have slowed down mail service.
Bastian has enjoined the Postal Service from continuing to enforce any changes listed in DeJoy's July memo or otherwise implementing or enforcing any "change in the nature of postal services which will generally affect service on a nationwide or substantially nationwide basis" without an advisory opinion from the Postal Regulatory Commission.
Any unanswered requests from USPS facilities to reboot the decommissioned mail sorting machines, Bastian said, should be brought to the court's attention if they are necessary for the speedy processing of election mail.
It's not clear whether DeJoy will appeal to the 9th Circuit.
By Sunday, about 20 states will have started distributing actual ballots through the mail, according The Washington Post's 50-state voting guide.
In a related matter, the nonprofit Campaign Legal Center filed a Federal Election Commission complaint on Thursday alleging a pattern of campaign contributions by employees and relatives of Louis DeJoy before he became postmaster general, indicating a possible effort to reimburse his associates for donations as recently as 2018. Watchdog group calls on FEC to investigate donations to Trump and others by relatives and associates of Louis DeJoy:
The filing by the nonprofit Campaign Legal Center is the third complaint seeking a state or federal investigation since The Washington Post this month reported allegations that DeJoy and his aides urged employees at New Breed Logistics, his former North Carolina-based company, to write checks and attend fundraisers on behalf of Republican candidates.
DeJoy then defrayed the cost of those political contributions from 2003 to 2014 by boosting employee bonuses, two employees told The Post.
Although it can be permissible to encourage others to make donations, reimbursing them for those contributions is a violation of North Carolina and federal election laws. Known as a straw-donor scheme, the practice allows donors to evade individual contribution limits and obscures the true source of money used to influence elections.
House Democrats have also launched an investigation and called on the U.S. Postal Service's Board of Governors to suspend DeJoy, but members of its Republican majority say the board still supports DeJoy.
You should still return your early mail-in ballot as soon as you receive it, drop it off at your county early voting site if that makes you more comfortable. The Postal Service previously recommended returning your ballot at least 15 days before election day, and you should stick to that advice. You can track the receipt of your ballot on your County Recorder's web site.