Crossposted at DemocraticDiva.com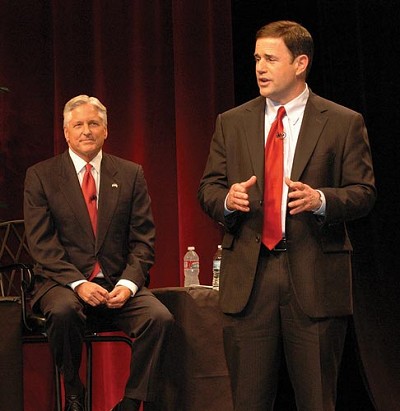 In Wednesday night's gubernatorial debate hosted by KPNX Channel 12 candidates Fred DuVal (D) and Doug Ducey (R) were asked about topics ranging from the economy to taxation to Common Core school standards to the border and immigration policy. My assessment of it was that Ducey would have gotten away with his recitation of talking points with no specifics to every question were it not for moderator Brahm Resnik, who does not care for that and pressed him for details, causing Ducey to flail. DuVal was definitely better prepared to answer the actual questions.
Noticeably absent, to me and other reproductive rights advocates, were any questions about women's health and family planning. This deliberate elision is far too common here and not something seen in other red states North Carolina and Texas, where candidates are debating things like abortion and contraception vigorously, as they should since anti-choice laws are being passed like crazy in them. But, for some reason, the mainstream news people in Arizona tend to be squeamish about the topic. You may see the question come up, briefly, in one or two major debates but not in most of them. On the rare occasion moderators do ask it's typically to allow the GOP candidate to express his support for "exceptions for rape and incest" with no follow-up questions.
This reluctance to draw candidates out on their reproductive rights stances has frustrated and puzzled me for years. My guess is it stems from the obsession with "moderation" in some powerful circles here and the unwavering faith that this can somehow be achieved through "civility" (meaning not calling the Republicans out forcefully on their bad behavior). The only journalist who seems to give the constant stream of anti-choice legislation coming out of the Arizona Legislature the coverage it merits is Howie Fischer of Capitol Media Services. The rest mostly ignore it, as if treating the subject as too controversial and polarizing to cover will somehow make it go away. But it won't. Anti-choice activists and legislators are not at all squeamish about pushing for creepy, misogynistic, unconstitutional bills that the state then spends millions of dollars defending in court. The bills that do succeed in being implemented as laws brutalize poor women and end up costing the state through unplanned pregnancies and the child abuse and neglect that can sometimes ensue from them.
These attacks on women's rights come up every year and are sent to the Governor's desk, therefore it matters who that Governor is and how he or she handles them. At its heart this is a debate over women's autonomy and ability to participate fully in society, which also happens to have a profound impact on the well-being of children. It's at least as important as Common Core so it's not too much to ask for hosts of debates and endorsement boards to devote five minutes to the subject, is it?