The Twitter-troll-in-chief was having a mental breakdown last night over his hand-picked Supreme Court not doing what "Dear Leader" has commanded them to do. Trump Ominously Declares Joe Biden Will Only Win White House if Supreme Court Fails to Stop It:
With just five days left in a hotly contested election in which most polls have him trailing, [Trump's] messages were, predictably, of a political nature. But the last message ominously declared that the only way Biden can win the White House is if the Supreme Court were to help make "such a ridiculous win possible."
Trump's tweets can sometimes require graduate-level sentence diagraming to truly unpack. This is such a tweet:
If Sleepy Joe Biden is actually elected President, the 4 Justices (plus1) that helped make such a ridiculous win possible would be relegated to sitting on not only a heavily PACKED COURT, but probably a REVOLVING COURT as well. At least the many new Justices will be Radical Left!

— Donald J. Trump (@realDonaldTrump) October 30, 2020
What the Twitter-troll-in-chief is flatly saying is that the only way that Joe Biden is "actually elected President," is if five Supreme Court justice were to help allow that to happen. This statement is the clearest indication that President Trump expects to take the results of next Tuesday's general election to the courts, regardless of the outcome. It also puts in stark relief the rush to confirm Justice Amy Coney Barrett to the Supreme Court.
"This is not normal — and borders on coercion of an ostensibly independent branch of government."
It is not just Donald Trump. His sycophant enablers in the Republican Party are echoing the same extreme language. Texas Lt. Gov. Dan Patrick repeated unsubstantiated claims in a Thursday interview that the only way Republicans can lose on Election Day is if Democrats cheat. Despite polls showing a close race, Lt. Gov. Dan Patrick claims if Democrats win on Election Day, it will be "because they stole it":
"The Democrats have just decided this election, Mark, we don't have to pay attention to any laws. We're gonna use COVID as an excuse to steal the election, and that's what they're trying to do everywhere," Patrick, a Republican, said during a radio interview on "The Mark Davis Show." "If the president loses Pennsylvania or North Carolina, Mark, or Florida, they'll lose it because they stole it."
A spokesman for his office clarified after the interview that Patrick was referring to "reports of ballot irregularities" and "other potential fraud" being seen in Pennsylvania and other battleground states.
There have been no credible reports of widespread fraud or irregularities in Pennsylvania.
State Democrats fired back, calling Patrick's rhetoric dangerous.
"The Lieutenant Governor's comments are irresponsible, dangerous and untethered to reality. We are seeing record-high voter turnout across Texas and the country. It's telling, although not surprising, that Dan Patrick sees people voting as a problem," said Grand Prairie Rep. Chris Turner, chair of the Texas House Democratic Caucus, in an email.
Donald Trump and his sycophant enablers in the Republican Party have convinced his MAGA cult followers that he cannot lose, it is not even conceivably in the realm of possibility, they are so convinced.
So if Donald Trump loses the election, what happens next? How far is Donald Trump willing to go to subvert the election results in order to hold onto power?
Ron Suskind reports at the New York Times that current and former Trump administration officials are worried about what might happen The Day After Election Day (a lengthy piece):
More likely than not, [Election Day] will end without a winner named or at least generally accepted.
America will probably awaken on Nov. 4 into uncertainty. Whatever else happens, there is no doubt that President Trump is ready for it.
I've spent the last month interviewing some two dozen officials and aides, several of whom are still serving in the Trump administration. The central sources in this story are or were senior officials, mainly in jobs that require Senate confirmation. They have had regular access to the president and to briefings at the highest level. As a rule, they asked for anonymity because they were taking a significant professional and, in some cases, personal risk in speaking out in a way that Mr. Trump will see as disloyal, an offense for which he has promised to make offenders pay.
Several of them are in current posts in intelligence, law enforcement or national security and are focused on the concurrent activities of violent, far-right and white supremacy groups that have been encouraged by the president's words and actions. They are worried that the president could use the power of the government — the one they all serve or served within — to keep himself in office or to create favorable terms for negotiating his exit from the White House. Like many other experts inside and outside the government, they are also concerned about foreign adversaries using the internet to sow chaos, exacerbate divisions and undermine our democratic process.
Many of those adversaries, they report, are already finding success in simply amplifying and directing the president's words and tweets. And they're thoroughly delighted, a former top intelligence official told me, "at how profoundly divided we've become. Donald Trump capitalized on that — he didn't invent it — but someday soon we're going to have figure out how to bring our country together, because right now we're on a dangerous path, so very dangerous, and so vulnerable to bad actors."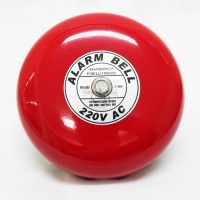 None of these officials know what will happen in the future any better than the rest of us do. It is their job to fret over worst-case scenarios, and they're damn good at it. I can't know all their motives for wanting to speak to me, but one thing many of them share is a desire to make clear that the alarm bells heard across the country are ringing loudly inside the administration too, where there are public servants looking to avert conflict, at all costs.
It is possible, of course, that this will be an Election Day much like all other Election Days. Even if it takes weeks or months before the result is known and fully certified, it could be a peaceful process, where all votes are reasonably counted, allowing those precious electors to be distributed based on a fair fight. The anxiety we're feeling now could turn out to be a lot of fretting followed by nothing much, a political version of Y2K.
Or not.
Many of the officials I spoke to came back to one idea: You don't know Donald Trump like we do. Even though they can't predict exactly what will happen, their concerns range from the president welcoming, then leveraging, foreign interference in the election, to encouraging havoc that grows into conflagrations that would merit his calling upon U.S. forces. Because he is now surrounded by loyalists, they say, there is no one to try to tell an impulsive man what he should or shouldn't do.
"That guy you saw in the debate," a second former senior intelligence official told me, after the first debate, when the president offered one of the most astonishing performances of any leader in modern American history — bullying, ridiculing, manic, boasting, fabricating, relentlessly interrupting and talking over his opponent. "That's really him. Not the myth that's been created. That's Trump."
Still another senior government official, who spent years working in proximity to Mr. Trump, put it like this: "He has done nothing else that's a constant, except for acting in his own interest." And that's how "he's going to be thinking, every step of the way, come Nov. 3."
Ron Suskind continues:
Rumors swirled a week before the election that Mr. Trump was preparing to fire Mr. Wray, as well as, perhaps, the director of the C.I.A., Gina Haspel — who had also drawn Mr. Trump's ire, according to both former and current senior intelligence officials. The speculation is that they could both be fired immediately after the election, when Mr. Trump will want to show the cost paid for insufficient loyalty and to demonstrate that he remains in charge.
The senior official at the F.B.I., however, said that "firing the director won't accomplish the goal." There are "37,000 other people he would have to fire. It won't work."
That doesn't mean that the president won't try. Nov. 4 will be a day, said one of the former senior intelligence officials, "when he'll want to match word with deed." Key officials in several parts of the government told me how they thought the progression from the 3rd to the 4th might go down.
They are loath to give up too many precise details, but it's not hard to speculate from what we already know. Disruption would most likely begin on Election Day morning somewhere on the East Coast, where polls open first. Miami and Philadelphia (already convulsed this week after another police shooting), in big swing states, would be likely locations. It could be anything, maybe violent, maybe not, started by anyone, or something planned and executed by any number of organizations, almost all of them on the right fringe, many adoring of Mr. Trump. The options are vast and test the imagination. Activists could stage protests at a few of the more crowded polling places and draw those in long lines into conflict.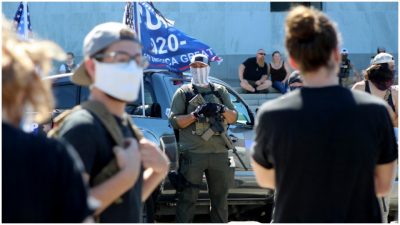 A group could just directly attack a polling place, injuring poll workers of both parties, and creating a powerful visual — an American polling place in flames, like the ballot box in Massachusetts that was burned earlier this week — that would immediately circle the globe. Some enthusiasts may simply enter the area around a polling location to root out voter fraud — as the president has directed his supporters to do — taking advantage of a 2018 court ruling that allows the Republican National Committee to pursue "ballot security" operations without court approval.
Would that mean that Mr. Trump caused any such planned activities or improvisations? No, not directly. He's in an ongoing conversation — one to many, in a twisted e pluribus unum — with a vast population, which is in turn in conversations — many to many — among themselves. People are receiving messages, interpreting them and deciding to act, or not. If, say, the Proud Boys attack a polling location, is it because they were spurred on by Mr. Trump's "stand back and stand by" instructions? Is Mr. Trump telling his most fervent supporters specifically what to do? No. But security officials are terrified by the dynamics of this volatile conversation. It can move in so many directions and very quickly become dangerous, as we have already seen several times this year.
The local police are already on-guard in those cities and others around the country for all sorts of possible incidents at polling places, including the possibility of gunfire. If something goes wrong, the media will pick this up in early morning reports and it will spread quickly, increasing tension at polling places across the country, where the setup is ripe for conflict.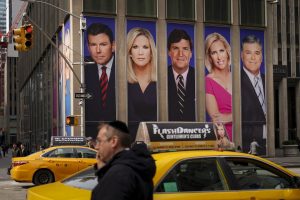 Conservative media could then say the election was being stolen, summoning others to activate, maybe violently. This is the place where cybersecurity experts are on the lookout for foreign actors to amplify polling location incidents many times over, with bots and algorithms and stories written overseas that slip into the U.S. digital diet. News of even a few incidents could summon a violent segment of Mr. Trump's supporters into action, giving foreign actors even more to amplify and distribute, spreading what is, after all, news of mayhem to the wider concentric circles of Mr. Trump's loyalists. Groups from the left may engage as well, most likely as a counterpoint to those on the right. Those groups are less structured, more like an "ideology or movement," as Mr. Wray described them in his September testimony. But, as a senior official told me, the numbers on the left are vast.
Violence and conflict throughout that day at the polls would surely affect turnout, allowing Mr. Trump to claim that the in-person vote had been corrupted, if that suits his purposes. There's no do-over for Election Day.
Under the 12th Amendment, which Mr. Trump has alluded to on several occasions, the inability to determine a clear winner in the presidential election brings the final decision to the House of Representatives. The current composition of the House, in which Republicans control more state delegations even though Democrats are in the majority, favors Trump. But the state count could flip to the Democrats with this election.
There are many scenarios that might unfold from here, nearly all of them entailing weeks or even months of conflict, and giving an advantage to the person who already runs the U.S. government.
There will likely be some reckoning of the in-person vote drawn from vote tallies and exit polls. If Joe Biden is way ahead in these projections, and they are accepted as sound, Mr. Trump may find himself having to claim fraud or suppression that amounts to too large a share of votes to seem reasonable. Inside the Biden campaign they are calling this "too big to rig."
[B]ut the question is not so much the difference between the candidates' vote totals, or projections of them, as it is what Mr. Trump can get his supporters to believe. Mr. Trump might fairly state, at this point, that he can get a significant slice of his base to believe anything.
But he could use all the help that he can summon to invalidate the in-person vote.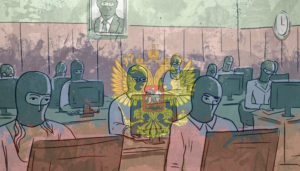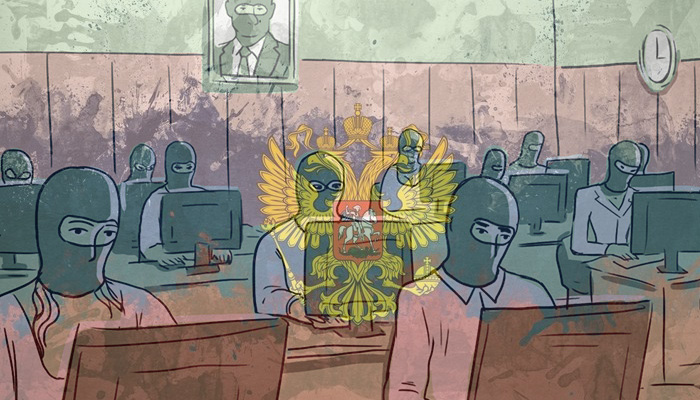 Senior intelligence officials are worried that a foreign power could finally manage a breach of the American voting architecture — or leave enough of a digital trail to be perceived to have breached it. There were enormous efforts to do so, largely but not exclusively by the Russians, in 2016, when election systems in every state were targeted. There is also concern that malware attacks could cripple state governments and their electronic voter registration data, something that could make swaths of voters unable to vote. A senior official told me that provisional ballots can then be passed out and "we keep all the receipts," meaning that these votes would have a paper ballot trail that can be laboriously counted and rechecked. But a breach or an appearance of a breach, in any state's machinery, would, in a chaotic flow of events, be a well-timed gift to Mr. Trump.
The lie easily outruns truth — and the best "disinformation," goes a longtime C.I.A. rule, "is actually truthful." It all blends together. "Then the president then substantiates it, gives it credence, gives it authority from the highest office," says the senior government official. "Then his acolytes mass-blast it out. Then it becomes the narrative, and fact, and no rational, reasonable explanation to the contrary will move" his supporters "an inch."
No matter how the votes split, there's an expectation among officials that Mr. Trump will claim some kind of victory on Nov. 4, even if it's a victory he claims was hijacked by fraud — just as he falsely claimed that Hillary Clinton's three million-vote lead in the popular vote was the result of millions of votes from unauthorized immigrants. This could come in conjunction with statements, supported by carefully chosen "facts," that the election was indeed "rigged," as he's long been warning.
If the streets then fill with outraged people, he can easily summon, or prompt, or encourage troublemakers among his loyalists to turn a peaceful crowd into a sea of mayhem. They might improvise on their own in sparking violence, presuming it pleases their leader.
If the crowds are sufficiently large and volatile, he can claim to be justified in responding with federal powers to bring order. Secretary of Defense Mark Esper, and the chairman of the Joint Chiefs of Staff, Mark Milley, have both said they are opposed to deploying armed forces on American soil.
A senior Pentagon official, though, laid out a back-door plan that he was worried about. It won't start, he thinks, with a sweeping move to federalize the National Guard, which is within the President's Article 2 powers; it'd be more of a state by state process. The head of the National Guard of some state "starts feeling uncomfortable with something and then calls up the Pentagon."
The F.B.I., meanwhile, is bracing for huge challenges. "We are all-hands-on-deck for the foreseeable future," the F.B.I. official I mentioned earlier told me. "We've been talking to our state and local counterparts and gearing up for the expectation that it's going to be a significant law-enforcement challenge for probably weeks or months," this official said. "It feels pretty terrifying."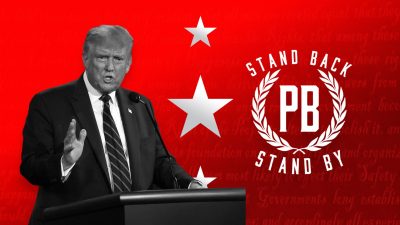 In the final few weeks of the campaign, and during Mr. Trump's illness, he's done two things that seem contradictory: seeking votes from anyone who might still be swayed and consolidating and activating his army of most ardent followers. They are loyal to him as a person, several officials pointed out, not as president. That army Trump can direct in the difficult days ahead and take with him, wherever he goes. He may activate it. He may bargain with it, depending on how the electoral chips fall. It's his insurance policy.
The senior government official who discussed Mr. Trump's amplifying of messages spoke with great clarity about these codes of loyalty. The official was raised in, and regularly visits, what is now a Trump stronghold.
"They're the reason he took off the damned mask when he got to the White House" from Walter Reed, the official said. "Those people eat that up, where any reasonable, rational person would be horrified. You are still actively shedding a deadly virus. You are lucky enough to have the best and brightest doctors, trial drugs, whatever. You get flown back to the White House, and you do a photo-op with a military salute to no one. You ask it to be refilmed, and you take off your mask, which, in my mind, has become a signal to his core base of supporters that are willing to put themselves at risk and danger to show loyalty to him."
But across the government, another official — a senior intelligence official in a different department — argues that citizens may yet manage to rise to the challenge of this difficult election, in a time of division.
"The last line of defense in elections is the American voter," he told me. "This is the most vulnerable phase," now and the days immediately after Election Day, "where we're so eager to have an outcome, that actors both foreign and domestic are going to exploit that interest, that thirst, that need for resolution to the drama."
I asked him what he would say to American voters. "Look," he said, softly, "just understand that you're being manipulated. That's politics, that's foreign influence, they're trying to manipulate you and drive you to a certain outcome."
"Americans are, I think, hopefully, made of sterner stuff."
We are soon to find out.