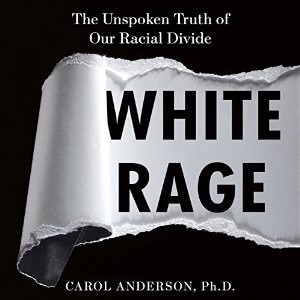 I've long been confident that I've had my eyes open wider to the mistreatment of black Americans than at least 90%, and likely 99%, of white Amerinca.
And I still am. In fact, probably more confident.
But I'm also coming to grips with my own ignorance of how horrific, how systematic, how diabolical, how treacherous, and how brutally persistent the persecution of black Americans has been from the end of the Civil War through the present day.
My latest slap in the face on this front was White Rage, by Carol Anderson, a stunning account of America's last 150 years. The title is pitch perfect. White rage, rage at the idea that black Americans are equal to and every bit as worthy as white Americans, has been pervasive. It was present in the ashes of the Amercan South 150 years ago and it was present in Charlottesville last weekend. It was present in Selma in 1965, but also present in Northern cities, including liberal Boston, when the prospect of fully integrated schools (and truly equal opportunity) loomed large. White rage never has left us. Anderson makes that point indelibly clear.
Still, why an apology? After all, I've played no role in the subjugation; it's abhorrent to me. Have I benefitted from white privilege? Of course, but that warrants an acknowledgment and my full support of mechanisms, such as affirmative action and reparations, designed to neutralize white privilege. I pass the moral test there as well.
Nonetheless, I've fallen short as a human being. I haven't dug deep enough. I've been satisfied with being on the right side of history, without fully understanding the gravity of the situation.
So, to any descendants of American slaves reading this, especially those who know me, I apologize for paying woefully insufficient attention to the harsh reality of black life in America.
Most decent white Americans, I suspect, believe that we have a long way to go in achieving racial justice and true equality in America, but that we've also made tremendous progress. The more I learn, the more I reject that view. I think it betrays a superficial, and self-serving, understanding of what's taken place over the past century and a half. Victories like the Brown vs. Board decision, the Civil Rights Act, and the Voting Rights Act, have been aberrations. And, as Anderson explains, they've been in significant part pyrrhic.
What I've come to grips with over the past few years, beginning about the time Michael Brown was gunned down in Ferguson, is that the norm in America, to this day, has been the subjugation of black Americans. The only thing that really changes is the sophistication of the methods. Slavery was replaced by Jim Crow, which was replaced by mass incarceration. Outright obstacles to voting (literacy tests, poll taxes) have been replaced by voter identification statutes. But the intent and the effect is always the same: to treat black Americans as something less, not entitled to full rights of American citizenship.
The result? Every time black America makes gains, the wheels of injustice immediately begin to grind to reverse those gains. Economically, the median black family is no better off today than it was a half-century ago. And the gap between whites and blacks is widening.
We must do better.
I know I'll never get those readers who generally reject my views to stop and open their minds. For them, reading Anderson's White Rage is out of the question.
So, my message here is to those of like mind. Our understanding and our knowledge base has been insufficient. At least mine has, and I doubt I'm alone. Read more. And by all means read White Rage. It will be a big step in the right direction.