Update to Pennsylvania judge gives Friday deadline to RNC to provide evidence of vote-by-mail fraud (8/14/2020).
The case is Donald J. Trump for President v. Boockvar, 20-cv-966, U.S. District Court, Western District of Pennsylvania (Pittsburgh).
I'm sure you all were wondering as I was, "So whatever happened?," since this did not seem to receive any follow-up reporting in the national news media.
Now I have the answer. WTAE Action News 4 in Pittsburgh reported, Trump campaign produces no evidence of fraud via mail-in voting or drop boxes in PA 2020 primary:
The Trump for President campaign, pressed by a Pittsburgh federal judge's court order, has not provided any evidence of voting fraud involving mail-in voting or ballot drop boxes in Pennsylvania's 2020 primary. The campaign's attorneys say their court case against current implementation of Pennsylvania voting law does not need them to do so.
"It's a concession that they don't have any evidence that there was any fraud in the June primary," Sarah Brannon, the ACLU Voting Rights Project managing attorney who represents several intervening groups, told Pittsburgh's Action News 4.
Citing concerns over the pandemic, Brannon said, "We would want for everybody in Pennsylvania to be able to vote and take advantage of the new law and not have to choose between their constitutionally guaranteed right to vote and their health."
The Trump campaign's lawyers write in their court-ordered response that, "Neither the original Complaint nor the Amended Complaint contains an allegation that "ballot harvesting," "manipulating and destroying ballots," double voting, and/or voter fraud from mail-in and absentee ballots actually occurred during the Primary Election. "
The campaign attorney's response emphasized instead that its lawsuit argues mail-in voting in Pennsylvania "provides fraudsters an easy opportunity to engage in" such activity.
"The claims asserted by the plaintiffs do not hinge on evidence of voter fraud actually occurring," they wrote.
An aside:
This is the same bullshit argument successfully used in the U.S. Supreme Court case of Crawford v. Marion County Election Board, 553 U.S. 181 (2008), upholding an Indiana voter I.D. law despite no evidence of voter fraud ever being presented at trial. Justice John Paul Stevens upheld the constitutionality of the photo ID requirement, finding it closely related to Indiana's legitimate state interest in preventing voter fraud and safeguarding voter confidence, i.e., "it could happen" conceivably.
Judge Richard Posner, who authored the Seventh Circuit Court of Appeals opinion in Crawford, years later admitted he erred when writing the decision. In a 2013 interview on HuffPostLive, Seventh Circuit Judge Richard Posner said his opinion finding the Indiana law constitutional was mistaken, due to the court not having sufficient information about how the law could be used to prevent or discourage people from voting. "Do you think that the court got this one wrong?" HuffPo's Mike Sacks asked. "Yes. Absolutely. And the problem is that there hadn't been that much activity with voter identification," Posner said. "Maybe we should have been more imaginative….We weren't really given strong indications that requiring additional voter identification would actually disfranchise people entitled to vote."
Justice John Paul Stevens years later also expressed doubts about whether he had all the information he needed in reaching what he called a "fairly unfortunate decision." Stevens says Supreme Court decision on voter ID was correct, but maybe not right. "[I] thought in that case I had a duty to confine myself to what the record did prove, and I thought it did not prove the plaintiffs' case. And as a result, we ended up with a fairly unfortunate decision." Stevens alluded to his quandary in a footnote in the opinion: "Supposition based on extensive Internet research is not an adequate substitute for admissible evidence subject to cross-examination in constitutional adjudication."
"Would you do it the same way again?" he was asked. "I think I would," replied Justice Stevens. "That's a tough question. I really don't know for sure."
Back to WTAE Action News 4:
A senior official of the Trump campaign responded via email to our request for comment.
"We comply with all court orders, as we did in this case and we are confident in this lawsuit. President Trump will continue fighting for a free, fair, transparent election so that every valid ballot counts—and counts once," the email said.
"This is more of the same voter fraud rhetoric that we have seen. So the Trump administration is just engaged in rank speculation that there are problems with drop boxes and that voter fraud will occur," Brannon said.
In its court-ordered response, the Trump campaign complained that asking for proof of such wrongdoing is "outside the limited scope of the expedited discovery ordered by the court."
It went on to list cases of alleged election fraud that are unrelated to mail-in voting or to drop boxes, providing links to news articles in its response.
"Those instances that they are discussing and linking to are, first off, are very limited in number. But none of them relate to the use of drop boxes or mail-in voting. They are isolated incidents, instances of fraud that involve a few bad actors," Brannon said. "So there is no evidence that drop boxes, which is really one of the cruxes of the litigation, is going on in any way contribute to fraud or have been used fraudulently by Pennsylvania citizens."
The Trump campaign response comes in its court-ordered answer to requests by groups intervening in its federal lawsuit against the state in US District Court in western Pennsylvania.
The groups asked — and the federal judge ordered the Trump campaign to provide — evidence or instances of voter fraud from mail-in and absentee ballots during the primary election.
Judge J. Nicholas Ranjan had ordered the Trump campaign to "respond fully" "with specific information or documents requested" regarding any alleged voter fraud in the primary involving mail in voting or drop boxes.
The judge also ordered, "If there are no responsive documents, Plaintiffs must state as such."
The Trump campaign attorneys write that they "reserve the right to supplement this response further if necessary."
The lawsuit seeks to restrict elements of mail-in voting and drop boxes in Pennsylvania, claiming they would allow for voter fraud. It also seeks to allow poll watchers who are not county residents cross over into other people's counties to observe voting places and procedures.
In addition to the NAACP State Conference, Brannon co-represents Common Cause Pennsylvania, The League of Women Voters of Pennsylvania, and three individual voters who intervened to join the case.
"It's well documented that thousands of people vote by mail," Brannon said. "There are a number of states that have done all-mail or mostly mail elections for years and had very few, if any, instances of fraud."
The Trump campaign's lawsuit is far from over. Numerous depositions, statements from experts and documents are being filed by nearly 100 parties involved in the the suit. The campaign and co-plaintiffs sued the Commonwealth of Pennsylvania and every elections office in every county in the state. A court hearing is more than a month away.
Richard Salame at The Intercept adds, Trump Comes Up Empty When Pressed For Evidence of Election Fraud in Court:
President Donald Trump's campaign, ordered by a federal court judge in Pennsylvania to back up its claims of fraud in the state's vote-by-mail system, has documented only a handful of cases of election fraud in recent years — none of which involved mail-in ballots. The revelation, which came in the form of a partially redacted 524-page document produced by the Trump campaign last week, undermines the claim by Trump team operatives that mail-in ballot fraud is a grave risk to Pennsylvania voters.
The campaign is suing Pennsylvania Secretary of the Commonwealth Kathy Boockvar and each of the state's county election boards to prevent election administrators from providing secure drop boxes for mail-in ballot returns. These drop boxes allow voters to return their mail-in ballots by hand, without sending them through the postal system and risking delays. The Trump campaign alleges that the practice "provides fraudsters an easy opportunity to engage in ballot harvesting, manipulate or destroy ballots, manufacture duplicitous votes, and sow chaos."
In a motion last week, Citizens for Pennsylvania's Future and the Sierra Club called on the Trump campaign to provide evidence of the existence of voter fraud, arguing that the campaign's lawsuit was "replete with salacious allegations and dire warnings" about Pennsylvania's elections and that they "must either be compelled to provide discovery concerning their fraud-based allegations or be precluded from pursuing these claims going forward." Judge J. Nicholas Ranjan granted the motion, ordering the campaign to "produce such evidence in their possession, and if they have none, state as much."
The response provided by the Trump campaign to the opposing counsel, which was shared with The Intercept and Type Investigations, contains a few scant examples of election fraud — but none of the instances in the 524-page discovery document involved mail-in ballots.
"Not only did the campaign fail to provide evidence that voter fraud was a widespread problem in Pennsylvania, they failed to provide any evidence that any misconduct occurred in the primary election or that so-called voter fraud is any sort of regular problem in Pennsylvania," said Suzanne Almeida, interim director of Common Cause PA, one of the parties in the lawsuit. The Trump campaign did not immediately respond to a request for comment for this story.
The non-redacted portion of the Trump campaign's response consists in large part of news reports and copies of the campaign's open records requests to counties. It contains no new evidence of fraud beyond what local news outlets have previously reported. The examples of fraud that it does provide include the case of four poll workers who admitted to harassment and intimidation of voters at one polling place during a special election in 2017. It also includes an election judge who altered vote totals in his polling place between 2014 and 2016 at the behest of a political consultant. And while the amended complaint brought by the campaign cites a few incidents of mail-in fraud, none were mentioned in the discovery document.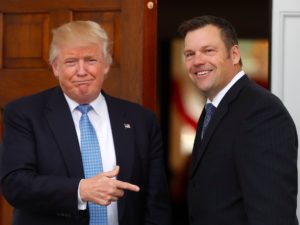 This is far from the first time that Republicans have failed to substantiate their frequent claims that voter fraud is a persistent problem in American elections. In 2018, one of U.S.'s most prominent crusaders against voter fraud, then-Kansas Secretary of State Kris Kobach, was asked by a district court to produce evidence that noncitizens were voting in his home state of Kansas. Kobach brought forth witnesses, but their testimony fell apart on cross examination. Judge Julie Robinson wrote in her opinion that "evidence that the voter rolls include ineligible citizens is weak. At most, 39 [non]citizens have found their way onto the Kansas voter rolls in the last 19 years." The rare known cases of voter fraud were not the tip of the iceberg, she concluded, "there is no iceberg; only an icicle, largely created by confusion and administrative error."
After taking office, Trump established a controversial presidential commission to study voter fraud. The commission met only twice before disbanding without producing evidence of widespread voter fraud in U.S. elections.
With state Democrats simultaneously suing to affirm the legality of Pennsylvania's drop boxes, Boockvar has asked the state Supreme Court to settle the relevant questions of election law before the federal trial is completed. Mail-in ballots will start going out to voters in mid-September.
The court should grant the Secretary's request.
Here in Arizona, there will be drop boxes available to voters at early voting sites, as there has been for years without any problems or evidence of voter fraud.
This is just another example of GOP "voter fraud" fraud. They shamelessly yell voter fraud when there is none, as part of GOP voter suppression.