Donald Trump's "weaponized" U.S. Department of Justice under his consigliere, Attorney General William Barr, ordered federal prosecutors in New York to drop their case against unindicted co-conspirator "Individual-1" in the Stormy Daniels payoff case, after prosecuting former Trump consigliere and "fixer" Michael Cohen for making the payments to Stormy Daniels and Karen McDougal, and thenlying about it to protect his client.
Prosecutors said "Individual-1" directed Cohen to make the payments, which they said should have been subject to campaign finance laws because they were made for the purpose of helping Trump win the election.
It is still unknown why the U.S. Justice Department under Merrick Garland did not revisit the case which was on the shelf and ready to file the moment after Trump was no longer president. What of 'Individual-1'? Feds' Trump campaign case is 'dead'.
A parallel investigation by the Manhattan DA's office was continued. Despite earlier reporting that this case had also been set aside by new Manhattan DA Alvin Bragg, there is a flurry of recent activity before a criminal grand jury in New York.
Politico reports, Trump invited to testify before NY grand jury, lawyer says:
Former President Donald Trump has been invited to testify before a New York grand jury that has been investigating hush money payments made on his behalf during his 2016 presidential campaign, according to one of his lawyers.
Trump attorney Joseph Tacopina confirmed Thursday that the Manhattan district attorney's office has invited the former president to testify next week as prosecutors near a decision on whether to proceed with what could be the first criminal case ever brought against a former U.S. president.
Note: New York law mandates that potential defendants must be given an opportunity to appear before a grand jury to answer questions before they are indicted.
The prospective NY DA indictment raises a host of nuanced Qs of strategy, policy, law, political science; which is why I turned to the peerless @AWeissmann_ to talk it all through. I think it's the richest & best discussion out there right now. And it's at https://t.co/8iBpCs6tg9

— Harry Litman (@harrylitman) March 10, 2023
The office of Manhattan District Attorney Alvin Bragg, a Democrat, declined to comment. Such an invitation to testify before a grand jury often indicates a decision on indictments is near.
The invitation to testify was first reported by The New York Times.
Any indictment would come as Trump is ramping up a run to regain the White House in 2024 while simultaneously battling legal problems on multiple fronts.
[T]he New York grand jury has been probing Trump's involvement in a $130,000 payment made in 2016 to the porn star Stormy Daniels to keep her from going public about a sexual encounter she said she had with the Republican years earlier.
The money was paid out of the personal funds of Trump's now-estranged lawyer, Michael Cohen, who then said he was reimbursed by the Trump Organization and also paid extra bonuses for a total that eventually rose to $420,000.
Cohen pleaded guilty to federal charges in 2018 that the payment, and another he helped arrange to the model Karen McDougal through the parent company of the National Enquirer tabloid, amounted to an illegal campaign contribution.
Federal prosecutors at the time decided not to bring charges against Trump, who by then was president. The Manhattan district attorneys office then launched its own investigation, which lingered for several years but has been gathering momentum in recent weeks.
Several figures close to Trump have been spotted in recent days entering Bragg's office for meetings with prosecutors, including his former political adviser Kellyanne Conway and former spokesperson Hope Hicks.
Cohen has also met [reportedly 20] times with prosecutors, saying after a recent visit that he thought the investigation was nearing a conclusion.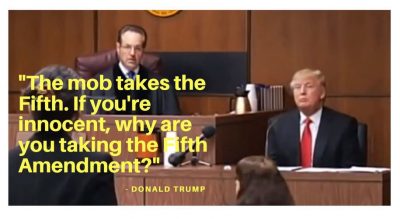 Under New York law, people who appear before a grand jury are given immunity from prosecution for things they say during their testimony, so potential targets of criminal investigations are generally invited to testify only if they waive that immunity. Lawyers generally advise clients not to do so if there is a potential for a criminal case.
It isn't clear what charges prosecutors might be exploring.
Legal experts have said one potential crime could be the way the payments to Cohen were structured and falsely classified internally as being for a legal retainer. New York has a law against falsifying business records, but it is a misdemeanor unless the records fudging is done in conjunction with a more serious felony crime.
The Associated Press reports, Michael Cohen to testify Monday in Trump hush-money probe: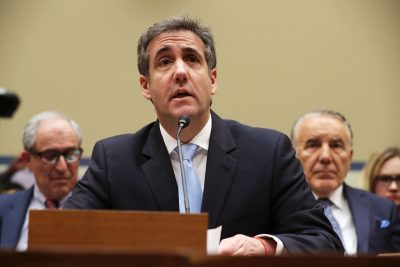 Donald Trump's former lawyer and fixer Michael Cohen is scheduled to testify Monday before a Manhattan grand jury investigating hush-money payments made on the former president's behalf, two people familiar with the matter told The Associated Press. They were not authorized to speak publicly about grand jury proceedings and did so on condition of anonymity.
Cohen is a key witness in Manhattan District Attorney Alvin Bragg's investigation and his testimony is coming at a critical time, as prosecutors close in on a decision on whether to seek charges against Trump. Prosecutors sometimes save their most important witnesses until the end stages of a grand jury investigation.
Cohen has been meeting regularly with Manhattan prosecutors in recent weeks, including a day-long session Friday to prepare for his appearance before the grand jury, which has been hearing evidence in the matter since January.
Cohen declined to comment to reporters as he left the meeting, saying he'd be "taking a little bit of time now to stay silent and allow the D.A. build their case."
[P]rosecutors appear to be looking at whether Trump committed crimes in arranging the payments, or in how they were accounted for internally at Trump's company, the Trump Organization. One possible charge would be falsifying business records, a misdemeanor unless prosecutors could prove it was done to conceal another crime.
Prosecutors this week invited Trump to testify before the grand jury — another sign that phase of the investigation is winding down. Inviting the subject of an investigation to appear before a grand jury is typically one of the last steps before a potential indictment.
Trump has the right to testify under New York law, though legal experts say he is unlikely to do so because it wouldn't benefit his defense and he'd have to give up a cloak of immunity that's automatically granted to grand jury witnesses under state law.
[C]ohen, now estranged from Trump, has met with prosecutors 20 times through several iterations of the hush-money probe. In January, he gave his cell phones to Manhattan prosecutors so they could extract evidence, including voice recordings of conversations he had with a lawyer for Daniels — whose real name is Stephanie Clifford — as well as emails and text messages.
Also in New York, E. Jean Carroll won an evidentiary victory before the judge in her defamation case against Donald Trump. Judge okays use of Access Hollywood tape in Trump defamation trial: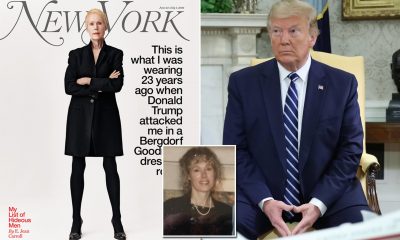 The longtime magazine columnist who accused former President Donald Trump of raping her in the 1990s can use the 'Access Hollywood' tape as evidence at trial in her defamation case, a federal judge ruled Friday.
The Manhattan judge also rejected Trump's effort to block the columnist, E. Jean Carroll, from using the testimony of two other women who previously accused him of sexual assault.
U.S. District Judge Lewis Kaplan wrote that "a jury reasonably could find, even from the 'Access Hollywood' tape alone, that Mr. Trump admitted in the 'Access Hollywood' tape that he in fact has had contact with women's genitalia in the past without their consent, or that he has attempted to do so."
Though Carroll's 2019 lawsuit alleges only defamation, not sexual assault itself, Judge Kaplan found that "in order to prevail on her libel claim, Ms. Carroll must prove that Mr. Trump sexually assaulted her."
Without proving the underlying claim of sexual assault, the judge wrote, "she cannot establish that Mr. Trump's charge that her story was a lie and a hoax was false."
In November, Carroll also filed a second lawsuit in New York alleging defamation and battery under a new state law. The 2019 lawsuit is set to go to trial in April. A judge hasn't ruled whether the two cases will be combined.
[T]he judge's ruling Friday will also permit Carroll to use the testimony of Jessica Leeds and Natasha Stoynoff, two women who alleged Trump assaulted them in the years before he ran for office. Leeds alleged Trump groped her while they flew on an airplane together. Stoynoff alleged he sexually assaulted her while she was reporting a story for People Magazine.
Things are getting real for ol' Donny. Let's hope the long arm of the law has finally caught up to this lifelong crime spree.
This third rate crime boss is likely to unleash his criminal minions on the judge, prosecutors, jury members and the media covering the trials. Witness intimidation and jury tampering are a given. He is all about undermining the rule of law and the criminal justice system as it applies to him.