ABC News is reporting that Paul Manafort and special counsel reach a tentative plea deal: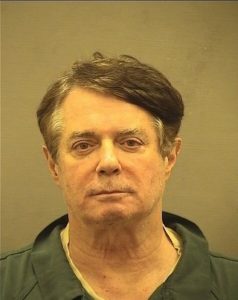 Former Trump campaign chairman Paul Manafort has tentatively agreed to a plea deal with special counsel Robert Mueller that will head off his upcoming trial, sources familiar with the negotiations tell ABC News.
The deal is expected to be announced in court Friday, but it remains unclear whether Manafort has agreed to cooperate with prosecutors or is simply conceding to a guilty plea, which would allow him to avoid the stress and expense of trial, according to three sources with knowledge of the discussions.
Manafort and his most senior defense attorneys spent more than four hours Thursday in discussions with a team of special prosecutors who are involved in the ongoing investigation into whether there was collusion between the Trump campaign and Russia.
ABC News spotted the team arriving in a dark SUV Thursday morning, pulling into a secret entrance out of public view at the building where Special Counsel Robert Mueller is based.
Word of the agreement comes as Manafort's second trial was slated to begin later this month in federal court in Washington, D.C.
A spokesperson for Manafort and a representative for the special counsel's office both declined to comment.
Sooo, stay tuned on Friday?
In other Russia investigation news, GOP rejects effort to force release of documents about private Trump-Putin meeting: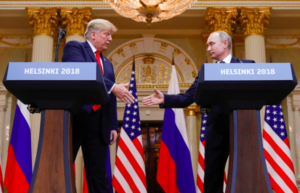 House Republicans on Thursday rejected a push by Democrats to obtain documents from the administration about President Trump's one-on-one summit with Russian President Vladimir Putin.
Democrats on the House Foreign Affairs Committee rallied behind a resolution that would have directed the executive branch to send to Congress "copies of all documents, records, communications, transcripts, summaries, notes, memoranda, and read-aheads" related to Trump's July summit with Putin in Helsinki.
Rep. Brendan Boyle (D-Pa.) introduced the measure as a "resolution of inquiry," which under House rules must be considered by a committee within 14 legislative days, or else its sponsors can force a vote on the House floor.
Lawmakers on the committee voted along party lines to reject the effort Thursday afternoon.
Trump endured a barrage of criticism, including from Republicans, following the summit, during which he appeared to cast doubt on the U.S. intelligence community's assessment about Russian election interference at a press conference alongside Putin. The president later walked back the remarks, saying he misspoke.
Trump's one-on-one meeting with Putin, conducted behind closed doors with only an interpreter present, has generated intrigue as the White House and other administration officials have said little about the discussions.
Dan Coats, Trump's top intelligence official, has confessed that he doesn't know the details of what occurred.
Democrats argued Thursday that the resolution was necessary to obtain information about the promises Trump may have made to Putin during the meeting.
"This meeting could have profound foreign policy implications and the president has already built a track record of giving away concessions with nothing in return," said Boyle.
"Here we are 60 days after the Helsinki summit and we still don't know what President Trump said or committed to," Boyle said.
But Chairman Ed Royce (R-Calif.), who has been critical of Trump's performance in Helsinki, argued that the resolution would set a bad precedent for any president's future foreign policy efforts and infringe on executive privilege.
"I strongly disagree with the president's remarks in Helsinki. Vladimir Putin is not our friend and there is simply no comparing the actions of the United States with those of Putin's Russia," Royce said. "Ultimately, Helsinki was a squandered opportunity to challenge Vladimir Putin's false narratives on issues like Ukraine and Syria and ongoing interference in our democracy."
Royce argued, though, that the resolution "has implications far beyond our current president or our last president. It is about the ability of any president to engage with foreign leaders."
The vote took place Thursday afternoon, shortly before lawmakers left Washington for a weeklong break.
A traitor president who fails to follow protocol to keep his betrayal secret is also a dangerous precedent congressman. Priorities man.
---
Support volunteer citizen journalism at the Blog for Arizona with a donation today. Your secure contribution keeps the Blog online and sustains a free press in Arizona.
---