Taking a bold step for public safety, the Pima County Supervisors called for the repeal of a prohibition against local governments protecting their citizens from gun violence. If the "guns everywhere" law isn't revoked, the County will go to court to have it declared unconstitutional.
The 3-2 majority voted on August 2:
"1. The Board of Supervisors will call on the Arizona Legislature to repeal A.R.S. § 13-3108 and any other laws that inhibit the ability of local governments to take action to prevent gun violence, or to take other necessary measures related to the regulation of guns within the boundaries of their jurisdiction."
"2. The Board of Supervisors requests from the Pima County Attorney's Office a set of options to challenge the legality and/or constitutionality of A.R.S. § 13-3108, especially regarding Pima County's statutory duties as the public health authority for all inhabitants of the County. These options should be presented to the Board of Supervisors no later than November 15, 2022."
Read the gun safety resolution.
Shame on Bronson and Christy
Two gutless supervisors — Board Chair Sharon Bronson — a Democrat — and Republican Steve Christy voted no on the resolution. Quoting from the GOP slogan book, Christy said, "Supervisor Scott wants to take away everyone's guns." Scott said Christy's comments are unfounded, and he does not intend to strip Second Amendment rights completely.
Supervisors Adelita Grijalva and Dr. Matt Heinz voted in favor of the resolution.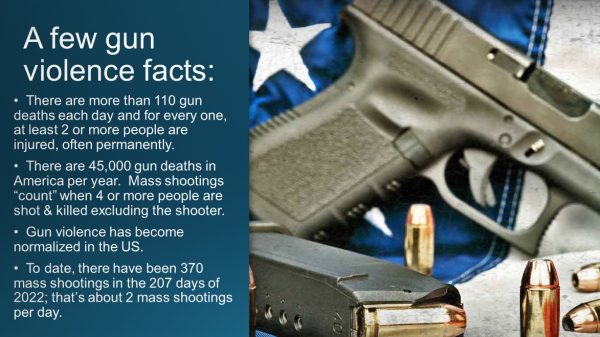 Gun safety advocates cheered the Board of Supervisors, who called on the Arizona Legislature to repeal the law that bars local governments from adopting rules restricting gun use.
The pre-emption statute was enacted in 2000, used in 2002 to strike down background checks in Tucson, and used again in 2017 to overturn Tucson's ordinance requiring the police to destroy abandoned and forfeited weapons.
"It is wrong for the state to stand in the way of local governments who seek to take action to address mounting public concerns about gun safety, gun violence and the need for common sense gun regulations," said Supervisor Rex Scott, who proposed the motion. "If the people who represent us in Phoenix do not act to repeal this statute, we will see them in court."
An unconstitutional law
"This country leads the world in incidents of gun violence, and our people demand that we act to take on this reality. Denial and inaction will only lead to more loss. If the Arizona state government refuses to lead, they need to get out of the way of local governments who are determined to do it is time for us to fight for both local control and common sense,'" Scott added.
Tuesday's resolution asks the County Attorney's office to create a legal argument that the law nullifies "Pima County's statutory duties as the public health authority for all inhabitants of the County" including "the authority to adopt and enforce regulations necessary for the public health and safety of the inhabitants," A.R.S. § 36-183.02)."
Patricia Maisch of Moms Demand Action and Nancy Bowman of Citizens for a Safer Pima County testified.

They were both at the January 8, 2011, mass shooting where Congress Member Gabby Giffords was shot.
"Gun violence is an epidemic in our country, including in Pima County. As Arizona counties are charged under state law with protecting public health, our Board of Supervisors should have the ability to protect residents from public health and safety threats. Sadly, the Arizona Legislature restricts our capacity to fulfill that duty," Scott said.
"I was an administrator and teacher for almost 30 years. On two occasions, my staff members and I had to put our schools into lockdown because of reports that a student with a gun was roaming the campus," Scott wrote in an op-ed article. "I will never forget the looks of fear and uncertainty on the faces of my colleagues and students."
"More times than I care to remember, I attended funerals of students who died as the result of gun violence," he wrote. "A girl who was a victim of a gang-related shooting and several suicides, including one of a sixth grader, all bring to mind memories of anguished family and friends. There is something sickening about watching teenagers grieve the loss of a classmate at far too young an age."
The epidemic of gun violence
Scott said the resolution was "reflexively and falsely branded as a brazen assault on constitutional rights and personal liberties. It is wrong," Scott said.
"Folks will say that we are coming after the second amendment, that we're coming after your guns, that you're not going be able to hunt, that you're not going to be able to do anything lawful. That is nonsense."
Data from 2020 shows that 45,222 people died from gun-related injuries in the U.S. Speaking at the July 27 program on gun violence by the Democrats of Greater Tucson, Kelley Ireland said, "Gun violence has become normalized in the US.
"To date, there have been 370 mass shootings in the 207 days of 2022. That's about two mass shootings per day," Ireland said. See her slides here.
Gun deaths are rising in Tucson, according to Pete Plahmer, the Trauma Outreach and Injury Prevention Coordinator at
Banner University Medical Center in Tucson. He said that Banner has treated 1,600 gunshot victims over the last six years. See his slides here. The number hit an all-time record in 2021, with 285 gun violence victims admitted.
Teresa Neiberg, legislative lead for Moms Demand Action, said at the DGT meeting, "If we are able to elect a Democratic Governor and Democratic majority at the Arizona Legislature, we will be able to work with legislators who will stand up for Gun Safety. If we are not able, we fear that some of the newly elected Republican legislators will not be open to working with us to pass gun sense legislation." See her slides here.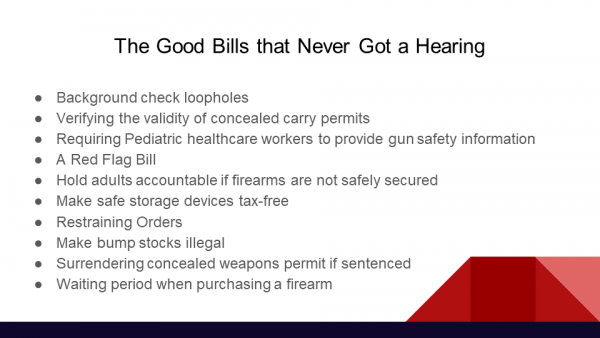 This year the legislature rejected gun violence prevention laws on:
Background check loopholes
Verifying the validity of concealed carry permits
Requiring Pediatric healthcare workers to provide gun safety information
A Red Flag bill
Hold adults accountable if firearms are not safely secured
Make safe storage devices tax-free
Restraining orders
Make bump stocks illegal
Surrendering concealed weapons permit if sentenced
Waiting period when purchasing a firearm
None even received a hearing. On the other hand, the Republicans in the legislature introduced bills that:
Would allow concealed carry in public spaces and events such as libraries, community centers, zoos, festivals, and marches.
Would allow loaded weapons in school parking lots.
Would require middle and high school students to learn about handling firearms using an NRA program that's proven to be unsuccessful.
Would reduce the age of a person to have a concealed weapon permit to 18 years.
Would allow concealed carry on college campuses.
Would allow property owners to use deadly force to prevent criminal damage (e.g., graffiti) to their property (Expands AZ's Stand Your Ground Bill).
Would prevent taxing or restricting firearms (A nullification bill).
Would exempt guns and ammunition from sales tax.
Would prohibit the state or any public entity from contracting with a company unless the company agrees not to discriminate against a firearm entity.
Any rules local governments adopt in violation of the state law could result in a civil penalty of up to $50,000 and actual damages up to $100,000. Plus, the state's attorney general could rescind the millions of dollars in state aid the county receives from shared revenues if a violation of state law is found.
"This country leads the world in every gun violence statistic that you can find, and our public, the people who put us in office, expect us to deal with this issue," Scott said. "So if the legislature is not going to lead on this issue, they need to get out of the way of local governments that would like to take some purposeful action to protect our people."