This is part one of a two-part article on what the Republicans say behind closed doors. Part two is  GOP Legislative Candidate Marilyn Wiles has an Anti-Tucson Agenda
Republicans at this month's Pima County GOP meeting gave rousing rounds of applause to tea party darling Kelli Ward, a primary candidate for US Senate, who gloated over her lead in recent polls, fawned over Ted Cruz and ripped into fellow Republicans Martha McSally and John McCain.
Republicans packed the meeting last Tuesday at the Murphy-Wilmot Library in Tucson, with a crowd of 75 to 100 people. Ward was repeated greeting with loud applause.
Asked how she differentiates herself from her rival, Congressman Martha McSally, Ward said:
"You all live in Martha's district. You all know how she's been as a congresswoman. In language that she can understand: she's failed the check ride [a pilot's exam — because McSally was a pilot].  We certainly don't promote the people who failed the check ride, we promote people who get the job done. I have a 98 rating with the American Conservative Union, tied with Mike Pence."
"Passion Points"
She called her platform "passion points" including the following:
Ejecting the UN from the United States. "I don't think that they should be on United States soil. I don't we should be investing so much money in the UN," she said.
Opposing the #RedforEd teacher's movement. "We have to get the infiltrators who came through the RedForEd movement out," adding, "We have a lot of work to do but it shouldn't be done by the federal government. I don't think the federal government has a place in education."
Repealing and not replacing Obamacare (the Affordable Healthcare Act). "I want to knock the legs out from under Obamacare," she said. [This would deprive 20 million people of getting health insurance.]
Building a Mexico border wall [which would cut in half the economic zone between Sonora and Tucson.]
Cutting federal spending — especially for Planned Parenthood — but adding funds to ICE (U.S. Immigration and Customs Enforcement). "In the last 10 to 12 years, I've seen a big change on the border. Now it's the druggers, the drug cartels, illegal weapons, dangerous drugs, and people drawn by that magnet of a wide open border," she said.
A military build-up. "I want our military to be the strongest in the world," she said. "Having Donald Trump as commander-in-chief has really been amazing. We're seeing that peace through strength in action. When America is strong the world is a better safer place." [The military accounts for 54% of the federal budget, and it has not led to peace in Afghanistan, Iraq, Syria, Yemen, Somalia, Libya, and Niger.]
Standing with Israel, right or wrong. "I promise you I will unapologetically stand with Israel. I'm so happy that the true capital of Israel was recognized in Jerusalem. Yes, I've been a supporter of Israel for years, and I think the BDS movement is ridiculous," she said. [The Boycott, Divestment, Sanctions (BDS) movement works to end international support for Israel's oppression of Palestinians.]
Blasting Republicans McSally & McCain
"If you look at scorecards across the board — Heritage Action For America, FreedomWorks, American Conservative Union, Numbers USA — anybody that's scoring on a conservative basis — Martha has an "F" with every single one of those organizations."
"I stand firmly on my beliefs. I don't try to change my vote or have my name removed from bills because they suddenly became unpopular. I don't try to commandeer other people's bills to make myself more pro-life than I really am. What you see before you is what you get."
She also attacked Planned Parenthood, which she claimed got 1/2 Billion dollars in funding in the March 23 Omnibus spending bill. "Guess what, when that got budgeted, you know what Planned Parenthood did right here in Arizona? They opened up their super PAC here. So we gave them ½ billion dollars to use against us. That is crazy. And that doesn't even touch the lives that they take every single day."
Repealing Obamacare
Her biggest applause line was to repeal Obamacare completely. "You notice I didn't say 'replace.' Because expecting a big government solution to a problem that was caused by big government is another thing that's kind of insane. I have a vast knowledge of healthcare policy and in the trenches. We've got to bring the free market back into healthcare," she said.
Ward proposed implementing health savings accounts. Of course, this works only if people already have a high-deductible health plan and the spare cash to set aside. Ward said she would be "asking and encouraging people to have a major medical policy."
"Skinny repeal was good, but [Obamacare] certainly isn't gone. Under the failed "skinny repeal," 15 million more people would have no health insurance. "When I ran for the Arizona state senate, we were considering expanding Medicaid and implementing state-based exchanges — two of three legs that Obamacare stands on. I want to knock the legs out from under Obamacare. We need to stop the biggest government takeover of health care freedom," she said.
Fawning and gloating
She repeatedly fawned over Senator Rand Paul, Senator Mike Lee from Utah, and the universally-despised Senator Ted Cruz.
"Ted Cruz wasn't 'low energy.' I like Ted Cruz. I think that he is a very good mind. He's constitutional and he's got a great legal mind. I've got to align myself with people who have different skills. His knowledge of the constitution is probably higher than anybody in the entire country."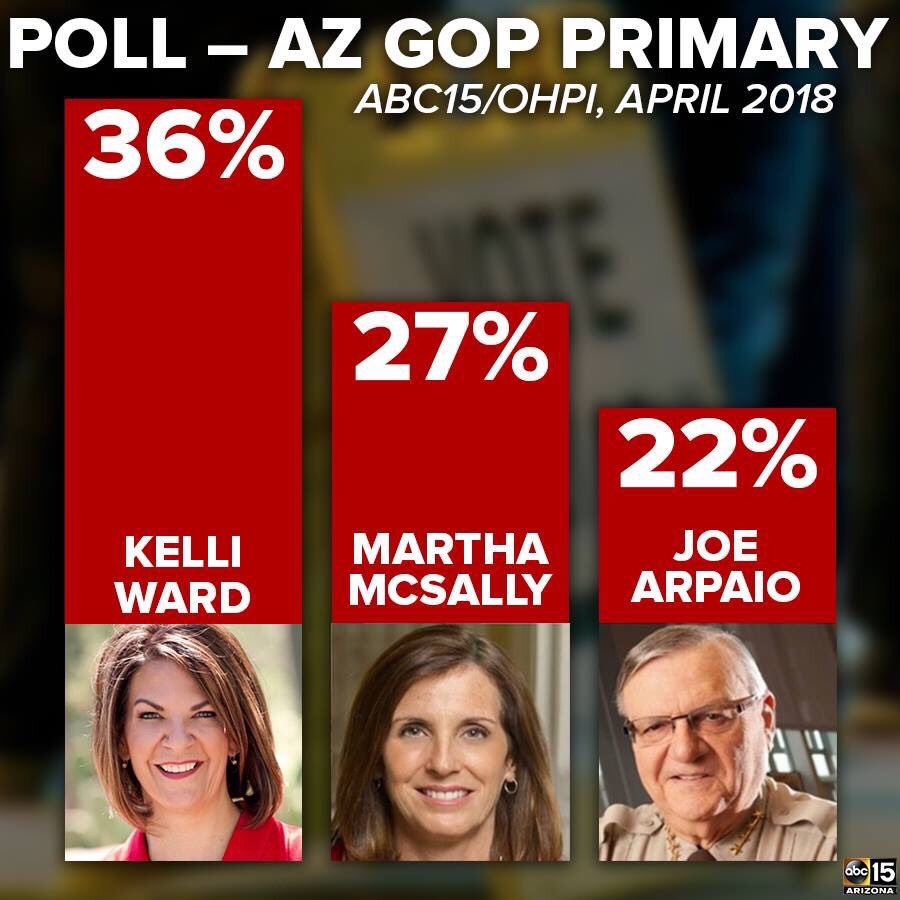 Ward gloated that "things are going great on the campaign trail. I'm leading in the polls 36 to 27 to 22," and the audience cheered. "Joe [Arpaio] is kind of falling away, and Martha has a feeling of what she can achieve. We've seen it before she was in the race," she said. 
Rogue's gallery
She unveiled her campaign staff, sourced from right-wing politicians:
Sean Dow is her campaign manager. He was Arizona state director for Rand Paul's failed 2016 presidential campaign, as well as for the campaign of Republican Congressman David Schweikert.
Ed Rollins is senior campaign advisor. He managed Ronald Reagan's 1984 campaign.
Ron Nehring, who was the national spokesman for Ted Cruz's failed 2016 presidential campaign.
"A couple of guys who raised $30 million for Trump."
"Drain the swamp"
She said that her #3 passion point was the economy, but didn't explain what she would do besides enforcing budget caps. She said her #4 passion point was veterans, but she just talked about building the war machine.
She repeatedly called for "draining the swamp." "We have got to light up that swamp. I want to be one of the light-shiners," said. "I'm going to bring the heat to drain the swamp." Of course, after two years in office, President Trump has created the current swamp.
Coming up next: Surprise! GOP Candidate Marilyn Wiles has dropped out of the race for Congress, and is now running for Arizona state Senate in LD10. Her opening topic: "What are we going to do about Tucson?"