Arizona Secretary of State voter registration  totals as of Aug. 30, 2016:
7 of 15 Arizona Counties have more Democrats registered than Republicans in:Apache, Coconino, Greenlee, Navajo, Pima, Santa Cruz, Yuma Counties.
If you're wondering where these counties are, here's a map of the 15 counties. So most of the Democratic counties are in the Northeast and Southern areas of the state.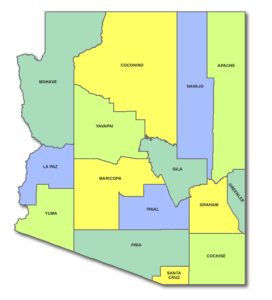 Pima County has only about 30,800 more Democrats registered than Republicans (179,043 to 148,215), with 159,929 Independents/Others.
Maricopa County has about 176,000 more Republicans than Democrats.  Note that Pima County"s registered Democrats is 179,000, slightly more than that difference in voters (Ds and Rs) in Maricopa County/Phoenix alone.
More info at: http://apps.azsos.gov/election/voterreg/2016-08-01.pdf
State-wide voter totals show more Republicans than Democrats or Independents:
Democrats: 1,019,050
Republicans: 1,185,023
Others: 1,164,373
And who is Arizona's independent voter? Read my previous post from last November, 2015:
https://blogforarizona.net/who-is-arizonas-independent-voter/