There is a special election today in the state of Montana to fill the congressional seat vacated by Ryan Zinke, the former Montana Republican now running the Interior Department.
Montana is a very "red" state. But surprisingly, the Montana special election is 'closer than it should be':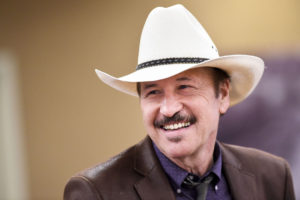 Democrat Rob Quist (right), a folk singer and first-time candidate, has raised more than $6 million for his campaign, including $1 million in the past week alone as energized Democratic donors pour online cash into political causes this year. Quist hopes that enthusiasm also contributes to an outsize turnout — as it did in special elections in Kansas and Georgia earlier this year — for the oddly scheduled Thursday election, happening just before a holiday weekend.
"I remember talking to people when it first started who said this was a slam dunk, Greg Gianforte's it. And it's not there anymore," said Jim Larson, the Montana Democratic Party chairman. "It is a lot closer than people ever thought it would be."
Then on the eve of the special election, Quist's GOP opponent, Greg Gianforte, self-imploded. GOP candidate cited for assault as newspapers pull endorsements:
Republican congressional candidate Greg Gianforte was charged late Wednesday with misdemeanor assault after witnesses said he "body-slammed" a reporter for the Guardian who had been trying to ask him about the GOP's health care bill.
Hours before polls close Thursday after nearly four weeks of voting, three of Montana's largest newspapers rescinded their endorsements of the Republican. Democrats called on him to quit the race.
"Following multiple interviews and an investigation by the Gallatin County Sheriff's Office it was determined there was probable cause to issue a citation," said Sheriff Brian Gootkin in a statement. "Greg Gianforte received a citation on Wednesday night and is scheduled to appear in Gallatin County Justice Court between now and June 7, 2017."
The decision to charge Gianforte came after reporter Ben Jacobs, who had been covering the race, released a recording of the candidate losing his temper. Gianforte, who is seen as the slight favorite in a race that ends Thursday, left what was supposed to be a final campaign rally at his Bozeman headquarters without making remarks.
In an audio recording published by the Guardian, Jacobs can be heard asking Gianforte to respond to the fresh Congressional Budget Office score of the American Health Care Act, a bill Gianforte has said he was glad to see the House of Representatives approve. According to Alexis Levinson, a reporter for BuzzFeed, Jacobs had followed the candidate into a room where a camera was set up for an interview, before the event began.
"We'll talk to you about that later," Gianforte says in the audio.
"Yeah, but there's not going to be time," says Jacobs. "I'm just curious about it right now."
After Gianforte tells Jacobs to direct the question to his spokesman, Shane Scanlon, there is the sound of an altercation, and Gianforte begins to scream.
"I'm sick and tired of you guys!" Gianforte says. "The last guy that came in here did the same thing. Get the hell out of here! Get the hell out of here! The last guy did the same thing. Are you with the Guardian?"
"Yes, and you just broke my glasses," Jacobs says.
"The last guy did the same damn thing," Gianforte says.
"You just body-slammed me and broke my glasses," Jacobs says.
"Get the hell out of here," Gianforte says.
After that, Jacobs can be heard on the tape promising to contact the police, which he did.
After the incident, Scanlon released a campaign statement putting the onus on Jacobs, saying that he "aggressively shoved a recorder in Greg's face and began asking badgering questions," prompting the candidate to act.
"Greg then attempted to grab the phone that was pushed in his face," Scanlon said. "Jacobs grabbed Greg's wrist, and spun away from Greg, pushing them both to the ground. It's unfortunate that this aggressive behavior from a liberal journalist created this scene."
Gianforte's statement disregards the fact that there was a camera crew setting up for an interview who were eye-witnesses to the incident. It turns out that it was FOX News, and even they would not back up Gianforte's version of events. Fox News team witnesses GOP House candidate 'body slam' reporter:
As part of our preparation for a story about Thursday's special election to air on "Special Report with Bret Baier," we arranged interviews with the top two candidates, Republican Greg Gianforte and Democrat Rob Quist. On Wednesday, I joined field producer Faith Mangan and photographer Keith Railey in Bozeman for our scheduled interview with Gianforte, which was to take place at the Gianforte for Congress Bozeman Headquarters.
Faith, Keith and I arrived early to set up for the interview in a room adjacent to another room where a volunteer BBQ was to take place. As the time for the interview neared, Gianforte came into the room. We exchanged pleasantries and made small talk about restaurants and Bozeman.
During that conversation, another man — who we now know is Ben Jacobs of The Guardian — walked into the room with a voice recorder, put it up to Gianforte's face and began asking if he had a response to the newly released Congressional Budget Office report on the American Health Care Act. Gianforte told him he would get to him later. Jacobs persisted with his question. Gianforte told him to talk to his press guy, Shane Scanlon.
At that point, Gianforte grabbed Jacobs by the neck with both hands and slammed him into the ground behind him. Faith, Keith and I watched in disbelief as Gianforte then began punching the reporter. As Gianforte moved on top of Jacobs, he began yelling something to the effect of, "I'm sick and tired of this!"
Jacobs scrambled to his knees and said something about his glasses being broken. He asked Faith, Keith and myself for our names. In shock, we did not answer. Jacobs then said he wanted the police called and went to leave. Gianforte looked at the three of us and repeatedly apologized. At that point, I told him and Scanlon, who was now present, that we needed a moment. The men then left.
To be clear, at no point did any of us who witnessed this assault see Jacobs show any form of physical aggression toward Gianforte, who left the area after giving statements to local sheriff's deputies.
As for myself and my crew, we are cooperating with local authorities. Gianforte was given a citation for misdemeanor assault and will have to appear in court sometime before June 7.
This is Politics 101: don't physically assault a reporter. The problem is that this "May Surprise" probably comes too late, timing is everything in politics.
In Montana, any eligible voter can vote absentee. That means that a large number of votes in the Montana special election have already been cast (estimates are as high as 70% of early ballots returned).
Montana does not allow voters to change their mind and rescind their early ballot. Once you've voted, you've voted.
A Quist victory could have allowed Democrats to cast his win in a red state as an early referendum on Donald Trump's presidency. But now that Gianforte assaulted a reporter on the eve of the election, the GOP can deflect that a Quist win was a verdict on Gianforte.
There is also a good chance, thanks to the early ballots already cast, that Gianforte will win.