Accompanied by Phoenix Mayor Kate Gallego, Governor-Elect Katie Hobbs, Commerce Secretary Gina Raimondo, Arizona Governor Doug Ducey, Senator Mark Kelly, and four of Arizona's Democratic House Representatives, President Joe Biden journeyed to the currently developing  Phoenix branch of the Taiwan Semiconductor Manufacturing Corporation (TSMC) to celebrate the Renaissance of American Manufacturing and the Biden/Harris Administration role in helping to make that happen.
Before the President touched down in Arizona, TSMC announced that they were tripling their investment, to the tune of $40 billion in the Phoenix area, with the construction of a second manufacturing plant.
This will translate to more good-paying jobs for Maricopa County residents.
Calling Arizona " a hub for the technical change that will take place," the President linked the arrival of TSMC to the Phoenix area to his economic policies, telling invited attendees at today's event that:
"American Manufacturing is back folks…the United States is better positioned than any other nation to lead the world economy in the years ahead if we keep our focus…Together, with the help of your elected leaders, we've had an extraordinary two years of progress…"
The President cited the economic programs, passed during the Biden/Harris Administration that have created 750,000 jobs so far including the:
The American Rescue Plan.
The Bipartisan Infrastructure Law (which the President cited later in his speech included a new taxi airline system for Sky Harbor Airport, pedestrian bridges, the extension of light rail, clean energy city and school buses, the production of lithium-ion batteries, and the expansion of high-speed internet.)
The CHIPS Act.
Mr. Biden then claimed that American opportunism is returning with an economy "that works for everyone, one that grows from the bottom up and the middle out and that positions Americans to win the economic competition of the Twenty-First Century. When we grow it that way, the poor have a shot. The middle class do well and the wealthy do very well…Thousands of Arizonans are going to be able to look their kids in the eye because of what you're doing today and saying honey, it's going to be okay…"
Speaking on the significance of TSMC setting up operations with its now state-record $40 billion investment in the Phoenix area, the President noted that companies like Apple will improve the national supply chain by buying supplies and materials here instead of from China.
It will also help, according to President Biden, in the creation of "10,000 construction jobs (over 3,000 of them will be union labor) and 10,000 high-tech jobs…I want to thank everyone in this company for making this happen…"
After recounting the exodus of much of the American microchip industry overseas, Mr. Biden discussed the renaissance in the national manufacturing industry with all the investments being made by these same technological companies in states across the country including Arizona, Ohio, and New York are "helping us strengthen the supply chain here in America…That is why what we're doing here in Arizona matters across the country and around the world. Folks, like we see here in Phoenix, the United States is a top destination for companies across the globe looking to make investments because we have a world-class, highly skilled committed work force-union labor…"
The President then saluted unions and their preparation programs, including well-regarded apprenticeship ones, that helped build the American Middle Class. After the event, Phoenix Mayor Kate Gallego's office would cite the Maricopa County Community College District "Route to Relief" program that includes specific training certifications in semiconductor fields as a model for apprenticeship programs funded in part by the Bipartisan Infrastructure Law.
In his concluding remarks, the President stated:
"When Arizonans see the big picture in your hometowns, cranes going up, shovels in the ground, workers with hard hats, I want you to feel the way I feel…Pride. Pride. What we can do together is just anything. Folks. Here's the bottom line. Our approach to building the economy of the future is from the bottom up and the middle out. It's working. We've added jobs every single month of my Presidency. 10.5 million new jobs. 750,000 manufacturing jobs…We're laser-focused on this and all the hard work is making a real difference for people including folks right here in Arizona…"
After reflecting that times have been "rough" for Americans the last several years with the Coronavirus Pandemic and the current inflationary surges (which appear to be falling, Mr. Biden said:
"There are bright spots where America is reasserting itself. The innovation and manufacturing boom in Arizona is one of those places…Federal investment attracts private sector investment. It creates jobs and it demonstrates that we're all in this together. That's what today is about. I've never been more optimistic…about America's future and I really mean that. We're building a better America. We just have to keep going and I know we can. We're proving it's never ever been a good bet to bet against America ever. Folks, we just have to remember who we are. We're the United States of America and there's virtually nothing beyond our capacity if we work together…Let's go keep this moving…"
Phoenix Mayor Kate Gallego Welcomes President Biden and Comments on the TSMC Expansion
Before the event at TSMC in Phoenix today, Mayor Kate Gallego welcomed President Biden and commented on the TSMC expansion by posting on social media:
Later in a press release from her office after the event, the Mayor offered:
"In addition to placing us on the leading edge of high-tech manufacturing, TSMC's presence here is nothing short of transformational. I can sum up the effect on the community in a single word, and that word is 'jobs.' TSMC is already employing close to 10,000 construction workers. Nearly 4,500 people will work at the fab once it is online. Plus, we have already heard from more than 40 of the company's suppliers who also want to locate in Phoenix. All told, we expect this ecosystem will create up to 80,000 jobs over the next five years, with much of that demand met by local Phoenix talent."
"I have been looking forward to this day since I traveled to Taiwan three years ago to make the case to TSMC that Phoenix is the place they would want to be. To stand here today with this extraordinary, high-tech future becoming a reality, I am utterly thrilled to imagine what Phoenix will look like in ten years. It will look different, but we will know – like every generation that came before us – that the work we do now is leading to a better life for families throughout this region."
Governor-Elect Katie Hobbs releases a statement on the Biden visit.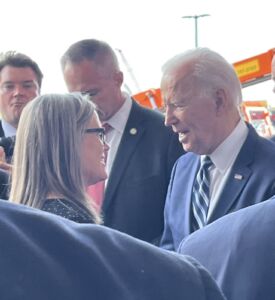 Arizona Governor-Elect Katie Hobbs releases a statement on December 7, 2022, on the Biden visit, relaying:
"President Biden couldn't have said it better: Arizona is at the forefront of innovations in research and technology. Today's visit proves that our state's exceptional talent pool and business environment make us a leader in bringing semiconductor manufacturing back to America. I look forward to working with the President throughout my administration to continue bringing good-paying jobs to Arizona, combating inflation, and securing our border to protect our families."