In a series of pardons and commutations on Tuesday, President Donald Trump wielded his powers of clemency as a preview of coming attractions ahead of Roger Stone's sentencing on Thursday.
The fat lady is warming up her voice in the wings for a Paul Manafort, Michael Flynn and Roger Stone pardon. You read it here first.
CNN reports, Trump commutes Blagojevich's sentence, pardons others:
President Trump announced midday he had commuted the prison sentence of former Illinois Gov. Rod Blagojevich, a Democrat who has served eight years of a 14-year sentence for the pay-for-play charges. Trump had been weighing the move since at least since 2018.
"He served eight years in jail, a long time. He seems like a very nice person, don't know him," Trump told reporters at Joint Base Andrews, suggesting the television appeals of Blagojevich's wife Patti helped cement his decision.
Trump doesn't know him? Rod Blagojevich was a contestant on Trump's craptacular reality TV show Celebrity Apprentice.
https://www.youtube.com/watch?v=J64yC1Dxc7c
Trump also announced pardons for former New York police commissioner Bernie Kerik (Rudy Giuliani's old sidekick), convicted of tax fraud and lying to officials; Mike Milken, an investment banker known as the "Junk Bond King" who was convicted of felony charges that included securities fraud and conspiracy; and Eddie DeBartolo Jr., the former owner of the San Francisco 49ers who pleaded guilty in 1998 to failing to report a felony in a bribery case.
So basically Trump pardoned crimes that he himself would want to be pardoned for if and when he ever faces justice for his life of crime.
The moves furthered the impression of a President unbound after the Senate acquitted him following impeachment charges he abused his power. Aides had worked to convince Trump against reducing Blagojevich's sentence, believing it would play poorly. And Republican members of Congress lobbied Trump to drop the idea.
But aides say Trump feels newly emboldened after the Senate acquittal, and the steps he announced on Tuesday were long in the works.
Trump publicly hinted he would use his clemency powers for Blagojevich, a Democrat, in August. But he faced sharp blowback from some conservative members of Congress, including from Illinois, as well as from some White House advisers who said it would undercut a message of draining Washington's swamp.
The Trump crime family and his gang of ill reputes in the White House are the swamp.
On Tuesday, Trump linked Blagojevich's prosecution to a longtime foe, former FBI Director James Comey, a close friend of former US attorney in Illinois Patrick Fitzgerald, who led the prosecution against Blagojevich.
"It was a prosecution by the same people — Comey, Fitzpatrick — the same group," Trump said, misstating the Illinois US attorney's surname.
Trump has raged over the past week at what he says are prosecutors run amok, including in the case involving his friend Roger Stone, who is due to be sentenced this week.
* * *
And though Trump granted clemency to a total of 11 convicted criminals on Tuesday, he said he wasn't thinking about doing the same for Stone.
"I haven't given it any thought," Trump said, though sources have said Trump is weighing taking such a step.
You can add this to the list of his 16,000 plus lies.
Internally, the effort to pardon or commute Blagojevich's sentence was championed by Jared Kushner, who has led the administration's criminal justice reform efforts. Blagojevich appeared on Trump's boardroom reality show NBC's "Celebrity Apprentice" in 2010 but was fired by the future president before the final round.
Trump said Tuesday he wanted Blagojevich to be able to see his family again after serving eight years in prison, calling the 14-year sentence for charges related to selling former President Barack Obama's Senate seat "ridiculous."
When Trump seemed close to announcing a commutation over the summer, several Republican lawmakers aired their concerns in phone calls to acting White House chief of staff Mick Mulvaney and White House counsel Pat Cipollone. Two Republicans, Reps. Darin LaHood and Mike Bost, directly appealed to Trump not to use his clemency powers for Blagojevich.
By August, the White House had already been working for several months on vetting Blagojevich's case. The President first raised it in 2018.
Trump has suggested in his public comments about the case that he believes Blagojevich was simply doing what all politicians do.
"I would think that there have been many politicians — I'm not one of them, by the way — that have said a lot worse over the telephone," he said last year.
"My call to President Zelensky was perfect. There was no quid pro quo." It was bribery, fool, and also extortion.
Kerik, who once served three years in federal prison for charges including tax fraud and lying to officials, was nominated as homeland security secretary by President George W. Bush but withdrew from consideration due to potential tax violations.
Kerik, a former business partner of Trump ally and former New York Mayor Rudy Giuliani, helped with the case of Navy SEAL chief Edward "Eddie" Gallagher, who was convicted of bringing discredit to the armed services after posing next to a dead ISIS fighter's body, which is against regulations. [It is a war crime.] He was then demoted in rank — a decision Trump reversed in a move that angered military officials.
Milken rose to prominence on Wall Street in the 1980s as the head of the high-yield bond department, also known as junk bonds, at the now defunct firm Drexel Burnham Lambert.
But Milken got tied up in an insider trading scheme and eventually pleaded guilty to several counts of securities violations tied to a scandal with former stock trader Ivan Boesky.
DeBartolo is the former owner of the San Francisco 49ers. During DeBartolo's time as owner, the team won five Super Bowl titles.
DeBartolo pleaded guilty in 1998 to failing to report a felony in a bribery case, which led to former Louisiana Gov. Edwin W. Edwards getting sent to federal prison.
DeBartolo did not serve jail time, but he agreed to pay up to $1 million in fines. He also relinquished ownership of the 49ers to his sister, Denise York.
Former 49ers wide receiver Jerry Rice told press at the White House Tuesday morning that Trump and a group advocating for DeBartolo discussed what the former 49ers owner had done on and off the field.
"I think with Eddie and what he has accomplished, what he has done on the football field, off the football field a lot of charity work so we talked about that," Rice said. "We talked about just being great. You know, trying to be the greatest of all time. And you know, I take my hat off for Donald Trump and what he did."
Chris Cillizza explains Here's the secret to getting a Trump presidential pardon (excerpt):
President Donald Trump runs his White House (and his life) by two simple principles:
1. Reward your friends
2. Punish your enemies
* * *
On Tuesday, we saw the first principle of Trumpism in action when he issued a series of pardons and commutations that included former Illinois Gov. Rod Blagojevich, former San Francisco 49ers owner Eddie DeBartolo Jr., former New York City police chief Bernie Kerik and junk bond king Michael Milken.
The common thread of these moves isn't partisanship or Trump's commitment to criminal justice reform or anything like that. It's far simpler: It's that these individuals had friends in high places, friends who argued for Trump to use his unique presidential pardon power to make their problems go away.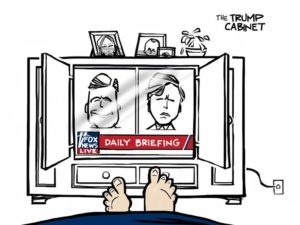 Now, none of that is to say that the people Trump pardoned weren't deserving of it … It is to say that the reason that people like Blagojevich or Milken or Kerik came to Trump's attention is because they had high-profile friends advocating for them and/or Trump has seen them (or their cases) on TV [specifically, Fox News aka Trump TV].
[Trump] said the quiet part out loud! "I watched his wife on television." Yes! He did! Because Patti Blagojevich went on Fox News — the home channel of the President — over the last few years to plead the case for her husband, the former Democratic governor. (She also called the Russia investigation a "witch hunt" just in case you were wondering whether she was directly appealing to Trump or not.) And not for nothing, Trump — despite his dismissal in the quote above — did know Blagojevich himself. That's because the former governor was on the cast of "The Celebrity Apprentice" in 2010 before being fired for — wait for it — not getting his Harry Potter facts straight.
So apply the "reward friends" principle when considering why Trump would pardon Kerik, who is close personal friends with Newsmax CEO Christopher Ruddy and Trump lawyer Rudy Giuliani (Kerik served under Giuliani when the latter was mayor). Or why Trump would pardon Milken, who counts Giuliani as well as Republican major donor Sheldon Adelson among his backers. [Update: Treasury Secretary Steven Mnuchin apparently put the word in for his pal Milken after the convicted trader let Mnuchin use his private plane earlier this year.] Or why Trump pardoned DeBartolo Jr., having been lobbied to do so by former NFL greats Jerry Rice and Jim Brown.
None of this is new. Do you think Trump knew about Alice Marie Johnson, who had been sentenced to life in prison for a nonviolent drug conviction, before Kim Kardashian West brought it to his attention? Uh, no. [It earned her a spot in Trump's Super Bowl ad.]
To be clear: Presidents do have this unquestioned pardon power. And past presidents have used it to pardon or commute the sentences of acquaintances or friends of friends … But no past president has been as transparently transactional in doling out clemency than Trump. Friend? Friend of a friend? Famous? [On Trump TV?] You've got a very good chance of being considered for a pardon in Trump world.
So keep an eye out for the next act. Roger Stone to be sentenced Thursday despite controversy, judge says:
Roger Stone will still be sentenced Thursday, [but] Judge Amy Berman Jackson will still give Stone time to make challenges in his case after he is sentenced. That means that even if the judge sentences him to jail this week, he won't be detained right away.
"I think that delaying this sentence would not be a prudent thing to do given all the circumstances," Jackson said during a phone call with prosecutors and Stone's team on Tuesday.
"There's been a lot of work that's gone into the sentencing on behalf of all the parties," the judge added.
Jackson didn't comment at the 15-minute hearing on the prosecutor withdrawals or political furor over the case. She has been silent on recent developments in the case since the prosecutors quit and Donald Trump accused her of bias.
* * *
[T]he judge decided she'll consider Stone's retrial request on a separate schedule. Stone's new trial request is still under seal, after he filed it Friday, though more details about it are set to be made public on Tuesday.
Jackson said she wanted to handle the new trial request "expeditiously" but not in a rushed fashion.
* * *
[Since four prosecutors withdrew from the case], which has shaken current and former attorneys across the Justice Department, the jury forewoman from Stone's trial publicly defended the four prosecutors. Right-wing commentators then accused her of bias against Trump.
The President has tweeted about Stone and the jury foreperson several times since the Justice Department's original prison recommendation came in.
"Is this the Judge that put Paul Manafort in SOLITARY CONFINEMENT, something that not even mobster Al Capone had to endure? How did she treat Crooked Hillary Clinton? Just asking!" Trump tweeted last week.
Manafort was never held in solitary confinement and Jackson didn't control the conditions of his detainment when she sent him to jail in June 2018.
CNN legal correspondent Jennifer Rodgers explains, Trump is turning his pardon power into a shield (excerpt):
[T]he President has very broad pardon power pursuant to Article II of the Constitution. But the pardons the President has issued thus far demonstrate a capricious use of that power, because unlike other presidents before him, Trump has completely bypassed the Department of Justice Office of the Pardon Attorney.
The pardon office is set up to handle petitions for pardons, utilizing established procedures, standards and rules. By ignoring this, President Trump issued his pardons without the wealth of information that is usually available, and without the advice of the DOJ's career professionals, including the prosecutors and agents who investigated and prosecuted these crimes.
* * *
The pattern is the same for the rest of the pardons given so far by this President: Those without either right-wing bona fides or the personal endorsement of a Trump-friendly celebrity need not apply.
As problematic as Trump's pardon history has been to date, however, we have entered a period of even greater danger, because the President has gone beyond using the pardon power on his personal whim, and is now using it for his personal protection.
The people who have been the subject of pardon talk, particularly Manafort, Michael Flynn and Cohen (before he publicly declared he was finished protecting the President) have some things in common, too. They are all individuals charged by the Office of the Special Counsel in investigations into wrongdoing by the President.
They all were in positions to have information that could implicate the President in crimes.  And all have or had been the subject of rampant speculation — fueled by the President's refusal to rule it out — that they may receive pardons if they refuse to cooperate with authorities.
"[T]he President and his team view the presidential pardon power as a way to protect him personally from the serious and numerous investigations closing in on him."
This is abuse of power. It is a cover-up his own crimes.