Vietnam War draft dodger Donald Trump finally made it to Vietnam. He went to Danang for the Asia Pacific Economic Cooperation summit meeting, where he met on the sidelines with his Russian puppet master, Vladimir Putin. "Danang Don" pulled his own "Hanoi Jane" in a press conference. Trump Says Putin 'Means It' About Not Meddling: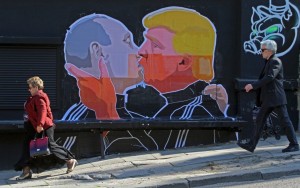 President Trump said on Saturday that he believed President Vladimir V. Putin was sincere in his denials of interference in the 2016 presidential elections, calling questions about Moscow's meddling a politically motivated "hit job" that was hindering cooperation with Russia on life-or-death issues.
Speaking after meeting privately with Mr. Putin on the sideline of the Asia Pacific Economic Cooperation summit meeting in Danang, Vietnam, Mr. Trump said that he had again asked whether Russia had meddled in the contest, but that the continued focus on the issue was insulting to Mr. Putin.
Mr. Trump said it was time to move past the issue so that the United States and Russia could cooperate on confronting the nuclear threat from North Korea, solving the Syrian civil war and working together on Ukraine.
"He said he didn't meddle — I asked him again," Mr. Trump told reporters traveling with him aboard Air Force One as he flew to Hanoi for more meetings. "You can only ask so many times. I just asked him again. He said he absolutely did not meddle in our election. He did not do what they are saying he did."
Let's go to the Full Transcript of Trump's Remarks on Russia which more accurately demonstrates just how unhinged he is (excerpt):
REPORTER: Did Russia's attempts to meddle in U.S. elections come up in the conversation?
TRUMP: He said he didn't meddle. He said he didn't meddle. I asked him again. You can only ask so many times. But I just asked him again, and he said he absolutely did not meddle in our election. He did not do what they're saying he did. And he said —
REPORTER: Do you believe him?
TRUMP: Well, look, I can't stand there and argue with him. I'd rather have him get out of Syria, to be honest with you. I'd rather have him — you know, work with him on the Ukraine than standing and arguing about whether or not — because that whole thing was set up by the Democrats.
I mean, they ought to look at Podesta. They ought to look at all of the things that they've done with the phony dossier. Those are the big events. Those are the big events.
But Putin said he did not do what they said he did. And, you know, there are those that say, if he did do it, he wouldn't have gotten caught, all right? Which is a very interesting statement. But we have a — you know, we have a good feeling toward getting things done.
If we had a relationship with Russia, that would be a good thing. In fact, it would be a great thing, not a bad thing. Because he could really help us in North Korea. We have a big problem with North Korea. And China is helping us. And because of the lack of a relationship that we have with Russia because of this artificial thing that's happening with this Democratic-inspired thing, we could really be helped a lot, tremendously, with Russia having to do with North Korea.
And, you know, you're talking about millions and millions of lives. This isn't baby stuff. This is the real deal. And if Russia helped us, in addition to China, that problem would go away a lot faster.
REPORTER: How did you bring up the issue of election meddling? Did you ask him a question?
TRUMP: He just — every time he sees me, he says, "I didn't do that." And I believe — I really believe that when he tells me that, he means it. But he says, "I didn't do that." I think he's very insulted by it, if you want to know the truth.
Don't forget, all he said is he never did that, he didn't do that. I think he's very insulted by it, which is not a good thing for our country. Because again, if we had a relationship with Russia, North Korea — which is our single biggest problem right now — North Korea, it would be helped a lot. I think I'm doing very well with respect to China. They've cut off financing; they've cut off bank lines; they've cut off lots of oil and lots of other things, lots of trade. And it's having a big impact. But Russia, on the other hand, may be making up the difference. And if they are, that's not a good thing.
So having a relationship with Russia would be a great thing — not a good thing — it would be a great thing, especially as it relates to North Korea.
And I'll say this, Hillary had her stupid reset button that she spelled the word wrong, but she doesn't have what it takes to have that kind of a relationship where you could call or you could do something and they would pull back from North Korea, or they'd pull back from Syria, or maybe pull back from Ukraine. I mean, if we could solve the Ukraine problem —
But this is really an artificial barrier that's put in front of us for solving problems with Russia, and he says that very strongly. He really seems to be insulted by it, and he says he didn't do it. So —
REPORTER: (Inaudible) do you believe him —
TRUMP: Excuse me?
REPORTER: Even if he (inaudible) one-on-one, do you believe him?
TRUMP: I think that he is very, very strong in the fact that he didn't do it. And then you look, and you look at what's going on with Podesta, and you look at what's going on with the server from the D.N.C. and why didn't the F.B.I. take it, why did they leave it, why did a third party look at the server and not the FBI — if you look at all of this stuff, and you say, what's going on here?
And then you hear it's 17 agencies. Well, it's three. And one is Brennan and one is whatever. I mean, give me a break. They're political hacks.
So you look at it — I mean, you have Brennan, you have Clapper, and you have Comey. Comey is proven now to be a liar and he's proven to be a leaker.
So you look at that, and you have President Putin very strongly, vehemently says he had nothing to do with that. Now, you're not going to get into an argument. You're going to start talking about Syria and the Ukraine.
Holy shit! So "Danang Don" is dismissing the unanimous consensus of U.S. intelligence agencies and the overwhelming body of evidence that Russia engaged in a cyber war against the U.S. to help him get elected, and he believes Vladimir Putin at face value when he says that he had nothing to do with it (wink, wink).
"Danang Don" is a national security risk to the United States. His unwavering devotion to Vladimir Putin is leaving the United States vulnerable to further Russian cyber war attacks to undermine our country. Trump cannot be trusted with national security secrets after having already been caught red-handed once sharing national security secrets with the Russian ambassador in the oval office, no less.
On Sunday, Mr. Trump seemed to walk his comments back a bit, saying that he did not dispute the assessment of the nation's key intelligence agencies that Russia had intervened in the 2016 presidential election.
"As to whether I believe it or not, I'm with our agencies, especially as currently constituted with their leadership," Mr. Trump said at a news conference in Hanoi alongside Vietnam's president, Tran Dai Quang. "I believe in our agencies. I've worked with them very strongly."
Wait for it … the Twitter-troll-in-chief cannot control himself. After a Disciplined Week in Asia, Trump Unloads on Critics:
In a stream of tweets on Sunday, the president said those who wanted to investigate his ties to Russia were "haters and fools," ridiculed "crooked" Hillary Clinton's ill-fated effort to reset relations with Russia and fired back at North Korea's leader, Kim Jong-un, for calling him old, saying that he could call Mr. Kim "short and fat" — but had restrained himself.
That followed a freewheeling session with reporters on Air Force One on Saturday, in which Mr. Trump dismissed the Russia investigation as a Democratic "hit job" and derided as "political hacks" three former chiefs of the nation's intelligence agencies, all three of which concluded that Russia had meddled in the 2016 presidential election.
* * *
Speaking to reporters here in Hanoi on Sunday, the White House chief of staff, John F. Kelly, insisted that he did not pay attention to Mr. Trump's tweets or allow his staff to be distracted by them.
"They are what they are," Mr. Kelly said. "But like, you know in preparation for this trip, we did the staff work, got him ready to go and then at each place we brief him up on whatever the next event is and all that. The tweets don't run my life; good staff work runs it."
Until Sunday, Mr. Trump had been careful not to make things personal with Mr. Kim. But after his speech in Seoul, in which he cataloged the brutality of the Kim government, North Korea described him as a "lunatic old man" and urged Americans to force him out of office or face an "abyss of doom."
That prompted an indignant response from Mr. Trump, who seemed more offended by the gibe about his age than about his mental condition. Shortly before leaving his hotel to meet the Vietnamese president, he tweeted, "Why would Kim Jong-un insult me by calling me 'old' when I would NEVER call him 'short and fat?' Oh well, I try so hard to be his friend."
* * *
Mr. Trump's comments were in keeping with his hot-and-cold approach to Mr. Kim. At times, he has floated the idea of a meeting with Mr. Kim and praised the North Korean leader for consolidating power in his country at a young age. But he has also ridiculed him as "Little Rocket Man" for his ballistic missile tests.
With Mr. Putin, Mr. Trump has been more consistent. [Trump has never once been critical.]
"I believe that President Putin really feels — and he feels strongly — that he did not meddle in our election," Mr. Trump said Sunday, when he was asked to clarify his comments about Mr. Putin's sincerity on that question the night before. "What he believes is what he believes."
Standing next to the Vietnamese president, Mr. Trump did not repeat the contempt he had shown the day before for three officials who served under President Barack Obama: John O. Brennan, the former director of the C.I.A.; James B. Comey, the former director of the F.B.I.; and James R. Clapper, the former director of national intelligence.
But he was no less insistent that the Russia investigation was a distraction from more pressing global matters — Syria, Ukraine and North Korea — and that time for punishing Russia was over.
"People don't realize Russia has been very, very heavily sanctioned," Mr. Trump said. "And I feel that having Russia in a friendly posture, as opposed to always fighting with them, is an asset to the world and an asset to our country, not a liability."
As you might imagine, Senator John McCain and others were critical of Danang Don's appeasement of Vladimir Putin while in Vietnam. John McCain hammers Donald Trump for taking Vladimir Putin's word over U.S. intelligence:
U.S. Sen. John McCain unloaded on President Donald Trump after the president appeared to take the word of Russian President Vladimir Putin over U.S. intelligence officials regarding last year's election interference.
"President Trump today stated that he believed Vladimir Putin is being sincere when he denies Russian interference in the 2016 presidential election and reiterated that he hopes to cooperate with Russia in Syria," McCain, the Senate Armed Services Committee chairman, said in a written statement.
"There's nothing 'America First' about taking the word of a KGB colonel over that of the American intelligence community," McCain continued. "There's no 'principled realism' in cooperating with Russia to prop up the murderous (Bashar) Assad regime, which remains the greatest obstacle to a political solution that would bring an end to the bloodshed in Syria. Vladimir Putin does not have America's interests at heart. To believe otherwise is not only naive but also places our national security at risk."
Others in Washington were equally harsh. Trump criticized for saying Putin is sincere in denial of election meddling:
Former director of national intelligence James R. Clapper Jr. said in a statement that "the president was given clear and indisputable evidence that Russia interfered in the election. His own DNI and CIA director have confirmed the finding in the intelligence community assessment. The fact that he would take Putin at his word over the intelligence community is unconscionable."
Brennan declined to comment.
In a statement, the CIA said that Director Mike Pompeo "stands by and has always stood by the January 2017 Intelligence Community assessment . . . with regard to Russian election meddling." That position, it said, "has not changed." The assessment also concluded that Russia had acted to promote Trump's victory over Democrat Hillary Clinton.
Former CIA director Michael V. Hayden said he was so concerned by Trump's statement that he contacted the agency to confirm that it stood by the January assessment. He described Trump's remarks as "egregious comments on the character of folks who have been public servants . . . [and] the public should know that these guys are thoroughgoing professionals, and what the president left unsaid is that the people he put into these jobs agree with the so-called hacks."
Senior officials in the intelligence community will be dismayed by the disparagement of two respected intelligence veterans, Hayden said. "People have a right to ask at senior levels: 'Does what I do make a difference anymore?' "​
Michael Morell, a former acting director and deputy director of the CIA, said Trump was "biting hook, line and sinker" the word of Putin, a former intelligence officer who is a "trained liar and manipulator." Although progress had been made in the intelligence community's initial raw relationship with Trump, Morell said in an email, "this will most definitely be a step backward."
Sen. Mark R. Warner (Va.), the top Democrat on the Senate Intelligence Committee, one of the panels investigating Russian interference in the 2016 election, said he was left "completely speechless" by Trump's willingness to take Putin's word "over the conclusions of our own combined intelligence community."
Rep. Adam B. Schiff (Calif.), the top Democrat on the House Intelligence Committee, said in a statement: "Instead of criticizing the Russian leader for the audacity of his interference and denials, he attacked Directors Brennan, Clapper and Comey . . . But the President fools no one. He understands that the Russians intervened through the hacking and dumping of his opponents emails, the fruits of which he exploited time and again on the campaign trail."
How did this country ever come to this?