The AP reports that President-elect Donald Trump on Sunday said he's not interested in getting daily intelligence briefings — an unprecedented rejection of the nation's massive and sophisticated intelligence apparatus. Trump rejects intel briefings, lawmakers vow probe of Russia hacking:
Trump's remarks come as key congressional Republicans joined Democrats in demanding a bipartisan investigation into the Kremlin's activities and questioned consideration of Exxon Mobil CEO Rex Tillerson — who has close business ties with Moscow — as head of the State Department.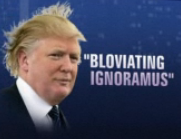 Asked whether he's rejecting valuable intelligence on "Fox News Sunday," Trump was defiant.
"I get it when I need it," he said of the top-secret briefings sessions, adding that he's leaving it up to the briefers to decide when a development represents a "change" big enough to notify him.
"I'm, like, a smart person. I don't have to be told the same thing in the same words every single day for the next eight years," Trump said.
No, Trump prefers to get "fake news" intel briefings from his hand=picked national security adviser, retired Army Lt. Gen. Michael Flynn. Flynn under fire for fake news: Flynn has used social media to promote a series of outrageous conspiracy theories about Hillary Clinton, President Barack Obama and their inner circles in recent months — pushing dubious factoids at least 16 times since Aug. 9, according to a POLITICO review of his Twitter posts
Flynn has traveled to Russia as a private citizen for RT, the Russian state-controlled news operation, and attended a dinner with Vladimir Putin.
Today fellow traveler in conspiracy theories, former U.N. Ambassador John Bolton — who is reportedly in line to be Trump's pick for deputy secretary of state — actually  asserted that the Russian hacking of the U.S. election is a "false flag" operation from the Obama administration. John Bolton's 'false flag' conspiracy theory about the CIA and Russia fits a clear pattern for him.
Beltway speculation is that Rex Tillerson, Exxon Chief, Is Expected to Be Pick for Secretary of State:
Rex W. Tillerson, the chief executive of Exxon Mobil, whose extensive deal-making for the energy giant has plunged him into global politics from Yemen to Russia, is expected to be offered the secretary of state post[.]
Mr. Tillerson has close ties with President Vladimir V. Putin of Russia, whom he has known for more than two decades. Russia awarded Mr. Tillerson its Order of Friendship in 2013, the year before Washington's relationship with Moscow sank into a deep freeze over Russia's annexation of Crimea and its shadow war in eastern Ukraine.
Relations with Russia have grown only more troubled since American intelligence agencies formally determined shortly after the November election that Russia had taken steps intended to help Mr. Trump win.
Mr. Tillerson, with no background in diplomacy outside the energy arena, would inherit those problems. He would also face the question of whether to maintain sanctions on Russia — penalties he has criticized for slowing Exxon's investments in that country.
His connections to Russia are sure to come under scrutiny during a Senate confirmation hearing.
Senator John McCain, Republican of Arizona, said on Saturday that Mr. Tillerson's ties to Mr. Putin were "a matter of concern to me." "I'd have to examine it," he said on Fox News, adding that "Vladimir Putin is a thug, bully and a murderer, and anybody else who describes him as anything else is lying."
I don't know how anyone can sleep soundly at night with these dangerous men in charge of the military and foreign policy.
The Washington Post reports, Trump, CIA on collision course over Russia's role in U.S. election:
The simmering distrust between Donald Trump and U.S. intelligence agencies escalated into open antagonism Saturday after the president-elect mocked a CIA report that Russian operatives had intervened in the U.S. presidential election to help him win.
The growing tensions set up a potential showdown between Trump and the nation's top intelligence officials during what some of those officials describe as the most complex threat environment in decades.
The Washington Post reported Friday that the Central Intelligence Agency had determined that Russia had intervened in the presidential election not just to make mischief but to boost Trump's chances.
Trump's reaction will probably deepen an existing rift between Trump and the agencies and raised questions about how the government's 16 spying agencies will function in his administration on matters such as counterterrorism and cyberwarfare. On Friday, members of Trump's transition team dismissed the CIA's assessments about Iraq's stockpile of weapons of mass destruction.
"Given his proclivity for revenge combined with his notorious thin skin, this threatens to result in a lasting relationship of distrust and ill will between the president and the intelligence community," said Paul Pillar, former deputy director of the CIA's Counterterrorism Center.
U.S. intelligence officials described mounting concern and confusion about how to proceed in an administration so openly hostile to their function and role. "I don't know what the end game is here," a senior U.S. intelligence official said. "After Jan. 20," the official said, referring to Inauguration Day, "we're in uncharted territory."
Pillar added: "Everything Trump has indicated with regard to his character and tendencies for vindictiveness might be worse" than former president Richard Nixon, who also had a dysfunctional relationship with the intelligence community.
The tensions between Trump and spy agencies could escalate even further as dozens of analysts begin work on a project, ordered by President Obama, to deliver a comprehensive report on Russian intervention in the election before Trump's inauguration in January.
Trump is also at odds with Republicans in Congress. Trump, Mocking Claim That Russia Hacked Election, at Odds with G.O.P.:
[T]he disclosure of the still-classified [CIA] findings prompted a blistering attack against the intelligence agencies by Mr. Trump, whose transition office said in a statement on Friday night that "these are the same people that said Saddam Hussein had weapons of mass destruction," adding that the election was over and that it was time to "move on."
Mr. Trump has split on the issue with many Republicans on the congressional intelligence committees, who have said they were presented with significant evidence, in closed briefings, of a Russian campaign to meddle in the election.
The rift also raises questions about how Mr. Trump will deal with the intelligence agencies he will have to rely on for analysis of China, Russia and the Middle East, as well as for covert drone and cyberactivities.
At this point in a transition, a president-elect is usually delving into intelligence he has never before seen, and learning about C.I.A. and National Security Agency abilities. But Mr. Trump, who has taken intelligence briefings only sporadically, is questioning not only analytic conclusions, but also their underlying facts.
"To have the president-elect of the United States simply reject the fact-based narrative that the intelligence community puts together because it conflicts with his a priori assumptions — wow," said Michael V. Hayden, who was the director of the N.S.A. and later the C.I.A. under President George W. Bush.
* * *
The Republicans who lead the congressional committees overseeing intelligence, the Pentagon and the Department of Homeland Security take the opposite view. They say that Russia was behind the election meddling, but that the scope and intent of the operation need deep investigation, hearings and public reports.
One question they may want to explore is why the intelligence agencies believe that the Republican networks were compromised while the F.B.I., which leads domestic cyberinvestigations, has apparently told Republicans that it has not seen evidence of that breach. Senior officials say the intelligence agencies' conclusions are not being widely shared, even with law enforcement.
"We cannot allow foreign governments to interfere in our democracy," Representative Michael McCaul, a Texas Republican who is the chairman of the Homeland Security Committee and was considered by Mr. Trump for secretary of Homeland Security, said at the conservative Heritage Foundation. "When they do, we must respond forcefully, publicly and decisively."
He has promised hearings, saying the Russian activity was "a call to action," as has Senator John McCain of Arizona, one of the few senators left from the Cold War era, when the Republican Party made opposition to the Soviet Union — and later deep suspicion of Russia — the centerpiece of its foreign policy.
Representative Peter T. King, Republican of New York and a member of the House Intelligence Committee, said there was little doubt that the Russian government was involved in hacking the Democratic National Committee. "All of the intelligence analysts who looked at it came to the conclusion that the tradecraft was very similar to the Russians," he said.
Even one of Mr. Trump's most enthusiastic supporters, Representative Devin Nunes, Republican of California, said on Friday that he had no doubt about Russia's culpability.
The New York Times adds today that the C.I.A. Judgment on Russia Built on Swell of Evidence:
American spy and law enforcement agencies were united in the belief, in the weeks before the presidential election, that the Russian government had deployed computer hackers to sow chaos during the campaign. But they had conflicting views about the specific goals of the subterfuge.
Last week, Central Intelligence Agency officials presented lawmakers with a stunning new judgment that upended the debate: Russia, they said, had intervened with the primary aim of helping make Donald J. Trump president.
The C.I.A.'s conclusion does not appear to be the product of specific new intelligence obtained since the election, several American officials, including some who had read the agency's briefing, said on Sunday. Rather, it was an analysis of what many believe is overwhelming circumstantial evidence — evidence that others feel does not support firm judgments — that the Russians put a thumb on the scale for Mr. Trump, and got their desired outcome.
It is unclear why the C.I.A. did not produce this formal assessment before the election, although several officials said that parts of it had been made available to President Obama in the presidential daily briefing in the weeks before the vote. But the conclusion that Moscow ran an operation to help install the next president is one of the most consequential analyses by American spy agencies in years.
* * *
[T]here is a loud chorus of bipartisan voices, including Senator John McCain, Republican of Arizona, going public to accuse the Russians of election interference.
Representative Adam B. Schiff of California, the top Democrat on the House Intelligence Committee, said the public evidence alone made it clear that Moscow had intervened to help the "most ostentatiously pro-Russian candidate in history."
"If the Russians were going to interfere, why on earth would they do it to the detriment of the candidate that was pro-Russian?" Mr. Schiff asked.
* * *
Now that a partisan squall has erupted over exactly what role Russia played in influencing the election, there is growing momentum among both Republicans and Democrats on Capitol Hill to have a congressional investigation.
"I'm not trying to relitigate the election," said Senator Angus King, independent of Maine, who is one of the lawmakers calling for such an investigation. "I'm just trying to prevent this from happening again."
Finally, the Times editorializes, "Why would President-elect Trump object to a thorough, bipartisan probe into Russian meddling?" Russia's Hand in America's Election (excerpt):
Some Republican lawmakers recognize the importance of standing up to Russia and taking steps to restore faith in the electoral system and institutions. A bipartisan group, led by Senator John McCain, a Republican, pledged Sunday to get to the bottom of Russia's role, noting that the possibility that Moscow shaped the outcome of America's election ought to alarm every American. "This cannot become a partisan issue," said the statement, which was also supported by Senator Charles Schumer, the incoming leader of the Senate Democrats. Among the unanswered questions is whether anyone within Mr. Trump's inner circle coordinated with the Kremlin and whether Moscow spread fake news to hurt Mrs. Clinton.
Revelations about Russian involvement will loom over many of Mr. Trump's decisions, including his likely choice to lead the State Department, Rex Tillerson. Mr. Tillerson, the chief executive of Exxon Mobil, has cultivated a close and profitable relationship with Mr. Putin and has criticized American sanctions against Russia.
Mr. Trump should be leading the call for a thorough investigation, since it would be the only way to remove this darkening cloud from his presidency. Failing to resolve the questions about Russia would feed suspicion among millions of Americans that a dominant theme of his candidacy turned out to be true: The election was indeed rigged.