There are a number of contenders for the "stupidest member" of the U.S. Senate, but for my money I have to go with Ron Johnson (R-WI), who has been prolifically stupid over his career (I can't believe that Wisconsin voters chose this fool over Russ Feingold – twice! – one of the true good guys).
Where to begin. The Daily Beast has an in-depth report, U.S. Intel Repeatedly Warned About Rudy's 'Russian Agent' Pal (excerpts):
U.S. intelligence had, for over a month, warned that Derkach was a stalking horse for the Russian security services and their attempts to interfere in American politics. It was the first in a series of reports, beginning in the spring of 2019, naming Derkach as part of a broader push to upend the U.S. election once again.
[T]he dinner was one of the earliest known attempts by Derkach, current and former officials say, to pass materials to Americans in an attempt to push the debunked conspiracy theories that the former Vice President Joe Biden and his son Hunter were complicit in the siphoning of millions of dollars from the Ukrainian people and that Ukraine, rather than Russia, interfered in the 2016 election. (The latter is "a fictional narrative that has been perpetrated and propagated by the Russian security services," according to President Donald Trump's former point person for the region, Fiona Hill.)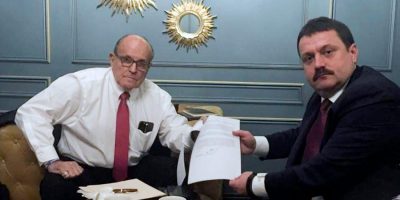 Derkach's dossier was not flagged for officials inside the State Department until months later, when Derkach began holding press conferences and Trump's personal lawyer, Rudy Giuliani, reiterated the same talking points as Derkach on a range of issues. But officials inside the U.S. intelligence and national security apparatus, with the help of officials on the ground in Kyiv, had drafted reports warning that Russian proxies, including Derkach, were attempting to undermine the 2020 election process in America.
Seven current and former U.S. officials spoke with The Daily Beast about Derkach, his relationship to Trump loyalists, and the escalating warnings about Derkach's activities. Those warnings extended to leaders on Capitol Hill who learned that Ukrainians with ties to Russia were inserting themselves in the U.S. election. Last week, the Treasury Department blacklisted Derkach as an "active Russian agent."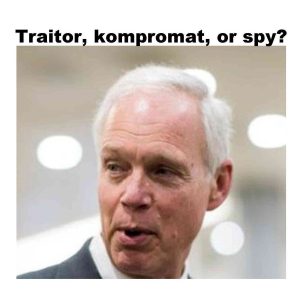 The blacklisting has caused problems for one legislator in particular: Sen. Ron Johnson (R-WI), who is nearing the end of a probe into Democratic presidential nominee Joe Biden's activities in Ukraine—specifically, the discredited notion that the then-vice president halted a corruption probe that might have interfered with his son Hunter's business interests there. It's a would-be controversy that's been fueled by a nexus of Trump allies and pro-Russian Ukrainians. During Trump's impeachment, the story was publicly discredited, but Johnson has said the imminent result of his probe will be damning for Biden. "What our investigations are uncovering, I think, will reveal this is not somebody we should be electing president of the United States," Johnson told a local Wisconsin TV station on Tuesday.
Those kinds of comments have prompted sharp rebukes, even from Republicans, about the use of a Senate committee as a vehicle for an explicitly political venture—and for Russia's election-meddling hopes. In December 2019, as Politico first reported, then-Senate Intelligence Committee Chairman Richard Burr (R-NC) warned Johnson about his investigation into the Bidens and Ukraine. Burr told Johnson that the probe may only further Russia's ambitions to undermine the 2020 election, according to two individuals familiar with the matter.
[A]sked by The Daily Beast if Johnson had been warned, or specifically briefed, about the threat posed by pro-Russian Ukrainian figures, a spokesperson for Johnson did not provide comment as of press time.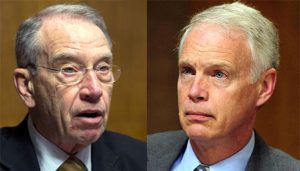 But by the early months of 2020, those observing the course of the Johnson investigation up close clearly saw Derkach's links to a Ukrainian self-described source of the investigation, the Giuliani associate and former Ukrainian diplomat Andrii Telizhenko. At that point, said the source, it should have been clear to all involved that Russian disinformation underpinned the Johnson inquiry. Derkach told Politico in July that he'd sent materials related to Biden to members of Congress, including to Johnson and Sen. Chuck Grassley (R-IA), his partner in the probe.
[T]hat raised concerns among intelligence officials and fellow lawmakers that the Wisconsin Republican was promoting claims that U.S. intelligence has already debunked—and that the boosting of such material would sow further distrust in the election.
On Wednesday, with the conclusion of Johnson's probe nearing, those tensions spilled onto the floor of the Senate. Sen. Chuck Schumer (D-NY), the Senate Democratic leader, introduced a resolution "calling for an end to the use of congressional resources to launder Russian disinformation through Congress." Schumer said the allegations that Johnson has aired are the same ones pushed by Derkach and argued that Johnson has "wittingly or unwittingly" promoted Russian disinformation.
"Members of the Senate," followed Sen. Ron Wyden (D-OR), a member of the Senate Intelligence Committee, "have been presented with specific warnings about these Kremlin-backed conspiracies and lies, again and again, including in classified settings."
Paul Waldman of The Washington Post takes the hand-off of the baton for what happened next. Senate GOP's efforts to boost Trump's reelection hopes are too ham-handed to work:
The first rule of media manipulation is not to announce that you're trying to manipulate the media. Doing so changes how journalists will receive and characterize the information you're giving them and ultimately reduce the chance that the public will be swayed by your scheme.
Sen. Ron Johnson (Wis.) and the other Republicans on the Senate Homeland Security and Governmental Affairs Committee don't seem to understand that; in fact, Johnson keeps blurting out that his farcical investigations into Hunter Biden and the Obama administration are indeed for the purpose of damaging Joe Biden's presidential candidacy.
So earlier this week, Johnson told reporters, "Stay tuned. In about a week we're going to learn a whole lot more of Vice President Biden's unfitness for office."
That came after he had this to say last month about his investigation: "I would think it would certainly help Donald Trump win reelection and certainly be pretty good, I would say, evidence about not voting for Vice President Biden."
Which set the context for Wednesday, when Republicans on the committee voted to authorize three dozen subpoenas of Obama administration officials meant to prove the fantasy that they went after President-elect Trump on their way out the door. One news story called the subpoenas "a significant escalation" of the committee's probes targeting "Trump's political foes."
SOON: Senate Homeland Security & Government Affairs Committee votes to authorize 41 depositions and subpoenas as part of two Senate GOP investigations — one targeting the Obama administration for the presidential transition period, and other targeting Hunter Biden.

List here: pic.twitter.com/eFeGX6GBwO

— Andrew Desiderio (@AndrewDesiderio) September 16, 2020
Note: The recipients of these subpoenas should follow the precedent and examples set by Trump administration officials subpoenaed by Congress – do not comply with the subpoena. Congress is leaving for a recess in October ahead of election day – fuck 'em. It will be next year, if ever, before the committee takes any action on these subpoenas. This is all just grist for the propaganda mill at Fox News aka Trump TV (state media).
Sen. Mitt Romney, who sits on the committee, made news by warning that "it's not the legitimate role of government or Congress, or for taxpayer expense to be used in an effort to damage political opponents."
Paul, don't give "Saint Mitt" too much credit. Romney supported the first subpoena requests, but only balked at Burisma and Hunter Biden. Mitt Romney Slams Ron Johnson's Probe Into Hunter Biden:
At the last minute, however, the committee scrapped a separate vote on additional subpoenas as part of its investigation into Burisma, the Ukrainian energy firm for which Hunter Biden once served on the board of directors.
Romney said the panel's Ukraine probe "had the earmarks of a political exercise" in brief remarks after Wednesday's vote.
"I'm fearful that comments made in the media recently have only confirmed that perspective," he added as Johnson looked on.
With his Wednesday comments, Romney joined in suggesting Johnson's probe was politically motivated on Wednesday.
"It's not the legitimate role of government for Congress or for taxpayer expense to be used as an effort to damage political opponents," the 2012 Republican presidential nominee said.
That's how this works: If you can't even come up with a fig leaf of legitimacy for your investigation, everyone will treat it like exactly what it is.
Here at the Plum Line we refer to the Hunter Biden story as "Hunterghazi," because it's an obvious attempt by Republicans to repeat the success they had with their endless probes of the 2012 attack on a U.S. Consulate in Benghazi, Libya, in which four Americans died.
Through eight separate congressional investigations, Republicans never managed to uncover any misconduct by Hillary Clinton. But they did create the perception that she must have done something wrong. Eventually, they discovered that she sometimes used personal email for work, which they were then able to spin, with the help of a pathetically pliant media, into one of the greatest crimes in human history.
The situation today could barely be more different. Outside of Fox News and other conservative media, the ideas that Biden corruptly manipulated the Ukrainian government to help his son Hunter, or that the Obama administration unfairly targeted Trump over the fact that his campaign was being actively supported by the Kremlin, just haven't taken hold.
Let's remind ourselves of the original point of the Hunter Biden story, back when it turned from a right-wing conspiracy theory into a Trump administration project that led to the president's impeachment. Trump wanted to concoct a story that Joe Biden was corrupt not because it represented a vulnerability for Biden (let alone that it was true), but because corruption was a vulnerability for Trump.
It's a key strategy he uses again and again. He doesn't want to convince us that he is good and his opponents are bad; he wants to convince us that everyone is bad. It's why, for instance, he did a media event with women who had accused Bill Clinton of sexual misconduct before a debate with Hillary Clinton — just two days after we learned that he'd bragged on video about sexually assaulting women with impunity.
Note: Just today, a 26th woman accused Trump of sexual assault, Donald Trump accused of sexual assault by former model Amy Dorris. The man is a sexual predator who should have to be a registered sex offender.
The point wasn't to say that he was innocent and Bill Clinton was guilty, which would tell you almost nothing about Hillary Clinton anyway. It was to say See, everyone does it, not just me. The rest of them are hypocrites.
If all men are sexual predators, Trump can't be condemned for being a sexual predator. If all public officials are corrupt, then we shouldn't be too concerned about Trump's corruption. Trump won in 2016 because so many voters thought poorly of both him and Hillary Clinton, and decided to give him a shot.
But so far, the strategy has failed badly with Biden. Even granting that it was unseemly for Hunter Biden to trade on his family name (which even he admits he did), outside of Trump's most ardent fans, nobody really thinks Biden is corrupt.
And when you can see an intended "October surprise" coming a mile away, it's not so surprising. Johnson has made clear his intention to release some kind of report on Hunter Biden before the election, but it won't be a blockbuster that changes the campaign, not only because he doesn't have the facts on his side, but also because the maneuver is so transparent.
The same may wind up being true of whatever last-minute announcement Attorney General William P. Barr makes to help Trump's reelection bid (and you know he will). If you're so obvious about what you're doing, you're unlikely to be treated as anything but the partisan hacks you are. But apparently, spending too much time advocating for Trump robs you of the ability to act with anything resembling subtlety.
It also demonstrates your complete lack of moral character. It looks like Senator Johnson can't take all the media attention shown on him for being a "useful idiot" for Vladimir Putin's interests.
Breaking:
Ron Johnson to quarantine until Sept. 29 after exposure to someone with covid and won't travel with Trump to Wisconsin. His office says he tested negative and is experiencing no symptoms

— Manu Raju (@mkraju) September 17, 2020