Wednesdays are now #RedForEd days at the Arizona capitol as long as the legislature is in session. Supporters of education and our teachers should wear red on Wednesdays in a demonstration of unity and support.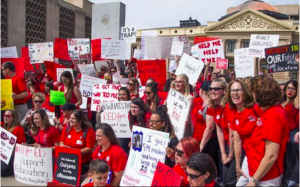 Protesters on Wednesday included dozens of teachers from nine schools in west Phoenix and Glendale who called in sick in the first job action teachers have called since organizing earlier this month. The teacher sick-out is the first action of this kind stemming from the statewide #RedForEd movement among educators. The sick-out has spurred social-media discussion among teachers in other school districts about taking similar action.
At the Capitol, hundreds of teachers and educational staff wore red to a rally organized by the Arizona Education Association. Sea of red engulfs Capitol as teachers protest:
"Gov. Doug Ducey needs to prepare himself … because I think this is only the first ripple effect," said Kassandra Dominguez, a first-grade teacher at the K-8 Sunset Ridge Elementary who led the sick-out. "It's going to keep happening."
* * *
"Teachers are tired of not receiving the funds that we need in our classrooms and in our pockets," Dominguez told a group of educators outside the Capitol. "We have teachers eating ramen noodles for dinner. We're out of college and still eating ramen."
Dominguez said she welcomes Ducey to buy her a cup of coffee, because she can't afford it, and talk to her about what's going on in the classroom. She said she spends more than $1,000 a year out of her own pocket on supplies for her classroom.
"At the end of the day, which is something that the senators in there don't see and Governor Ducey doesn't see, the kids are paying for it," she said. "I think the bigger picture here is that they forget that a teacher educated them."
Immediately after, the group began marching around the Capitol, chanting "Red for Ed!"
Such action is historically unusual in Arizona. Tucson teachers in the late 1990s and early 2000s staged several sick-outs over teacher pay. The last full-fledged teacher strikes in Arizona were in Tucson in 1978 and Sierra Vista in 1980.
After marching, educators and community members walked into two hearing rooms to listen to the Senate Finance Committee's hearing on House Bill 2528, a bill that would give higher tax breaks on capital gains. A legislative analysis estimated the bill could cost the state $23 million a year in state revenue by 2023 and more in later years.
Arizona Capitol Times details:
The teachers packed into a Senate hearing room where Republican House Speaker J.D. Mesnard was advocating for two tax cut bills he is sponsoring. They booed as the panel heard testimony from Mesnard and cheered when the three Democratic senators linked their "no" votes to the push for increased teacher pay.
Mesnard said his efforts to trim taxes weren't tone deaf and said he supports K-12 education and the teachers.
"I take it as a passion to get more money into education, which I strongly support," he said. "I think it's unfortunate that they're making it sort of one or the other, you can't have both. You can have both."
More evidence that Republicans can't do math, or comprehend basic economic principles. You cannot reduce state revenues each and every year AND also increase spending on classroom education and teacher pay. It really is "one or the other" you ignorant dumbass.
Republicans who control the Legislature enact new tax cuts each year, even while funding cuts for schools and other state spending made during the Great Recession remain mainly unrestored.
Adjusted for local cost of living, federal figures show elementary teachers in Arizona rank 50th in earnings nationally and high school teachers 49th.
Lawmakers and Ducey gave them a 1 percent raise last year and plan on awarding them another 1 percent in the budget being considered during the current legislative session.
Mesnard wants to ask voters to substantially trim a personal property tax for businesses and to cut capital gains taxes, which mostly benefits the wealthy. The capital gains tax would cut more than $23 million a year in state revenue by 2023 and more in later years.
"This is a bill that gives away money for no good reason," said Sen. Steve Farley, D-Tucson.
The bill passed on a 4-3 vote, with Republicans supporting it and Democrats opposing it. It needs a final vote in the House before advancing to the governor.
The Republic continues:
Educators call Gov. Ducey's budget proposal unacceptable
Arizona Educators United, the grassroots group that sparked Arizona's #RedForEd movement, did not take part in organizing the Pendergast walkout.
Noah Karvelis, a teacher and Arizona Educators United organizer, said Tuesday that there were so far no plans for a statewide strike — a drastic action that teachers have discussed among themselves on social media ever since the #RedForEd movement gained traction this month.
Gov. Doug Ducey and the Legislature are in the midst of negotiating the state budget for next year.
Asked about the teacher protests and push for more pay, Ducey has pointed to his January budget proposal that would include $400 million in additional funding for education. That includes money for capital costs [for which the state is currently being sued for not funding for years], required student growth and inflation funding [for which the state was successfully sued, resulting in the Prop. 123 "compromise"], and the second half of a 2 percent pay increase promised to teachers last year [a pittance].
Arizona Educators United organizers have not released a proposal for what teachers would like to see, but educators statewide have said Ducey's budget proposal is unacceptable.
Organizers have said they planned to announce a proposal before a planned March 28 protest at the state Capitol. See, Arizona Day of Action for Education at the Capitol.
This rising red tide at the capitol has got legislators attention. The long-delayed consideration of a bill to extend the Prop. 301 school tax (because Governor Ducey has not supported it), is suddenly on the agenda today at the state capitol. School sales tax extension to be fast-tracked at Legislature:
Arizona Senate President Steve Yarbrough said state lawmakers will fast track a bill to permanently extend a sales tax dedicated to public education through both chambers on Thursday.
The Chandler Republican told the Arizona Capitol Times today that measures to extend Proposition 301 in both the state Senate and House of Representatives will get a chance to be voted on and sent to Gov. Doug Ducey's desk by the end of the day. It'll take a two-thirds majority vote in each chamber for the bills to be approved.
"I'm actually going to try and drive that thing home by tomorrow afternoon," Yarbrough said, adding that both chambers are expected to devote most of their energy to those bills on Thursday.
House Speaker J.D. Mesnard, R-Chandler, said it's possible the House could move in lockstep with the Senate tomorrow, but he'll need to consult with House lawmakers before setting on that course of action. The bill has "a lot of support" in the House, he said.
If a bill is approved tomorrow and Ducey signs it, that would permanently extend the more than $644 million in annual funding generated by a six-tenths of a cent sales tax for public education that voters approved in 2000.
It is iportmant to note that this bill only extends the current tax, it does not increase the tax to have more money available for teacher raises. It's simly maintaining the status quo, which is not nearly enough.
Prop. 301 revenues provide funding for teacher salaries and performance pay raises. If not extended, the sales tax is set to expire in June 2021.
Yarbrough, like many other Republicans lawmakers in Arizona, has resisted extending Prop. 301 without strings attached, or as Mesnard has said, reforms to the way those sales tax revenues are spent.
That's put the Republican-controlled Legislature at odds with some in the education community and some business leaders, who've threatened to renew the Prop. 301 at the ballot, a move that would make it harder for future lawmakers to tweak the tax and how those revenues are distributed to schools [because of the Voter Protection Act.]
It's better for lawmakers to renew Prop. 301 themselves, Yarbrough said, because it ensures they'll be able to "tinker" (attach strings) with those revenues in the future.
However, there will be one alteration to the revenue distribution in the bills, Yarbrough said.
A portion of Prop. 301 dollars helps pay debt for school facilities. Once the debt is paid, that portion of Prop. 301 revenues would be redistributed to the classroom site fund, which provides dollars to boost teacher salaries.
Roughly $64 million went to debt service payments in fiscal year 2017, according to figures from the State Treasurer's Office.
HB 2158 is sponsored by Rep. Doug Coleman, R-Apache Junction. SB 1390, sponsored by Sen. Kate Brophy McGee, R-Phoenix, is scheduled for a hearing in the Senate Education Committee Thursday morning. If all goes according to plan, Yarbrough said the bill would receive votes on the floor that afternoon.
It will take a two-thirds majority vote in each chamber for the bills to be approved.
Thats true only if the legislature is approving a tax.
It only takes a simple majority vote to refer the extention of Prop. 301 to the ballot for voter approval. This is something Republicans do not want to do because voter approved measures are subject to the Voter Protection Act, which prevents them from "tinkering" with the ballot measure in ways that are not consistent with and in furtherance of the intent of the measure.