When the first shot went off, Pat Maisch of Tucson knew it was a gun. Standing at the end of a line to see Congresswoman Gabby Giffords, she hit the ground. The murderer had just shot Mary Reed who was shielding her children, when he ran out of bullets.
The shooter had fired 33 rounds in 20 seconds on January 8, 2011, at a "Congress on Your Corner" event, killing six people and injuring 13. Suddenly two men tackled the crazy shooter and landed on Maisch.
"In our case, we had two good guys without guns," she said. The killer was taking another magazine out of his pocket, "and I was able to take that away from him." She immobilized the shooter by pinning her knees on each of his ankles.
Speaking at a meeting of Moms Demand Action for Gun Sense in America, she said she was not physically injured, but is scarred by the gun violence. "People said to me, 'that happened for a reason.' That really pissed me off because there's no reason that God needed Christina-Taylor Green [age 9] in heaven, or Dorwan Stoddard, or Phyllis Schneck, or Judge John Roll or Gabe Zimmerman, or Dorothy Morris."
"This happened because people who are a danger to themselves and others shouldn't have guns, but have easy access to them," Maisch said.
Support for background checks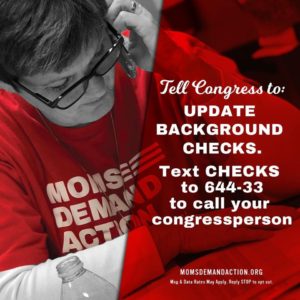 Some 30 people attended the meeting at St. Mark's Presbyterian Church, recounting personal stories about senseless gun violence. The FBI states that more than 38,000 people died from gunshot wounds in the US in 2016. Arizona had 2,048 gun related deaths (244 gun-related homicides, 669 gun-related suicides, 582 nonfatal interpersonal shootings, and 553 accidental shootings per
year.)
The members strongly supported H.R. 8, a bill introduced in Congress by  Rep. Mike Thompson (D-CA) and 203 cosponsors, that will require background checks on all gun sales — in-person and online. In Arizona, anyone can buy a gun without a permit, and there is no background check when buying at a gun show.
H.R. 8 will close a massive background check loophole in federal law that enables convicted felons, domestic abusers, fugitives from justice and people with mental illness from buying guns online with no background check and no questions asked.
Background checks have stopped more than 3.5 million gun sales since 1994 to violent criminals and other prohibited people.
"Loopholes in the system are gaping," said co-chair Deborah Parker. "If you buy a gun online or at a gun show there are no background checks. Felons can buy guns."
Senate bill 42 matches H.R. 8, but leader Mitch McConnell has said he won't let it get to the floor for a vote.
Red Flag Law
The group is backing a "red flag law," for Arizona. This is a gun violence prevention law that permits police or family members to petition a state court to order the temporary removal of firearms from a domestic abuser.
Gov. Doug Ducey supports a similar Severe Threat Order of Protection (STOP) plan, which would create a way for law enforcement officers, family members or others concerned that a specific person is a lethal threat to ask the courts for an order allowing law enforcement to remove the person's firearms.
Moms Demand Gun Sense will hold a lobby day in the state capitol on Feb. 12 to promote gun safety laws to the state legislature. "When they can make a human connection and understand the ramifications of having a member of your family killed, sometimes it can sway them, we can connect with legislators on personal level," Deborah Parker said.
To join find out more, visit the group's Facebook page.