Now you can understand why Rep. Martha McSally schedules  private "town halls" before friendly constituencies (like her former employer Raytheon) and tele-town halls rather than public town halls where she gas to face constituents who show up and ask her "impertinent" questions that she does not want to answer.
Let's take a look at how McSally's town hall in the usually friendly confines of Sahuarita and moderated by editor Dan Shearer from the Green Valley News went yesterday.
The Arizona Republic reports, At tense town hall, Rep. Martha McSally faces calls of 'Do your job!':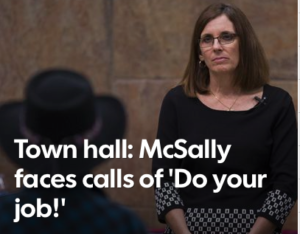 In a sometimes-raucous replay of town halls across the country, U.S. Rep. Martha McSally faced shouts, pleas and cat calls from a noisy share of her constituents Thursday.
Many among the 250 people inside the afternoon event at the Good Shepherd United Church of Christ vented their simmering anger at President Donald Trump and called for her to rein in his agenda on issues such as health care, gun rights and immigration reform.
Dozens or more people chanted "Do your job!" and pressed signs hostile to the administration against the doors outside the church.
For about 90 occasionally tense minutes, there was little sign of the close partisan division within McSally's district. Instead, it was dominated by Democrats and liberals who called on her to serve as a check on the president.
I'm sorry, but how can this reporter know the voter registration of those in attendance? This is an editorial assumption by a reporter without supporting facts. There were just as likely unhappy Republicans in attendance as well.
Throughout, McSally tried to present herself taking measured views on tough issues.
"We have to have a smart immigration policy," she said at one point, drawing groans from a crowd that saw too many of her answers as deliberately vague (a McSally trademark).
One woman, a retired teacher, said, "You are not answering our questions." She asked McSally to answer directly "and not go on some tirade on something else."
At one point, McSally defended her vote disapproving of a rule by the Social Security Administration that would allow some people to have background checks without their knowledge. Critics saw this as overly friendly to gun-rights supporters.
"These are important issues, especially for this community," McSally said. "Oftentimes … what you see happen is people get their partisan shirts on. They sit in a corner and yell at each other about what they want to do, and nothing changes. My mindset when I went to Washington, D.C., was trying to figure out, 'What can we get done?' "
The last question of the event captured the tone of the night and McSally's sometimes-elusive answers. Nine-year-old Mitchel Collins, asked why McSally thought Trump's Education secretary, Betsy DeVos, was qualified for her post.
McSally immediately asked the boy why he considered her unqualified.
"Because she wants guns at schools," he said, drawing cheers from some in the crowd.
McSally eventually explained that the Senate confirmed DeVos.
"I am not in the Senate. Thank God," she said.
You will note that she did not answer the Mitchel Collins' question.
McSally, an Air Force veteran who represents the competitive southern Arizona district, has scoffed at suggestions that she is afraid to face voters, calling it "a bit insulting."
"Some of the feedback is like, 'McSally was courageous in combat but she's afraid to face her constituents.' Give me a break," McSally said in an interview with The Arizona Republic last week. "I put my life on the line for us to have the freedom and opportunity to have the kind of dialogues that are important to representative government. … I'm not afraid of anything."
Still, Thursday's event carried some measure of political risk. Nationally, many Republicans have shunned town halls and limited other public appearances since Democratic-leaning protesters have been confronting conservative members of Congress with pointed questions and pleas for them to rein in the Trump administration.
* * *
McSally said she had met personally with some of her more vocal critics.
McSally's district collectively voted for Democrat Hillary Clinton by nearly 5 percentage points last year. That has seemingly had little impact on McSally's early voting this year.
Entering this week's recess, McSally had voted with Trump's public positions every time in 14 House roll-call votes, as tracked by the website FiveThirtyEight. That was the same record as the other four GOP members of Arizona's delegation. The state's Democratic contingent has voted solidly against Trump's positions so far.
The Arizona Daily Star reports, Frustrations mount at Rep. Martha McSally town hall in Sahuarita:
At a sometimes rowdy town hall meeting Thursday in Sahuarita, Republican U.S. Rep. Martha McSally faced more than 200 people who sought answers from the congresswoman on a series of divisive issues — at times imploring her to just respond "yes" or "no."
McSally, who recently committed to holding this live town hall after saying such gatherings were settings for "political ambush," often gave long answers that seemed to anger the crowd and sidestep the questions posed by the audience or by the moderator, Editor Dan Shearer of the Green Valley News, which sponsored the event.
Audience members inside Good Shepherd United Church of Christ at times shouted at McSally, demanding she answer their questions with a simple yes or no. McSally resisted, saying the questions were often complicated and required lengthy responses.
The capacity crowd was joined by about 200 people outside the church, who stood near the various entrances in an attempt to hear McSally speak. They sometimes broke out in chants, saying, "Do your job," and "Let me in."
Even more lined up along a nearby street, holding protest signs.
The two-term congresswoman told reporters the town hall was a bit "rowdy at times" and noted that some of the activists who had organized a competing town hall in Tucson showed up at the Sahuarita event.
* * *
During the 90-minute forum, McSally said she was against mass immigration deportations, believes climate change is real and vowed to protect Social Security and Medicare. Her statement opposing mass deportations brought a welcome response from the audience.
But as she elaborated her stance to some other issues, audience members repeatedly interrupted her to voice their displeasure with her answers.
In other issues, McSally attempted to explain her positions directly to the individual asking the questions.
McSally told a teenager wearing a pink Planned Parenthood shirt that she was committed to making sure that community health centers would offer her reproductive care.
"There are two Planned Parenthoods in Tucson, there are 28 community health centers in my district," McSally said. "This is about the outcome, not the operation."
Booed again when she called Obamacare "a disaster," McSally attempted to explain how she wanted to replace it over time, but her lengthy three-step answer seemed to anger many in the audience.
When 9-year-old Mitchel Collins, who goes to school in Sahuarita, asked at the end of the town hall why she thought Betsy DeVos was qualified to be the nation's education secretary, McSally asked why he thought she was unqualified.
Collins immediately answered, saying DeVos said she wanted guns in schools to protect against grizzly bears.
It would take a few moments for McSally to respond, noting the Senate confirmed DeVos and the committees she sits on in the House are not education-related.
Other answers simply were not well-received.
When a mother asked McSally about the rollback of bathroom rights and how it would affect her transgender son, the congresswoman's answer was quickly drowned out by loud jeering and booing.
"It needs to be balanced to protect children like yours, but also other children," McSally said.
* * *
McSally briefly touched on gun control issues, touting her attempts to push forward "sensible solutions" but conceded there was more work to do.
At the end of the town hall, Shearer asked McSally to commit to another town hall soon.
"Of course, I am doing one tomorrow," McSally said. Later, a McSally staffer noted the meeting she mentioned is closed to the public.
TOWN HALL WITHOUT MCSALLY
Another town hall Thursday was held without McSally in attendance. That gathering, at St. Francis in the Foothills United Methodist Church, attracted about 400 constituents, including members of the Pantsuit Nation Tucson Chapter, Stronger Together Cochise County and Nasty Women and Bad Hombres of Tucson.
Marion Chubon of McSally Take a Stand spoke first, expressing her disappointment with McSally's decision to not attend the group's event.
McSally informed the group that she was not able to commit to attending, Chubon said. One day later, McSally announced she would attend the town hall in Sahuarita.
* * *
Following one or two speeches [by scheduled speakers] on each issue, a member of McSally Take a Stand came to the podium and described McSally's views on that particular issue and how she has previously voted.
After the scheduled speakers, audience members were invited to speak, concluding their speeches with a question for the congresswoman. These speakers addressed an empty podium.
Finally, the Green Valley News reports, Boos, cheers, questions at boisterous McSally town hall:
About 250 people packed Good Shepherd United Church of Christ in Sahuarita for her first in-person town hall since her re-election in November.
* * *
[The] attention drew media from across Arizona and the country to Sahuarita on Thursday, where many in the audience wore name tags with their ZIP codes to show they were constituents; a majority appeared to be from Tucson. Hundreds of others who couldn't get in stood outside the door and could clearly be heard chanting and yelling throughout the 90-minute event. One estimate put the total crowd at about 800.
Diving in
McSally did not waste time diving into the questions, forgoing opening remarks to get to what the audience wanted to discuss, though her answers weren't usually what they wanted to hear.
She did seemingly try to weave around some questions, such as when she was asked about Education Secretary Betsy DeVos. The congresswoman spent a few minutes talking about her support for education and the cost of college before calls for an answer from the crowd led her to say that the Senate has the role to confirm nominees, not the House.
"We will see what comes out of her department; she's been appointed," she said.
She also said she supports House, Senate and FBI investigations into possible connections between President Trump, Russia and the 2016 election. She said she would not call for an independent investigation yet.
Boos and jeers were frequent, including when McSally said she believed the best approach to education was somewhere between vouchers and public education. More followed her opinions of the Affordable Care Act and her desire to replace parts of it with refundable tax credits and a statement that "single payer is not the solution."
However, she also said that the repeal of the ACA would not be in one fell swoop, but she envisioned a transition of two, hopefully three, years to allow everyone "continuity and predictability" and a "soft landing." She reiterated from her tele-town halls that the replacement would be done through changes from the secretary of Health and Human Services, budget realignments and some legislation.
On the issue of defunding Planned Parenthood, her statement that similar services could be found at community health centers, which also receive Title X funding and she claimed were more abundant, was met with raucous disagreement by the audience. McSally acknowledged that she had never gone to a Planned Parenthood clinic but stuck by her assertion that Title X funds for women's health services were still available through community health centers.
"This is again about services, not the entity," she said.
When asked about Trump rolling back Title X protections for transgender youths, McSally said she felt those guidelines were federal overreach, and that those policies should be a state issue, which caused the audience to erupt in boos.
Agree, disagree
McSally also gave answers that were met with cheers from what appeared to be a largely opposition audience. She said she is firmly committed to defending Social Security and Medicare, and pointed to one of her early votes against a Republican budget that would have made cuts to those programs. On immigration, she said several times that the country needs to revamp its policy to make it easier for people to enter the U.S. legally.
And while disagreeing with President Obama's specific actions on children brought into the country illegally, known as Dreamers, she said she wants to work to fix the system "in the long run" so they can gain citizenship.
On climate change, McSally said she believe the climate is changing and that humans have played a role in that. She also said new technology has decreased CO2 outputs over the past couple decades, including clean coal.
The mood of the meeting was set early when McSally was asked to assess Trump's first month in office, his cabinet appointments and policies. She called it "a tremendously bumpy rollout," adding it was not well-coordinated and not well-implemented. She said Sen. John McCain's characterization of Trump's administrating being in disarray was probably too strong.
However, she added, "it's not my job to be a pundit," and that she was in Congress to legislate and do her job.
"He's our president, what are we going to do about it?" McSally asked.
"Impeach him!" the crowd roared back.