As I pointed out earlier this year to the folks at "McSally Take A Stand," It turns out that Martha McSally does stand for somethin': Trumpism.
The Five Thirty Eight Vote Tracker still shows our "mythical moderate" Congresswoman (a myth created by our local media) voting 100% with the destructive positions of "The Donald."
McSally has now declared her support for the "Trumpcare 2.0" bill to be voted on Thursday, which will take health care insurance away from thousands of her constituents. Hopefully they vote and will return the favor in November 2018.
The Arizona Republic reports, Martha McSally signals support for 'Obamacare' repeal bill; Trent Franks doesn't:
U.S. Rep. Martha McSally signaled support for the revised Republican health care bill Monday, but the plan's passage remained uncertain as it headed toward a key vote Thursday in the House or Representatives.
In a statement Monday night, McSally, a two-term Arizona Republican, said the bill backed by House Speaker Paul Ryan "is not perfect and I still have concerns," but she indicated she was working to strengthen that plan.
It should be noted that McSally's support for "Trumpcare 2.0" came before the full court press from the White House on Tuesday. President Trump, Vice President Mike Pence and Republican leaders spent Tuesday pressuring lawmakers to support the new health bill. Trump Warns House Republicans: Repeal Health Law or Lose Your Seats.
McSally is in a competitive district with a Democratic voter registration edge, so voting for "Trumpcare 2.0" could very well cost her her seat in 2018.
House leadership has been making concessions to address lawmakers' concerns with the bill to overturn the Affordable Care Act. With McSally's apparent backing, the GOP avoids losing support from a member in one of the more competitive districts in the country. No Democrats are expected to support the Republican plan, so the party cannot lose more than 21 GOP votes in the House.
* * *
McSally joined with other Republicans to ask for three key changes to Ryan's plan:
First, she wanted it to maintain the 2020 phase-out of the Medicaid expansion that happened under the ACA. Some conservatives wanted to move up the time frame. Second, she wanted citizens between 50 and 64 years old to receive higher tax credits to offset premium costs. And third, she wanted the states to have more flexibility and financial support in redesigning Medicaid under the GOP plan.
Ryan's original proposal fell flat with many groups, from Democrats who oppose the entire approach, to Republicans who viewed it as a watered-down version of the health system passed under former President Barack Obama. The nonpartisan Congressional Budget Office estimated that in 10 years Ryan's plan would leave 24 million fewer Americans with health care coverage than expected under the current system. It also estimated the Ryan plan would cut the government's expected health care costs by about $337 billion.
"The Affordable Care Act (ACA) has been an unmitigated disaster in Arizona — leaving us without real choices statewide," McSally said. "The exchanges for 14 of the state's 15 counties are devoid of competition because they are left with only a single insurer selling coverage. However, the transition to a new system will take time and those on Medicaid and ACA exchanges deserve continuity and stability during the transition.
"Over the past weeks, I have proposed detailed, specific changes to the AHCA that would provide better coverage and a stable transition for seniors, the disabled, children, and middle-class families. Through lengthy negotiations with House leadership and the executive branch, I am pleased to have played a role in moving this bill in the right direction."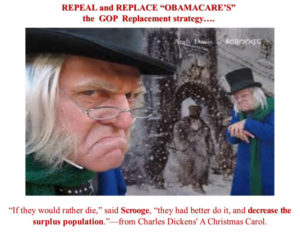 McSally lauded the Ryan bill for expanding consumer choice, but didn't comment on the expected loss of coverage it would bring. One estimate by the liberal Center for American Progress noted 50,000 people would lose insurance coverage under the Ryan plan in McSally's district alone. [See Table-of-CBO-coverage-loss-by-congressional-district-in-all-states-final].
Note: In Arizona, 380,000 Arizonans may lose Medicaid according to an analysis by the state's Medicaid (AHCCCS) plan. Arizona could lose $46.8 million in federal public health funding over the next five years via a cut included in the House Republican health bill, likely forcing local health departments to reduce or cut public health programs. GOP health bill would cut nearly $47 million in Arizona public health funds.
Democrats said her support for the bill puts her out of step with her district.
"It's clear that Speaker Ryan and President Trump hold more sway for vulnerable Representative Martha McSally than her own constituents, more than 50,000 of whom will lose coverage, while other's rates go up and out-of-pocket costs skyrocket," said Cole Leiter, a spokesman for the Democratic Congressional Campaign Committee.
Ryan welcomed McSally's backing in a statement accompanying hers.
"I appreciate Rep. McSally's support on the AHCA," he said. "Her unwavering commitment to her constituents and her tenacity throughout the negotiating process has led to positive changes and I believe this is a better bill as a result of her involvement."
"Unwavering commitment to her constituents"? The only thing Martha McSally is committed to is her congressional career, and she will stand with "Trumpism" and her GOP leadership because that is what she deems is necessary to advance her career.
As for the thousands of her constituents who will lose their health care coverage, the "Trumpcare 2.0" bill is a health care plan of sorts: "Perhaps they should die and decrease the suurplus population."