Rep. Matt Salmon (R-AZ) — a co-founder of the House Freedom Caucus, which just forced House Speaker John Boehner to announce his resignation — said Friday that Senate Majority Leader Mitch McConnell  is probably "the next guy in the crosshairs." GOP Rep: McConnell Is 'The Next Guy In The Crosshairs':
"Mitch McConnell is infinitely worse as a leader than Boehner," Salmon told reporters Friday. "He surrenders at the sight of battle every time."
Boehner was under extreme pressure from the House Freedom Caucus, which was pushing for a government shutdown over Planned Parenthood funding. McConnell has put in motion a plan to avert the shutdown.
"I was texting back and forth with one of my friends on the Senate side, Mike Lee," Salmon said, referring to the Utah senator. "And I said, the next guy in the crosshairs is probably going to be McConnell."
This is the same eliminationist rhetoric that got the halfling governor of Alaska, the Quitta from Wassilla, Sarah Palin, into trouble several years ago. Sarah Palin's "Crosshairs" Ad is Focus of Gabrielle Giffords Debate:
Crosshairs is a political phrase that emerged from Palin's political action committee SarahPac that targeted congressional districts for the Tea Party campaign in the last election, including the district of Rep. Gabrielle Giffords.
Although Palin later denied she meant the graphic over the districts to look like a gun sight, it is part of the hunting lexicon that critics say she prefers.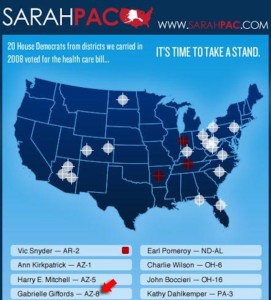 Rep. Matt Salmon has been getting a free pass from the GOP-friendly political media in Arizona for his role in the GOP House Freedom Caucus mutiny against John Boehner, and the threatened government shutdown over Planned Parenthood. Maybe now that Salmon is threatening to put Mitch McConnell in his "crosshairs" next, the Arizona political media will start paying attention to this radically extreme individual who is an embarrassment to the state of Arizona.