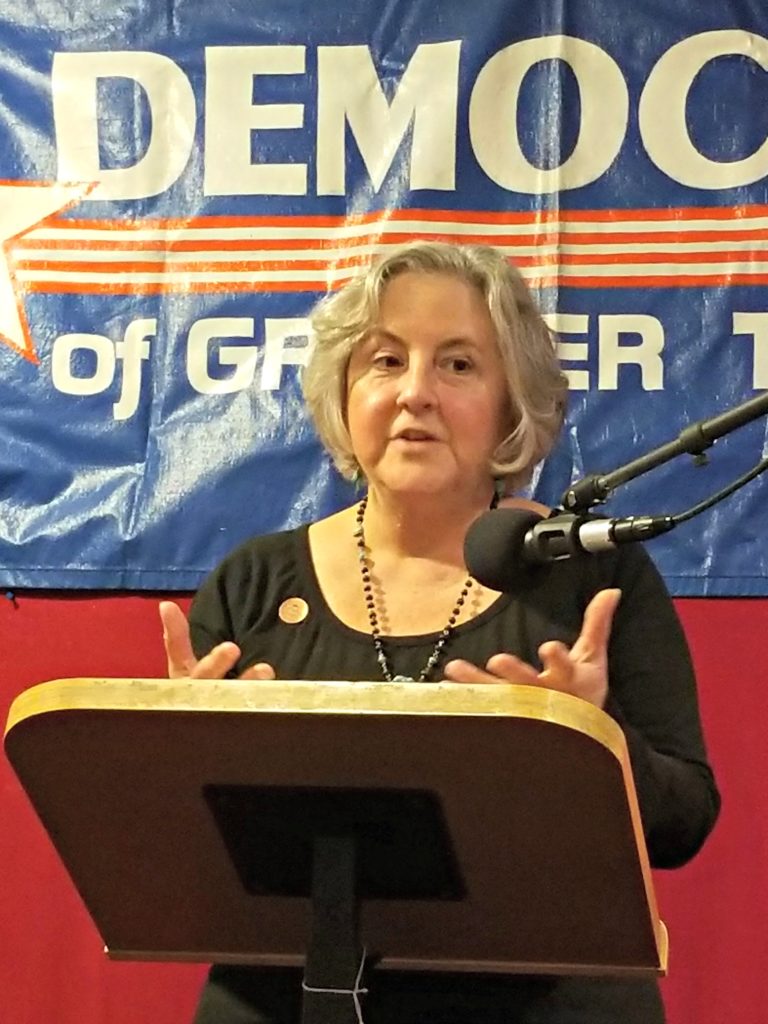 State Representative Pamela Powers Hannley outlined three ways the legislature can lessen economic inequality and create new jobs.
She called for ending corporate tax loopholes, giving seed grants to local scientists and allowing dental therapists to do dental screening and simple procedures.
Each point is a hot topic in the legislature.
"When the legislature cut funding for education, roads, safety, justice, healthcare and social safety net programs, they cut jobs and potentially threw people into poverty," she said. "We need to push back. If we invested in the people's to-do list, we would grow our economy and diversify our workplace."
She spoke at the Democrats of Greater Tucson meeting. Based on a recent lecture by economist Dean Baker of the Center for Economic and Policy Research, she pointed to three key areas of the economy "that keep the rich rich and keep the rest of us in our places":
Trickle-down economics and corporate tax loopholes in the state budget, which benefit special interests at the expense of the public.
Intellectual property rights, like patent protection for prescription drugs, designed to privatize scientific research.
Protecting highly-paid professions like dentists, making healthcare unaffordable and inaccessible.
1. Ending corporate tax loopholes

Hannley said that Arizona gives away more than $13 billion a year in special tax breaks for big corporations. On top of that, additional scheduled tax cuts are rolling out which put the state budget into a projected $200 million shortfall for 2018.
"The budget says that our government values big corporations more than the people," she said. "I campaigned on taking down the tax breaks. In 2017 progressives in the Arizona House said we wouldn't vote to give any more money away until the schools were made whole. Progressives should stop the wasteful Republican spending whenever we can."
"The legislature is cutting public education, cutting the university budgets, cutting healthcare for children and families, cutting cash assistance for the poor, cutting childcare assistance, delaying road maintenance, starving local governments, limiting the voice of citizens, and enacting anti-woman, anti-immigrant and anti-worker legislation."
Arizona state Senator Steve Farley proposed a bill to review the tax giveaways. It passed both the House and Senate but was vetoed by Governor Ducey.
2. Funding public, instead of private, research
Protecting intellectual property rights — like patents — perpetuates economic inequality, Hannley said, because it protects big business from competition. For example, she said that US consumers are paying $400 billion per year on patented prescription drugs that would cost only $80 billion on the free market as generic drugs.
She cited the "Intel bill" that Republican legislators passed in 2017, which funds high-tech research by private corporations and allows them to keep the intellectual property rights forever.
"Intel keeps the profits of the research even though the taxpayers bankrolled the research. This is just not fair," she said.
Instead, taxpayer money should fund public research through the state university system. That way, "the scientists, the universities and the people will all enjoy the benefits of the discoveries and profits from intellectual property rights. Now we're just giving the rights and the future revenues away," she said.
She called for the legislature to resume funding seed grants of $10,000 to $20,000 to university-based scientists. The grants let scientists public research and apply for multi-million-dollar national research grants.
"This is a much clearer route to economic development and diversification of the workforce. New research jobs in Tucson will help us keep our college graduates in town," she said.
3. Dental therapy practitioners
At a recent joint hearing of the state Senate and House health committees, legislators approved the idea of dental therapists, who would work under the supervision of a dentist and conduct preventive health education, dental screenings and simple dental procedures. They would have three years of post-high school education plus hundreds of hours of supervised clinical practice.
"If the legislature approves a dental therapy scope of practice, this will open up another career path for people to work in healthcare, and will give rural residents easier access to care," Hannley said.
The idea was backed by 22 tribes, community health centers, dental hygienists, public health advocates and even the Goldwater Institute. Dentists and Republicans opposed it.
Dental therapists would eliminate distance and cost barriers to dental care. "For urban dwellers in LD9, the cost is more of a barrier than distance. I know many people who go to Nogales for dental care because they can't afford it here and because dental insurance doesn't cover enough," she said.
Nationwide, 23% of children have tooth decay, but in Arizona, the average is 42%. Among Native American children, 75% have tooth decay.
"The current system is not working," Hannley said. "For the dentists who are afraid they will lose business to dental therapists, I agree with the Goldwater Institute: dentists are losing more business to Mexico than they will to the expansion of care with dental therapists."
She encouraged voters to register to speak before the legislature. This will keep you informed on bills in committee and on the floor and make your voice heard.
A Democrat, Hannley is running for re-election. Residents of Legislative District 9 (map here), can sign her nominating petition and make a $5 Clean Elections Contribution on the Arizona Secretary of State's website.