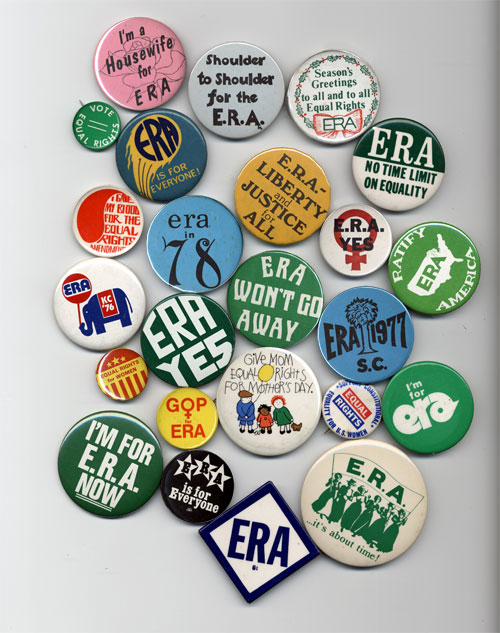 Last year Rep. Victoria Steele (D-Tucson) introduced HCR 2016 (.pdf), a resolution recommending the ratification of the federal Equal Rights Amendment to the U.S. Constitution. It had bipartisan support among its cosponsors, but went nowhere.
Rep. Steele has refiled her ERA resolution in this session, HCR 2020 (.pdf). Steele's 26 cosponsors, so far, are all Democrats.
What, Republicans do not believe that women should enjoy equal rights under the law equal to men? The ERA has always had bipartisan support.
Last year's Republican cosponsors were Karen Fann, Michelle Ugenti, and Kelly Townsend (Ethan Orr is no longer in the legislature). Step up, ladies! And bring some of those Republican men with you.
As I suggested last year, "Put an ERA Amendment to the Arizona Constitution" on the ballot in 2016. Note: there is no reason why the Arizona Legislature cannot simply refer this measure to the ballot, and save supporters the trouble and expense of a citizens initiative.
Here is a "back of the envelope" draft to get you started:
A measure to amend the Arizona Constitution, Article 2, Declaration of Rights, by adding a new Section 38, Equality of Rights Under the Law:
Section 1. Equality of rights under the law shall not be denied or abridged by the state or any of its political subdivisions on account of sex.
Section 2. The Arizona Legislature shall have the power to enforce, by appropriate legislation, the provisions of this article.
Section 3. This amendment shall take effect upon certification by the Secretary of State of approval by a majority of voters at the next general election.
Enacting the ERA in the Arizona Constitution would put women on an equal footing with men under the law. The courts would be required to apply the strict scrutiny standard of review to any legislation which applies specifically to women as a class (typically matters of contraception and abortion). This is a higher standard of review than the "undue burden" standard of review currently used for restrictions on a woman's access to abortion. It is a mid-level heightened scrutiny between the strict scrutiny standard of review and the lesser rational basis standard of review.
This could put Cathi Herrod and her CAP out of the business of writing legislation for new restrictions on a woman's access to contraception and abortion.