Today's headlines tell a disturbing story of gross incompetence and indifference to human life.
Reuters reports, U.S. has potential of becoming coronavirus epicenter, says WHO:
The United States has the potential to become the new epicenter of the coronavirus pandemic due to a "very large acceleration" in infections there, the World Health Organization said on Tuesday.
Over the past 24 hours, 85 percent of new cases worldwide were from Europe and the United States, WHO spokeswoman Margaret Harris told reporters. Of those, 40 percent were from the United States.
Asked whether the United States could become the new epicenter, she said: "We are now seeing a very large acceleration in cases in the U.S. So it does have that potential. We cannot say that is the case yet but it does have that potential."
"…They (the United States) have a very large outbreak and an outbreak that is increasing in intensity," Harris added.
The U.S. Surgeon General warned 'It's going to get bad': As outbreak surges, nation faces tough start to a grim week: "I want America to understand: This week, it's going to get bad," he said on NBC's "Today."
But President Trump has become increasingly agitated as Dr. Anthony Fauci has grown bolder in correcting his falsehoods and misinformation about the coronavirus pandemic in the daily coronavirus task force press briefings. Trump Has Given Unusual Leeway to Fauci, but Aides Say He's Losing His Patience:
Dr. Anthony Fauci, the director of the National Institute of Allergy and Infectious Diseases since 1984, has grown bolder in correcting the president's falsehoods and overly rosy statements about the spread of the coronavirus in the past two weeks — and he has become a hero to the president's critics because of it. And now, Mr. Trump's patience has started to wear thin.
* * *
[T]he president has resisted portraying the virus as the kind of threat described by Dr. Fauci and other public health experts. In his effort to create a positive vision of a future where the virus is less of a danger, critics have accused Mr. Trump of giving false hope.
Dr. Fauci and the president have publicly disagreed on how long it will take for a coronavirus vaccine to become available and whether an anti-malaria drug, chloroquine, could help those with an acute form of the virus. Dr. Fauci has made clear that he does not think the drug necessarily holds the potential that Mr. Trump says it does.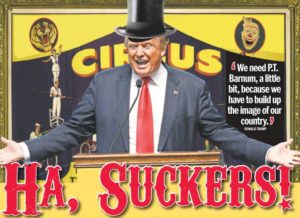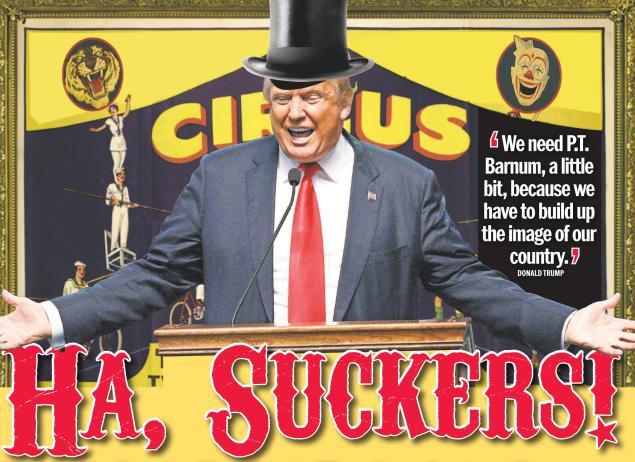 "Doctor" Trump's traveling medicine show miracle cure has led to this tragedy: "A man died and his wife needed critical care after they both took a drug meant for aquariums that contains chloroquine, which President Trump recently touted as a treatment for COVID-19 in spite of a lack of study by health officials or approval by the World Health Organization." A Man Died After Self-Medicating With A Drug Trump Promoted As A Potential Treatment For The Coronavirus.
Trump has always expressed his disdain for experts, because he always knows better than anyone else. He is like Wile E. Coyote, Super Genius, and we all know how it turns out for the coyote in the end.
On Monday, Trump suggested the advice of medical experts might be too onerous (and contradicted by what he is hearing from his "kitchen cabinet" on Fox News aka Trump TV). Trump's telling comment about doctors and coronavirus:
"If it were up to the doctors, they may say: 'Let's keep [the economy] shut down. Let's shut down the entire world' — because, again, you're up to almost 150 countries [with coronavirus cases] — 'so let's shut down the entire world. And when we shut it down, that would be wonderful. And let's keep it shut for a couple of years,' " Trump said, adding: "You know, you can't do that. And you can't do that with a country — especially the No. 1 economy in the world, by far."
Pressed on why, Trump said because "it causes bigger problems than the original."
Trump was asked again whether any of the doctors on his team had endorsed this approach, and he said they hadn't.
"Not endorsed. We talked together, and I think they're okay with it, and I'm okay with it," Trump said. "But this could be a much bigger problem. This could create a much bigger problem than the problem that you start off with."
Another revealing exchange on this point came when Birx was asked about Trump's claim that he thought the doctors "were okay with it." Birx declined to directly respond.
"What the president has asked to do is to assemble all the data and give him our best medical recommendation based on all the data," Birx said. "That's what he's asked us to do."
When Birx was pressed on whether she would be okay with reopening the economy after the current 15-day period ends a week from now, she said, "I don't like to — I will never speculate on data. I will have to see the data to really understand."
Trump was also asked later whether Fauci agreed about his desire to reopen the economy, and he said Fauci "doesn't not agree."
Pressed on whether he'll take Fauci's recommendation on reopening the economy, Trump was again noncommittal: "I would certainly — he's very important to me, and we'll be listening to him. I'll be listening to Deborah, who you just spoke to. I'll be listening to other experts. We have a lot of people that are very good at this. And ultimately, it's a balancing act."
And so it has come to this: Trump says he may soon push businesses to reopen, defying the advice of coronavirus: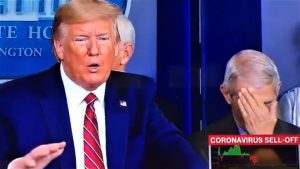 President Trump, under growing pressure to rescue an economy in free fall, said Monday that he may soon loosen federal guidelines for social distancing and encourage shuttered businesses to reopen — defying public health experts, who have warned that doing so risks accelerating the spread of the novel coronavirus or even allowing it to rebound.
"America will again and soon be open for business — very soon," Trump said at the daily White House news conference. "We cannot let the cure be worse than the problem itself."
Trump has received urgent pleas from rattled business leaders, Republican lawmakers and conservative economists imploring him to remove some of the stringent social distancing guidelines that he put in place for a 15-day period ending March 30, according to several people with knowledge of the internal deliberations.
Jonathan Chait reports that it is the "usual suspects" supply-side economist fraudsters who have eff'd up our economy for the past forty years who are behind this. These guys should be rotting in a prison for all the harm they have caused Americans over the years. Trump Is Back to Waging War on Science, at the Worst Possible Moment:
Supply-side devotees Stephen Moore and Arthur Laffer, close allies of chief Trump economist Lawrence Kudlow, have been "lobbying the White House for more than a week to strongly consider scaling back the recommendation that restaurants, stores and other gathering spots be closed," according to the Post, which reports that "leading Wall Street and conservative media figures have also embraced the idea." Trump has gravitated toward these arguments. In a manic fit, he called Laffer three times Thursday night, tweeting, "WE CANNOT LET THE CURE BE WORSE THAN THE PROBLEM ITSELF."
* * *
Another oddity of the supposed trade-off between economic growth and public health is that the public-health skeptics are also, by and large, skeptics of fiscal stimulus. The supply-siders are kooks who totally reject mainstream economic ideas about the causes and remedies for recessions, and consider tax rates on the rich to be the primary or even sole determinant of economic outcomes. Laffer and Moore have urged Trump to reject fiscal stimulus. Judicial Watch head Tom Fitton, whom Trump has retweeted this week, wrote, "The only stimulus that will work is opening America back up for business. The consequences of this national shutdown, apart from any pandemic, are dire and will not be materially alleviated by any 'stimulus' and gov't spending."
Within the administration, the public-health skeptics, led by the supply-siders and their wealthy business allies, have seized influence back from the relative handful of pro-science advisers.
Rattled health officials are trying to fight off ascendant voices around Donald Trump pressing the president to restart the economy as soon as Monday to stem severe business and job losses. Health officials want Trump to 'double down, not lighten up' restrictions:
The prospect of resuming typical business so soon has horrified these public health leaders, who see the debate as premature amid a crisis that the administration is just beginning to wrangle, according to eight people with knowledge of the administration's discussions about its coronavirus guidelines.
Health experts are contending the fallout will be worse if the White House declares victory now, only to have the virus resurface weeks or months from now. The government, they argue, has yet to definitively answer key questions that would dictate how to reactivate the economy: Do those who recover from coronavirus become immune? How do underlying health conditions affect the severity of the virus? And, most important, how widely has it spread?
"It is way too early to even consider rolling back any guidelines," said Howard Koh, a professor at the Harvard T.H. Chan School of Public Health and former top Obama administration public health official. "With cases and deaths rising by the day, the country must double down, not lighten up, on social distancing and related measures."
It's a battle that will intensify in the coming days as the country approaches the end of a 15-day period of extreme social distancing, which the White House launched on March 15.
As always, it is Donald Trump's personal financial interests that are driving his decisions. The Washington Post reports, Before Trump called for reevaluating lockdowns, they shuttered six of his top-earning clubs and resorts:
President Trump's private business has shut down six of its top seven revenue-producing clubs and hotels because of restrictions meant to slow the spread of the novel coronavirus, potentially depriving Trump's company of millions of dollars in revenue.
Those closures come as Trump is considering easing restrictions on movement sooner than federal public health experts recommend, in the name of reducing the virus's economic damage.
* * *
In his unprecedented dual role as president and owner of a sprawling business, Trump is facing dual crises caused by the coronavirus. As he is trying to manage the pandemic from the White House, limiting its casualties as well as the economic fallout, his company is also navigating a major threat to the hospitality industry.
That threatens to pull Trump in opposite directions, because the strategies that many scientists believe will help lessen the public emergency — like strict, long-lasting restrictions on movement — could deepen the short-term problems of Trump's private business, by keeping doors shut and customers away.
The company, which Trump says is run day-to-day by his sons Eric and Don Jr., has not said whether it would apply for a bailout of the hotel industry, if Congress created one.
This is why Trump supports the Senate Republicans stimulus bill with the secret $500 billion corporate slush fund which allows for the Treasury Secretary to withhold the names of the businesses that receive bailout cash. Matt Stieb reports, Trump on GOP's $500 Billion Slush Fund: 'I'll Be the Oversight':
Answering the question of who would provide accountability for the unrestricted distribution of half-a-trillion dollars, Trump's response was even less promising: "I'll be the oversight. I'll be the oversight."
Anyone with a cursory memory of Trump's time in office should be hesitant to hand over a sum roughly equivalent to the GDP of Belgium to a figure that is legally not allowed to run a charity in New York state. As Intelligencer's Jonathan Chait wrote yesterday, it's not hard to parse out the ethical concerns of giving such oversight to a president who just faced impeachment for withholding aid from its Congressionally-approved recipient.
Of course Trump declined to publicly commit that money from the coronavirus stimulus bill would not go to bailout his properties. Trump won't rule out possibility his private business could benefit from coronavirus stimulus.
Jeet Heer at The Nation sums it up. Trump Toys With a Let-Them-Die Response to the Pandemic:
It's unclear whether Trump can actually roll back any of the existing quarantine measures, which are set by governors and mayors. But Trump can certainly affect the behavior of his supporters. If millions of Trump fans think that quarantines aren't worth the aggravation, they are much more likely to violate them. That's the most likely danger of Trump's tweet and his potential shift in policy.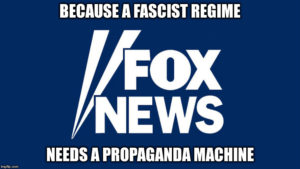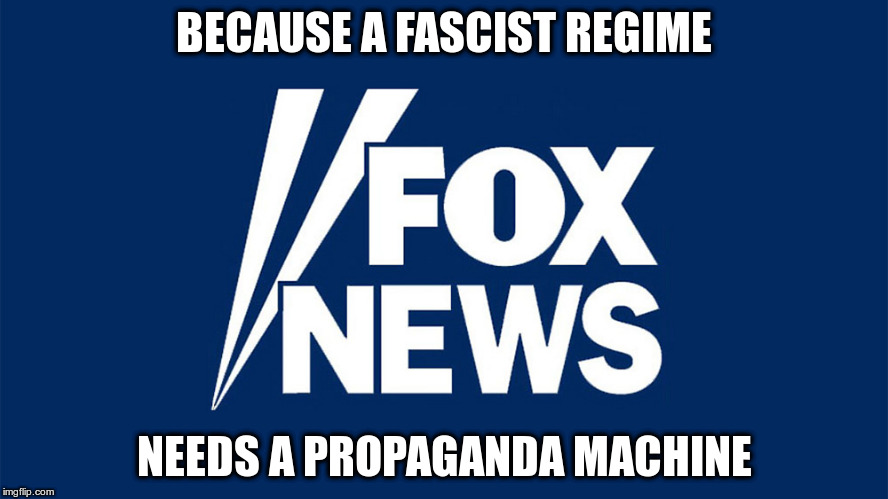 Fox News has already helped poison policy on the pandemic. The network was a major promoter of the idea that warnings about a pandemic were a "hoax" designed to derail Trump's presidency. Trump initially went along with that until he was persuaded by a dissident in the Fox ranks, Tucker Carlson, to take the pandemic seriously.
But it's clear that an influential faction at Fox still believes the coronavirus threat is oversold. On Friday, a bevy of Fox personalities, including Laura Ingraham and Brit Hume, were hawking on twitter a Medium post by Republican operative Aaron Ginn arguing that the government was over-reacting to the coronavirus. Ginn is not an epidemiologist, and his post was riddled with analytical errors. It was quickly taken down by Medium, but not before being seen by millions.
On Thursday, The Wall Street Journal published an editorial arguing, "If this government-ordered shutdown continues for much more than another week or two, the human cost of job losses and bankruptcies will exceed what most Americans imagine. This won't be popular to read in some quarters, but federal and state officials need to start adjusting their anti-virus strategy now to avoid an economic recession that will dwarf the harm from 2008-2009."
* * *
The problem with these arguments is twofold: They underestimate the dangers of scuttling social distancing programs too soon; they also disregard the tools needed to return to cushion the economic shock. As evident from the examples of both China and Italy, extreme measures are needed to slow the spread of the virus or it will overwhelm the health care system, leaving a potential death toll in the United States in excess of 10 million. If the virus is slowed down, there's a real chance that the health care system can get the medical equipment (ICU beds and ventilators) needed to keep the death count to a minimum. Giving up on social distancing too early will doom countless Americans to a painful and unnecessary death.
The economic costs of the coronavirus are real, but they can be dealt with through robust intervention: a combination of universal basic income, mortgage, and rent forgiveness, bailouts for small business and a Keynesian booster shot at the end of the pandemic.
[The political right] indulges in a truly grotesque display of self-interested reasoning and argue that there can be a quick and easy end to quarantines, shutdowns, and social distancing campaigns.
What they are arguing for goes beyond Social Darwinism and is, in fact, a kind of cult capitalism. The existing system is viewed as so sacred that it is worth sacrificing innumerable human lives to keep it going.
Or as Matt Lewis observes, The Party of Life Embraces Trump's Death Cult: We've skipped over any nuanced discussion of economic considerations, straight to the part where Republicans rationalize letting a million or so people die to fix the economy.
From now on those who die from the coronavirus will be tallied as the "Trump body count." Trump owns this disaster.
UPDATE: The AP reports, Trump says he hopes US will be reopened by Easter amid virus:
With lives and the economy hanging in the balance, President Donald Trump said Tuesday he is hoping the country will be reopened by Easter as he weighs how to refine nationwide social-distancing guidelines to put some workers back on the job amid the coronavirus outbreak.
As many public health officials call for stricter, not looser restrictions on public interactions, Trump said he was already looking toward easing the advisories that have sidelined workers, shuttered schools and led to a widespread economic slowdown.
"I would love to have the country opened up and just raring to go by Easter," he said during a Fox News virtual town hall. Easter is just over two weeks away — Apr. 12.
Health experts have made clear that unless Americans continue to dramatically limit social interaction — staying home from work and isolating themselves — the number of infections will overwhelm the health care system, as it has in parts of Italy, leading to many more deaths.
Trump doesn't care.