Donald Trump brings his "covid super-spreader circus" to Arizona today, billed as a Latinos for Trump Roundtable in Phoenix.
The U.S. Supreme Court decision on Deferred Action for Arrivals (DACA) program in June was only a temporary reprieve. It was also a "roadmap" for how Trump could legally undo the program and deport the Dreamers.
Earlier this month, the Trump administration took the first step. About 500,000 eligible 'Dreamers' frozen out of DACA by Trump administration:
[T]he door that was opened by the Supreme Court's decision was abruptly closed Tuesday when the Trump administration announced new rules that block first-time applicants from applying while still allowing current DACA recipients to renew.
Mari Garcia is among the 66,000 "Dreamers" — undocumented immigrants who came to the U.S. when they were children — who turned 15 after the Trump administration announced in September 2017 that it was rescinding the DACA program, arguing that the Obama administration created the program illegally.
Since then, the program has only accepted renewal applications from "Dreamers" who had already received DACA as legal challenges wound their way through the courts. The legal challenges ended with the Supreme Court's divided 5-4 June 18 decision that the Trump administration's attempt to terminate the program was "arbitrary and capricious."
There are about 650,000 "Dreamers" currently covered by the DACA program, including about 24,000 in Arizona.
Following the Supreme Court's ruling, a win for "Dreamers" and a blow to the Trump administration, thousands of "Dreamers" rushed to apply for DACA for the first time.
There are 500,000 undocumented "Dreamers" eligible to apply for DACA but haven't, because they weren't yet eligible or for other reasons, according to Sarah Pierce, a policy analyst for the Migration Policy Institute.
That number includes the 66,000 "Dreamers" who became eligible after September 2017 by turning 15, the minimum age to apply, she said.
The new rules restricting the DACA program were announced in a memo by Acting Homeland Security Secretary Chad Wolf.
Current DACA recipients will now have to reapply for renewal every year instead of every two years, which critics say will financially freeze out many DACA recipients from renewing by essentially doubling the $495 cost and paperwork of reapplying.
The Supreme Court's ruling opened the door for DACA recipients to begin applying again to travel outside the U.S. through what is known as "advanced parole." DACA recipients were able to apply for advanced parole before Trump tried to rescind the program in 2017. But Wolf's memo said the government will no longer process applications for advanced parole from DACA recipients, further limiting the program.
The new DACA rules appear to be a political calculation by the Trump administration to slowly choke off the DACA program headed into the November election instead of attempting to kill the program all at once, Pierce said.
Trump initially indicated after the Supreme Court's ruling that he would again attempt to rescind the program.
But doing so risks political fallout because polls have shown the DACA program is supported by a majority of Americans.
Today the Ninth Circuit Court of Appeals rules Trump can end Temporary Protected Status for immigrant families:
The Ninth Circuit Court of Appeals on Monday decided President Donald Trump can phase out protections for hundreds of thousands of families that have been living and working legally in the U.S., many for decades.
The 2-1 ruling by the California-based 9th U.S. Circuit Court of Appeals lifted a block of Trump's ending of Temporary Protected Status, TPS, for more than 300,000 individuals. The administration could expel from the country people from Sudan, Nicaragua and Haiti as soon as March 2021 and from El Salvador by November 2021.
Immigrants from El Salvador make up the largest group of TPS recipients, with an estimated 263,000 Salvadorans covered by the program, but a bilateral agreement will allow Salvadorans an additional year to stay in the United States if the courts ultimately uphold Trump's termination.
"To end protections for … TPS families, including the more than 130,000 people who have been risking their lives as essential workers in the midst of the COVID-19 pandemic, would be very cruel; especially during these difficult times," Paul Andre Mondesir, lead organizer for the National TPS Alliance, said in a statement.
The appeals court ruling means that those immigrants will be required to find another way to remain in the United States legally or depart after a wind-down period of at least six months and longer in the case of El Salvador. However, the case is likely to be appealed to the U.S. Supreme Court, which could delay that outcome.
The Biden campaign has called the TPS decisions "politically motivated" and said that Biden would protect enrollees from being returned to unsafe countries.
People with Temporary Protected Status are generally in the country when disaster or political upheaval strikes in their home countries such as the catastrophic earthquake that wiped out large parts of Haiti in 2010 or when Hurricane Mitch, the second deadliest Atlantic hurricane, hit Central America in 1998.
The status must be renewed periodically by the secretary of homeland security, who can extend it for six- to 18-month intervals. People with TPS do not have pathways to citizenship without leaving the country.
"This disappointing court decision fuels Trump's war on immigrants. Since the beginning of his presidency, Trump has worked relentlessly to strip away the legal status of hundreds of thousands of individuals with Temporary Protected Status," said Frank Sharry, executive director of America's Voice.
In 2016 Donald Trump promised to make the Republican Party the "Deportation Party," and if reelected he will have a conservative packed federal court system that will allow him to do it. Undocumented immigrants – the Trump administration knows where to find you because of your DACA and TPS registration – will be deported. There is no room for "compassionate conservatism" in the Party of Trump. The Cruelty Is the Point.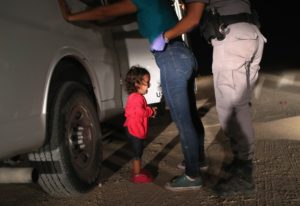 Who are these Republican Latinos for Trump? They were OK with Trump's zero tolerance child separation policy that quite literally illegally kidnapped children from their families and made a number of them orphans because the incompetence of the Trump administration could not later reunite these separated children with their family.
These Republican Latinos for Trump were OK with Trump holding these families in fenced-in cells (i.e., cages), and the "procedural shortcuts necessitated by the breadth and scope of criminal prosecutions for illegal entry and reentry imperiled the due process rights of immigration defendants."
"Criminal prosecution in and of itself as punishment for seeking asylum violates international refugee law. Prosecution also places obstacles to obtaining refugee protection, exacerbating trauma or psychological problems, and potentially discouraging people from pursuing asylum claims. The Refugee Convention states that countries should not penalize asylum seekers, including those whose applications are still pending, for entering without authorization, if they present themselves without delay to authorities and show good cause for the illegal entry."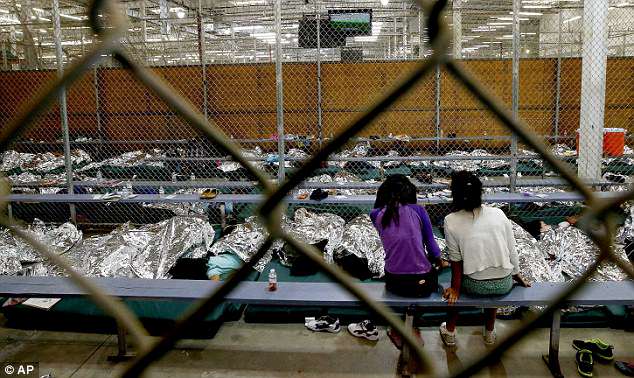 What about COVID-19? These Republican Latinos for Trump are OK with Trump "downplaying" the virus, as he admitted to Bob Woodward. To this day, after more than six months, Trump has failed to produce enough personal protective equipment (PPE) through the Defense Production Act, which he has failed to invoke, to provide frontline healthcare workers with the equipment they need. They daily put their own life at risk to treat covid-19 patients. CDC says over 600 health care workers have died from the coronavirus. One doctor has counted hundreds more. Dr. Claire Rezba, an anesthesiologist at a hospital in Richmond, Virginia, began tracking health care worker deaths in late March. She has since counted at least 1,000 lives lost while working in health care during the pandemic; the CDC, meanwhile, has counted 625. More than 900 front-line health care workers have died of COVID-19, according to an interactive database unveiled by The Guardian and Kaiser Health News KHN.
This week the "official" death toll from covid-19 will surpass 200,000. The number of excess deaths related to covid-19 has already exceeded 200,000 deaths. US Already Had Over 200,000 Excess Deaths This Year, CDC Data Show. The latest model from the Institute for Health Metrics and Evaluation (IHME) forecast published Friday projects 415,090 COVID-19 deaths in the country by Jan. 1, with 611,784 representing the worst-case scenario. New IHME model forecasts over 415,000 COVID-19 deaths in US by Jan. 1.
These Republican Latinos for Trump are OK with the Trump administration's failed leadership in fighting covid-19, and the disproportionate death rate in the US from Covid-19 among African Americans and Latinos. It is rising sharply, exacerbating the already staggering racial divide in the impact of the pandemic which has particularly devastated communities of color. Covid-19 death rate among African Americans and Latinos rising sharply.
New figures compiled by the Color of Coronavirus project shared with the Guardian show that both total numbers of deaths and per-capita death rates have increased dramatically in August for black and brown Americans.
The latest figures record that in the two weeks from 4 to 18 August the death rate of African Americans shot up from 80 to 88 per 100,000 population – an increase of eight per 100,000.
For Latino Americans the increase was even more stark, rising from 46 to 54 per 100,000 – an increase of nine per 100,000 when rounded.
"We are seeing more deaths among African Americans and Latinos than at any time this summer. So as we go into the fall, with schools and colleges reopening and other new avenues for exposure, it portends a very frightening future," said Andi Egbert, senior researcher with APM Research Lab, the non-partisan research arm of American Public Media that compiles the data.
MarketWatch reports, The COVID-19 pandemic is about to enter its most treacherous phase:
[T]he more dangerous phase of the crisis in the U.S. may actually be now, not last spring.
While death rates among the infected are declining with improved treatment and a more favorable age profile, fatalities are still running at nearly a thousand per day. This matches levels at the beginning of April, reflecting the fact that the number of new infections is half again as high.
Mortality, in any case, is only one aspect of the virus's toll. Many surviving COVID-19 patients continue to suffer chronic cardiovascular problems and impaired mental function. If almost 40,000 cases a day is the new normal, then the implications for morbidity—and for human health and economic welfare—are truly dire.
And, like it or not, there is every indication that many Americans, or at least their current leaders, are willing to accept 40,000 new cases and 1,000 deaths a day.
This is also a more perilous phase for the economy.
Unfortunately, Congress seems incapable of replicating the bipartisanship that enabled passage of the CARES Act at the end of March. The $600 weekly supplement to unemployment benefits has been allowed to expire. Divisive rhetoric from President Donald Trump and other Republican leaders about "Democrat-led" cities implies that help for state and local governments is not in the cards.
Consequently, if the economy falters a second time, whether because of inadequate fiscal stimulus or flu season and a second COVID-19 wave, it will not receive the additional monetary and fiscal support that protected it in the spring.
These Republican Latinos for Trump are OK with the Trump administration's failed leadership in fighting covid-19 impacting their businesses, and the economy as a whole. Stanford Business Graduate School reported in August, The Ongoing Impact of COVID-19 on Latino-Owned Businesses:
In our first pulse survey, we highlighted that the effects of the pandemic were both immediate and largely negative for Latinos. For the same group of businesses, between March and June, the overall impacts remain negative. However, the negative impact on business operations seems to be growing.
In our national sample of Latino-owned employer businesses, we find that Latinos have fewer resources to weather the ongoing storm. Latino-owned businesses have less cash on hand and when requesting funding from the Payroll Protection Program, Latinos have their PPP loans approved at half the rate of white-owned businesses. An even smaller proportion of Latino-owned businesses gets their full funding relative to white owned-businesses, 3% compared to 7%. We found one surprising exception: 82% of SLEI Education Scaling Program alumni received PPP funding compared to 18% of scaled Latino-owned businesses and 28% among scaled white-owned businesses.
The coronavirus relief under the CARES Act expired on July 31, and the effect of that federal stimulus has now been exhausted. There is no further relief coming from Republicans.
And Republican Latinos for Trump are OK with this.