Dr. Anthony Fauci, director of the National Institute of Allergy and Infectious Diseases (NIAID) said Monday he predicts there will be another coronavirus outbreak in the fall, "In fact, I would anticipate that that would actually happen because of the degree of transmissibility." Fauci predicts another coronavirus outbreak in fall with 'very different' outcome.
A study published in the Lancet Public Health journal says reopening businesses and schools in April could delay the highest point of a second wave to October, giving health services time to prepare and respond. New study warns of second wave of coronavirus.
OK, so we know that there will be a second wave of coronavirus infections this fall, so what are we going to do to secure the general election in November so that citizens can safely vote and not risk exposure to the coronavirus? Now is the time to act.
Politico reported, Pandemic threatens monster turnout in November:
Time is running out to allow millions of Americans to vote this fall without fear of contracting the novel coronavirus.
Mail voting — the voting method that best preserves social distancing — is infrequently used in many states, and those that don't have extensive mail voting might be unable to implement systems before November. And while 33 states, including most 2020 presidential battlegrounds, already allow any voter to cast a ballot by mail who wants to, a number of those states aren't prepared to handle the crush of mailed-in ballots that could be coming their way in November.
In interviews with POLITICO, eight election administrators and voting rights advocates said it is still too difficult for many voters to cast absentee ballots, even as two-thirds of American adults say they would be uncomfortable going to a polling place to vote, according to a new Pew Research Center survey — and as local, state and federal governments encourage or require Americans to stay home.
The consequences could shake the 2020 elections: Turnout had been expected to break modern records but instead could turn sharply downward, based on the path the coronavirus pandemic takes over the next few months.
Election officials and voting rights groups continue to call for a major investment from the federal government ahead of the general election to help states adapt to the coronavirus threat. Advocates have called for, at a minimum, the expansion of no-excuse absentee voting — which allows anyone who wants to vote by mail to do so — across the country, along with significant investments in election infrastructure to protect in-person voters and poll workers and manage changes in voting.
The Brennan Center estimated its own "Covid-19 election resiliency measures"— which include everything from expanding a vote-by-mail option to every American, safely maintaining in-person voting, and a big public education campaign — will cost $2 billion, an estimate Weiser called "conservative." Other estimates peg the costs even higher.
House Speaker Nancy Pelosi has said the nation must move to a vote-by-mail system amid the ongoing coronavirus crisis and that she plans to advocate funding for that in the next stimulus measure. Pelosi to Push Vote-by-Mail Funding for States in Next Stimulus.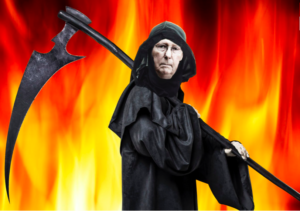 But "The Enemy of The People," the dark lord of the underworld and "The Grim Reaper" of the Senate, Mitch McConnell, who has prevented a vote on every election security measure in this Congress leaving our elections vulnerable to foreign cyber attacks and sabotage, says Pelosi should 'stand down' on passing another rescue bill in House:
Senate Majority Leader Mitch McConnell (R-Ky.) said he would move slowly on considering any follow-up legislation and would ignore the latest efforts by House Speaker Nancy Pelosi (D-Calif.) to jump-start talks.
"She needs to stand down on the notion that we're going to go along with taking advantage of the crisis to do things that are unrelated to the crisis," McConnell said in an interview with The Washington Post, calling the speaker's recent comments about a fourth round of virus-related legislation "premature."
Moving forward, McConnell said, he is open to beginning bipartisan discussions with Trump and other congressional leaders in the coming weeks to address fallout from the pandemic. But he maintained that any bill passed by Pelosi in the Democratic-led House would be a non-starter ahead of those negotiations.
Translation: No election security bills, and no money for states to conduct mail-in voting this fall will be voted on in his Senate. Republican tyranny of the minority must be maintained by any means necessary.
For a deep-dive analysis, see Zachary Roth, The Caged Ballot: Why the GOP is poised to create large-scale voting chaos this year.
Paul Waldman of The Post explains, The November election is going to be a nightmare and Republicans are fine with that (just look to the Wisconsin Primary on Tuesday):
President Trump has a unique propensity to blurt out what others will only imply, and on "Fox & Friends," the president offered a revealing lament about the proposals House Democrats had made for the rescue package that eventually passed.
"The things they had in there were crazy," he said. "They had things — levels of voting that, if you ever agreed to it, you'd never have a Republican elected in this country again."
More, Trump just comes out and says it: The GOP is hurt when it's easier to vote, and Want proof that Republicans want to suppress voters? Just ask Trump.
That may be an exaggeration, but what is clear is that the November elections could be an absolute mess, not just in how difficult it could be to vote but in determining a winner as well.
The Democratic proposal Trump was referencing would have given money to states to aid in conducting this year's elections, which have been complicated so severely by the coronavirus pandemic. In addition to the funding, it would have required that states make mail-in voting available to everyone (right now many states require you to have an excuse they consider valid to vote absentee) and in the case of a national emergency, mail ballots to every registered voter.
Because of Republican objections, those requirements didn't make it into the final bill. It did include $400 million in funding to help states prepare for November. That will help, but it's unlikely to be enough, as states will have to scramble to print more mail ballots and pay for postage, create more dropoff locations, hire people to process ballots, create online registration systems, and inform the public of the changes. The Brennan Center estimates that shoring up the election system in the wake of the coronavirus will cost $2 billion.
And states will struggle to make up the difference on their own. The pandemic and the recession are already putting a terrible strain on state budgets, and no one think the rescue package's $150 billion in aid to states and localities is sufficient. So the idea that states will shift large amounts of money to their election systems in this time of need seems more hope than reality.
But Trump is right in his essential premise: If we made it too easy and convenient for people to vote, Republicans would lose more often than they do now.
Republicans are convinced that Democrats are just taking the opportunity of this public health crisis to push their preexisting election reform agenda. And to a degree, that's true. It just happens that part of this agenda — letting anyone vote by mail if they want to — is absolutely necessary when we're in the midst of a pandemic that makes it dangerous for people to gather in large groups.
So we're likely to see fights at the state level as Democrats move aggressively to make sure everyone can participate in November while Republicans resist those efforts.
Politico reports today, Trump campaign declares war on Dems over voting rules for November:
President Donald Trump's political operation is launching a multimillion-dollar legal campaign aimed at blocking Democrats from drastically changing voting rules in response to the coronavirus outbreak.
In the past several weeks, the reelection campaign and the Republican National Committee have helped to oversee maneuvering in a handful of battleground states with an eye toward stopping some Democratic efforts to alter voting laws, and to bolster Trump. The mobilization is being closely coordinated with Republicans at the state and local levels.
The Trump campaign and RNC are actively engaged in litigation in Wisconsin, where the parties are at loggerheads over an array of issues including voter identification, and in New Mexico, where the battle involves vote-by-mail. The skirmishing has also spread across key states like Pennsylvania and Georgia, where the well-organized Trump apparatus has fought over changes that could sway the outcome of the election.
* * *
The public health crisis is already injecting a huge X-factor into the election, with impossible-to-predict effects on voter turnout, and officials in both parties acknowledge the fights over voting laws could affect the outcome of the election.
Democrats — who typically benefit from high turnout elections because their voters cast ballots less reliably — are plowing ahead with initiatives to make it easier to vote. Appearing Tuesday on MSNBC, likely Democratic nominee Joe Biden described a range of possible changes, such as using drive-through voting stations.
"This is about making sure that we're able to conduct our democracy while we're dealing with a pandemic. We can do both," Biden said. "There's a lot of ways to do it, but we should be talking about it now."
Trump advisers say they are open to certain changes, such as automatically sending absentee ballot applications to voters over age 65. But they're opposed to other moves Democrats are pushing, such as sending every voter a ballot regardless of whether they ask for one, which Republicans argue would open the door to fraud.
That's despite the fact that five states — Washington, Oregon, Colorado, Hawaii and Utah — already conduct all-mail elections with little complication and healthy turnout, and little evidence of fraud.
Trump has long been fixated on voter fraud. He has repeatedly claimed without evidence that he lost New Hampshire in 2016 because out-of-staters cast ballots, and after the election the president set up a since-disbanded voter fraud commission. Following the disastrous 2018 midterms, Trump said that after voting, some people "go to their car, put on a different hat, put on a different shirt, come in and vote again."
Yeah, that's called "voter fraud" fraud. It exists only in the fevered minds of conspiratorial Republicans. FEC chair slams Trump's 'baseless' voter fraud claims: Federal Elections Commission Chair Ellen Weintraub said "There is no evidence of rampant voter fraud in 2016 or really in any previous election."
The Democratic offensive is being led by Marc Elias, a veteran election attorney who is currently involved in litigation in more than a dozen states. He has advocated a handful of changes in the wake of the outbreak, including providing pre-paid postage for mail-in ballots and extending the postmark deadline to Election Day.
"If states are not able or willing to rise to the occasion of the challenges that Covid-19 poses, we're going to continue looking very seriously to the courts to protect the rights of voters and to ensure that ballots don't go uncounted that should be counted," Elias said.
Trump advisers say they are trying to prevent overreach on the part of Democrats, who have long sought to ease voting restrictions.
"It is beyond disgusting that the Democrats are using this crisis to try to dismantle the integrity of our voting system," said Justin Clark, a senior Trump campaign counsel who is helping to spearhead the legal fight. "The American people won't stand for this, and the campaign and the party intend to fight with them for a free, fair, and open vote in November."
The pandemic is expected to increase the amount of funding the Republican Party devotes to lawsuits. The cash-flush Trump machine announced in February it was directing $10 million toward legal battles, but people involved in the effort say that figure is now likely to climb much higher.
In some instances, the RNC is providing financing for state parties to help with lawsuits.
"Democrats know they cannot beat President Trump at the ballot box, so they are trying to use the courts to beat him," said RNC chief of staff Richard Walters. "We are going to use the full resources of the RNC to stop them."
A cluster of Democratic organizations — including the national party committees, the prominent Priorities USA super PAC, and the National Democratic Redistricting Committee — have already been pursuing voting-related litigation. FairFight, an organization founded by former Georgia gubernatorial candidate Stacey Abrams, has also been active.
The battle is likely to further intensify in the days and weeks ahead. Many of the changes Democrats are seeking would likely take substantial time to implement, meaning that any action would need to take place soon.
"You can't wait to see how this is all turning out," said Elias, referring to the coronavirus. "You have to start doing it now."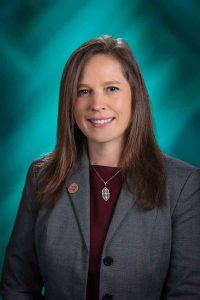 Which brings me to today's bogus op-ed in The Arizona Republic by state representative Shawnna Bolick (R-LD 20) and wife of Arizona Supreme Court Justice Clint Bolick, All-mail voting would only compromise the integrity of elections.
Two quick points. First, virtually all municipal elections in Arizona are now conducted by all-mail ballot elections. There is little to no evidence of voter fraud in these elections. Is Rep. Bolick challenging the integrity and accuracy of these local elections? Where is her evidence?
Secondly, according to the Citizens Clean Elections Commission, "Approximately 80% of Arizona voters [already] choose to receive their ballot in the mail" for early mail-in voting. There is little to no evidence of voter fraud in Arizona elections. Is Rep. Bolick challenging the integrity and accuracy of Arizona's elections? Where is her evidence?
When 80% of Arizonans are already voting by early mail-in ballots, going to an all-mail ballot election is the next logical step. It is hardly a radical notion.
What Rep. Bolick is actually objecting to is paying for the expense of an all-mail ballot election this fall so that citizens can safely vote and not risk exposure to the coronavirus. Funding is not coming from the federal government because of Senator Mitch McConnell and President Donald Trump, and Arizona Republicans are taking their marching orders not to provide additional funding to the counties for an all-mail ballot election this fall for one reason only: Republicans do not want you to vote, because in a low voter turnout election, Republicans tend to win. In a high voter turnout election, Democrats tend to win.
Rep. Bolick's argument about the delay in counting the vote is the weakest argument of all. It's true that Americans want instant gratification ("I want to know right now!) but that is not a legitimate concern when it comes to fairly and accurately counting the vote. If it takes a few weeks to fairly and accurately count the vote — as it does with early mail-in ballots — that's a small price to pay for living in a democracy.
If Arizona Republicans truly cared about the health and safety of voters and poll workers in the midst of the coronavirus pandemic this November — and also the primary election in August — they would approve the funding the counties need to conduct an all-mail ballot election. The Arizona legislature needs to act now, because time is running out. The failure to act will tell you everything you need to know about Republicans' true motivation.