Aaron Blake of The Washington Post reports that Trump's allies want to focus the Ukraine scandal on the tree, so you miss the forest:
The new GOP strategy appears to be misdirection.
In recent days, Republicans have maintained a laserlike focus on a very narrow defense of Trump: that there was nothing illegal about his July 25 phone call with Ukraine's president. In doing so, they are glossing over and even outright ignoring a growing mountain of evidence that much more explicit quid pro quos existed outside that call.
Trump has for weeks tried to keep the focus on his supposedly "perfect" call with Volodymyr Zelensky. He even said Thursday that he's so proud of it he might read it during a fireside chat.
The new line seems to be that even if the call wasn't "perfect," at least it wasn't illegal, and that proves this is a witch hunt.
The Trump administration's extortion and bribery of Ukraine was a months-long campaign that went well beyond just the July 25 phone call.
The First Quid Pro Quo
Astute followers of the Robert Mueller investigation will recall that in May 2017, the New York Times reported Ukraine, Seeking U.S. Missiles, Halted Cooperation With Mueller Investigation:
[I]n Ukraine, where officials are wary of offending President Trump, four meandering cases that involve Mr. Manafort, Mr. Trump's former campaign chairman, have been effectively frozen by Ukraine's chief prosecutor.
The cases are just too sensitive for a government deeply reliant on United States financial and military aid, and keenly aware of Mr. Trump's distaste for the investigation by the special counsel, Robert S. Mueller III, into possible collusion between Russia and his campaign, some lawmakers say.
The decision to halt the investigations by an anticorruption prosecutor was handed down at a delicate moment for Ukraine, as the Trump administration was finalizing plans to sell the country sophisticated anti-tank missiles, called Javelins.
The State Department issued an export license for the missiles on Dec. 22, and on March 2 the Pentagon announced final approval for the sale of 210 Javelins and 35 launching units. The order to halt investigations into Mr. Manafort came in early April.
Volodymyr Ariev, a member of Parliament who is an ally of President Petro O. Poroshenko, readily acknowledged that the intention in Kiev was to put investigations into Mr. Manafort's activities "in the long-term box."
"In every possible way, we will avoid irritating the top American officials," Mr. Ariev said in an interview. "We shouldn't spoil relations with the administration."
David Ignatius of The Washington Post adds new details this week. In Ukraine, the quid pro quo may have started long before the phone call (excerpt):
House investigators have been conducting a rapid, well-focused inquiry. But here are two nagging questions that I hope investigators can answer.
What led to Trump's first meeting on June 20, 2017, with Ukraine's then-President Petro Poroshenko? Ukraine had hired the lobbying firm BGR Group in January 2017 to foster contact with Trump, but nothing had happened . . . and then the door opened. Why?
On June 7, less than two weeks before Poroshenko's White House meeting, Trump's lawyer, Rudolph W. Giuliani, had visited Kyiv to give a speech for the Victor Pinchuk Foundation, headed by a prominent Ukrainian oligarch. While Giuliani was there, he also met with Poroshenko and his prosecutor general, Yuriy Lutsenko, according a news release issued by the foundation.
Just after Giuliani's visit, Ukraine's investigation of the so-called black ledger that listed alleged illicit payments to former Trump campaign chairman Paul Manafort was transferred from an anti-corruption bureau, known as NABU, to Poroshenko's prosecutor general, according to a June 15, 2017, report in the Kyiv Post. The paper quoted Viktor Trepak, former deputy head of the country's security service, saying: "It is clear for me that somebody gave an order to bury the black ledger."
The New York Times reported in May 2018 that Ukraine had "halted cooperation" with Mueller's investigation. The paper quoted Volodymyr Ariev, a parliament ally of Poroshenko, explaining: "In every possible way, we will avoid irritating the top American officials."
Was there any implicit understanding that Poroshenko's government would curb its cooperation with the U.S. Justice Department's investigation of Manafort, who would later be indicted by Mueller?
Why was Marie Yovanovitch , the U.S. ambassador to Kyiv, fired in May? Trump, Giuliani and their allies had been attacking her since early 2018, but for what reason?
* * *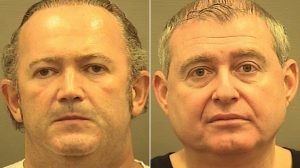 So why were Trump and Giuliani so eager to dump the ambassador? Here's what Yovanovitch said during her Oct. 11 testimony to House investigators: "Individuals who have been named in the press as contacts of Mr. Giuliani may well have believed that their personal financial ambitions were stymied by our anti-corruption policy in Ukraine."
The former ambassador may have been referring to Igor Fruman and Lev Parnas, two Giuliani clients who were indicted last month [on a four-count indictment with making illegal straw donations, including a $325,000 contribution to the group America First Action, a Trump Super PAC.]
Lev Parnas has asserted to the court that he was working as an assistant to Rudy Giuliani on behalf of the President. Indicted Giuliani Henchman Lev Parnas Raises Executive Privilege in Federal Court (excerpt):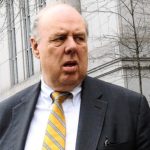 Parnas' attorney, Edward MacMahon, told the judge that his client was told to invoke executive privilege in a letter that was submitted on Parnas' behalf by John Dowd, a former lawyer for the president, to a congressional committee conducting the impeachment inquiry.
Asked by Judge Paul Oetken if Parnas has worked for the president, MacMahon said no, but that "he worked for Mr. Giuliani." MacMahon said that his concern stems from Parnas having used Giuliani as his lawyer for both personal and business dealings and that Giuliani also works for Trump.
"There are issues that we need to be very sensitive to," MacMahon said, not going into detail what those issues are. He continued, adding that he doesn't "know who is looking at all this evidence. If information gets out that we determine it is all privileged, we've got a problem," MacMahon said in court.
"I can't invoke [executive privilege], only the President of the United States and the government can," MacMahon said, telling the judge that he doesn't know how to proceed if the issue arises. "I just wanted to raise the issue with you."
Parnas and Fruman are scheduled to return to court on December 2nd.
Natasha Bertrand and Daniel Lippman at Politico report Dems raise fresh quid-pro-quo questions about Ukraine missile sale:
Democrats pursuing an impeachment inquiry of President Trump want to take a fresh look at whether the sale of anti-tank missiles to Kyiv last year was in any way connected to Ukraine's decision to halt investigations into Trump's campaign chairman.
The renewed interest in the circumstances surrounding the sale of Javelin anti-tank missiles—long coveted by Ukraine as a way to fend off Russian aggression in the east—has been spurred by revelations about the Trump administration's dealings with the newly elected president, Volodymyr Zelensky. It raises the prospect that the president, or his aides, may have been pressuring the Ukrainian government in exchange for political favors far earlier than previously known.
"I think that's all part of the fact finding that members of the six committees need to pursue, and as a member of the Foreign Affairs Committee, it's something that I'm very interested in," said Rep. Jim Costa in an interview.
House Foreign Affairs Committee members Rep. Gerry Connolly and Tom Malinowski are also interested.
"It certainly is on the list of inquiries to be pursued," Connolly told POLITICO on Tuesday, saying the question of potential "extortion" of Ukraine will be "a major part of the impeachment inquiry."
"I intend to ask about it," added Malinowski.
* * *
Democratic Sens. Dick Durbin, Bob Menendez and Patrick Leahy had sent a letter to Lutsenko on May 4, 2018, expressing their "great concern" about reports that the investigation had been impeded—and asking directly whether "any individual from the Trump administration, or anyone acting on its behalf" encouraged Ukrainian government or law enforcement officials not to cooperate with the Mueller probe. They never received a response, according to a spokesman for Democrats on the Senate Foreign Relations Committee.
* * *
There was no evidence at the time that Trump had directly asked the Ukrainians to halt the cooperation, and a New York Times report indicated that the Ukrainians had done it of their own volition to stay on the president's good side.
* * *
Still, other sources said at the time that Trump wasn't looking to sell the Javelins to the Ukrainians for nothing. To get him on board, Trump's national security advisers emphasized that this would be a sale, not a gift, said a U.S. official with direct involvement in the matter. And Poroshenko won favor with Trump by facilitating an $80 million coal deal—the first between the U.S. and Ukraine—that was politically expedient for both leaders. Less than two months after the State Department approved the sale, Ukrainian Railways signed a $1 billion locomotive deal with GE Transportation, which boosted Trump's campaign promise to revitalize the U.S. rail industry.
Democrats want to know if there were other incentives at play, e.g., obstruction of Ukraine's investigation into the so-called black ledger illicit payments to former Trump campaign chairman Paul Manafort, and ending Ukraine's cooperation with Special Counsel Robert Mueller's investigation into Paul Manafort.
The curious timing in June 2017 between Rudy Giuliani's visit to Kyiv and Poroshenko's government curbing its cooperation with the the Special Counsel's investigation of Paul Manafort are strong indicators that there was in fact a quid pro quo.
Having gotten away with this once without any consequence from Special Counsel Robert Mueller, Donald Trump felt emboldened to do it again.
The Second Quid Pro Quo
The AP reported that "More than two months before the phone call that launched the impeachment inquiry into President Donald Trump, Ukraine's newly elected leader was already worried about pressure from the U.S. president to investigate his Democratic rival Joe Biden." Ukrainian leader felt Trump pressure before taking office:
Volodymyr Zelensky gathered a small group of advisers on May 7 in Kyiv for a meeting that was supposed to be about his nation's energy needs. Instead, the group spent most of the three-hour discussion talking about how to navigate the insistence from Trump and his personal lawyer Rudy Giuliani for a probe and how to avoid becoming entangled in the American elections, according to three people familiar with the details of the meeting.
The meeting came before Zelensky was inaugurated but about two weeks after Trump called to offer his congratulations on the night of the Ukrainian leader's April 21 election.
The full details of what the two leaders discussed in that Easter Sunday phone call have never been publicly disclosed, and it is not clear whether Trump explicitly asked for an investigation of the Bidens.
* * *
The White House has offered only a bare-bones public readout on the April call, saying Trump urged Zelensky and the Ukrainian people to implement reforms, increase prosperity and "root out corruption" [this is Trump code for the conspiracy theory about Ukraine having Hillary Clinton's email servers, and manufacturing "dirt" on Joe Biden and his son]. Trump has said he would release a transcript of the first call, but the White House had no comment on when, or if, that might happen.
Congress needs the read out of this April 21 phone call between President Trump and president-elect Zelensky. This may be one of the earlier phone call "transcripts" that was deep-sixed by deputy White House counsel John Eisenberg, who moved a transcript of the July 25th call to a highly classified server and restricted access to it. White House lawyer moved transcript of Trump call to classified server after Ukraine adviser raised alarms:
By the time Vindman came to Eisenberg in late July, Eisenberg was already familiar with concerns among White House officials about the administration's attempts to pressure Ukraine for political purposes, as The Washington Post previously reported.
The Third Quid Pro Quo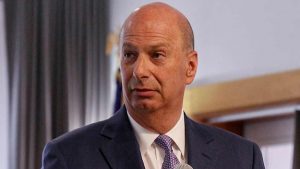 Three weeks earlier, Vindman and another senior official had gone to him after a contentious July 10 meeting in which they said European Union Ambassador Gordon Sondland had pushed two Ukrainian officials to investigate Trump's political rivals, including former vice president Joe Biden, whose son Hunter served on the board of Burisma, a Ukrainian gas company.
* * *
That day, two officials representing the newly elected Ukrainian president had come to the White House hoping to shore up relations with the Trump administration.
Instead, the visitors found themselves caught in a showdown between top White House officials.
The two Ukrainian visitors — Andriy Yermak, a top Zelensky adviser, and Oleksandr Danyliuk, the head of Ukraine's national security and defense council — were first escorted to Bolton's office, where they met with Vindman, Sondland, White House Russia adviser Fiona Hill and Kurt Volker, the State Department's special envoy to Ukraine.
As the group discussed the United States' desire to see Kyiv crack down on corruption, Sondland turned the conversation away from ongoing corruption probes to pursuing specific investigations that were important to Trump, according to testimony from Hill and Vindman.
Bolton was so alarmed by the comments that he cut the meeting short, according to people familiar with the testimony.
This is the meeting in which John Bolton called Rudy Giuliani "a hand grenade who is going to blow everybody up." Then-National Security Adviser Called Rudy Giuliani 'A Hand Grenade' On Ukraine.
Sondland then asked the Ukrainians to accompany him to a previously scheduled debriefing in the Ward Room, a basement conference area used by the national security team.
During that meeting, Sondland "emphasized the importance that Ukraine deliver the investigations into the 2016 election, the Bidens, and Burisma," a reference to a gas company that tapped Biden's son Hunter to be on its board, according to Vindman's opening statement to lawmakers.
Vindman objected, telling Sondland that the request was "totally inappropriate," according to a person familiar with his testimony.
Fiona Hill, whom Bolton had instructed to monitor Sondland, had just entered the Ward Room. She immediately echoed Vindman's objections that the request was counter to national security goals, according to her testimony.
"She was very emotional," one person who heard Vindman's account of the meeting recalled, adding that Hill raised her voice and strongly objected.
Vindman and Hill complained directly to Eisenberg about the episode, according to his testimony and people familiar with their actions.
The Fourth Quid Pro Quo
Weeks later, Vindman grew even more alarmed as he sat in the Situation Room listening to Trump speak with Zelensky, according to a person familiar with his testimony. Among the officials present were Morrison, who had just replaced Hill as the senior Russia adviser at the White House, and retired Lt. Gen. Keith Kellogg, Vice President Pence's national security adviser.
"I would like you to do us a favor," Trump told the Ukrainian president, then asked him to look into the debunked conspiracy theory that a Democratic National Committee server was transported to Ukraine after it was hacked in 2016, according to a rough transcript released by the White House. Trump also asked Zelensky to pursue an investigation into Biden and his son, the transcript shows.
Stunned, Vindman looked up and made eye contact with Morrison, the person said.
In his statement to lawmakers, Vindman said he "did not think it was proper to demand that a foreign government investigate a U.S. citizen, and I was worried about the implications for the U.S. government's support of Ukraine."
After the call, Vindman hurried to Eisenberg's door, bringing with him his twin brother, Yevgeny, an ethics attorney on the National Security Council. Ellis, a deputy legal adviser to the National Security Council, also joined the discussion, the person said.
Vindman read out loud notes he took of the president's call. Eisenberg then suggested that the National Security Council move records of the call to a separate, highly classified computer system, Vindman told lawmakers.
The White House lawyer later directed the transcript's removal to a system known as NICE, for NSC Intelligence Collaboration Environment, which is normally reserved for code-word-level ­intelligence programs and top-secret sources and methods, according to an administration official.
Former Trump national security officials said it was unheard of to store presidential calls with foreign leaders on the NICE system but that Eisenberg had moved at least one other transcript of a Trump phone call there [possibly the April 21 read out of the phone call between Trump and president-elect Zelensky].
Several days after President Trump's phone call with the leader of Ukraine, deputy White House counsel John Eisenberg instructed Lt. Col. Alexander Vindman not to discuss his concerns about the leaders' conversation with anyone outside the White House. White House official who heard Trump's call with Ukraine leader testified that he was told to keep quiet. "The directive from Eisenberg adds to an expanding list of moves by senior White House officials to contain, if not conceal, possible evidence of Trump's attempt to pressure Ukrainian President Volodymyr Zelensky to provide information that could be damaging to former vice president Joe Biden." This goes to the coverup phase of the crime.
The Fifth Quid Pro Quo
President Trump involved Pence in efforts to pressure Ukraine's leader:
President Trump instructed Vice President Mike Pence not to attend the inauguration of Ukrainian President Volodymyr Zelensky in May — an event White House officials had pushed to put on the vice president's calendar — when Ukraine's new leader was seeking recognition and support from Washington, the officials said.
Months later, the president used Pence to tell Zelensky that U.S. aid was still being withheld while demanding more aggressive action on "corruption," officials said. At that time — following Trump's July 25 phone call with Zelenksy — the Ukrainians probably understood action on corruption to include the investigation of former vice president Joe Biden and his son Hunter Biden.
Perhaps most significantly, one of Pence's top advisers was on the July 25 call and the vice president should have had access to the transcript within hours, officials said.
White House officials said that Pence probably would have received the detailed notes of the president's call in his briefing book on July 26. The five-page document also should have been part of the briefing materials he took with him to Warsaw to prepare for the meeting[.]
Importantly: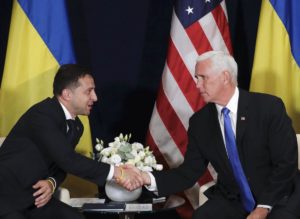 In his [September 1] meeting with Zelensky, Pence conveyed the news that hundreds of millions of dollars in U.S. aid to Ukraine was not going to be released amid concerns about the country's lagging efforts to combat "corruption." He also emphasized Trump's frustration that he thought the European Union was not doing a sufficient job in helping to provide aid. A participant in the meeting said Zelensky was "crestfallen" by the news, though a second participant described the meeting as "cordial" and Zelensky as understanding of U.S. concerns.
At that point, Ukraine's president had already spoken to Trump and was familiar with the president's demands. Pence did not mention Biden or the dormant probe of Burisma, the company for which his son had served as a board member. But former officials said that Pence's emphasis on "corruption" probably would have been interpreted by Zelensky as "code" for that issue, whether the vice president intended it or not.
President Trump offered up Pence as a possible witness while talking to reporters, noting that the VP had also spoken to Zelenskiy and that reporters should look at a transcript of their talks. Impeachment inquiry turns to Vice President Mike Pence. "I think you should ask for Vice President Pence's conversation, because he had a couple of conversations also," Trump said. He said Pence's conversations, like his, were "perfect."
Vice President Mike Pence said he had "no objection" to releasing a reconstructed transcript of his phone call with the leader of Ukraine. But Pence has yet to produce the transcript of his phone call(s) with President Zelensky. Internal White House debate stifles release of Pence-Zelenskiy call: "But as House Democrats' impeachment inquiry continues moving swiftly into its second month, the White House still has not made a decision on whether to make those details of Pence's call public."
On September 25, under political pressure, the White House released the rough transcript of Trump's call with Zelensky. Trump has declared it a "perfect call" and proof that he has not done anything wrong.
It is oddly curious language to describe it as a "perfect call." Who talks like this? This indicates a consciousness of guilt and an attempt to deceive. Especially after Lt. Col. Alexander Vindman, who heard President Trump's July phone call with Ukraine's president and was alarmed, testified that he tried and failed to add key details to the rough transcript. White House Ukraine Expert Sought to Correct Transcript of Trump Call.
[T]he White House transcript of a July call between President Trump and Ukraine's president omitted crucial words and phrases, and his attempts to include them failed, according to three people familiar with the testimony.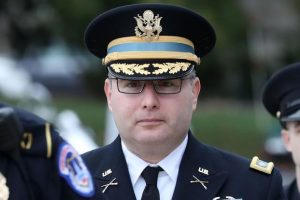 The omissions, Colonel Vindman said, included Mr. Trump's assertion that there were recordings of former Vice President Joseph R. Biden Jr. discussing Ukraine corruption, and an explicit mention by Ukraine's president, Volodymyr Zelensky, of Burisma Holdings, the energy company whose board employed Mr. Biden's son Hunter.
Colonel Vindman, who appeared on Capitol Hill wearing his dark blue Army dress uniform and military ribbons, told House impeachment investigators that he tried to change the reconstructed transcript made by the White House staff to reflect the omissions. But while some of his edits appeared to have been successful, he said, those two corrections were not made.
The read out of the July 25th call contains all the elements of a quid pro quo, even without the selective edits that Colonel Vindman has identified. Trump seems to be under the delusion that as long as he did not say out loud the magical incantation "quid pro quo," he did nothing wrong. This is not at all how this works at law.
Every State Department and national security witness who has testified to the impeachment investigation to date has confirmed that there was a quid pro quo in order for Ukraine to receive Javelin missiles and the release of security assistance approved by the Congress.
Aaron Blake at The Washington Post breaks down The 5 public confirmations of a quid pro quo between Trump and Ukraine, but here is a quick list of his public admissions against interest of a quid pro quo:
1) Alexander Vindman
2) William B. Taylor
3) Gordon Sondland
4) Sen. Ron Johnson (R-Wis.)
5) Mick Mulvaney
While I have outlined at least five instances of a demand for a quid pro quo above, Philip Bump at The Washington Post says "There are, by our count, at least eight instances in which an explicit quid pro quo has been alleged publicly, even setting aside acting White House chief of staff Mick Mulvaney's assertion to that end earlier this month. Confirmation of Ukraine quid pro quo allegations keeps piling up. Bump breaks down those eight instances for you in his report.
Bump's list only covers the period from July 10 to September 9, and does not include the earlier attempts that I have outlined, nor Vice President Pence's involvement.
A handful of scholars and legal experts (Lawfare Blog) have argued that what Trump did constitutes bribery — or at least, bribery as the Founding Fathers understood it. The framers of the Constitution understood bribery to be an offense that includes both giving and accepting bribes. "Bribery" is one of the offenses specified in the Constitution meriting impeachment.
As Aaron Blake explains:
Some have argued what Trump did was more extortion than bribery — particularly if he was withholding already-approved military aid for leverage — because Ukraine wasn't going to get anything it wasn't already due. But those two words have often been used interchangeably. And even if you want to draw that line, Trump's conditioning of an Oval Office meeting on the investigations would seem to qualify as an extra benefit and, thus, potential bribery.
* * *
Why get bogged down in specific offenses with actual statutory requirements that the other side could argue must be satisfied, when you're really making a general case about abuses of power? That risks allowing people to argue this wasn't technically bribery, and maybe allowing the accused to skate. A number of experts have argued against defining what Trump did as bribery, including Renato Mariotti and Teri Kanefield, for that very reason.
But we're in a different era now, in which polarization has rendered basically any subjectivity and plausible deniability politically weaponized. The phrase "high Crimes and Misdemeanors" is a nebulous one to pretty much every American who doesn't call themselves a constitutional scholar. That allows plenty of people to convince themselves Trump's actions don't rise to the level required.
You could argue that defining Trump's misdeeds by a less subjective term would be much more fruitful. Does your average person know whether what Trump allegedly did is a "high Crime" or "Misdemeanor?" Perhaps not. And perhaps they think a "high Crime" means something, well, with a high degree of criminality — which isn't true.
Could they be convinced, by contrast, that it was the kind of bribery that is expressly forbidden in the Constitution? And, on a more basic level, do people even know that bribery is an impeachable offense? Those are the questions Democrats should probably be asking themselves about now.
Democrats and the media need to be educating the public about constitutional law, and simplifying the evidence in this case. There is no doubt that Donald Trump should be impeached for this crime. He used the powers of the presidency to benefit himself, and he invited a foreign nation to interfere in our 2020 presidential election — just as he did with Russia in the 2016 election. Donald Trump's abuse of power is a threat to our national security and the integrity of our elections.