The political parties are once again headed in opposite directions on the right to vote. Democrats want to make voting easier to increase participation, and Republicans want to make voting more difficult based upon unfounded conspiracy theories of voter fraud.
Even the slow counting of ballots, because of the time it takes to verify signatures on early mail-in ballots, has engendered new conspiracy theories among Republicans.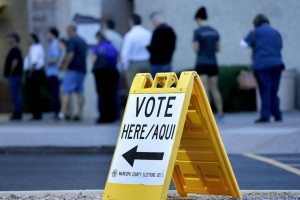 Here in Arizona, GOP lawmakers are already opening bill folders to take aim at the slow counting of ballots, the chain of custody of ballots, and emergency voting centers. The Arizona Capitol Times reports, Slow vote count spurs talk of changes in election laws:
Arizona's prolonged vote count has borne a batch of proposed law changes designed to speed up the process and instill more confidence in the system.
It took a week in Arizona for a victor to be declared in the U.S. Senate race, which garnered national attention both for its competitiveness and the ensuing frustration of being unable to determine a winner for nearly seven days. And Arizona's final legislative race wasn't declared for a full 13 days after the election.
That slow count is at the core of voters' frustration with Arizona elections, since the lengthy process naturally invites skepticism about results, Republican lawmakers say. [Skepticism created by President Trump and other Republicans who falsely claim that elections are rigged, and voter fraud is rampant without any evidence to support this baseless claim.] But GOP concerns extend to questions about the use of emergency voting centers and ballot curing, a process by which voters can assure their mail-in ballots count toward the final tally.
Democrats have accused their colleagues across the aisle of playing a key role in fanning suspicion in the election process – chiefly by accusing Democrats of "stealing the election," in the words of top officials with the state Republican Party.
[In Arizona] there's a mail-in voting system that more than 70 percent of Arizona voters utilize, but there's also a robust day-of voting system that's launched on Election Day.
"In Arizona, we want both," Spencer said. "And so that is a strain on resources and you almost have to stop … early voting ballot tabulations and signature verification, and instead just pause all of that and go run a polling place election."
And given that Maricopa County is the fourth most populous county in the country, that is an incredible logistical challenge to pull off successfully, Spencer said.
Blaming resources isn't good enough for GOP Rep. Michelle Ugenti-Rita and House Speaker J.D. Mesnard, who are both considering bills they say could provide some incentive for voters who choose to vote by mail to actually do so.
So-called "late-earlies," ballots mailed to voters that don't get turned in until Election Day, are the primary cause of the nearly-two week vote counting operation in Maricopa County. Signatures on the sealed, prepaid envelopes voters use to turn in those ballots must be verified.
Ugenti-Rita, R-Scottsdale, and Mesnard, R-Chandler, propose to deal with "procrastinators" by requiring those voters to provide ID to poll workers when dropping off late-early ballots and feeding those ballots into voting machines on site.
"Take it to the poll and put it in the machine – because otherwise we're counting these things forever," Mesnard said. "And I think we've gone beyond what most people think is reasonable or tolerable."
This will only lead to long lines and delays at precinct polling locations as poll workers have even more voter ID to verify, rather than have the county recorder's office verify signatures on early mail-in ballots. This will lead to voters being frustrated and walking away from voting rather than endure long lines and delays — a form of voter suppression — the real intent of this proposal.
Other GOP proposals could err toward solutions that Democrats argue restrict access to voting.
Some Republicans are livid that Maricopa County Recorder Adrian Fontes opened five emergency early voting sites the weekend before the election. Fontes has said the voting centers were made available to those with any "unforeseen circumstance," per state law, that would prevent them from voting on Election Day. Fontes also clearly stated that he's not in the business of judging what constitutes an emergency.
Fontes, a Democrat, was the first Maricopa County recorder to utilize emergency early voting centers – a staple of Pima County elections (for years).
Ugenti-Rita commented: "Why? The fourth largest county in the country has never experienced an emergency with its voters until now? That's odd. That doesn't sit well with me."
Ugenti-Rita said she wants to clarify in state law what constitutes an emergency, while top Democrats like newly-elected Secretary of State Katie Hobbs have another solution: Ensure all counties have in-person early voting centers [the correct solution].
State law allows for early voting centers beginning 27 days before the election through the Friday before Election Day. Hobbs said she wants to extend the deadline to the Saturday, Sunday and Monday before Election Day. That's the same period of time that Fontes chose to open emergency voting centers.
Hobbs stressed the need for consistency among counties when it comes to operating early voting centers and elections, an argument that was hashed out in court on a related issue thanks to a GOP legal challenge over ballot curing.
Arizona's elections operation manual, which hasn't been updated since 2014, states that "the County Recorder, if time permits, may attempt to contact the voter to ascertain whether the voter actually voted the early ballot and any reason why the signature may not match." Spencer said that until the most recent election, most counties interpreted "if time permits" to mean ballots won't be proactively cured after 7 p.m. election night.
For years, Pima County was the only place in Arizona where election officials reached out to voters for verification after that deadline. However, it's a move in which Maricopa and a few other counties mirrored their neighbors to the south this election cycle.
Arizona Republican Party Chairman Jonathan Lines initially threatened to sue to stop counties from curing ballots after the election, though the party then switched legal strategies and reached a settlement that required all counties to allow voters to rectify their ballots until November 14.
* * *
Rep. J.D. Mesnard said he would err on the side of curing ballots up to 7 p.m. on Election Day, but not after the polls close.
Yes, lets just toss valid ballots because some part-time county recorder's office employee subjectively thinks a signature is not a good match without ever contacting the voter to verify that they returned their early mail-in ballot affording them the opportunity to verify their signature. Every valid ballot should be counted.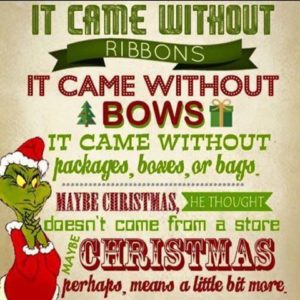 And then there is the intimidation of election officials by Republicans simply because they are Democrats in charge of running elections (we can't have that!) What the reporting below boils down to is that Republicans cannot comprehend or accept that voters actually elected Democrats to office, ipso facto there must be fraud going on (there just has to be!) Republicans are like The Grinch who could not comprehend or accept that he could not stop Christmas from coming.
The Yellow Sheet Report (subscription required) reported, That's Not An Audit:
AZ GOP Chairman Jonathan Lines announced [November 15] that the state Republican Party has hired a local attorney to join with their own attorney to investigate the Maricopa County Recorder's Office. Lines characterized the maneuver as an "independent audit" of the recorder's office that would focus on four areas: The opening of emergency early voting centers before election day; election day voting procedures; ballot counting; and allegations of fraud – allegations that have been made without supporting evidence by AZ GOP officials, as well as President Trump. Audits are traditionally conducted with the cooperation of the entity being audited, however, and GOP officials would not comment on how they expect to produce what they described as a "fair, factually-based report" on the 2018 midterm elections.
* * *
Lines also announced that the "auditor," presumably Richer, will soon launch a website that will essentially serve as a place to complain about the election. The website will allow Arizonans to "submit information about the recent election that might prove useful to the independent audit," Lines stated. "The AZ GOP will provide updates on the progress of the review and will use the auditor's final report to help improve the voting and tallying process in future Arizona elections."
Also Not A Real Audit
Meanwhile lawmakers have already decided to do their own investigations of voter fraud in the upcoming session. Sen. Karen Fann said she's sure AZGOP Chairman Jonathan Lines has been inundated with calls, just as she and her Legislative colleagues have been, with questions about the way the election works. "I've got so many calls from legislators who are getting calls from their constituents who are quite confused about what's going on, how it's going on," Fann said. "Yes, we are definitely going to sit down and have a conversation about this – the county recorders, the secretary of state and the legislators." Mesnard said given the number of people who believe there was fraud — [because of false allegations of fraud by GOP politicians] — the legislature has "no choice" but to investigate the allegations during next year's legislative session.
Mesnard Joins The Black Helicopter Caucus
Mesnard wouldn't say he thinks the election was stolen, but also wouldn't rule it out. "I don't know… I will tell you that I have never seen, as votes were counted, this kind of massive shift. I've never seen it. I mean, you have the AP declaring races over, and now they're not. I don't know what to think." He said like other public officials, he's been inundated with calls – more than on any other issue during his career – and he can't ignore the claims of fraud. Although he told our reporter he couldn't imagine "a more dangerous reality than people questioning the integrity of an election system," Mesnard said defending the electoral system is difficult, "when someone like Mr. Fontes is determining when there's an emergency." … "I'm not a black helicopter conspiracy person, but I've got many people calling who are not black helicopter conspiracy people. Something feels wrong. I can't explain it, I'm not saying it's legitimate, but it is a feeling and there is a lot of it right now," he said.
And Then There is This Guy (my edit)
Sen. David Farnsworth said there's no question in his mind the election was stolen from McSally. "I believe there is election fraud. I believe it happened not only in Arizona, but pretty obviously in Florida. I believe it was an orchestrated thing that has been planned for quite a while. And I do not trust the results," he said. He acknowledged he can't prove it, but said his instinct as a man of 67 years says the fact that the early ballot results were so far off from the ultimate vote count is suspect, and he should trust his gut. … The late results have virtually all been toward the Democrat party. Common sense tells me there's something wrong there," he said. When our reporter asked if it was responsible to question the results of the election based on a gut feeling, rather than evidence, he said accusations can be dangerous, particularly if they're wrong, but he's pretty sure he's right.
Black Helicopter Unit?
Rep. Warren Petersen said he thinks there is voter fraud, though he doesn't know if it's rampant. "Was it enough votes to make a difference? I don't know," he said. But one case is one case too many, he said, and lawmakers should investigate, even if just to assuage concerns from voters, who are calling him non-stop. "You never want to make an accusation without hard proof, but … there's enough red flags where you reached the point of probable cause. I think we're at probable cause. I'm not going to say absolutely 100 percent. But there's smoke and this needs to be investigated," he said. He noted he personally knows three people whose ballots weren't counted until they called the county to complain. "Whatever you can say about Helen Purcell and long lines, there were never accusations of voter fraud," he said, noting Fontes' "unprofessionalism" doesn't breed confidence. Petersen pointed to the Texas Voter Fraud Unit, which recently arrested nine people who were recruited to register under false addresses to vote in specific municipal races, and said maybe it's time to start a unit like that in Arizona. The unit, he said, would be under the Attorney General's Office, and could maybe handle other stuff, like SB1487 complaints, during non-election season.
* * *
Fann boiled down the questions she's hearing to three main issues: The curing of ballots by certain counties after election night, the opening of emergency early voting centers in Maricopa County, and the long waits in line to cast ballots well after 7 p.m. on election night. All are questions Fann said she's heard from voters.
* * *
The issue of ballot curing is more ambiguous and could result in legislative clarification come 2019. ARS 16-550 details how county election officials must verify mail-in ballots, but doesn't specifically mention contacting voters to verify a signature. Language permitting recorders to do that is found in the most recent Arizona elections manual, a publication that hasn't been updated since 2014 under then Secretary of State Ken Bennett. That manual states that "the County Recorder, if time permits, may attempt to contact the voter to ascertain whether the voter actually voted the early ballot and any reason why the signature may not match." Election Director Eric Spencer told our reporter Tuesday that until the most recent election, most counties interpreted "if time permits" to mean ballots won't be proactively cured after 7 p.m. election night. Pima County officials have for years reached out to voters for verification after that deadline, however.
* * *
As for the early voting centers opened in Maricopa County on Sunday and Monday before the election, there's not clear guidance in election law, either. ARS 16-411 details the process by which regular polling places are opened, which involves approval from the county supervisors. The law goes on to detail circumstances in which emergency polling places may be opened, but that statute is narrowly tailored to apply to day-of polling centers, not emergency early polling places, like those opened by Fontes in the days before Nov. 6.
Finally, there is the Republican Maricopa County Board of Supervisors conspiring with Republican state legislators to undermine the Democratic Maricopa County Recorder. The Yellow Sheet Report (subscription required) reported, Chucri: Lets Steal Elections From Fontes:
Steve Chucri wants to limit Maricopa County Recorder Adrian Fontes' authority to run elections. The chairman of the Maricopa County Board of Supervisors told AZ Family's Dennis Welch that he and the GOP-controlled board are reviewing a contract between the county and the recorders office that gives Fontes, or whoever is elected as county recorder, the authority to run elections. Chucri added that he's willing to cooperate with state lawmakers on bills that would give the supervisors more authority over the elections process. Chucri said his concerns from the election stem from three issues: Emergency voting centers, which Fontes opened throughout the county the Saturday and Monday before the election; long waits at polling centers at Arizona State University; and the long process of counting ballots. … The only new issue in Maricopa stems from the emergency voting centers, which GOP leaders in the state have seized on when raising the specter of voter fraud, yet fewer than 3,000 votes were cast at those polling locations over the weekend.
There may be a few sane Republicans left in Arizona:
Some Republicans have been pushing back against strong suggestions by their party mates that Arizona's elections are marred by irregularities and perhaps even by voter fraud in Maricopa County. "Some of my Arizona friends have gone full tinfoil hat conspiracy theorist over the election," former Arizona Chamber of Commerce staffer Brandy Wells posted on her Facebook page. "Let's stop having a tantrum and claiming the outcome is a result of fraud. No evidence for that yet." She said that people should pay close attention to voting procedures, ask questions and demand answers. "But that's not what I'm seeing in my timeline. I'm seeing a bunch of loose cannons and confident declarations of fraud. It is EMBARRASSING."
---
Support volunteer citizen journalism at the Blog for Arizona with a donation today. Your secure contribution keeps the Blog online and sustains a free press in Arizona.
---