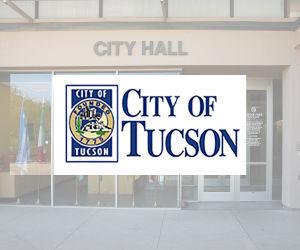 Pima County Republican Party Chair Bill Beard indicated on Zona Politics with Jim Nintzel on Sunday that a slate of Republican candidates for Tucson Mayor and Council would be announced soon.
But before this slate of "mystery candidates" has even been announced, GOP operatives instead are once again taking the City of Tucson to court over its electoral system, trying to alter the rules that have been in place since the Tucson City Charter was adopted in 1929. Nice way to kick off a campaign, dontcha think?
An independent expenditure committee filed with the Arizona Secretary of State ARIZONA PUBLIC INTEGRITY ALLIANCE, INC. (Filer ID 201200707), a "nonprofit membership organization" based in Mesa, AZ,  filed a lawsuit in U.S. District Court for the District of Arizona on Monday. See Complaint (.pdf), Motion for Preliminary Injunction (.pdf) and Proposed Order (.pdf).
The individual plaintiffs include the usual suspect, Republican National Committeeman Bruce Ash, and former Tucson City Council candidate Lori Oien (2007), former Legislative District 28 candidate Ken Smalley (2010), former Pima County Supervisor candidate Fernando Gonzales (2012), and former Pima County Supervisor candidate Ann Holden (1996).
The plaintiffs allege that Tucson's "hybrid system" of city elections in which candidates are nominated in partisan elections by ward, but stand for the general election in a partisan at-large city-wide election, "effectuates a denial or dilution of the right to vote, and therefore violates the 14th Amendment of the united States Constitution and Article II, §§ 13 and 21 of the Arizona Constitution:
13. Equal privileges and immunities
Section 13. No law shall be enacted granting to any citizen, class of citizens, or corporation other than municipal, privileges or immunities which, upon the same terms, shall not equally belong to all citizens or corporations.
21. Free and equal elections
Section 21. All elections shall be free and equal, and no power, civil or military, shall at any time interfere to prevent the free exercise of the right of suffrage.
More specifically, what the plaintiffs are actually complaining about is set forth at:
¶ 25. By way of illustration, candidates for the City Council seat designated to Ward 1 will run in a partisan primary to be held in August 2015. The Republican primary electorate will be limited only to registered Republican voters and voters not enrolled in any recognized political party in Ward 1, to include Plaintiff Mr. Gonzales. Otherwise qualified electors residing in other wards of the City of Tucson, to include Plaintiffs Mr. Ash, Ms. Holden, Ms. Oien, and Mr. Smalley will be prohibited from participating in Ward 1's Republican primary.
¶ 35. By prohibiting the individual Plaintiffs from participating in certain ward-based primary elections for the Individual Plaintiffs' city-wide representatives on the City Council solely on the basis of the geographic location of the Individual Plaintiffs' residence within the City of Tucson, the Hybrid System denies or abridges each of the Individual Plaintiffs' right to vote in violation of the Equal Protection Clause of the Fourteenth Amendment, thereby causing them irreparable injury.
In other words, what these Republican plaintiffs seek is an "at-large" electoral system in which qualified electors in each partisan primary can vote in each city council primary — this year Wards 1, 2, 4 – rather than the primary for the ward in which they actually reside. Republicans are asserting that this "a denial or dilution" of Republicans' right to vote for all candidates, which is a curious argument to make since Democrats are also subject to the very same electoral rules. How are Republicans being singled out for "a denial or dilution" of their right to vote? They are not.
Plaintiffs also assert an entirely contradictory alternative claim in Count II:
¶ 45. If each member of the Tucson City Council is deemed a representative of only the residents of his or her ward, then by permitting voters who residing outside the represented jurisdiction to participate in the at-large general election for that Ward's city council seat the Hybrid System dilutes the votes of each of the Individual Plaintiffs in violation of the Equal protection Clause of the Fourteenth Amendment, thereby causing them irreparable injury.
In fact, 33 times since 1950 a candidate has lost in his or her ward but won at-large. But this has cut both ways for Republicans and Democrats, and is pretty much a wash.
This would be a credible theory if it was grounded on the fact that a an identifiable minority voting bloc, i.e., Latinos, were being denied representation on the City Council by white voters because of at-large elections.
This was an issue that former Tucson Mayor Tom Volgy raised back in 1989 when he advocated for "ward only" elections. Does Tucson Have a Better Idea | Phoenix New Times:
First-term Democratic Mayor Tom Volgy is leading the charge for a public vote on straight districts, complaining that the Tucson system "discriminates on the basis of access to money. In a district type of system, you or I, if we work hard enough, with a couple of thousand dollars and 30 or 40 or 50 people, can win a district election. In a citywide race, when you have to deal with 400,000 potential people, you need a lot of money to compete."
* * *
There's also the possibility that voters won't have to make the change–it may be done for them by the U.S. Department of Justice. Volgy says the feds forced one Texas city to forego its Tucson-style system for a straight district system because Hispanics–despite having 27 percent of the population–couldn't seem to survive the citywide general election.
Volgy says Tucson has escaped that fate so far because of what he calls an "accident of history" that has given the city a high proportion of minority representation. (There are two Hispanics and one black on Tucson's council; Phoenix has one Hispanic and one black on its council.) "If that changes we'd probably be sued immediately by the Justice Department and would have to change the charter," Volgy says.
The possibility is not as crazy as it sounds.
Earlier this decade the City of Douglas amended its charter, switching from a straight district system to the style used in Tucson. City Clerk Victor Stevens says the Justice Department came in and vetoed the change, arguing it could dilute minority voting strength. So Douglas councilmembers still are nominated and elected by districts.
Tucson's electoral system has been reviewed and approved by the U.S. Department of Justice multiple times since the enactment of the Voting Rights Act in 1965.
In 1991, Tucson voters rejected Mayor Volgy's proposal to go to a straight district-based (ward only) election.
By the way, the illustrative example of Ward 1 in the complaint above is held by Regina Romero, the first Latina elected to the Tucson City Council. These plaintiffs want to reduce Latino representation on the City Council by targeting her. I am sure the Latino community will take notice.
The U.S. Supreme Court gutted Section 4 of the Voting Rights Act in 2013, suspending Section 5 Department of Justice review and approval in Shelby County v. Holder. I don't recall Bruce Ash or any Republicans shedding tears over that decision. It unleashed a raft of GOP voter suppression measures, including here in Arizona.
Plaintiffs' position in this lawsuit is a dramatic reversal, since Republicans were throwing a shit fit just last week that the Charter Amendment Advisory Committee deadlocked on a recommendation to the Mayor and Council for a "ward only" electoral system charter amendment, something for which Republicans have long advocated because they enjoy a voter registration advantage in Wards 2 and 4. See the Arizona Daily Star's Tim Steller: Tucson's undemocratic election system stays intact — again, and Tucson Metropolitan Chamber of Commerce President & CEO Michael Varney, Another missed opportunity for Tucson. Now they are suing for an "at-large" system.
The Arizona Supreme Court just recently reaffirmed that GOP attempts to rewrite Tucson's electoral system through the GOP state legislature was unconstitutional. State Supreme Court rules Legislature can't tinker with local elections:
The court effectively approved a year-old ruling by the Court of Appeals saying that, at least for the state's 18 charter cities, when they conduct local elections is none of the lawmakers' concern.
At issue was a 2012 law pushed by the Goldwater Institute.
* * *
In 2009, the Legislature voted to forbid cities from having partisan elections for mayor and council. The same law would have voided Tucson's modified ward system in which council candidates are nominated from each ward but elected citywide.
But the Arizona Supreme Court voided that law in 2012, ruling the Arizona Constitution gives charter cities special rights to control their own local matters.
Republicans hate Tucson because we are a Democratic stroghold. The evil GOP bastards have been doing everything they can to try to break us, without success. This lawsuit is just the latest scandal.
With the filing of this lawsuit, expect to hear from the usual suspects Bruce Ash and John Munger spewing their venomous hatred once again, as they did four years ago:
Bruce Ash: "The Tucson election in 2011 is infected with the same disease that once plagued the democrat Jim Crow South. The democrat majority in Tucson have fixed city elections. If you are are a Republican or an Independent you have been dis-enfranchised in Tucson council elections because you can't vote for your own ward's council member. Hence one party rule in Tucson for over 40 years." Rum, Romanism and Rebellion › From Our Overwrought Metaphors and Ridiculous Fear Tactics Desk.
John Munger: "Tucson still has the old Jim Crow electoral laws which discriminate against minorities by requiring EVERY candidate to be elected by the SAME OLD CITY-WIDE MAJORITY. No Ward elections that might allow independent voices to be heard in good old Tucson. Of course, this system is not used to discriminate only against racial minorities today—it is mostly used to eliminate any chance that REPUBLICANS might be elected. The old Dem cabal wouldn't want any independent voices to arise from the Wards, so Wards are not permitted to elect their own candidates. Nope, all Ward candidates are elected by—you got it—the same old City-wide Dem Majority." Rum, Romanism and Rebellion › I Think We Have a Talking Point.
The Arizona Daily Star took this pair of assholes to task four years ago for their false comparison of Tucson to the Jim Crow South. Different views do not equal 'disenfranchised':
Our view: It's insulting to compare Republican life here to horrors of Jim Crow South
Different views do not equal 'disenfranchised'
There is grossly inappropriate hyperbole – and then there's this radio spot from Bruce Ash.
* * *
The utter tyranny of living in proximity of people who don't think or vote the way you would like them to must be just unbearable. Awful.
Perhaps it's time to move out of the city of Tucson. Wait … a quick check of public records shows that Mr. Ash's home is not within Tucson city limits.
[Note: The lawsuit alleges that "Bruce Ash is an individual who will at the time of the August 2015 primary election and the November 2015 general election reside in Ward 2 of the City election." In other words, he is still not a city resident, yet here he is suing  Tucson over its electoral system.]
Any attempt to compare the real-life horrors, discrimination and oppression millions of black Americans have endured because of the color of their skin to the frustration a modern-day Republican might feel living in (or near) a city where Democrats outnumber Republicans nearly two-to-one is stunning.
Ash's attempt to co-opt the Civil Rights Movement exposes a lack of any modicum of proportion and is an affront to the hardships that people actually lived through in the Jim Crow South.
Consider this a preemptive STFU to Ash and Munger.