A message from Pam Simon:
The real test of our nation comes in the days and weeks that follow tragedies like the hate-filled act of terror in Charleston.
Once the news cameras are gone, do we simply let the sadness pass — or do we rise together to push for lasting, meaningful change?
Tucson is Rising for Charleston.
Just like we did after our own community was shattered, we will come together to heal and turn our grief into action — and ask our lawmakers to do the same.
What: #RisingForCharleston Service
When: Saturday, June 27, 2015 at 10:00 AM
Where: Congregation Chaverim
5901 E 2nd Street
Tucson, AZ 85711
The shooting at Mother Emanuel AME Church in Charleston was a heartbreaking reminder that gun violence can happen anywhere and at anytime, even within the sacred walls of a house of worship.
Our country deserves better than this. Every family should be able to go to school, to the grocery store, to the playground, and to church — without the fear that they might be gunned down.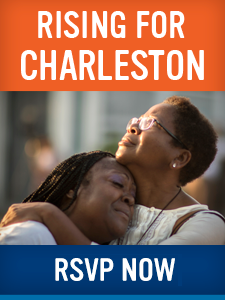 This weekend, communities across the nation will gather in houses of worship to honor the nine victims and their community — along with the 88 Americans who die every day and countless others injured because of gun violence. And we'll call on our elected officials to rise with us and be champions for stronger laws that will prevent tragedies like this.
Please RSVP for the #RisingForCharleston service Saturday, June 27, 2015 at 10:00 AM . Click the link below to sign up now:
http://act.everytown.org/event/rising-for-charleston-attend2/1376
Thank you for rising with us.
P.S. — Please consider wearing orange this Saturday as a symbol of hope and healing for the Charleston community and all those affected by gun violence in our country.