The conservative media entertainment complex and the modern-day GOP are built upon a foundation of ignorance, fear and hatred of "others."
This was on full display on the first evening of the RNC Convention. The day's theme was "Make America Safe Again," which is just another way of saying "Be afraid! Be VERY afraid!" playing to the ignorance, fear and hatred of "others" that the GOP base feeds on daily from the conservative media entertainment complex.
A series of convention speakers informed us that (1) illegal aliens, specifically Mexicans, are crossing our border and killing Americans; (2) Islamist extremist terrorists are "in all 50 states" waiting to kill Americans; and (3) Black Lives Matter is the enemy and is killing police officers. The whipped cream and cherry on the top was a huge dollop of Hillary Hatred and Obama Derangement Syndrome.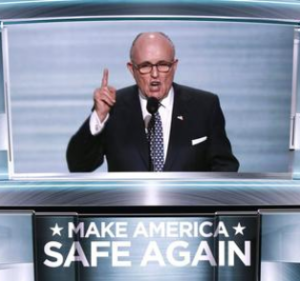 It was not clear to me who the "keynote" speaker was meant to be, but The most important moment at the GOP convention was Rudy Giuliani. An Energized Giuliani painted a dystopian picture of America, shouting loudly, wildly gesticulating his arms, and spittle flying from his mouth and dripping down his chin.
Hmmm, who did this remind you of? The people who make the Hitler Rants Parodies on YouTube really need to make one for Giuliani's speech from last night. As Molly Ivins said of "Pitchfork" Pat Buchanan's 1992 RNC Convention speech, "it probably sounded better in the original German."
This fear mongering hate fest was the takeaway from the first night of the RNC Convention. But what are the feckless media villagers all focused on today? Donald Trump's super model wife and a tweet from a reporter that exposed her speech for plagiarism of Michelle Obama's speech in 2008. This combines the three things the media loves the most: celebrities, social media, and their supposed media ethics (riiiight). Comparing Melania Trump's Speech With Michelle Obama's ; '93 percent' different: The Trump team's brazenly bad defenses of Melania's alleged plagiarism.
Melania Trump also said, "You judge a society by how it treats its citizens." She was paraphrasing Senator Hubert Humphrey. It did not go over well with the delegates.
This distraction allows the media to avoid discussing the elephant in the room, the brazen racism, bigotry and Islamophobia on display in the convention last night, best exemplified by the leader of the Mass Deportation Party. Rep. Steve King wonders what 'sub-group' besides whites contributed more to civilization.
This distraction also allows the media to avoid discussing the GOP platform approved yesterday, GOP platform calls for recycling — of old proposals, for which The Washington Post editorializes today, The GOP's backward-looking agenda:
The party embraced a startlingly backward-looking social agenda, much of it a reaction to the Obergefell v. Hodges Supreme Court ruling that legalized same-sex marriage. The party favors a constitutional amendment that would overturn the ruling, enabling states to ban same-sex unions once again. It proclaims that children should be raised by "a mother and father," expressing disapproval of gays and lesbians as parents. It signals approval for the discredited practice of gay conversion therapy. It calls for the Bible to be taught in public schools. It supports allowing churches to organize politically while keeping their tax-exempt status.
The party's allegiance to tax cutting and deregulation remains. Among other things, the GOP would curtail a variety of environmental protections and prevent a variety of species from being listed as endangered. It would abolish the Internal Revenue Service, a particularly silly bumper-sticker proposal.
But Donald Trump's takeover has moved the GOP toward isolationism, anti-trade populism and a concomitant ambivalence on essential economic freedoms.
* * *
Filling out the picture, the platform adopts Mr. Trump's call to build a wall on the U.S.-Mexico border, which would be an expensive (if ineffective) symbol of America shutting out the outside world. Where Republicans just four years ago proclaimed that they "will lift the torch of freedom and democracy to inspire all those who would be free," Trump forces nixed a line from this year's platform that called for arming Ukraine against Russian aggression.
The net result is a platform that is more reactionary than visionary, with an emphasis on social matters that is out of step with American public opinion and an isolationist turn that reeks of counterproductive nativism.
The New York Times' David Brooks commented on the PBS coverage last night that most conventions try to convey a positive message looking forward to the future, e.g. Ronald Reagan's "a shining city on a hill" shtick, but last night the GOP was "looking in the rearview mirror" longing for the past. Reagan's "shining city on a hill" is now an apocalyptic hell-scape of a city on fire.  The GOP "has become the party of grievance," or more accurately, The GOP is now Trump's party of white identity and white grievances.
This was clear to anyone who actually watched the convention speeches yesterday.