Day three of the RNC Convention was set aside for the remainder of the GOP Clown Car Primary opponents of Donald Trump, who had not already appeared at the convention, to come out and lay prostate before the delegates and to swear their allegiance to "The Donald." The "showcase" speech was to be for the VP nominee, Mike Pence.
One by one Trump's former opponents came out and swore their allegiance to "The Donald" (with their fingers crossed behind their back).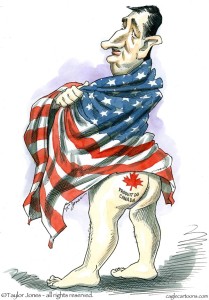 And then came Senator Ted "Calgary" Cruz from Texas, the "most hated man in the U.S. Senate."  "Calgary" decided to make himself the "most hated man at the 2016 RNC Convention."
Rather than lay prostate before the delegates and swear his allegiance to "The Donald," "Calgary" came out to bask in the applause of his delegates, and then to effectively announce:
"I come to bury Caesar, not to praise him."
Not only did "Calgary" not endorse "The Donald," but he used the opportunity to declare his candidacy for the 2020 GOP nomination for president. "Calgary" hijacked The Trump Sow, and bedlam ensued.
I have been watching conventions for some 50 years, and I have never seen anyone be so blatant in this way. Ted "Calgary" Cruz is the only candidate who is as big an ego-maniacal sociopath as Donald Trump. Team Trump should have seen this coming.
The New York Times reports, Ted Cruz Stirs Convention Fury in Pointed Snub of Donald Trump:
The Republican convention erupted into tumult on Wednesday night as the bitter primary battle between Donald J. Trump and Senator Ted Cruz reignited unexpectedly, crushing hopes that the party could project unity.
In the most electric moment of the convention, boos and jeers broke out as it became clear that Mr. Cruz — in a prime-time address from center stage — was not going to endorse Mr. Trump. It was a pointed snub on the eve of Mr. Trump's formal acceptance speech.
As hundreds of delegates chanted "Vote for Trump!" and "Say it!" Mr. Cruz tried to dismiss the outburst as "enthusiasm of the New York delegation" — only to have Mr. Trump himself suddenly appear in the back of the convention hall. Virtually every head in the room seemed to turn from Mr. Cruz to Mr. Trump, who was stone-faced and clearly angry as he egged on delegates by pumping his fist.
Mr. Cruz was all but drowned out as he asked for God's blessing on the country and left the stage, while security personnel escorted his wife, Heidi, out of the hall. One delegate yelled "Goldman Sachs!" at her — a reference to the company that has employed her, a job that Mr. Trump attacked during the primaries.
A short while later, Mr. Cruz faced insults as he made his way down a corridor — one woman yelled "Traitor!"
* * *
Mr. Cruz, who has all but declared that he wants to run for president again in 2020, especially angered Republican leaders who had been counting on him to keep his pledge that he would support the eventual nominee, a vow that other leading Republican contenders also made last fall.
Mr. Trump had invited Mr. Cruz to speak even though he had doubts that peace was possible after their brutal race, during which Mr. Trump repeatedly called him "Lyin' Ted" and suggested Mr. Cruz's father had a role in President Kennedy's assassination.
Mr. Trump called Mr. Cruz on Monday and asked for his endorsement, according to a senior aide to Mr. Cruz who requested anonymity to relay private conversations. Mr. Cruz indicated to Mr. Trump that he would not offer an endorsement, the aide said.
But wait, there's more! "Calgary" doubled-down on Thursday morning. Ted Cruz is not backing down as he reopens wounds from the hard-fought GOP primary with Donald Trump:
Cruz justified his [convention] remarks by saying that he congratulated Trump on securing the nomination. He also assured attendees that he will not be voting for Clinton in the fall. But he was far from conciliatory, repeating that although he would listen to Trump's speech Thursday, he would not be endorsing the real estate mogul.
"I'm going to be listening to how he and the campaign conduct themselves every day from now until November," Cruz said.
He also stood by his decision not to honor a pledge he made last year to support the eventual GOP nominee, saying that the pledge was rendered moot because Trump attacked his family.
"The day that was abrogated was the day this became personal," he said. "I'm not going to get into criticizing or attacking Donald Trump, but I'll just give you this response: I am not in the habit of supporting people who attack my wife and attack my father."
Cruz asserted that he is not going to "act like a servile puppy dog" and thank Trump for taunting his family. A man yelled at Cruz to get over it because it's all politics.
"No, this is not politics," Cruz said. "I will tell the truth."
Team Trump struggled all day to put out scandal fires with the media. Then they had technical difficulties with the electronics in the convention center. The big screen TV's went on the fritz and had to be shut down during much of the prime time speeches, so that many delegates could not see the speaker. And for the third night in a row, Team Trump could not keep the speakers on schedule. Amatuers.
VP nominee Mike Pence came on late and ran well past the prime time window into the 11 o'clock news hour back east. The networks stayed with his speech anyway. Pence's  mostly vanilla speech is not the talk of the news media, either last night or today. Ted Cruz successfully hijacking The Trump Show is. And that is a failure of Team Trump.
The goal of a convention is to unify the party behind the ticket. The Republican Party is still engaged in civil war and is as deeply divided as ever. As they used to say, "The whole world is watching."