Many people who are hearing disabled find that watching a movie is a struggle, just to make out what the actors are saying. Awkward captioning devices that plugged into a seat cupholder were a mediocre solution. Most hearing aids don't work with the old-fashioned hearing loop induction service. But Now, thanks to the Roadhouse Cinema in Tucson, there are on-screen captions for movies that makes the cinema a joy again.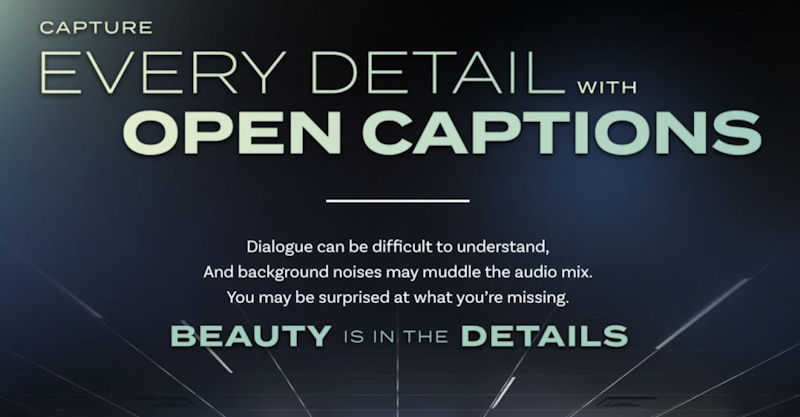 The captioning is available on Wednesdays for movies before 5:00 p.m. The improvement was made after the Arizona deaf and blind community along with senior citizens made the request.
Tucson now has at least six movie theaters that offer open captions:
Cinemark Century El Con 20 and XD
Cinemark Century Tucson Marketplace and XD
The Loft Cinema
Harkins Theatres Tucson Spectrum 18
Biden a friend to hearing disabled
President Biden has long been a friend to the hearing disabled. President Biden's Executive Order on Promoting Competition in the American Economy called on the Food and Drug Administration (FDA) to make hearing aids available over the counter, without a prescription. Then the FDA established a new category of over-the-counter (OTC) hearing aids for adults 18 years of age and older that went into effect in 2022.
"In the executive order I issued, I called on the FDA to finally make hearing aids available over the counter," Biden said. "This action makes good on my commitment to lower costs for American families, delivering nearly $3,000 in savings to American families for a pair of hearing aids and giving people more choices to improve their health and wellbeing."
The impact of hearing loss
44% of Arizona's 1,260,659 Democrats 50 years older or more. As a lifelong Democratic voter, I am proud of the party's strong support of hearing disabled people.
Nearly 10 million Americans are hard of hearing. According to the Western Interstate Commission for Higher Education, Arizona has 493,969 people who are deaf or hard of hearing. The impacts of hearing loss can be profound. They include a loss of the ability to communicate with others, which can lead to social isolation, loneliness and frustration, particularly among older people with hearing loss.
Hearing loss is a common problem caused by loud noise, aging, disease, and genetic variations. About one-third of older adults have hearing loss, and the chance of developing hearing loss increases with age. People with hearing loss may find it hard to have conversations with friends and family. They may also have trouble understanding a doctor's advice, responding to warnings, and hearing doorbells and alarms.