On Wednesday, Politico Playbook reported: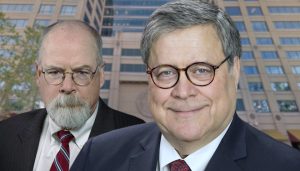 "U.S. ATTORNEY JOHN DURHAM — tasked by Attorney General William Barr to review the 2016-era Russia investigation — is not expected to release information related to the probe before Election Day, according to sources on and off the Hill. Senate Republicans running similar investigations were told of the intention within the last week — and it's why they've been stepping up their releases of declassified documents.
"BUT TRUMP AND HIS ALLIES were pushing for much more than that; they wanted DOJ to indict their Obama-era foes as they seek to rewrite the Russia investigation and turn it against Democrats. The president channeled his grievances by retweeting supporters demanding that Barr immediately arrest and jail Trump's political enemies like Barack Obama, Joe Biden and Hillary Clinton. Late Wednesday afternoon, Director of National Intelligence John Ratcliffe said his office 'has now provided almost 1,000 pages of materials to the Department of Justice in response to Mr. Durham's document requests.'"
Donald Trump wants his Stalinist show trials damnit, and he wants them now before election day. He is jeopardizing our national security and promoting Russian disinformation propaganda trying to get his way.
Politico follows up, Trump rewrites the Russia probe from the hospital:
Even as he recovers from a coronavirus case that left him hospitalized for days, President Donald Trump has intensified a late-campaign effort to undermine widely accepted evidence about Russia's election interference efforts in 2016.
Trump authorized the declassification and release of documents this week based on intelligence that even his own advisers warn could be Russian disinformation, in what his allies have signaled is aimed at sowing doubt about the intelligence community's conclusion that the meddling in the 2016 campaign came at the Kremlin's direction — and was intended to boost Trump's candidacy.
As Trump was still recuperating in the presidential suite at Walter Reed on Monday, White House chief of staff Mark Meadows said the president had "already tasked me with getting some declassification rolling" on sensitive Russia probe documents.
Some of those documents were released on Tuesday afternoon, including heavily redacted notes from former CIA Director John Brennan after a briefing with then-President Barack Obama. The notes describe intelligence reports that were drawn from Russian operatives, summaries of which Director of National Intelligence John Ratcliffe declassified last week.
* * *
Some Trump allies have framed this latest declassification push not as an effort to question Russia's interference at all but simply to question the "Trump-Russia collusion" narrative that loomed over the White House for much of Trump's presidency. But Ratcliffe's release suggested that the Russian intelligence indicated that attributing 2016 interference to Russia was part of a Clinton plot to stir up a scandal against Trump. And many Trump allies have deployed the new evidence to broadly declare that the entire scandal was cooked up by Democrats.
Republicans and Democrats had previously rejected this Russian chatter as likely disinformation intended to deflect from Moscow's own hacking operation targeting the Democratic National Committee. And Clinton herself was publicly making the case at the time that Trump was inviting Russian interference. Nick Merrill, a spokesman for Clinton, said last week that the documents were "baseless bullshit."
Four people familiar with the matter … described Ratcliffe as "cherry-picking" portions of the intelligence to try to tarnish Trump's political enemies.
* * *
The effort to discredit the intelligence community's findings that Russia hacked Democrats to harm Clinton's candidacy comes almost exactly four years to the day after the U.S. intelligence community first assessed that the Russian government had mounted a sweeping effort to interfere in the 2016 presidential election with the specific goal of helping Trump win.
It also comes in the middle of an ongoing investigation by U.S. Attorney John Durham, who was tasked by the Justice Department with probing the intelligence community's findings. Durham is expected to refrain from releasing any conclusions before Election Day to avoid affecting the race, but the recent declassifications by both Ratcliffe and Attorney General William Barr appear to be an effort to fill that void. Trump has taken full advantage of it, weaponizing the releases to boost his reelection campaign.
The new round of declassifications also serves a larger and more vindictive purpose for the president: It is the latest salvo in a yearslong effort to cast doubt on U.S. intelligence agencies and senior Obama administration officials, who the president alleges were unfairly and illegally targeting him and his campaign. Trump's crusade has extended to questioning assessments by his own administration that Russia is actively backing him in the 2020 election; he went so far as to fire a top intelligence official who, earlier this year, allowed a subordinate to brief Congress about Russia's interference in the ongoing presidential race.
* * *
Ratcliffe's latest declassifications center around some chatter by Russian intelligence officers that was picked up by the U.S. intelligence community in 2016. The intelligence, Ratcliffe indicated in a letter to Senate Judiciary Chairman Lindsey Graham (R-S.C.) last week, suggested that the Russians believed Clinton authorized a campaign strategy to tie Trump to Russia's intelligence services and their operation to undermine Democrats four years ago.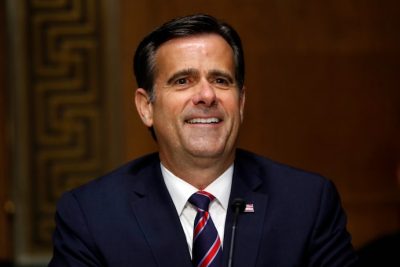 Ratcliffe further told Graham, who is investigating the origins of the FBI's Russia probe, that the intelligence community had referred the Russian chatter to the bureau for further investigation in 2016.
Former acting CIA Director Michael Morell, who endorsed Clinton in 2016, called Ratcliffe's reclassifications "the most politicized act I've ever seen by a senior intel official" and "a blatant attempt to get votes for Donald Trump before the election.
"This is Russian disinformation designed to create the very political chaos that it's creating. This is Putin playing with us," he added.
Ratcliffe also acknowledged last week that the information he disclosed might have been "exaggerated" or "fabricated" by Russian intelligence services, raising concerns among even some Republicans about Ratcliffe's decision to publish the Russian assessment.
* * *
Sen. Angus King (I-Maine), a member of the Senate Intelligence Committee, worried last week that even the release of Ratcliffe's summary may have compromised the U.S. intelligence community's ability to collect information on the Russian intelligence services. "One of the things I want to try to determine is … to what extent was this release cleared by the intelligence services themselves," he said. "My experience is that information like this would not be released normally because of the potential compromise of sources and methods."
But Trump was ready to deploy the newly disclosed information during last week's debate against Biden.
In his comments Monday, Meadows indicated that the material Trump directed for release has been sought by California Rep. Devin Nunes, the top Republican on the House Intelligence Committee, who over the weekend suggested that the entire U.S. intelligence apparatus should be shut down unless the documents were released.
"We want every damn bit of evidence that every intelligence agency has or it's maybe time to shut those agencies down," Nunes said Sunday on Fox News.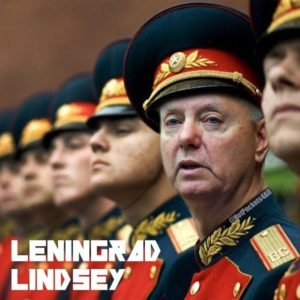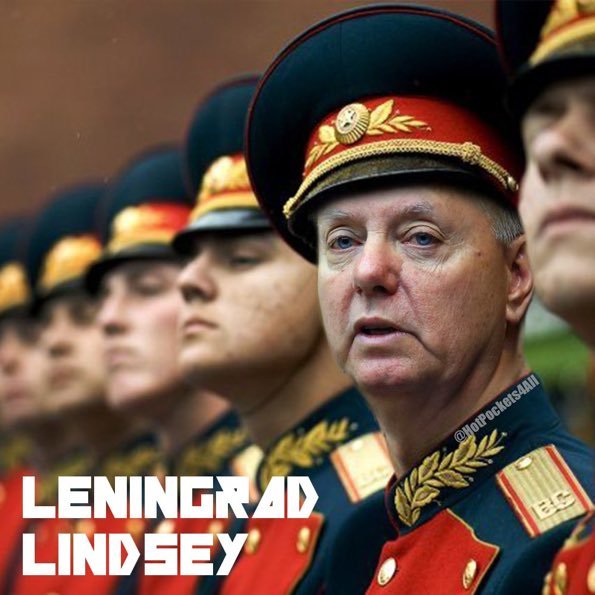 The effort has high-profile supporters in the Senate, too: Graham, the chairman of the Senate Judiciary Committee, and Ron Johnson (R-Wis.), who chairs the Senate Homeland Security and Governmental Affairs Committee, have lauded Ratcliffe for releasing several pieces of information they say support their claims that the FBI targeted Trump and his campaign unfairly. In a brief interview last week, Graham indicated that it didn't matter whether the declassified material was actually true.
"Can you imagine if they found something alleging wrongdoing by Trump that the FBI never even looked at? People would be going crazy," Graham said. "So it's not whether it's true or not. The question is, did the FBI try to find out whether it was true after they were informed by the intelligence community of their concerns?"
"At some point, maybe the press will wake up and go, maybe we're looking at the wrong people here," added Johnson.
Politico additionally reports that Donald Trump mounted an overnight Twitter blitz demanding to jail his political enemies and call out allies he says are failing to arrest his rivals swiftly enough. 'Where are all of the arrests?': Trump demands Barr lock up his foes:
Trump twice amplified supporters' criticisms of Attorney General William Barr, including one featuring a meme calling on him to "arrest somebody!" He wondered aloud why his rivals, like President Barack Obama, Democratic nominee Joe Biden and former Democratic nominee Hillary Clinton hadn't been imprisoned for launching a "coup" against his administration.
"Where are all of the arrests?" Trump said, after several dozen tweets on the subject over the past 24 hours. "Can you imagine if the roles were reversed? Long term sentences would have started two years ago. Shameful!"
By early afternoon, Trump was letting loose his frustrations in an all-caps missive that seemed aimed at nobody in particular.
"DO SOMETHING ABOUT THIS, THE BIGGEST OF ALL POLITICAL SCANDALS (IN HISTORY)!!! BIDEN, OBAMA AND CROOKED HILLARY LED THIS TREASONOUS PLOT!!! BIDEN SHOULDN'T BE ALLOWED TO RUN – GOT CAUGHT!!!" Trump tweeted.
The day-long run of tweets and retweets marked the most frantic stretch of Trump's public activity since he left the presidential suite at Walter Reed Medical Center and returned to treatment at the White House. They also underscored the degree to which Trump remains fixated on his grievances over the Russia probe, and often on obscure aspects of that investigation that are unintelligible to all but its most careful followers.
Since late Tuesday, Trump has vowed to declassify all documents he claims will show improper activity by Obama and his intelligence advisers — before quickly reversing himself and suggesting he had already done so "long ago" — and repeatedly cited Russian intelligence services' claims that Clinton "stirred up" the Trump-Russia collusion scandal that has dogged his presidency.
* * *
In past interviews, Barr has signaled that he has no intention of prosecuting senior Obama administration officials, though he has cast doubt on the motives behind the Russia probe and launched an investigation into its origins.
The review Barr ordered has disappointed Trump in recent weeks as the U.S. attorney tapped to lead it, John Durham, has signaled he might not pursue the kinds of high-profile prosecutions the president and his allies are demanding. Durham's deputy in the review, veteran Justice Department prosecutor Nora Dennehy, recently quit the faltering effort and returned to the private sector.
"NOW THAT THE RADICAL LEFT DEMOCRATS GOT COUGHT [sic] COLD IN THE (NON) FRIENDLY TRANSFER OF GOVERNMENT, IN FACT, THEY SPIED ON MY CAMPAIGN AND WENT FOR A COUP, WE ARE ENTITLED TO ASK THE VOTERS FOR FOUR MORE YEARS," Trump declared late Wednesday morning. "PLEASE REMEMBER THIS WHEN YOU VOTE!"
Trump has made clear that he remains focused on punishing perceived enemies regardless of the political cost. Time is running out on his ability to do so.
Mad King Donald, jacked up on powerful steroids, continued his insanity this morning in a totally unhinged interview with Fox Business' Maria Bartiromo. Steve Benen explains, Lobbying Barr, Trump demands prosecutions of his political foes:
Amidst several dozen unhinged tweets this week, Donald Trump turned his attention to a familiar fixation: his desire to see his perceived political enemies prosecuted. After promoting a message demanding the "arrest" of at least one of his rivals, the president asked via Twitter, "Where are all of the arrests?"
Last night, the Republican specifically referenced Barack Obama, Joe Biden, and Hillary Clinton — every Democratic presidential nominee from the last 12 years — whom he accused of committing "a criminal act." Trump added, for the second time, that his 2020 rival should not be "allowed" to run against him.
This morning, the president kept the offensive going during an interview with Fox Business' Maria Bartiromo.
"Unless Bill Barr indicts these people for crimes — the greatest political crime in the history of our country — then we're going to get little satisfaction…. These people should be indicted. This was the greatest political crime in the history of our country — and that includes Obama, and it includes Biden."
Trump made no effort to hide his direct lobbying to Attorney General William Barr, repeatedly arguing this morning that the Republican lawyer should indict the White House's foes. "Bill Barr is gonna go down as either greatest attorney general in history of the country, or he's gonna go down as a very sad situation," Trump said.
In the same interview, the president demanded to know, "Why isn't Hillary Clinton being indicted?"
If this rhetoric sounds at all familiar, there's a good reason for that: Trump used eerily similar rhetoric in early September, making up assorted claims of "treason."
Circling back to our earlier coverage, the president's bizarre theories remain delusional. No one spied on his campaign. His perceived enemies did not commit treason. No one in the Obama White House, U.S. intelligence agencies, or federal law enforcement committed "the greatest political crime in the history of our country." These hysterical rants have no basis in reality.
But let's not miss the forest for the trees: the point of these on-air presidential tantrums is to press his attorney general to do his prosecutorial bidding.
In other words, Americans heard a sitting president tell a national broadcast audience — again — that his foes are criminals, and he expects the Justice Department to use the levers of power to target his enemies shortly before an election.
I continue to believe that under normal circumstances, this would be a presidency-defining moment. Indeed, if this were happening in another country, the world would look to the United States to condemn the authoritarian antics.
Except, in 2020, the authoritarian antics are coming from our own White House — with such frequency that it's becoming the annoying background noise of our political lives.
All of which leaves us with an extraordinary closing message from the Republican incumbent: Trump wants Americans to know they should no longer fear a deadly virus, they should no longer expect economic lifelines during a downturn, and they should start expecting the Justice Department to prosecute the president's domestic political foes.
Election Day is 26 days away.
Donald Trump was a paranoid delusional psychopath before his doctors jacked him up on powerful steroids that can make one manic. What genius thought that this was a good idea?
This wannabe tinpot dictator of a banana republic is hysterically demanding that his Attorney General and his complicit Republican accomplices in Congress start rounding up his political "enemies list" and hold Stalinist show trials before election day.
It's long past time for a psychiatric evaluation and invoking the 25th Amendment.