MAGA Fascist Republicans have a more favorable view of autocratic tyrant Vladimir Putin and his terrorist state of Russia than they do of the defenders of democracy in Ukraine, or even in democracy here in the United States.
Putin's puppet Donald Trump has moved a significant portion of Republicans to support anti-democracy extremism, as highlighted by their election denialism and support for violent seditious insurrection against the U.S. government on January 6, and their continuing support for coup d'état leader Donald Trump. They are the enemies of democracy, and Putin's fifth column of fellow travelers.
Much of this anti-democracy extremism is reinforced daily by the Fox fascist propaganda network and Putin's chief propagandist in the United States, comrade Tucker Carlson.
The Republican Accountability Project has highlighted Tucker Carlson's affinity for spreading Russian propaganda in a new video.
We present one and a half minutes of Tucker Carlson parroting Vladimir Putin. New video from RAP: pic.twitter.com/W4ca6Gdrgz

— Republican Accountability (@AccountableGOP) March 14, 2023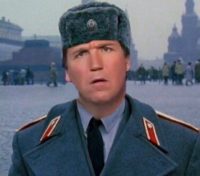 The Fox host has made a habit of leaning into Kremlin talking points and conspiracy theories since Russian President Vladimir Putin invaded Ukraine. Days before the war began, Carlson infamously defended Putin and said that Ukraine was "not a democracy." Carlson's mimicry has been so on point that on multiple occasions excerpts from his broadcasts have ended up on Russian state-sponsored TV.
Carlson has repeatedly sided with Russia over his own government, criticizing the U.S. for providing ongoing support to Ukraine and rationalizing Russia's aggression. His views have taken root with the Republican base and some members of Congress, so much so that during a recent visit with Republicans in Washington to lobby for aid to Ukraine, former British Prime Minister Boris Johnson said he was "amazed and horrified by how many people are frightened of a guy called Tucker Carlson."
Governor Ron DeSantis from the fascist state of Florida, who is playing catchup with Donald Trump in the 2024 MAGA fascist primary for president, went on comrade Tucker Carlson's propaganda program to announce that he too favors autocratic tyrant Vladimir Putin and his terrorist state of Russia over the defenders of democracy in Ukraine. Florida Gov. Ron DeSantis says supporting Ukraine is not a 'vital' U.S. interest, calls the war a 'territorial dispute':
Florida Gov. Ron DeSantis told Fox News Host Tucker Carlson that aiding Ukraine is not a "vital" interest for the United States, a position that is similar to that of former President Donald Trump.
"While the U.S. has many vital national interests – securing our borders, addressing the crisis of readiness within our military, achieving energy security and independence, and checking the economic, cultural, and military power of the Chinese Communist Party – becoming further entangled in a territorial dispute between Ukraine and Russia is not one of them," DeSantis wrote in response to a Fox News questionnaire, which Carlson shared on Twitter Monday.
Fox News asked all potential 2024 Republican presidential candidates questions about the war in Ukraine, according to Carlson. Former South Carolina Gov. Nikki Haley, the only prominent Republican besides Trump to announce her presidential bid so far, were among the ones who didn't reply.
"The Biden administration's virtual "blank check" funding of this conflict for "as long as it takes," without any defined objectives or accountability, distracts from our country's most pressing challenges," DeSantis continued.
DeSantis added that while "peace should be the objective," he opposed sending F-16s and long-range missiles, saying the U.S. shouldn't provide aid that could prompt the involvement of U.S. troops or allow Ukraine to initiate an offensive beyond its borders.
Trump shared similar sentiments as DeSantis in his response to Carlson, stating that opposing Russia'swar in Ukraine is not a vital interest for the U.S., though it is for Europe. Trump also suggested that the Biden administration was responsible for Russia's invasion [Kremlin propaganda].
Business Insider reported, Fox News cut out Trump saying he might let Russia take over areas of Ukraine as part of peace deal (appeasement):
Fox News cut out comments by former President Donald Trump in which he said he would have considered letting Russia have parts of Ukraine as part of a peace deal between the nations.

In an interview on Fox News host Sean Hannity's radio show on Monday, which is not broadcast by Fox, Trump revealed how he would try and broker a peace deal between Russia and Ukraine in the wake of Russia's invasion last year.

Trump has claimed he can quickly bring an end to the war as he seeks election again in 2024.

In the interview, he boasted of how Russia would not have dared to launch an attack during his presidency, and added: "I could have negotiated. At worst, I could've made a deal to take over something, there are certain areas that are Russian-speaking areas, frankly, but you could've worked a deal." [Appesement.]

The Daily Beast's Justin Baragona reported that when Hannity played excerpts from the interview later that day on his prime time Fox News show, the part where Trump suggests he may have backed an agreement handing parts of Ukraine to Russia was edited out, with the excerpt cutting out after Trump says "I could've negotiated."

Trump last year praised Putin for being "smart" in seeking to invade Ukraine, and declaring large swaths of it "independent" as a prelude to illegally annexing it.

Trump has long drawn criticism for his refusal to criticize Russian aggression, as well as his comments about its authoritarian president, Vladimir Putin.
DeSantis is considered to be Trump's top challenger for the 2024 Republican presidential nomination despite having not yet announced his campaign.
DeSantis and Trump's opposition to supporting Ukraine is a significant break from their party as most GOP lawmakers, including party leaders, have continued to support military aid to the Ukrainian government.
GOP leader Mitch McConnell referred to U.S. assistance as a "direct investment" for the country's own national interest in a "secure and stable Europe" in a February statement.
"Our security and prosperity are deeply intertwined with a secure and stable Europe," McConnell added. "If Putin were given a green light to destabilize Europe, invading and killing at will, the long-term cost to the United States in both dollars and security risks would be astronomically higher than the miniscule fraction of our GDP that we have invested in Ukraine's defense thus far."
CBS News reports, Key Republicans push back on Gov. DeSantis Ukraine comments:
Several key Republican senators on Tuesday pushed back against Gov. Ron DeSantis' recent comments that US support for Ukraine is not a "vital" national interest, exposing a key intraparty fault line ahead of the 2024 election.
"To say this doesn't matter is to say that war crimes don't matter," said South Carolina Sen. Lindsey Graham, adding that Russian President Vladimir Putin's aggression will "go beyond Ukraine" and that "if you don't get that, you're not listening to what he's saying."
Sen. John Cornyn said that he was "kind of surprised" to learn DeSantis' position, noting that it "raises questions."
"I mean, Gov. DeSantis is a veteran. He's a smart guy. I think he's a been a very good governor and I don't understand him saying that Ukraine isn't important to the United States," the Texas Republican said.
Senate Republican Whip John Thune said he disagrees with DeSantis, "but that there is a diversity of opinion among members of our party. He's not alone on that."
"There are probably going to be other candidates in '24 on our side who may share that view, and certainly it's held by Republicans around the country," the South Dakota Republican said. "I would argue, and I think the majority of people in this country recognize, how important it is that Ukraine repel Russia and stop this aggression and they be a sovereign country."
Speaking on the Hugh Hewitt radio program, Sen. Marco Rubio dismissed DeSantis' characterization of the war as a "territorial dispute."
"It's not a territorial dispute in the sense that any more than it would be a territorial dispute if the United States decided that it wanted to invade Canada or take over the Bahamas," said Rubio, who serves on the Foreign Relations Committee and is the vice chairman of the Senate Intelligence Committee. "Just because someone claims something doesn't mean it belongs to them."
The Florida Republican added, "There is a national security interest in Ukraine. It's not the number one national security interest the United States has, but it's an important one."
[T]he top Republican on the Senate Finance Committee also pushed back.
"I personally think that the United States should support Ukraine funding. There's always debates about how that should be done, and what level it should be done at, but no, I believe the United States should support the effort in Ukraine," said Sen. Mike Crapo of Idaho.
He added: "I think that if we don't hold the line in Ukraine now, we're simply going to see the issue expand into other European nations."
[F]ormer United Nations Ambassador Nikki Haley — who like Trump announced an early bid for the GOP nomination — on Tuesday made her most pointed comments on DeSantis yet, claiming he was "copying" Trump's position on Ukraine.
"President Trump is right when he says Governor DeSantis is copying him-first in his style, then on entitlement reform, and now on Ukraine," Haley said in a statement.
Trump told reporters traveling with him Monday night that he believed DeSantis was "following what I am saying" on Ukraine, according to CBS News. "It is a flip-flop. He was totally different. Whatever I want, he wants," the former president added.
CNN reports, "Russia might be bogged down in its vicious onslaught on Ukraine, but President Vladimir Putin is winning big elsewhere – in the Republican presidential primary." The two biggest 2024 Republican names would mean bad news for Ukraine (excerpt):
The two highest-polling potential GOP nominees – former President Donald Trump and Florida Gov. Ron DeSantis – are making clear that if they make it to the White House, Ukraine's lifeline of US weapons and ammunition would be in danger and the war could end on Putin's terms. Their stands underscore rising antipathy among grassroots conservatives to the war and President Joe Biden's marshaling of the West to bankroll Kyiv's resistance to Putin's unprovoked invasion.
[B]ut the reproach from some senior Senate Republicans may not matter much in today's GOP. As they fight to outdo one another's skepticism of Western help for Ukraine, Trump and DeSantis are showing how "America First" Republicans have transformed a party that was led by President Ronald Reagan to victory over the Soviet Union in the Cold War. Their influence is sure to deepen the split in the US House between traditional GOP hawks and followers of the ex-president that is already threatening future aid to Ukraine – even before the 2024 presidential election.
That divide is playing out in the early exchanges of the GOP primary race as other candidates, including ex-UN ambassador Nikki Haley and former Vice President Mike Pence, warn that failing to stop Putin now could lead to disastrous confrontations later. Haley staked out a far more hawkish position on Ukraine in a statement on Tuesday. The former South Carolina governor warned that Russia's goal was to wipe Ukraine off the map, and that if Kyiv "stopped fighting, Ukraine would no longer exist, and other countries would legitimately fear they would be next."
But her position might help explain why she's trailing in early polls of the race. A new CNN/SSRS poll on Tuesday, for instance, found that 80% of Republicans or Republican-leaning independents thought it was important that the GOP nominee for president believe the US "should not be involved in the war between Russia and Ukraine."
A domestic debate with global consequences
GOP political calculations will have a profound geopolitical impact.
Rising Republican skepticism of US aid to Ukraine presents President Volodymyr Zelensky with the most critical test yet of his international campaign for the weapons and ammunition Ukraine needs to survive. It will also bolster Putin's apparent belief that he can outlast Western resolve and eventually crush Ukrainian resistance. The possibility that a Republican successor in the White House could abandon Ukraine will also become a bigger issue for Biden, increasing the pressure on him to shore up support among Americans for his policy in Ukraine, which polls show has ebbed a bit in recent months.
If the war is still going on next year, the 2024 election could become a forum for a wide-ranging debate that will ask the American people to decide between twin impulses that have often divided the nation throughout its history – does the US have a duty to stand up for freedom and democracy anywhere, or should it indulge its more isolationist tendencies?
Unless Trump or DeSantis fade in the coming months, Ukraine's fate could effectively be on the ballot in primary races next year and in the November general election. And Biden's vow to stick with Zelensky "for as long as it takes" could have an expiration date of January 20, 2025 – the next presidential inauguration.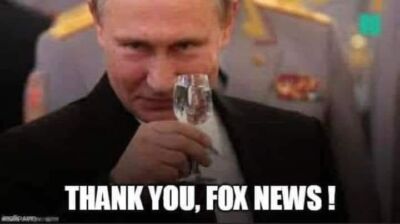 Another sign of how Carlson runs the GOP
DeSantis' responses to Carlson on the war also underscore how the normal relationship between political leaders and media commentators has been inverted by Fox and its star anchor. Carlson warmly approved of DeSantis' answers, which appeared calculated to win his approval. This put [comrade] Carlson in the amazing position of potentially curating what could end up being US foreign policy on one of the most critical questions since the end of the Cold War.
How the hell did this country ever get to this low point?