By Michael Bryan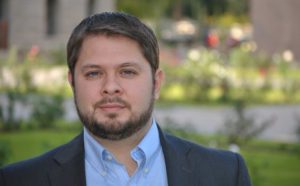 I appreciate a plain-spoken politician. Congressman Ruben Gallego couldn't be more plain-spoken when it comes to President Cheeto.
Yesterday, Gallego tweeted:
You are such a psychopath that you have to make even the death of 17 children about you. America will regret the day you were ever born. https://t.co/5jyhVXRSRn

— Ruben Gallego (@RubenGallego) February 18, 2018
That tweet was in response to Trump's tweet claiming that there was a causal connection between the RussiaGate investigation and the FBI's failure to forestall the latest Florida school shooting.
I say, "Thank You!" to Congressman Gallego for telling the simple truth in public: Trump is sick in the head.
If you appreciate such honesty let Congressman Gallego know in the language that Congresscritters best appreciate: cold hard cash. Add a penny to your donation so that he will know that you are giving him a penny for his honest thoughts.